Work with race drivers for any length of time, and you quickly learn that speed doesn't necessarily translate into punctuality. That's true even when the driver in question isn't preparing to move his wife and two children to the other side of the world.
So it's a genuine surprise when AUTOSPORT's phone lights up at precisely the arranged time with a call from a number in Charlotte.
"I'm actually packing right now," says Marcos Ambrose, less than 24 hours after the NASCAR Sprint Cup race at Martinsville. "I promised myself I wouldn't take any more than what I could get into a 20 foot container, so now it's like I'm doing a Rubik's Cube trying to fit everything in."
All of this industry is focused on taking Ambrose back to where he started. After nine years in NASCAR, the Australian is heading home to Tasmania to race in V8 Supercars, a series in which he won back-to-back titles with independent Ford team Stone Brothers Racing in 2003 and '04.
And not one to do things by halves, his comeback will be as the spearhead of Penske's first motorsport programme in Australia.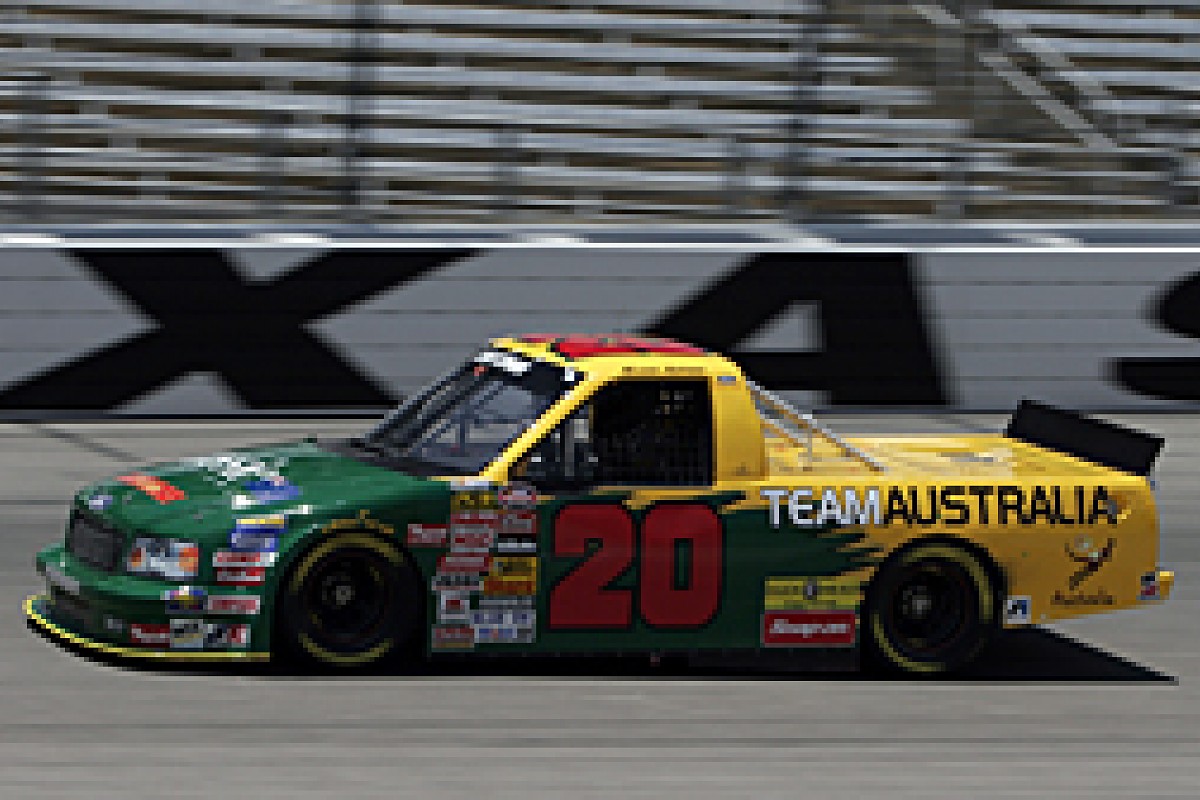 Ambrose first came to NASCAR to race in the Truck series in 2006 © LAT
Reinforcing Penske's engineering and financial clout is DJR; a stalwart of the V8 scene led by three-time Bathurst winner and five-time champion Dick Johnson.
Penske has purchased a majority stake in DJR and moved its former Nationwide Series head Jeff Swartwout to Australia to run the show.
Ambrose is the final piece of that puzzle, and it's an opportunity that could not have been better-timed. The record books will show that he never finished a Cup season higher than 18th in the points, but they'll say less about the scale of achievement in remaining in NASCAR for as long as he has.
The list of drivers from outside NASCAR who failed to take root in stock cars is long, yet Ambrose raced in the US for almost a decade through sheer hard-headedness. And even if he admits that his performances in NASCAR have plateaued, he takes pride in his longevity.
"When the time has come to hang up my helmet, I've done it on my own terms," he says. "There hasn't been a lot of time to reflect. But I'm proud of what I've done, and I'm satisfied.
"I made it over here on my own; I've not had any outside help, and I've had to stand out in a really tough environment. NASCAR is not for the faint of heart.
"You have to be strong, you have to be determined, and you have to be good. I feel I've really grown as a person and as a race car driver in NASCAR, and it's been a great experience. It's not been easy, but I have gained a lot out of it."
Ambrose won't get the luxury of a gentle reintroduction to his natural habitat: he'll be on a flight to Australia on the Monday after the NASCAR season ends at Homestead, and will drive a V8 Supercar for the first time in almost a decade at a corporate ride day at Lakeside. Two test days at Queensland Raceway will follow, and then it's off to Homebush, where he'll race in the season finale as a wildcard entry.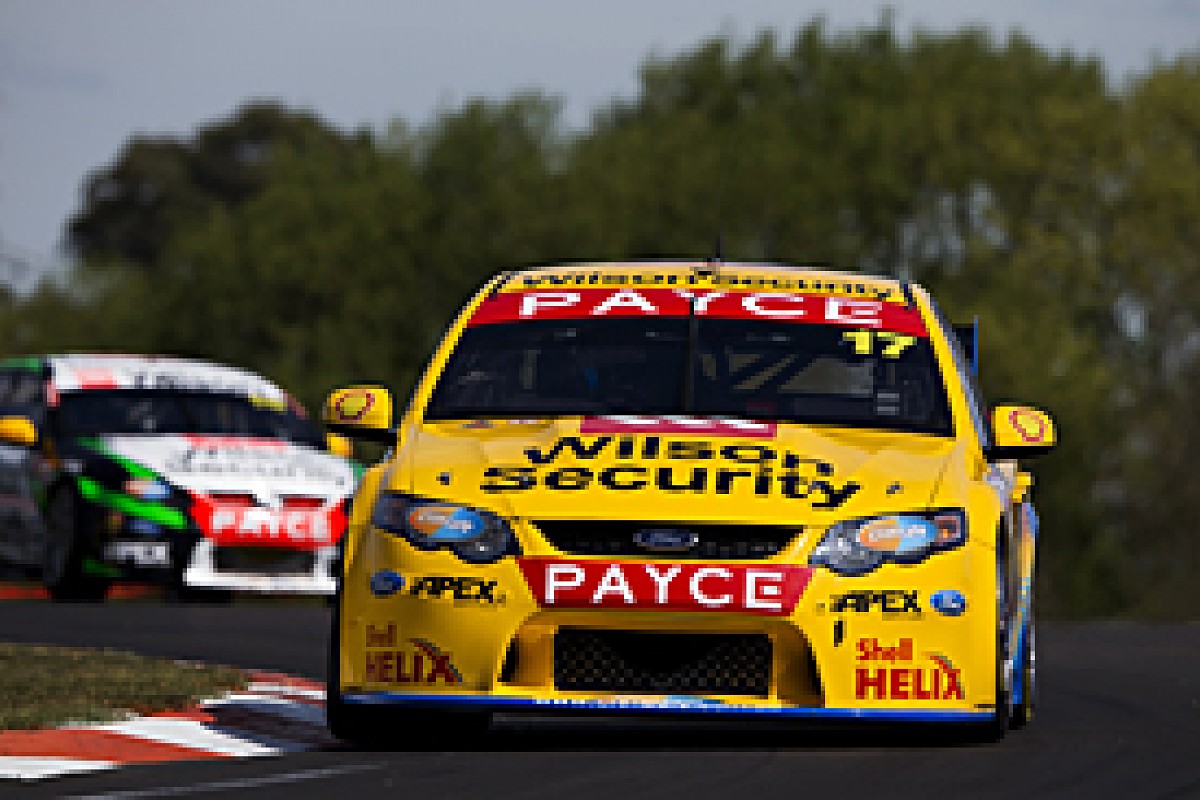 DJR isn't a frontrunner in V8s at present © LAT
"We've got a nice little schedule," he says. "I'll be in the car three times before Homebush.
"But I still won't get a chance to run on new tyres and things like that before the [race] weekend, so there are still going to be a lot of new things when I get to Homebush.
"I'm just going to have to think on my feet and react."
The deal to race in Sydney was finalised after his return to the series was announced, and Ambrose believes it represents an opportunity to create a development map for the off-season.
"It's going to be great to get back behind the wheel of a V8 Supercar before the championship points really kick in, and to give myself a chance to see how DJR operates, and try to get a little bit of rapport," he says.
"It's going to really help the transition for me, and I'll be able to use the off-season thinking about what I need to do, what we need to work on, and how I need to mould myself into a new environment."
The V8 Supercar world that awaits him is very different to the one he left. Gone is the 'Project Blueprint' generation of car in which he was so successful, although he doesn't expect the spaceframe 'Car of the Future' to require much adaptation.
"There have been some differences compared to when I was there last time," he says. "But I don't think they're massive. I look at the lap times, and the speed, and the gear ratios, and not a lot has changed."
Perhaps the biggest challenge will be readapting to the technical demands of Australian racing. V8 Supercars will never be mistaken for a series that operates on the cutting edge of wizardry, but it is a series in which the driver has an immense influence upon how the car is engineered. Indeed, a major part in Ambrose's success last time around was the strong engineering bias within SBR.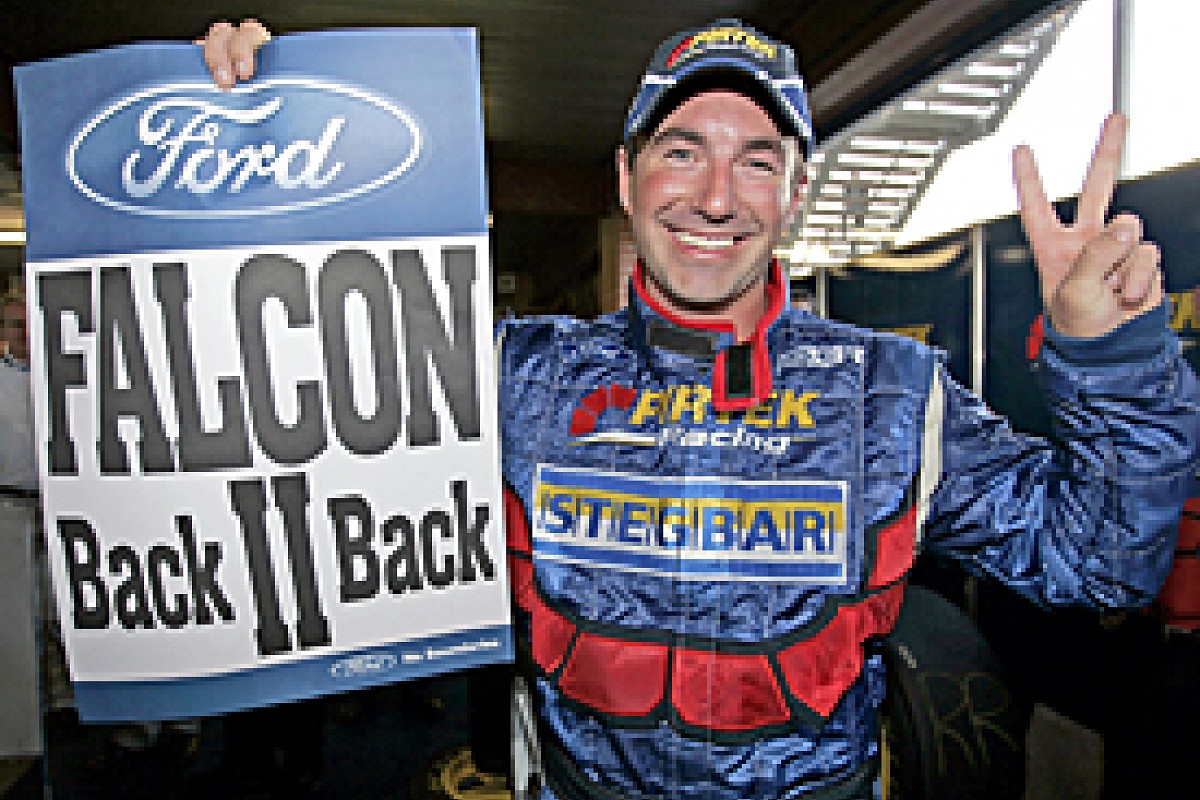 Ambrose's first V8s stint was a glorious success © LAT
"Stone Brothers really valued technical feedback from the driver their engineers," he says. "They embraced it, and it made them successful.
"NASCAR is a different beast because a lot of the effort is just in getting to the race track every week. If you're doing the day-to-day work on the race team and going to the track, you don't have time to think about getting better. You're always in the moment.
"And it was a challenge for me personally that in the machine in NASCAR, the team is so big that one person doesn't make a difference. It's really a collective effort; it's more of a team sport than any other motorsport that I have been in.
"So the technical side of how the cars need to be set up ... they spend a lot of time in windtunnels and pull-down rigs and seven-post rigs, and as a driver, you just don't get a chance to see it or be a part of it and contribute.
"So that's one of the areas I'll have to work really hard at when I come back; turning that switch back on to be that person that can give feedback and work with the team; being the guy who can lead the team and car in a better direction.
"I'm looking forward to it, I've missed it in NASCAR because you just don't get to do that. Quite often you wouldn't even know what spring is in the car. So as a driver, I'm going to need to re-engineer myself to be that kind of person that can give feedback and help lead the team forward technically. For the last nine years in NASCAR, I haven't been that guy. I've been 'the driver'."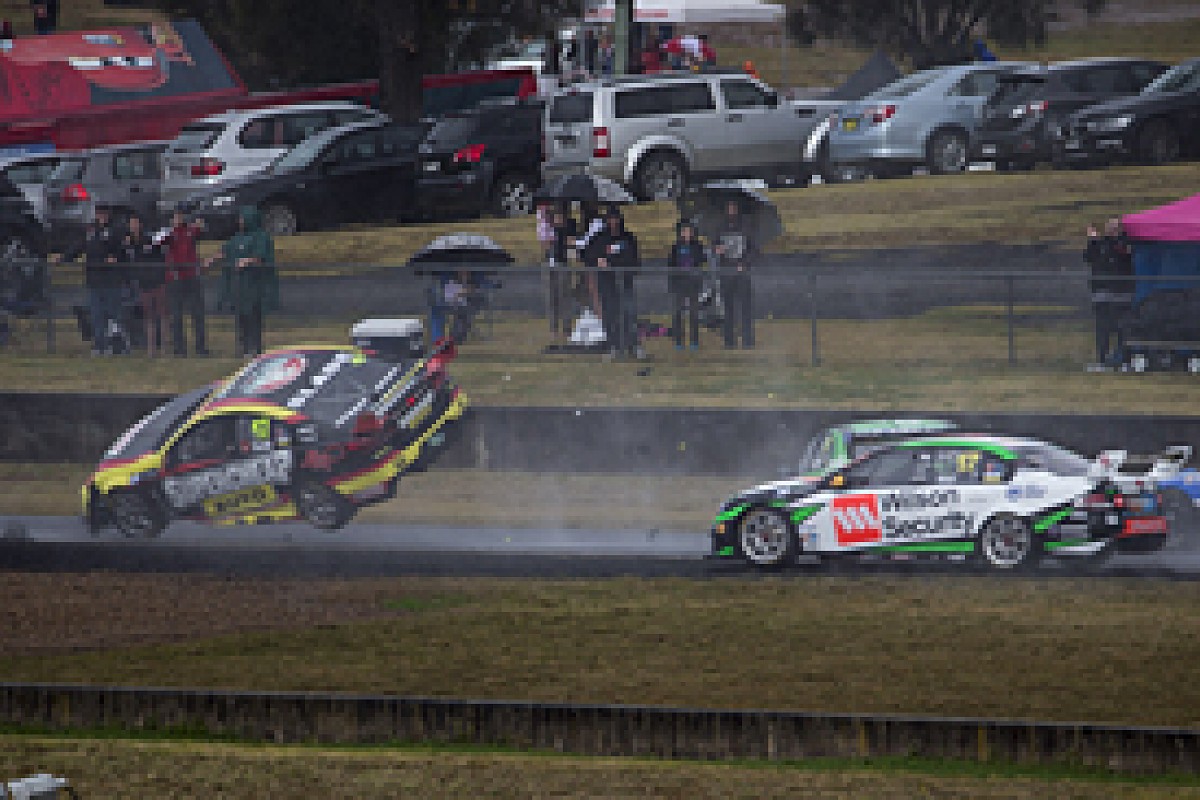 V8 chiefs are trying to cut down on this
After years of working within NASCAR's 'boys have at it' approach to self-policing, there will also be the need for some recalibration with regard to on-track conduct.
"The rules are very different, driving standard-wise," he says. "They [V8 Supercars] throw down quite a few penalties during the race and post-race for driving infringements. It certainly makes the car in front more prone to chopping your nose off.
"I'll have to watch that; I don't want to stick my nose in if someone's going to shut the door looking for a penalty. So I'll have to adapt to that new driving code. That's not a problem; I'll just have to moderate the aggressiveness a little bit.
"In NASCAR you get used to knocking guys around, and getting knocked around. That's just a part of it. But V8 Supercar is trying to keep the sport a little cleaner, I appreciate that, and I'll work within the rules and guidelines that they set."
So the days of retaliation are over?
"Sure," he says. "But there are lots of ways to pay it back, though. And not just on the track ..."
As always, the elephant in the room is 'expectation'. Penske does not do anything with the intention of merely participating, and Ambrose could probably have retired in reasonable comfort even before nine years of NASCAR prize money.
He doesn't need to race for racing's sake: back-to-back championships leave him with little to prove. At the time the Penske deal was announced, he claimed that he would not have returned with any other team.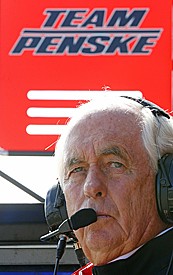 Roger Penske is taking his Australian project extremely seriously © LAT
"I see a lot of enthusiasm at DJR," he says. "If you give them the resources, they are going to be a fantastic team. And if they're planning to run for the championship, the assets that Penske will bring to the table will be ample.
"This is going to be the strongest engineering effort that I have been a part of. Penske is putting a lot of engineering resources in place - personnel, equipment and ideas.
"They are racing at the top level of motorsport around the world, and all the stuff they do in those categories will rub off on us. We'll be able to tap into that resource, and it's going to be a great experience and I'm looking forward to it.
"It's just going to be down to doing our job really well and focusing on how we get from where we are today to where we want to be.
"It's not going to happen overnight, but I think it's got as good a chance to be successful as any team out there."
WHY PENSKE IS HEADING DOWN UNDER
Viewed in isolation, you could hardly find a more incongruous patchwork: why does Penske want to race in Australia anyway? And why with DJR, a team with a proud but somewhat lumpy history?
In fact, the collaboration could hardly make more sense for either side.
DJR has long been desperate for investment and financial stability. Roger Penske sought to use motorsport as a billboard for his expanding commercial vehicle business in Australia, but needed access to at least one REC (Racing Entitlement Contract; essentially a permit to put a V8 Supercar onto the grid) in order to make it happen.
The only way to get an REC is to buy an existing one: V8 Supercars no longer issues them. Penske's new 51 per cent stake in DJR includes the transfer of ownership of two of these licences, while DJR gets to remain on the grid with the added firepower of Penske's support. Dick Johnson will continue to have an active role with the team.