When the black-and-gold #5 Action Express Racing Cadillac DPi-V.R peeled off the banking and into the pits at 11.04am on Sunday in last month's Daytona 24 Hours, its 48-year-old driver hopped out of the cockpit and removed his familiar yellow Bell Racing helmet adorned with green drops for the final time.
After a quick debrief with engineer Iain Watt, the second-generation Brazilian racer headed to the media room to answer questions from the assembled press. When he had finished, he received a standing ovation from the floor in honour of a professional driving career spanning 30 years and traversing everything from Formula 1 to NASCAR, truck racing to touring cars. Along the way he took multiple championships in IMSA, 24-hour race wins at Daytona and Spa, and two victories in CART's late-1990s golden era.
An early electrical fault that caused the rear brake lights to malfunction and cost 15 laps to fix meant that Christian Fittipaldi's last hurrah was destined to be an exercise in damage limitation, rather than a fairytale fourth Daytona 24 Hours win that would have put him level with sportscar legends Pedro Rodriguez, Peter Gregg, Rolf Stommelen and Bob Wollek.
But the underwhelming end did nothing to mask Fittipaldi's weight of achievement. That the 1991 Formula 3000 champion is only retiring now - he is two months older than David Coulthard, who last raced in 2012 - and stopping on his own terms after several career dead ends that required the capacity for reinvention is especially telling.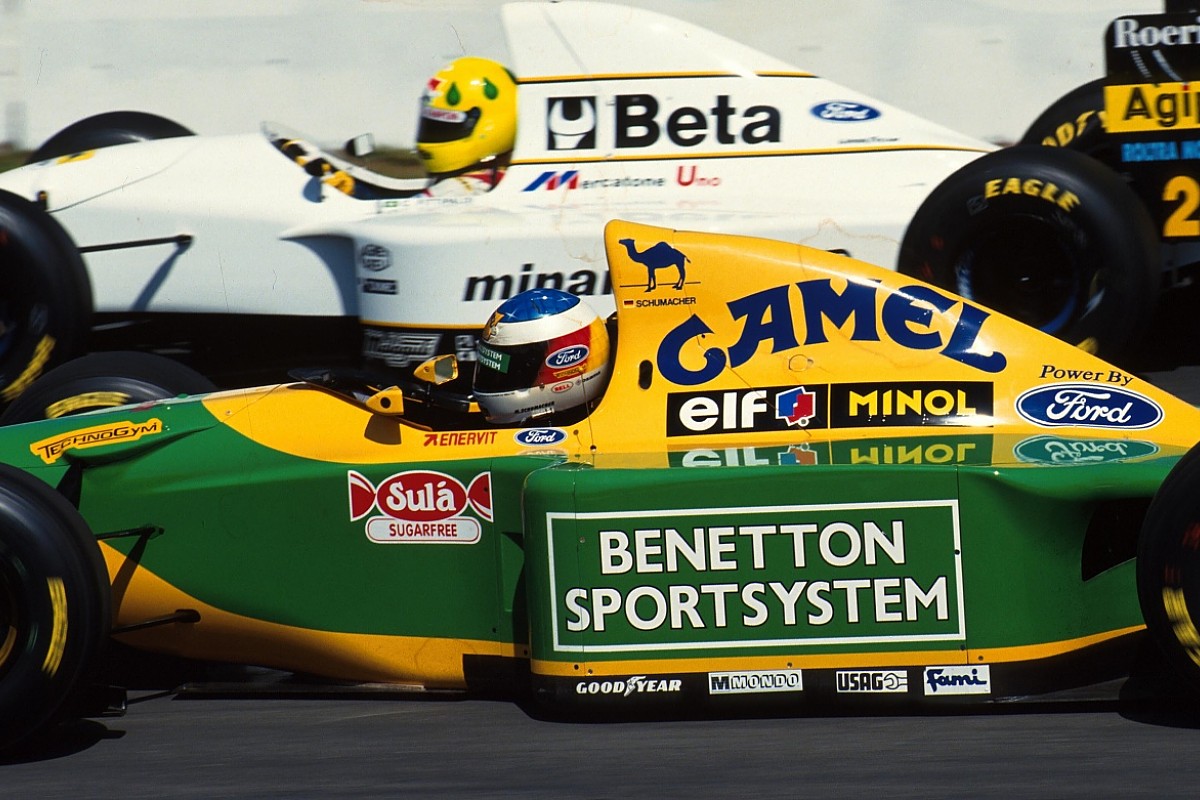 Fittipaldi, the son of ex-F1 racer Wilson and nephew of double world champion Emerson, is a survivor. And not just in terms of his remarkable longevity, but because a spate of concussions in CART - he missed at least one race through injury in four consecutive seasons from 1997 to 2000 - could have had far more serious consequences.
"If I look back on my racing career and count all the accidents, I had not a huge number but for one reason or another I always seemed to hurt myself," he says.
"If I look back on my racing career and count all the accidents, I had not a huge number but for one reason or another I always seemed to hurt myself" Christian Fittipaldi
"That didn't make things any easier for me. If you lose that momentum, or if you don't have that momentum for one reason or another, it's very hard to get it back."
Fittipaldi was second on his only Indianapolis 500 start - in 1995 in a Walker Racing Reynard-Ford - when uncle Emerson and Al Unser Jr both failed to qualify for Penske.
At the wheel of a Newman/Haas Racing Lola-Ford in 1996, he was five laps away from what would have been a maiden CART victory at Road America only for an engine failure to strike. He was running second at the time, but would've been handed the lead when Unser had a failure of his own with the flag in sight.
Fittipaldi was raring to go in 1997, but that optimism was soon shattered in a leg-breaking crash in Surfers Paradise that forced him to miss six races.
He missed the Milwaukee race through concussion in 1998, but in '99 he was enjoying his best CART season - avenging '96 by breaking his duck at Road America - and in the thick of the title fight when a testing accident in his Newman/Haas Swift on the Gateway oval resulted in a subdural hematoma that ruled him out for another five races.
Although he finally broke his oval racing duck in the final race of 2000 at Fontana, his future lay away from open-wheel racing.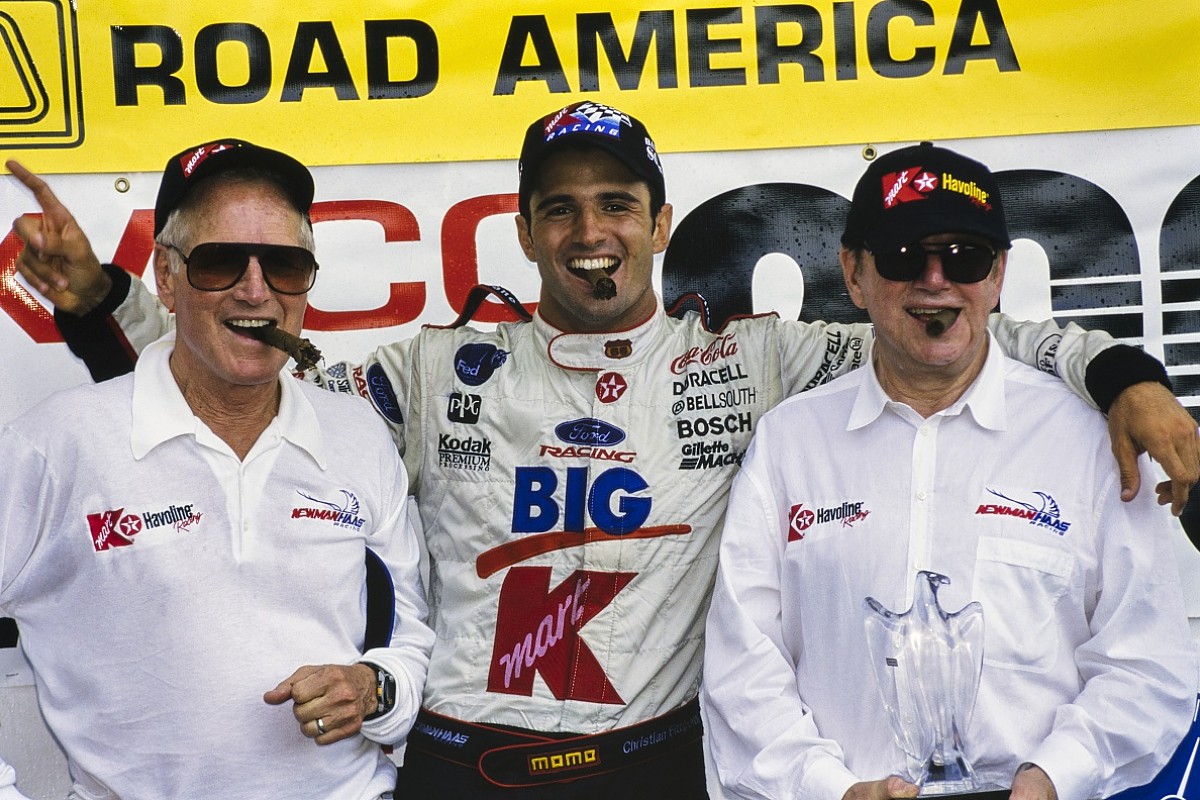 "In 2000 I had a hit in Chicago, another concussion," he says.
"I remember talking to Dr [Steve] Olvey [CART medical official] and he said, 'The number of concussions is escalating, be careful'. I got alerted, let's put it this way."
By 2011, his career looked to be coming to a natural end. After losing his drive with Michael Andretti's LMP2 squad in the American Le Mans Series midway through 2008 and spending a year on the sidelines, there seemed to be no way back following a miserable season in the Brazilian Stock Car Championship in 2010 that yielded just two points.
But a call-up from Watt to join Action Express for Daytona in 2011 at the age of 40 prompted an Indian summer to his career and a successful evolution to a respected sportscar hand when he joined the team full-time for '13, 10 years after a switch to NASCAR had hit the rocks.
"A lot of people would have written me off," Fittipaldi concedes.
"But I think that comes in your mind. When you're positive that you can still get the job done and you are given the right opportunity and the right tools, then it's going to work out."
Fittipaldi fully subscribed to AXR's motto of 'expect to win'. After teaming up with Joao Barbosa to score back-to-back IMSA titles in 2014 and '15, and monopolising the North American Endurance Cup (comprising Daytona, Sebring, Watkins Glen and Petit Le Mans) from 2014-17, he stepped back to an endurance-only role for 2018 and took on the job of AXR sporting director, but the successes kept on coming.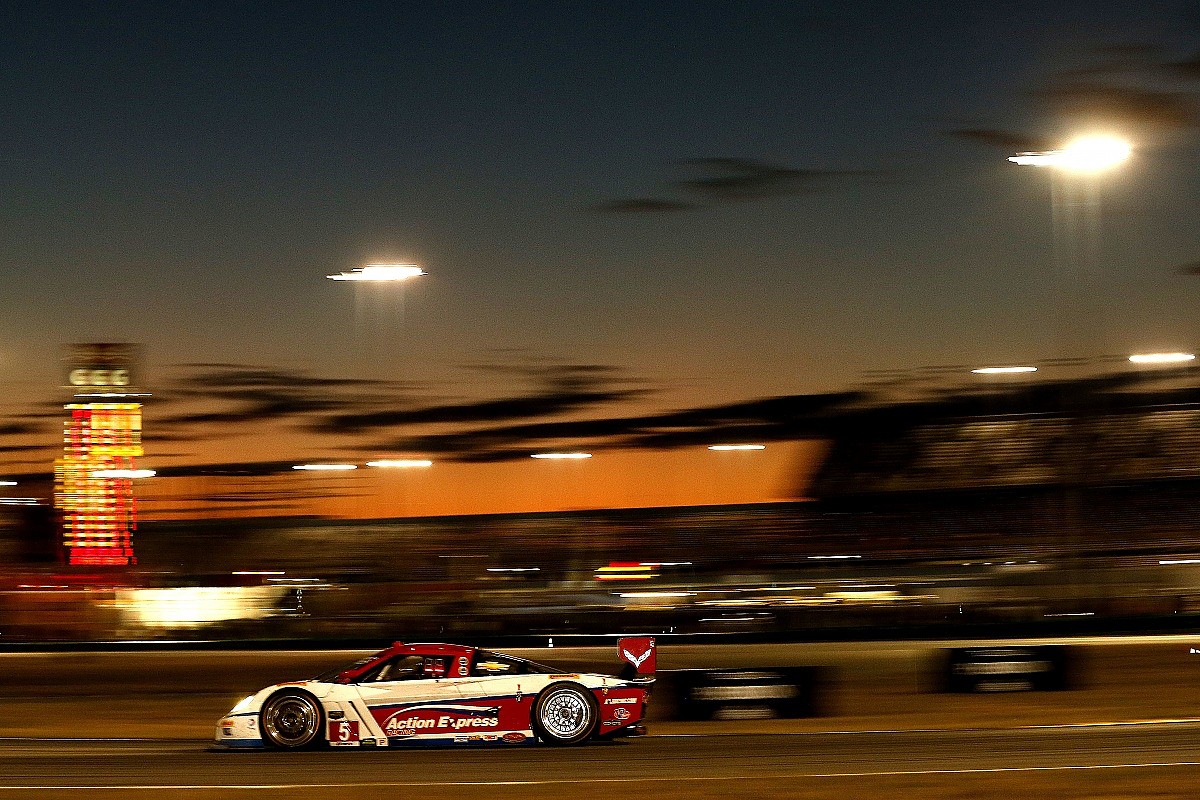 Having been punted out of the lead with two laps to go the previous year, Fittipaldi went some way to making up for it by claiming a third Daytona win in 2018, alongside Barbosa and Filipe Albuquerque.
Getting that monkey off his back would prove the tipping point, and Fittipaldi is now at peace with his decision to hang up the helmet - even if he admits that being an ex-racing driver will take some getting used to.
"I'm closing a chapter to open another chapter in my life and I love the fact that I'm closing it this way" Christian Fittipaldi
"I bumped into David Brabham at Road Atlanta and he said, 'Get ready because it's going to be different,'" he chuckles.
"It's something I've done since I was 11 years old - your mind has to be really at peace. I'm closing a chapter to open another chapter in my life and I love the fact that I'm closing it this way. I decided to do it and I'm doing it to give me another opportunity."
Inevitably given his famous surname, expectation weighed heavy from the start. He was engineered by father Wilson in the formative years of his career through karting, Formula Ford and Formula 3, collecting titles in Brazilian F3 in 1989 and SudAm F3 in 1990.
That same year he finished fourth in British F3 and best of the first-year drivers in a West Surrey Racing Ralt-Mugen that was very different to the Reynard-Alfa he was used to back home.
While the media focus lay on the fierce rivalry between title protagonists Mika Hakkinen and Mika Salo, Fittipaldi quietly improved as the year went on and won at Donington Park, before stepping up to F3000 with Keith Wiggins's Pacific Racing team for 1991.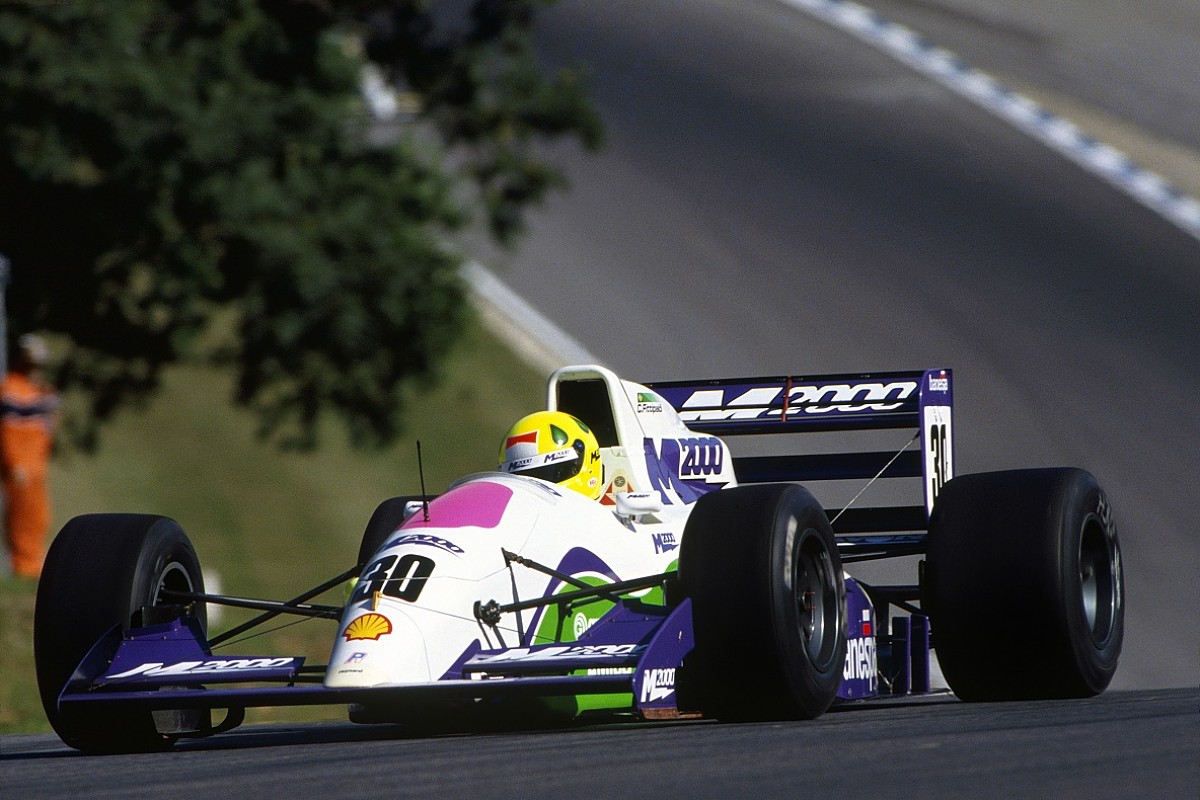 Alex Zanardi was usually the quickest but had several incidents and retired four times, opening the door for the more consistent Fittipaldi to seal the title with victory in the winner-takes-all decider at Nogaro. He had viewed F3000 as a two-year project, but now the only way was up.
"If you ask me, 'What would I do if I started my F1 career all over again', I wish I had been a bit older," he says.
"Maybe it's different nowadays with all the simulator work that you do and the kids that are extremely young starting in F1, but in that time I was considered extremely young. The first time I drove a Formula 1 car I was still 20 years old."
Fittipaldi's F1 career is best remembered for his spectacular backflip over the finish line after contact with Minardi team-mate Pierluigi Martini at Monza in 1993, but he also showed flashes of real promise.
In the glorious Lamborghini V12-powered Minardi, he rebounded from fracturing a vertebra in qualifying for the 1992 French Grand Prix by chasing Jean Alesi's Ferrari home to sixth in Japan, and passed three cars on track to finish fifth in Monaco in '93, which he recalls as his best-ever race.
After joining Footwork for 1994, he took fourth in the second round at Aida and was on course for a podium in Monaco before the gearbox failed. But the sweeping legislation changes imposed from the FIA after the Monaco GP, aimed at reducing downforce, hit the cash-strapped squad harder than most and the rest of his season was effectively a write-off.
When a possible drive at Tyrrell fell through and a test role at McLaren that had zero prospect of translating into a race seat proved his only F1 lifeline, Fittipaldi cut his losses and followed his uncle to the States - and CART.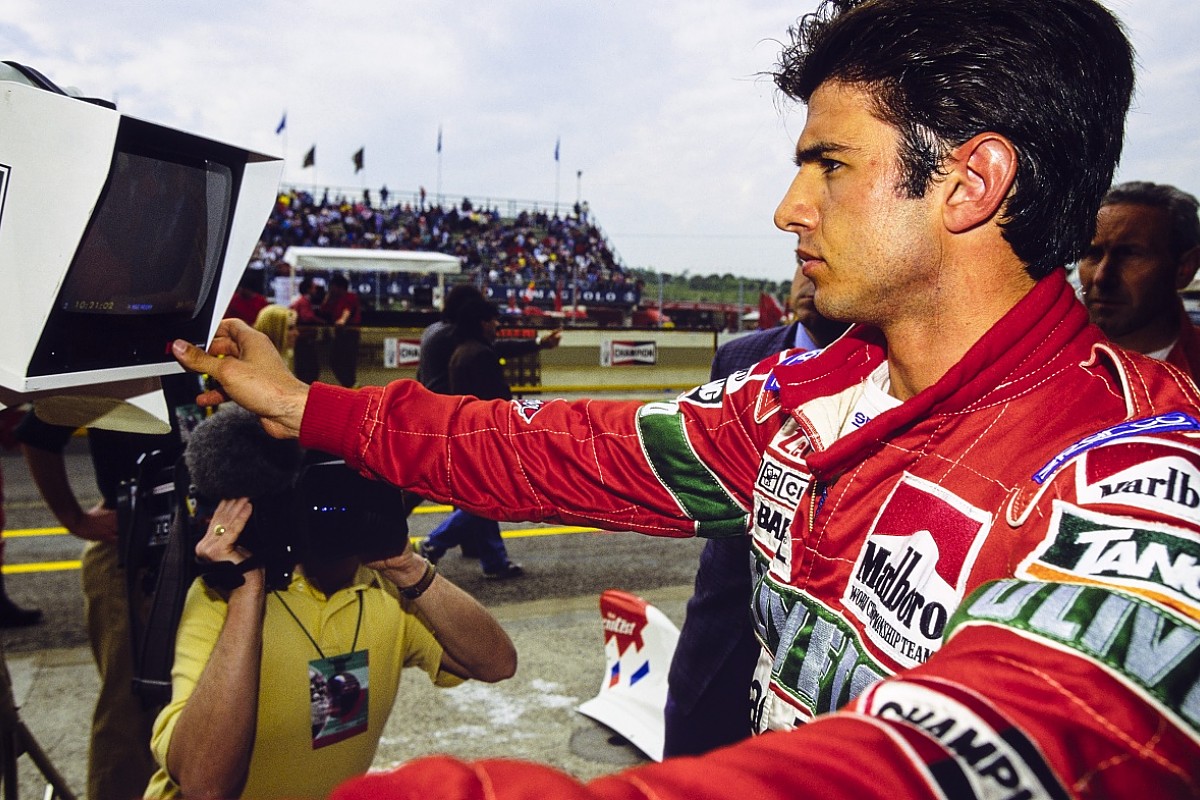 "It's so important in F1 to be with the right people at the right time because you only get one chance," he says.
"It's very few drivers that have got a second chance and made it - you probably can name them on one hand.
"I made it to F1, but I really don't think I got a fair shot at it" Christian Fittipaldi
"I enjoyed it sometimes but there were a bunch of other times when I didn't enjoy it at all. It's a very harsh environment. I made it to F1, but I really don't think I got a fair shot at it.
"I ran some very strong races in the Minardi and even with Arrows [Footwork], the first four races that we did in '94 they were setting the trend for an extremely strong season, but for a bunch of different reasons it didn't go that way."
It was a similar story in NASCAR. A three-year deal with Petty Enterprises, starting with a mixed programme in the premier-league Cup and the second-tier Busch Series before stepping up to Cup full-time in 2004, quickly turned into a "downward spiral" as the legendary squad struggled for sponsorship. It was far from the ideal environment for a driver learning a completely new discipline.
"After a year and a half I was pretty much getting paid to stay at home," says Fittipaldi.
"I went to them and I said, 'It's not working, we need to go our separate ways'. A few years later, the whole team shut down."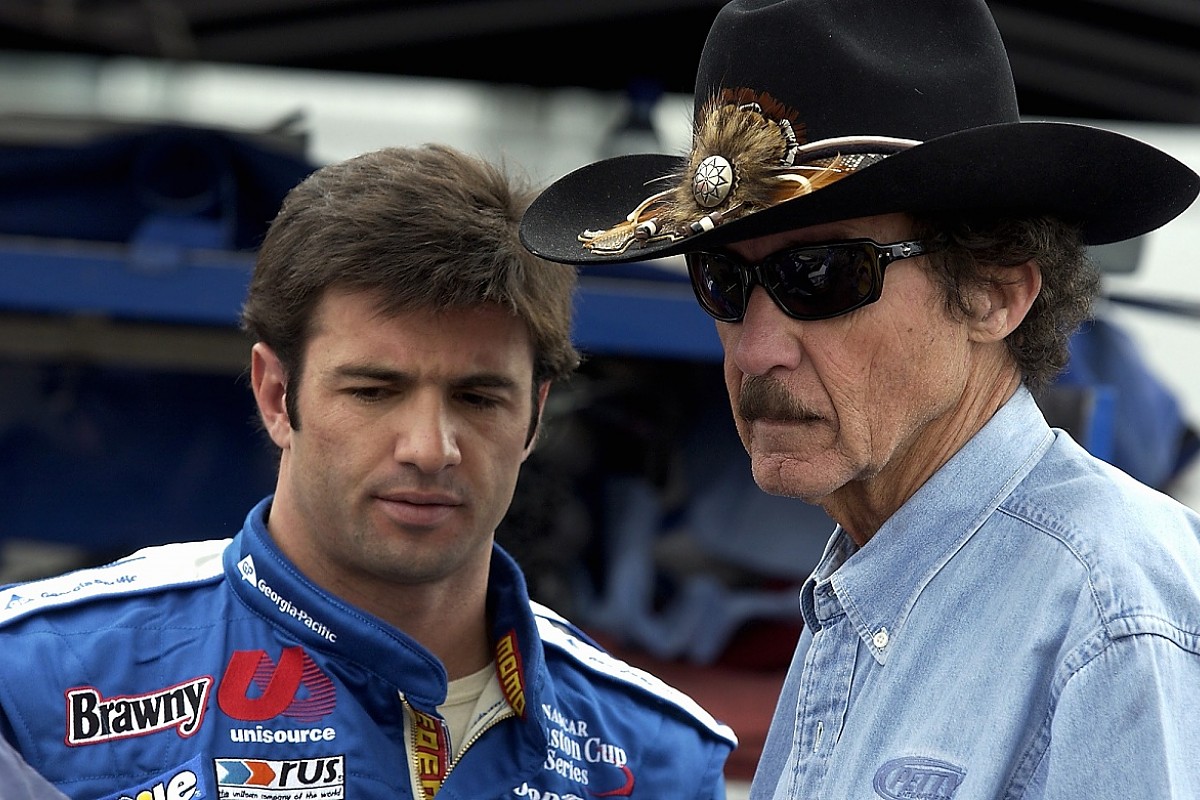 He recovered momentum by moving to sportscars, winning Daytona for the first time in 2004 in the Bell Motorsports Doran-Pontiac and racking up three starts at the Le Mans 24 Hours in GT machinery, but that wasn't his first experience of endurance racing.
Following an invitation from Fittipaldi family friend Max Welti, he had twice contested the Spa 24 Hours and won it in 1993 in a Porsche 911 Carrera RSR, when overnight news of the death of Belgium's King Baudouin brought the race to a premature end.
Asked how he wants to be remembered, Fittipaldi is remarkably perceptive.
"Throughout my racing career, I've never set the world on fire, but I always got the job done," he says.
"I remember when Jos Verstappen tested the Footwork at Estoril with us [in 1993], he had come from F3 and within five laps he was already on the pace. I was never one of those guys, but I always built up to the challenge or to where I had to perform and then, once I got it, I stayed there."
If all goes to plan, Fittipaldi's impact on AXR will still be felt for years to come. His latest assignment out of the cockpit may be his biggest career shift yet, but he is relishing the challenge of contributing outside the car.
"For 38 years I was always the guy complaining about understeer and oversteer, but I never saw how it looked, or how I could express myself in a better way," he says.
"Looking from the outside, you see problems in all the cars, you even see driving styles differ, and it's definitely something that can help the team. Now I can see from the outside what the AXR cars are doing compared to the Penskes, the Mazdas. It gives you a completely different perspective."
He won't stop learning and evolving, as is his way. Christian Fittipaldi is a survivor.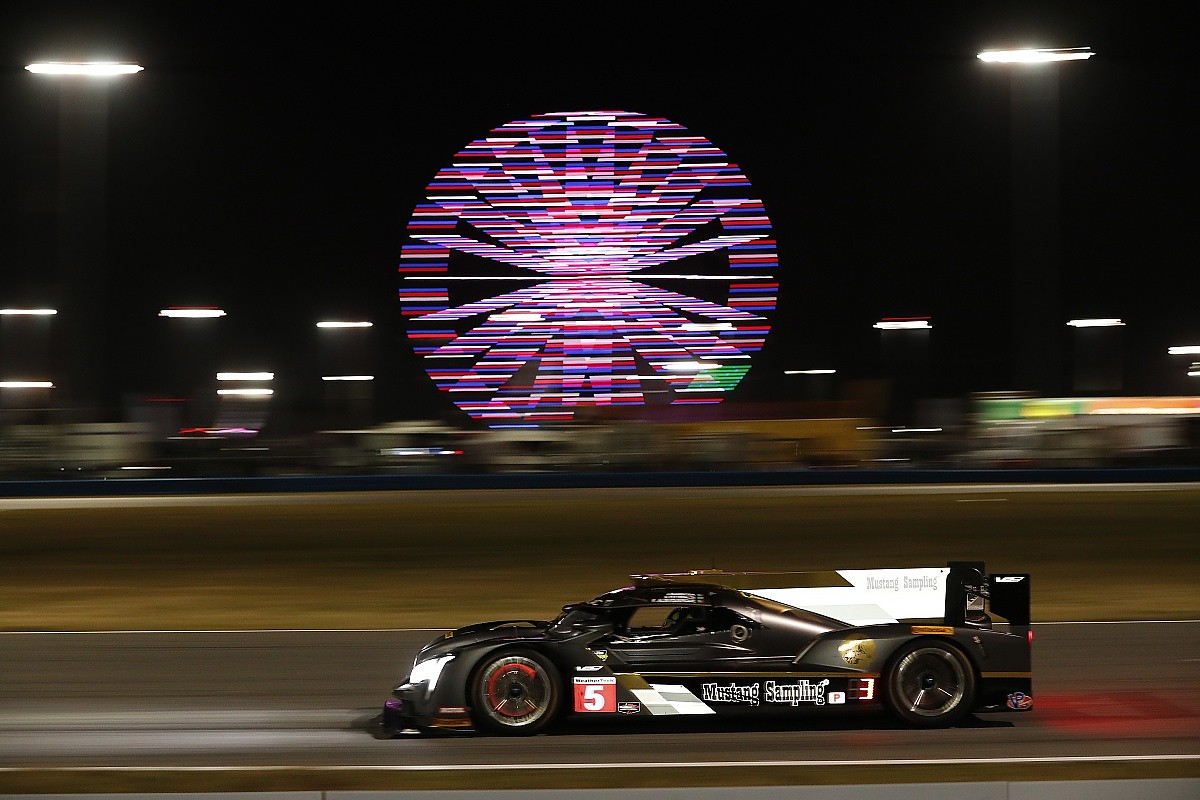 Upholding safety standards
Given the Fittipaldi family's strong track record on safety - Emerson had led calls for a drivers' strike at the ill-fated 1975 Spanish Grand Prix in which Rolf Stommelen's accident led to the deaths of five spectators - it should come as little surprise that Christian Fittipaldi found himself in the eye of the storm as F1 grappled with the losses of Ayrton Senna and Roland Ratzenberger at Imola in 1994.
Named a representative of the revived Grand Prix Drivers' Association (GPDA) alongside Gerhard Berger and Michael Schumacher, Fittipaldi was involved in the controversial decision to install a temporary chicane at the Barcelona circuit that year.
"In hindsight I don't think it was the brightest thing we have ever done," he says.
"But at the same time there was an extremely dangerous, quick chicane there which wasn't addressed and could have been addressed. Everyone was under extreme pressure because of what had happened to Ayrton and Roland; there were a lot of things added together and thrown on top of us in a very short period of time.
"You have to try and cope with your responsibilities the best way possible and we were there to try and make a better sport. No one is out there to get killed; we're not going to war. There is the risk factor involved, but we tried to minimise that and make it as safe as possible."
Matters came to a head again at Texas Motor Speedway in 2001, when drivers reported vertigo-like symptoms after 10-lap stints in qualifying for the CART IndyCar round.
Against the wishes of team owner Carl Haas, Fittipaldi was among the drivers lobbying for the race to be cancelled, having felt "extremely uncomfortable" in a racing car for the first time.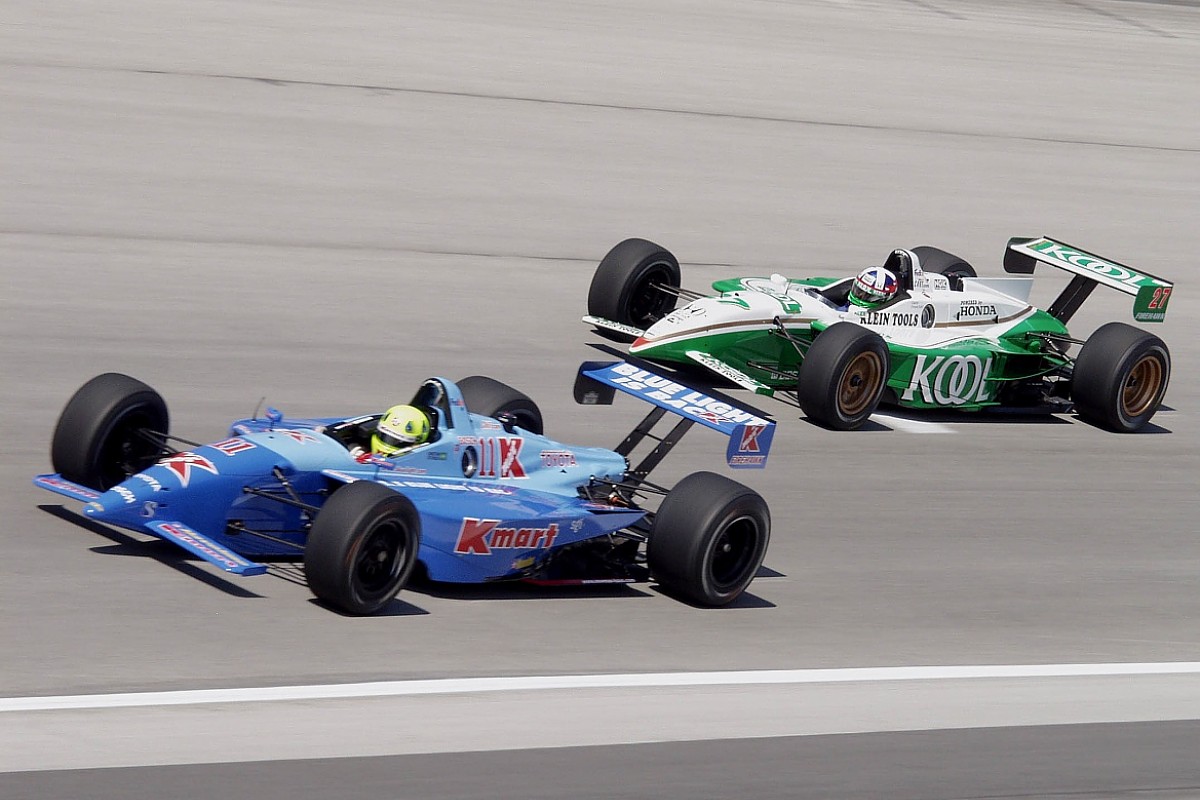 "It was pretty obvious that we couldn't race there - we didn't get enough blood going to our heads!" he says.
"It started happening with one driver, another driver, and when it happened to the fourth or fifth driver we got together and said, 'We have a problem here'. I looked at [Newman/Haas team-mate, Cristiano] da Matta and I said, 'I'm not going to run tomorrow'. I wasn't going to do it under those conditions, and I didn't do it. They cancelled the race."
Fittipaldi's focus on safety also applies to equipment, having maintained the relationship with Bell Racing helmets worn by his father and uncle.
Having used a predominantly green lid inspired by his father to win the Daytona 24 Hours for a second time in 2014, Fittipaldi kept the design the same until his final race, where he reverted to yellow and added two thin black stripes along the bottom in a livery reminiscent of his first karting helmet in 1981.
Since then, helmet technology has evolved in line with other safety developments, with Fittipaldi particularly impressed by the improvements in visor fit.
"The biggest improvement was the visor material and the way they fit the shell, which is so different to what we had before," he says.
"We needed to run foam around the eye-ports so air didn't come in! Now the way that the visors are built, they have a perfect fit to the helmet - they really stepped up their game. I never had a problem with the fit or with the safety; I would rate them as the very best product out there."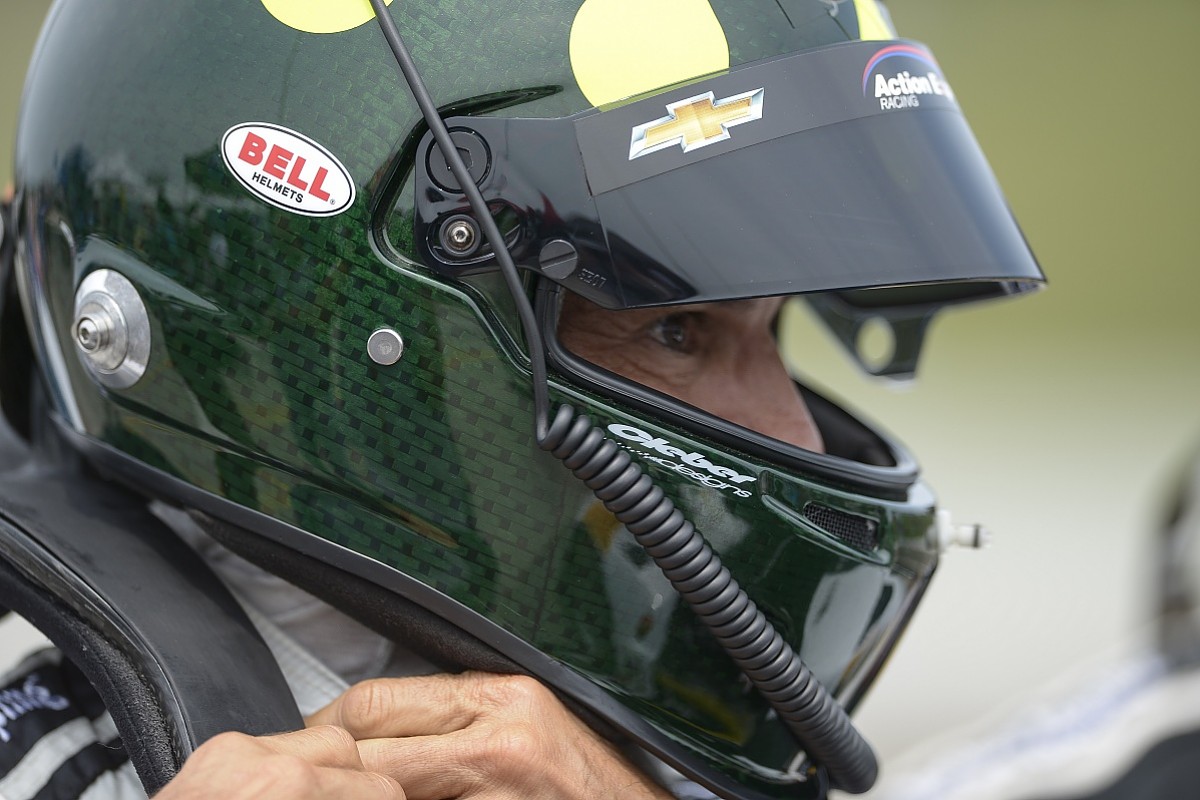 This feature first appeared in February's Autosport Performance supplement, which includes an in-depth look at the key traits this year's Formula 1 rookies need to prioritise, Damien Faulkner's guide to Mondello Park and a column from NASCAR man AJ Allmendinger. Out every other month, the next issue of Autosport Performance will appear on March 28.
Click here see the full list of previously published Performance articles