Fernando Alonso is a throwback to the good old days when drivers were able to race in Formula 1 one weekend, then take in a sportscar event the next and even find time for a tilt at the Indianapolis 500.
But the days when a driver used to pack away their helmet and take it from one race to the next, regardless of the discipline, are long gone. So when Alonso makes his debut at Le Mans this weekend, it won't be with the same Bell Racing helmet he used to mark his 300th grand prix in Canada last Sunday.
The differences are subtle. For example, there's no need to be as concerned about aerodynamics in the enclosed cockpit of a Toyota TS050 LMP1 HYBRID as in the exposed environment of a grand prix machine. And that allows tiny details to be modified.
Bell Racing, founded by Roy Richter in 1954, has been at the forefront of helmet design throughout its history and is responsible for such landmarks as the first full-face helmet in a world championship grand prix, worn by Dan Gurney at the Nurburgring in '68.
That spirit of innovation continues today at Bell's factory, a stone's throw from the Bahrain International Circuit. It's here that all of its research and development takes place, and it's also where Alonso's helmets are produced.
"It's a very impressive facility," he says during one of his regular visits.
"It's probably the most sophisticated factory for helmets and every year I try to come here to say hello. We have a very close and strong relationship with Bell, so it's nice to see how they develop the products and improve our safety.
"There is no other manufacturer that can have this kind of technology. Everything is hand-made, everything is here in the factory, there's nothing coming from the outside that you can't control."
While the helmets are fundamentally similar, Bell is able to tailor the product to suit the demands of each type of racing.
Minor changes can make a big difference to a driver operating at the top of their game. Given that Alonso has taken in sportscars and IndyCar in the past year or so alongside his regular F1 commitments, he knows better than most how the designs are tailored.
"Thanks to the experience that Bell has in different series and different categories, you put yourself in their hands," says Alonso.
"At Indy there are different aerodynamic issues, so they run a lip on the top of the helmet. In endurance races the visor is probably not so important because you race with the visor open all the time, so you do different things, different adjustments.
"With the experience that Bell has over many, many years of motor racing, you are always perfect in whatever series."
The starting point is to scan Alonso's head to ensure the helmet is tailored specifically to him.
There's no shortcut to this, with the two-time world champion required to go through something akin to a seat fitting for his head. The contours and details of his head are scanned and used to create the perfect helmet.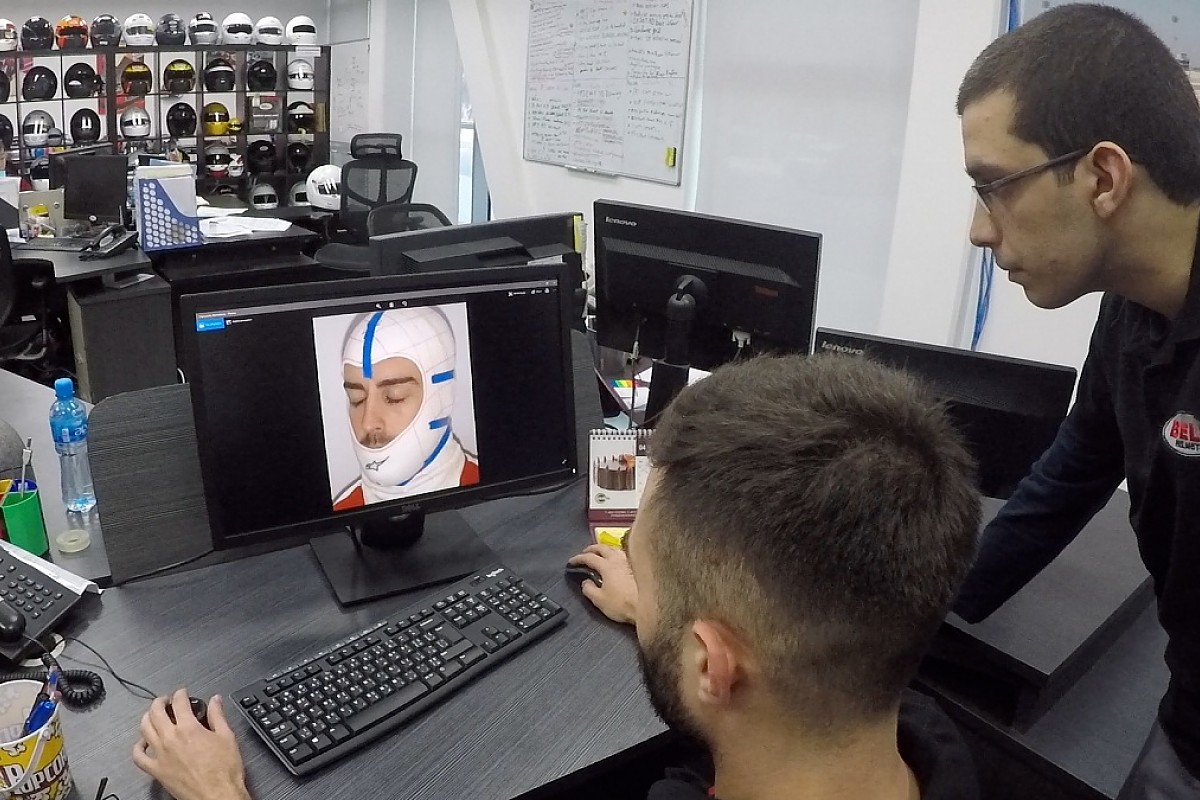 That's just the start of the process of personalisation, which concludes with the addition of his distinctive blue, yellow and red colour scheme.
"This is unique to the top [motor-racing] categories," says Alonso.
"They do a laser scan of your head and make a perfect fit, so the interior of the helmet is your shape. Not only that, the colours, the painting, everything is unique. Every driver has his own preference, and we have our identity on the helmet.
Did you know? Analysis of the head scan takes one CAD engineer two days
"Having the facilities here to paint the helmet, the designers offering you different versions of what they think will fit your car is a process that I like most of all with Bell, having the painting here in-house and making modifications for the versions we did.
"We did an Indy 500 version, a Daytona 24 Hours version, we did the Spanish Grand Prix and we do different colours for night races as well."
But before the painting can done, the helmet manufacturing process starts with carbon fibre sheets being cut and placed into a bespoke mould. Subsequently, it's tidied up and laminated, a process that includes the addition of ventilation holes and opening for the eyes.
Superficially, the shell looks flimsy, although of course it's anything but, as the intense strength-testing all helmets must undergo demonstrates.
Bell's helmets pass with flying colours, resulting in a helmet that is lightweight and incredibly strong, as well as comfortable and energy-absorbing once the insert is placed inside.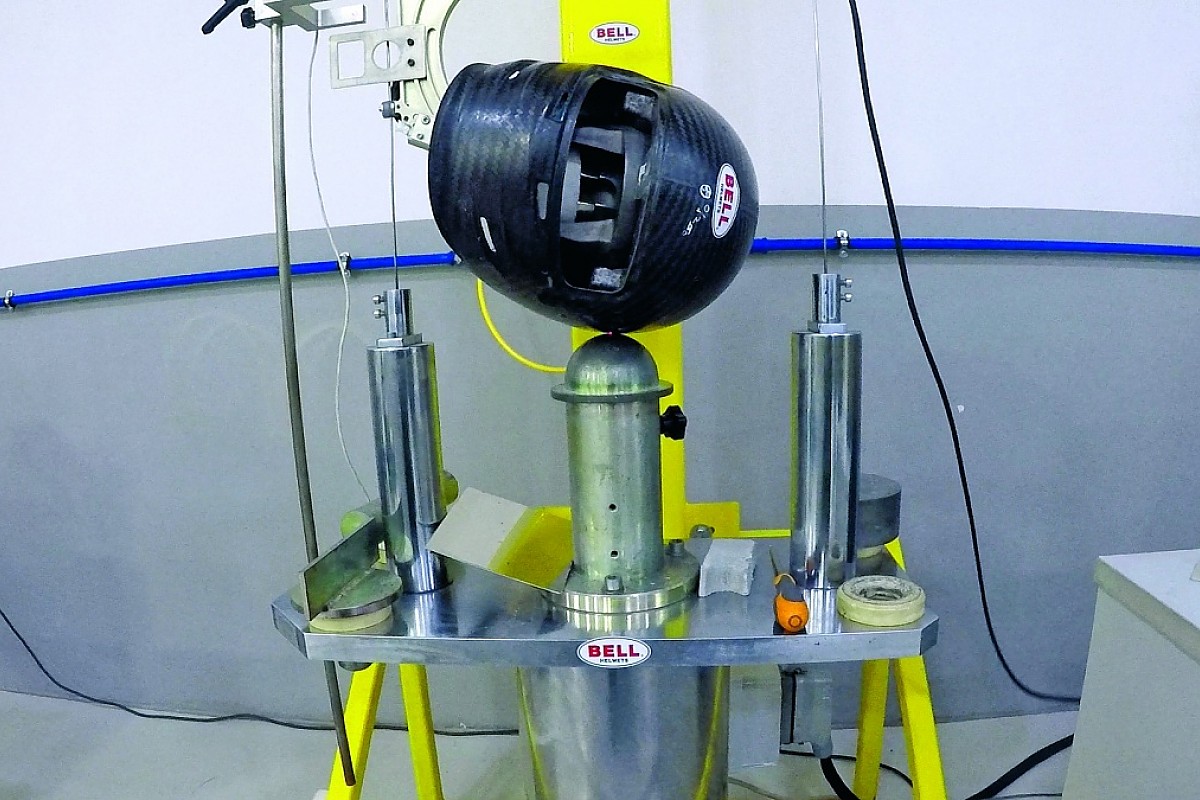 The technology packed inside has evolved dramatically over the years, and arguably the use of carbon fibre has been the biggest advance.
Although superficially similar, the helmet Alonso will use at Le Mans is a vastly different product to the kind he used to make his grand prix debut with Minardi in 2001.
"Safety is the biggest step forward," he says.
"The helmets look a similar shape, but they are lighter, [have] better aerodynamics, better ventilation and a better quality of visor as well. When I started, if you put on too many tear-offs, you started losing a bit of quality in your vision and now it's 100% perfect all the time.
"The crash tests they need to go through now would have been unthinkable 15 years ago. That's what we need to feel most proud of."
Personalisation is also important to many drivers, and Alonso is no exception. His regular colours are distinctive, and he has also run special editions such as the predominantly black version he used at Indy last year and in the United States Grand Prix.
"It's part of your identity," says Alonso. "I always used four colours, the dark blue, light blue, the red and the yellow, those colours [represent] my region - Asturia - and also the Spanish flag.
"How you combine these four colours is always difficult because you need to put the sponsors on it as well, so there are requirements from the team, but it's good fun every year to design your own helmet, different little touches every year, and with the one-off helmets for some specific races."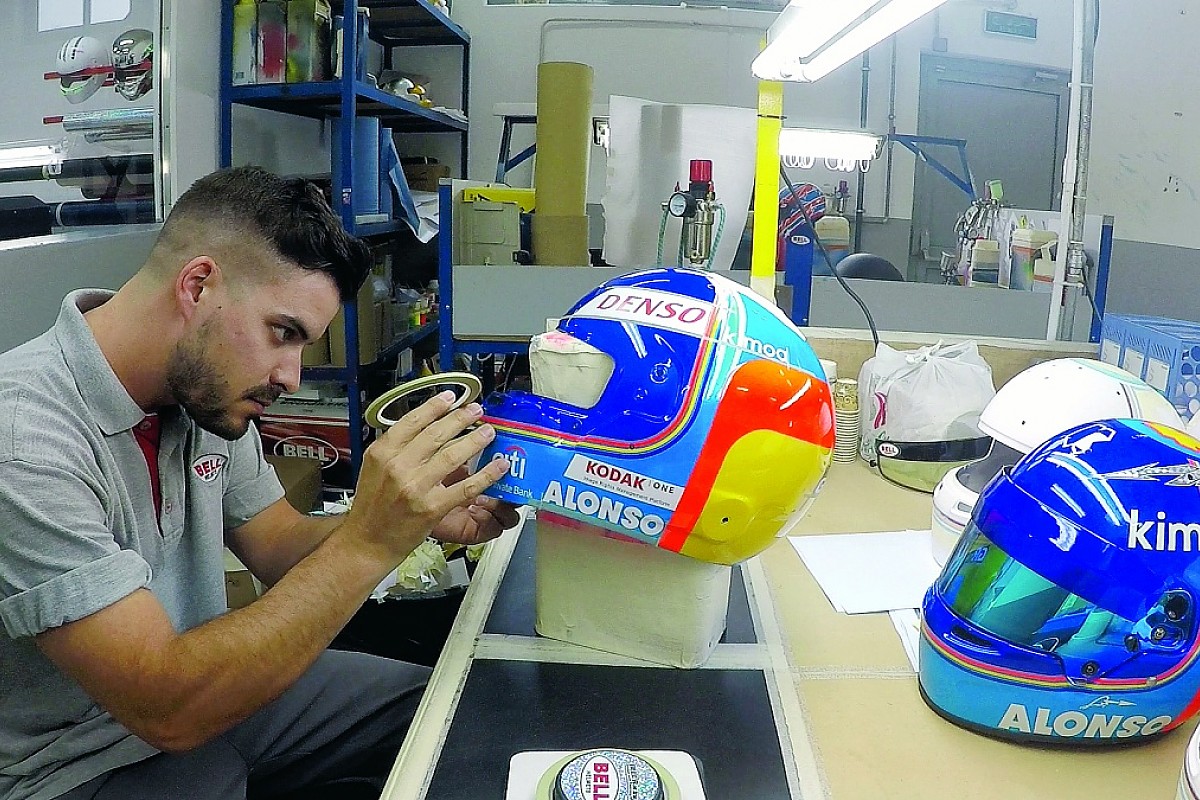 The detailed painting is also handled in Bahrain, allowing Bell to offer a bespoke, 'turnkey' service that results in a product that looks spectacular.
And, while helmets are only very occasionally put to the test - crashing is an inescapable reality for all racing drivers - there will be times when it can make all the difference between life and death.
Whether it's in F1, LMP1 or IndyCar, drivers have to have confidence in the expertise and technology of Bell.
"We concentrate on safety first, then weight, because we're in a sport where weight is important" Fernando Alonso
"We put everything in their hands because they have the expertise," says Alonso. "We try to know what the latest technology is, what the future of the helmet is, what will be the future of the visor or the [zylon] panel.
"We concentrate on safety first, then weight, because we're in a sport where weight is important. With the forces you have on the helmet, a light helmet always helps.
"We know we are in the best hands, so we are happy with that."

How F1 tech filters down to racing's grassroots
There's an old saying in motorsport that goes something along the lines of 'if you have a five-dollar head, then buy a five-dollar helmet'. Fernando Alonso's cranium is one of the most valuable in motorsport, so it's hardly surprising that he places a high value on protecting it. But he also extends that philosophy to others.
Alonso's karting school in Llanera exclusively uses Bell helmets, and the significance of safety equipment forms a key part of the syllabus.
"Thanks to my 17 years in Formula 1, the first thing I wanted was to share that experience," says Alonso. "I wanted to have the best of the best in my karting school, and obviously for the kids' protection they have to have the best. That can only be Bell helmets.
"One of the first priorities for me is to teach them how to wear the helmet, how to tighten the helmet, how to close the visor when they go out on track. The most valued thing they have is their head, and they need to protect it with the best things."
Alonso's extensive experience, which includes suffering concussion in a testing crash in February 2015 that kept him out of that year's season-opening Australian Grand Prix, also means he knows how age changes perception of risk. This adds to his desire to pass that knowledge on.
"When you're young, you are not totally aware of the risks and the danger," he says. "Safety is more and more a concern with the years. Thanks to [this] experience, you start choosing some different ways, different manufacturers, and that makes you more happy and safe."