Virtual or not, the prospect of jumping on a motion-based simulator for the first time 'in' a Porsche Carrera Cup car around Monza is slightly nerve-jangling.
But this is the first exercise in a series of simulator-based lessons Autosport Performance intends to bring you in conjunction with Position One Motorsports. So the guinea-pig role is one I'm happy to take on.
It might seem like a basic lesson, but whatever your level as a driver you will always have the possibility of learning a new track. And, as with most things, the fundamentals are absolutely crucial.
We start with some fun in a Caterham Superlight around the Brands Hatch Indy circuit. Having only ever used a static sim before, the experience of the 360-degree rotation is bizarre at first - it feels like my eyes are never going to adjust.
Once they do, after a couple of laps I'm able to get a feel for the steering and pedals. Simulators can't completely replicate the seat-of-the-pants feel some drivers love, with more emphasis placed on feedback through the steering.
But the motion does help with that because you're moving around more in relation to the track, so what I'm doing here is getting comfortable in what I'm driving. This is crucial to ensure I don't go into the real task blind.
The Porsche is chosen because it's a model Position One has got well sorted. Monza is too, but it's also relatively simple in layout and technical challenge.
First, we go over the track map. Ben Barker talks me though gears around the lap, then we go back through and talk through kerb usage.
As Barker, a Porsche Supercup podium finisher, has driven here in real life and already had a run in the sim, he's well placed to explain the differences between the virtual track and reality.
Crucially for this exercise, which is all about preparation for the real world, Barker reports a great deal of similarity - although he warns me off the kerb at Lesmo 2, which he'd take in real life.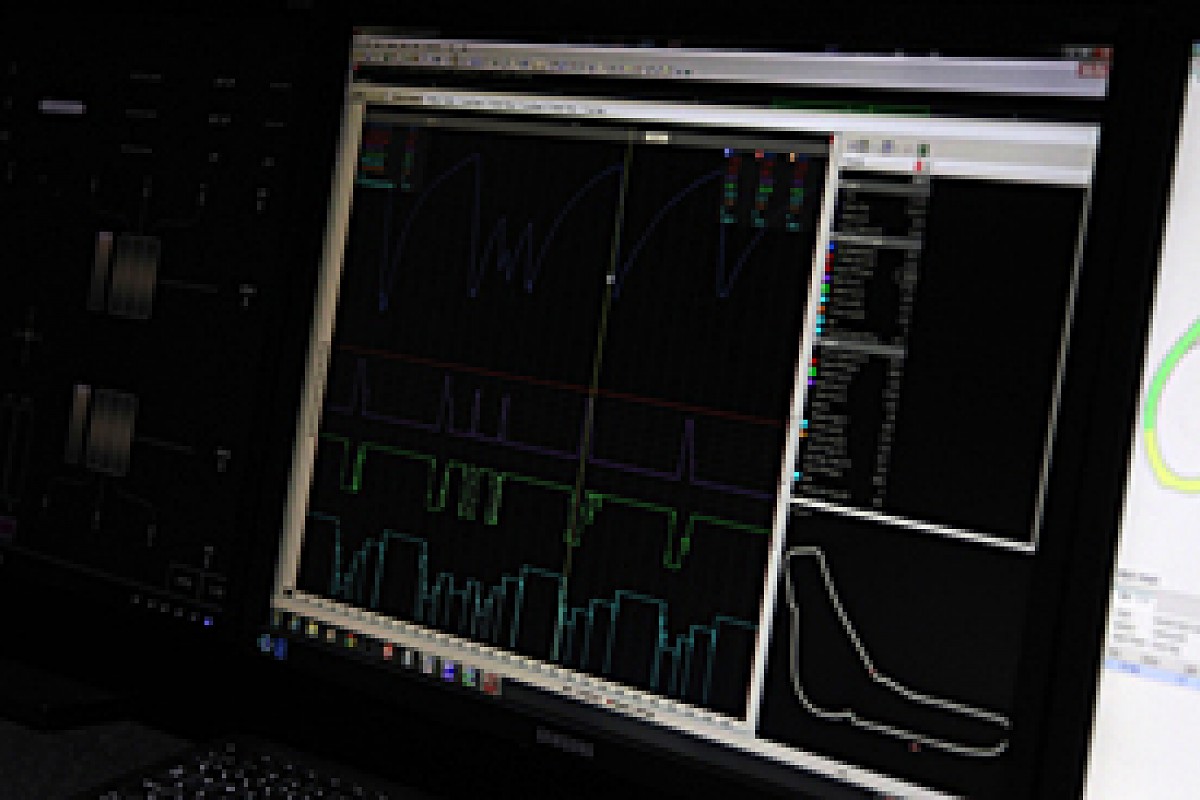 Simulator data showed where Mitchell needed to improve © autosport.com
Now it's time for the first run. Lesmo 1 tightens significantly more than it appears on the track map, let alone any TV pictures I've seen watching the Italian Grand Prix. Parabolica too. In addition to getting a feel for the car, these are the mental notes I make for when I stop after a few laps for a debrief. These early laps aren't about chasing a decent time.
The data trace shows my initial application of pressure is too low, and dips off too quickly. Barker says the brakes can take a bigger hit. He explains the tightening nature of Lesmo 1 and Parabolica means a naturally later apex, and also runs through braking markers. The 150m board at the Rettifilo chicane, the bridges for the Roggia and Ascari are all real-life markers that work well in the sim, though I'm lacking a little in confidence and need to work towards all of those as the day progresses.
A couple of mistakes creep in and lead to slightly gravelly excursions, so the run is brought to an end. In ideal terms I'm two seconds behind Barker, who has effectively matched his Supercup qualifying time from August. In reality I'm 2.7s back - hooking up my sectors has been tricky - and the messy end to this 10-lap run leads simulator engineer Matt Beers to call me in to calm down and back off from chasing laptime.
I'm still massively struggling at Lesmo 1 and Parabolica, where I've tried to apply Barker's technique. Getting sucked to the kerb is a bad habit I shouldn't be developing, but Beers points out it's better to get into it now so I can snap out of it before (in theory) visiting the circuit for real.
The final debrief is where things click. Barker reiterates how much room I have left to brake at the Rettifilo because I'm getting on the power again before the chicane! But Lesmo 1 and Parabolica are killing me, costing 0.8s and 0.5s respectively. He suggests downshifting from fourth to third for Lesmo 1 later, to help bring the nose to the apex. Braking later and less, he says, will also keep me from diving into the kerb too soon.
The final run is much better. Lesmo 1 is still messy, but there's an improvement, and although I'm applying a bit too much brake pressure at Parabolica still the corner speed is decent and the exit spot on. Applying the downshift trick to other parts of the laps yields a huge gain elsewhere - 0.35s at the Rettifilo alone!
We call it quits on lap nine, after a succession of PBs culminating in a 1m52.34s, a second behind Barker. The data shows half a second in Lesmo 1 alone. I'm not naive enough to think this would immediately translate to a real life lap of Monza, but it's pleasing to be able to target specific areas to focus on if I were to test there.
Therein lies the benefit of our task. An afternoon's work in Milton Keynes has probably bought me back a session of running at Monza. When time is everything in motorsport, that experience is invaluable.
TIPS FROM THE SIMULATOR EXPERTS
MATT BEERS from Position One Motorsports and Porsche Supercup driver BEN BARKER
MB: "The main things to learn are the layout and flow of the circuit, putting it in your memory so it's subconscious. Any thoughts on where you are on track is just distracting your focus."
BB: "That's the biggest thing with the simulator. You have the ability to drive out of the pitlane and look around, take things in, whereas in reality you can't. You have the intensity of everything on the day around you and don't have time to understand everything."
MB: "In reality you're limited by variables and time. We switch tyre wear off so the environment is the same lap after lap and you have the same things to deal with. The car you use doesn't have to be identical but it has to be something driveable and balanced, because you don't want to have to spend time learning to drive the car."
BB: "The next thing is understanding circuit lines and kerb usage. I'll always relate a reference to real life. You don't want to get in when you had a reference in the simulator that's slightly different in reality. It can teach you which gears to be in and the speed of corners is also relevant, whether it gets tighter or quicker. Maybe a corner has a double apex, or there are elevation changes. The simulator does give you quite a good idea."
MB: "Imola and Portimao have visibility issues in real life with regards to what you need to commit to before you see it. These things you really need to pick up on. What you see on the sim then needs to be verified on the day - the last thing you want is to use your sim reference and go screaming off the track. It's about appreciating variables will change when you go to the track."
WIN A DAY WITH POSITION ONE
Based alongside Gulf Racing, Position One was set up in 2014. It's headed by Matt Beers, who combines a technical and managing director role there with a team manager position with Gulf's European Le Mans Series effort.
Position One uses a motion-based simulator that has 360-degree movement and is based on industry-standard simulation software. The company is pursuing a holistic approach to driver development, with its facility comprising a gym, shower and treatment room.
It plans to introduce a classroom-based learning area as well to cover technique, fitness advice and driver psychology.
You can win a:
* Simulator session
* Fitness assessment
* Gulf racing workshop tour
Just by following @P1_motorsports on Twitter or liking Position One Motorsports on Facebook by February 1 2016. Full terms and conditions here.

Contact +44 (0)20 8123 7245 or info@position-one.co.uk.