They say all good things come to an end, and so it is with my time in Formula Vee - though a few months earlier than originally planned.
This was always meant to be my last season in the VW Beetle-based single-seater category, but it wasn't meant to end this way.
We started the year with a heavily revised car, a fresh engine and hopes of lifting the title I've spent the past five seasons striving to win.
But our set-up experiments haven't worked and our engine has been troublesome. We've spent too much time fixing crash damage, which has made it harder to troubleshoot other problems.
Ultimately, I've just not finished enough races to have a realistic chance of challenging for the championship.
Every time I've finished a race this year I've been on the podium, but otherwise I've not been finishing at all!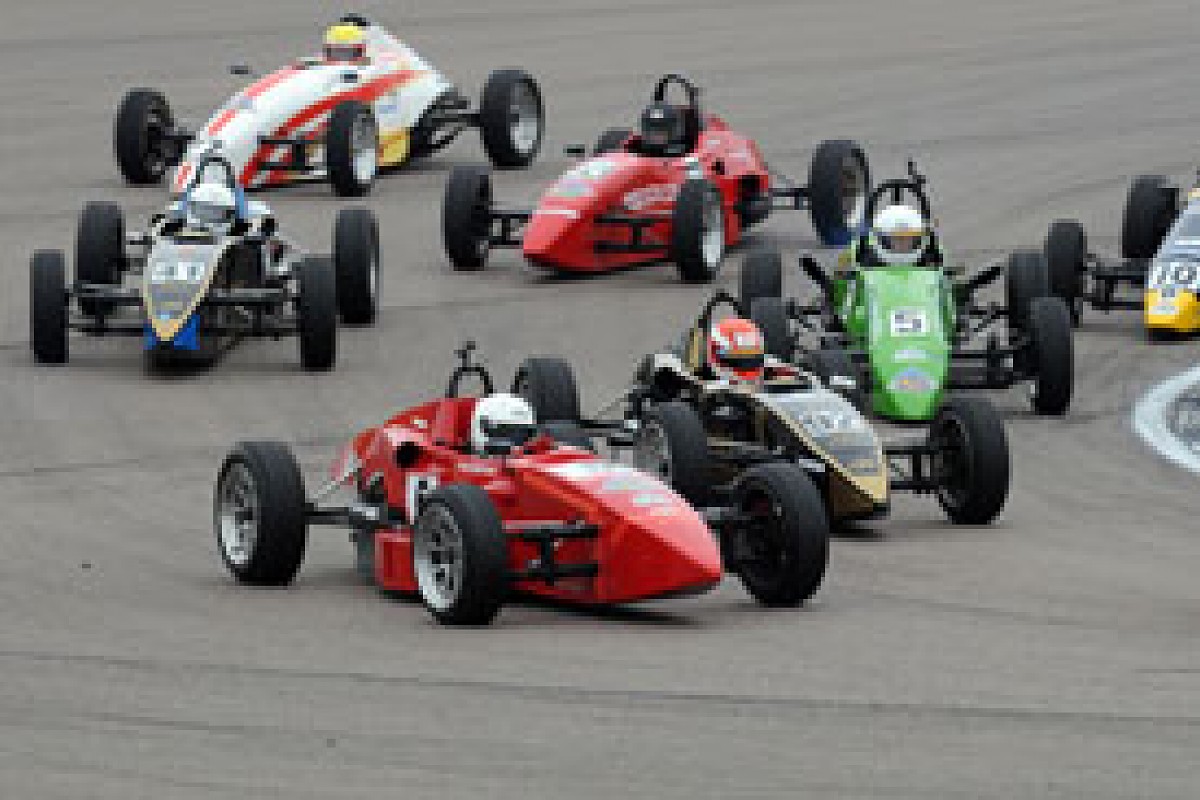 Reliability, rather than pace, has undone Anderson's season © Steve Jones
Three DNFs from the first six races was already a bit too near the knuckle in a series that only permits you to drop your two worst scores at the end of the year.
So when a terminal gearbox problem led to two more non-finishes in June's races on the Donington Park GP circuit (making it five from eight), I knew my number was up.
But I couldn't slouch off with my tail between my legs quite yet.
My fiancee's family had already committed to visiting the next round - Formula Vee's first on the oval-based Rockingham circuit - so I felt I had to do one more race before bowing out.
Especially given her grandpa had come all the way from Canada to see me!
So I went to Rockingham for a final salvo - one last 'hurrah', if you will. And it turned out to be a pretty good one.
We got our engine and gearbox running reliably in testing, which meant we could finally get to grips with set-up on the car.
In this respect, one final outing was very useful. We back-to-backed our experimental three-spring zero-roll rear suspension settings (used at Brands, Snett and Pembrey) with our conventional single-spring arrangement.
The single-spring set-up proved half a second quicker. Although a stiffer rear makes sense in theory - helping to control roll at the back and take the strain away from overloaded narrow front tyres - it just doesn't work in practice.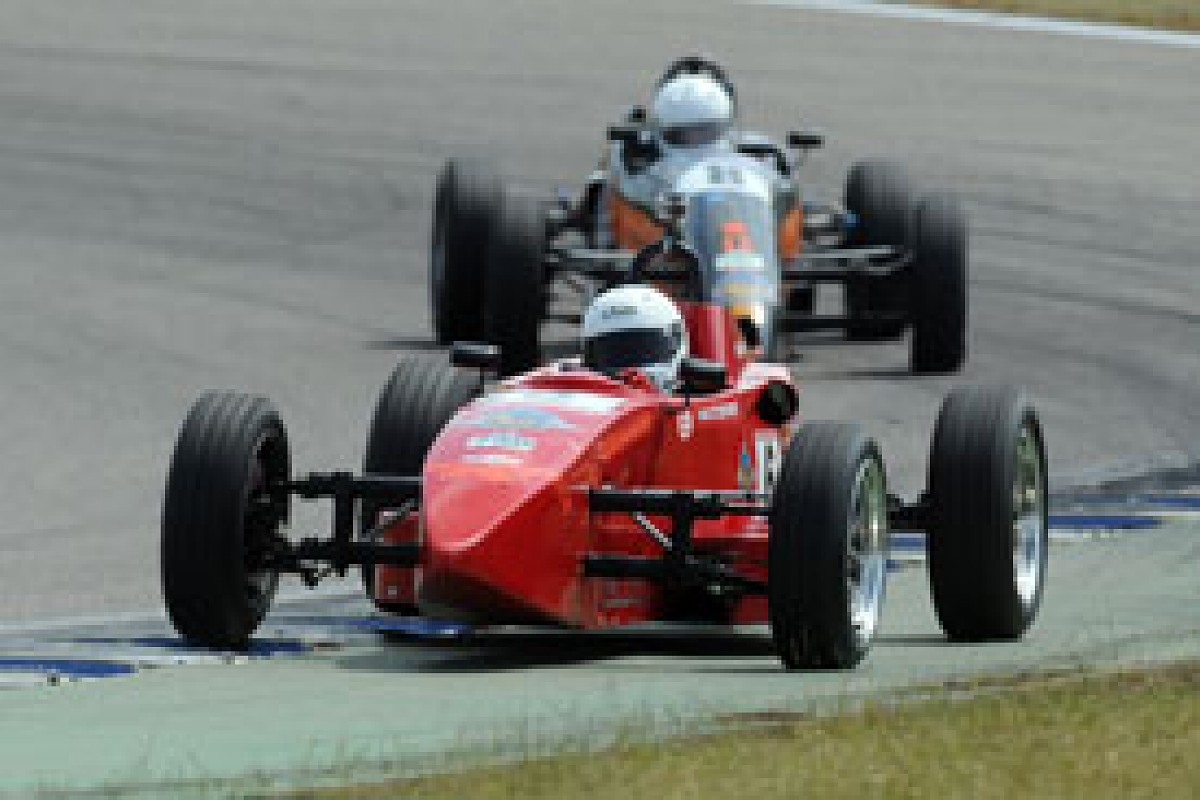 Stiffening the front, and living with the understeer, proved optimal © Steve Jones
Traction is king in Formula Vee, and the mandatory Beetle swing axle (something legendary designer Carroll Smith described as an "abomination" that has no place on a racing car) just won't play ball if the rear is sprung too stiffly.
So, you basically have to make the front as stiff as possible to control roll, keep the back as soft as possible to gain traction, and then ask the driver to live with the understeer. Madness.
In respect of racing it was almost the perfect weekend: double pole position, double fastest lap (establishing a record for the category), but not quite the double win I hoped for.
Saturday's charge back from a poor start netted me my first win in the category for over two years.
True, championship leader Paul Smith and former double champion Martin Farmer were absent. But, as with any game, you've got to be in it to win it!
Perennial nearly man Peter Belsey must have thought he had, until I closed him down and grabbed the lead half a lap from the end of the race.
Graham Gant (the man who spun in front of me in race one) thwarted plans for a repeat on Sunday.
His self-made WEV design has steadily climbed the grid over the past few seasons and I couldn't live with the power of his engine on Rockingham's long main straight.
He does work for a company that builds Formula 1 race units though, so if he can't make a strong motor then what chance is there for the rest of us?
I was quicker over a lap, but an overly rich air/fuel ratio cost my engine power in some crucial places and I ultimately failed to deny Gant his first race win for three decades.
The combined winning margin across the two races was less than eight tenths of a second, which is how Formula Vee should be: close battling, slipstreaming, and fighting for every inch of track.
Some in the paddock were convinced I'll be back for the next round at Silverstone in August, but I won't. I'm embarking on a new adventure in the great rival category to Formula Vee in the late 1960s - Formula Ford 1600.
There are many people within the sport who believe single-seater racing has never bettered the original Kent-engined incarnation of Formula Ford.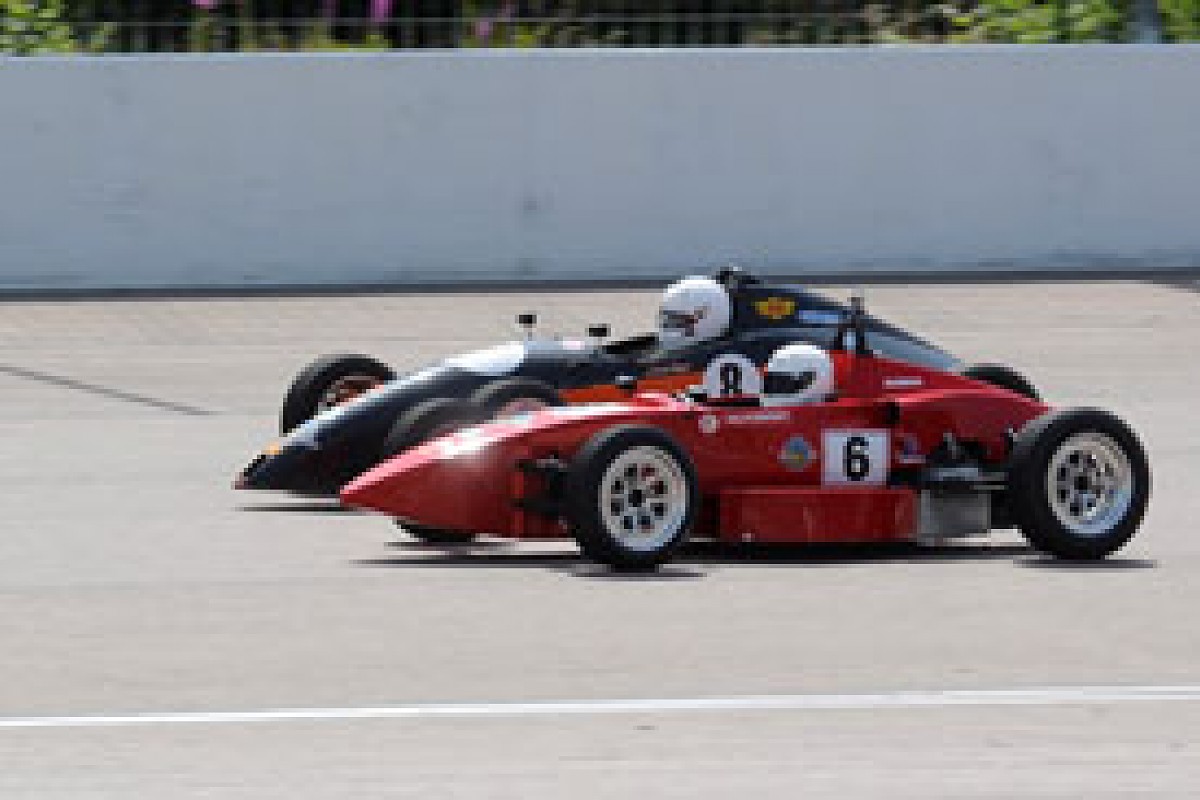 Our man will switch from Formula Vee to Formula Ford 1600 © Steve Jones
I wanted to stay in single-seaters and this seemed the most affordable way of continuing. I'm sure Anderson Sr is also delighted by the prospect of working with bespoke racing suspension and gearboxes too!
My car will be the red Ray GRS07 campaigned successfully by Stuart Gough in the Northern FF1600 championship.
Having cut my final Formula Vee campaign short, I should have more time to get to know my new mount before tackling the Brands Hatch Festival and Walter Hayes Trophy end-of-season showpieces.
I believe these events are the most competitive in all of UK club racing - particularly the Walter Hayes Trophy, which attracts more than 120 Formula Ford drivers from around the British Isles (and the Team USA scholars) to Silverstone every year.
I've had a lot of fun and learned an awful lot from my five years in Formula Vee, but it's finally time to bid a fond farewell and take on a fresh challenge.
Previous entries:

AUTOSPORT's title hopes hit the barriers
AUTOSPORT on the podium in Formula Vee opener
AUTOSPORT races a Radical and tries F4
AUTOSPORT on the pace in Formula Ford
AUTOSPORT gets Formula Ford race chance