The date is January 2011: The first day of the AUTOSPORT International show. Dean Stoneman is riding high.
He's the reigning FIA Formula 2 champion, has tested for the Williams F1 team, and has just announced plans to partner Red Bull protege Daniel Ricciardo in ISR's Formula Renault 3.5 line-up. Everything is looking good.
But something is wrong. Dean hasn't been feeling well over Christmas and he's lost a lot of weight. His family dismissed it as flu at first, but when he started vomiting blood they decided to book him in for some scans.
On the Monday after ASI, Dean flew to Prague to ink the deal that would take him one step closer to racing in F1. On Wednesday he visited a stomach specialist to have those inconvenient scans. By Thursday morning he was in Southampton General Hospital with his life hanging in the balance.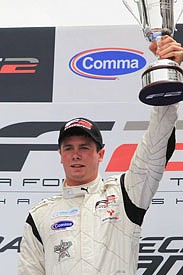 Stoneman winning in F2 in 2010... © XPB
"My dad dropped a penny on the way out the door," he recalls. "They're meant to give you good luck if you pick them up. He said 'pick it up' and that day I got diagnosed with cancer. I'll never pick up a penny again."
What the Stoneman family thought was just a succession of minor ailments (Dean was taking Gaviscon for what he thought was heartburn during his Williams F1 test in Abu Dhabi), culminating in a winter flu bug, was actually Metastatic Choriocarcinoma - an aggressive form of testicular cancer that spread through Dean's body up to his brain.
"I was seven days from death and two hours from losing my legs and kidneys," he says in his trademark matter-of-fact manner. "I had a tennis ball-sized lump on my stomach, but the specialist I had was the best in the world.
"Everyone thinks it's just a case of 'whack off a bollock, a bit of chemo and off you go', but I had 250 tumours in my body."
Stoneman no longer looks the way I remember from his early career in Formula Renault. He looks gaunt, and his hair is patchy. These are physical clues to the ordeal that turned his life upside down.
"Southampton General has never administered chemotherapy the same day as someone being brought in before," says Stoneman, who also had to undergo four operations during the course of his treatment.
"They were getting the chemo ready as I was having my first operation."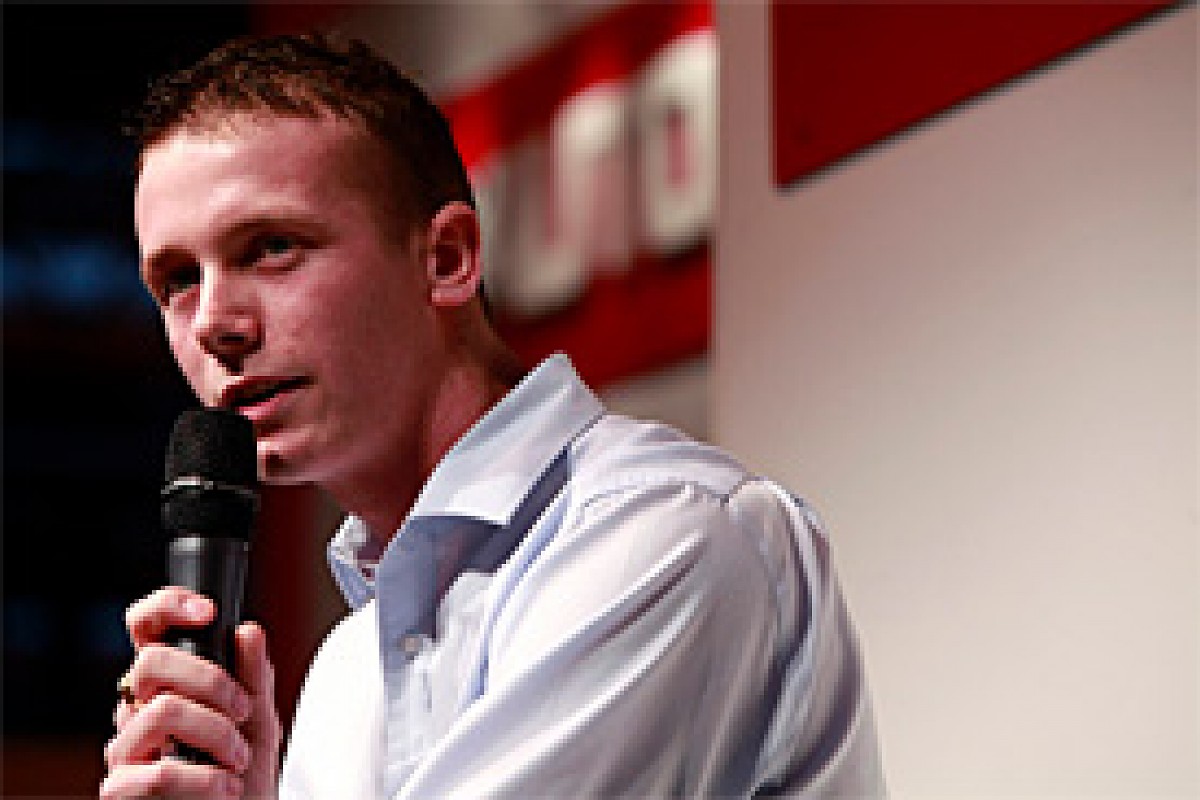 ...and at AUTOSPORT International in early 2012 © LAT
Conventional chemotherapy failed to get Dean's blood count under control (normal is 0-6, 1,000,000 is untreatable, Dean's was 513,000 when he first went into hospital and expected to double within two weeks...).
His count came down to between 200 and 500 after a first round of treatment, but began to rise again once it stopped. So he had to undergo a second, experimental, round that had only been tried on two other people.
"I had to sign a disclaimer in case I died," he recalls. "My dad said to the specialist, 'if it was your son would you go for it?' He said: 'definitely'."
The doctors administered the experimental cocktail of drugs into Dean's body for 18 hours a day, six days a week, for three weeks at a time in a bid to rid him of his cancer.
"They could only do this because I was of a certain age," he explains. "Being young helps cancer spread but it also gives you more chance of surviving the chemo. My fitness regime with Williams certainly helped me.
"My treatment would have killed a normal 35-year-old instantly."
After being "asleep in a dark room for three months" Dean came out of hospital in July 2011. "My blood count had dropped to normal but the chemo was so strong that I had to have blood transfusions," he says. "I had blood clots on my lungs, hair loss, and nerve damage. I've also lost some feeling in my fingers and toes, which will probably never come back."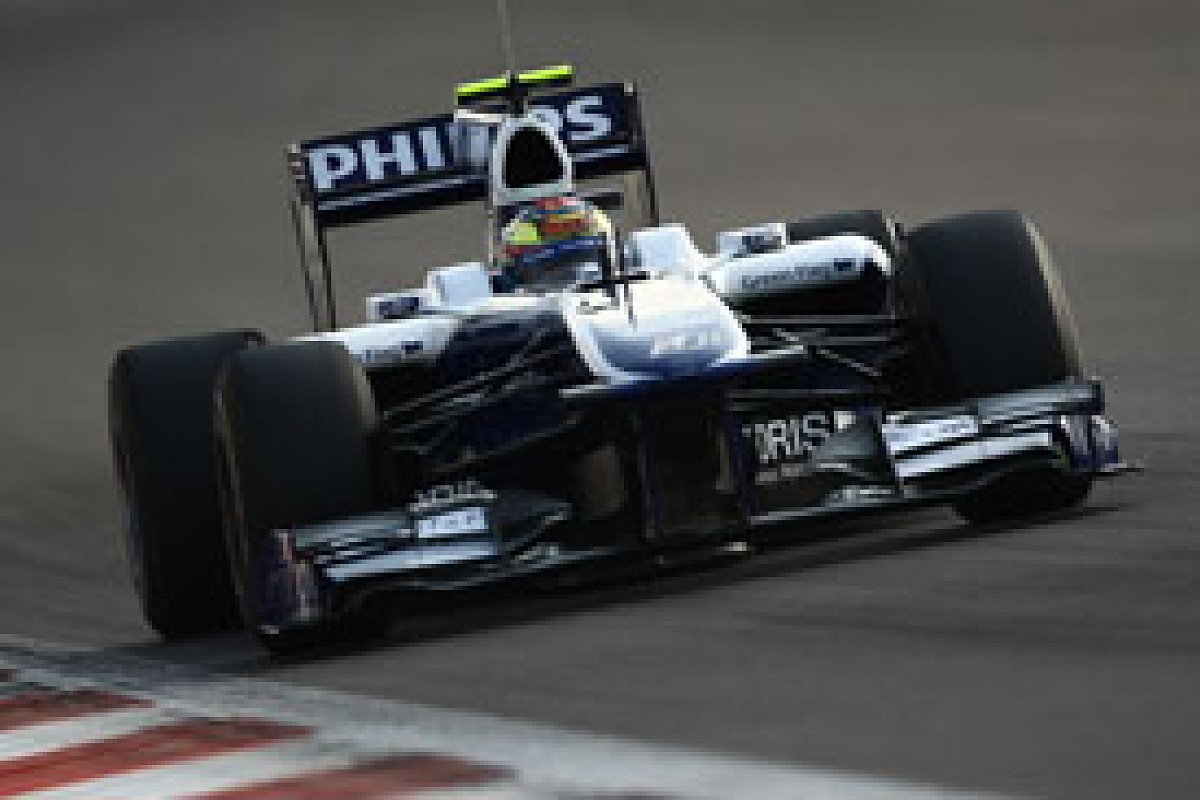 Stoneman's Williams F1 test wasn't his final act in motorsport © XPB
The motorsport world probably thought it had seen the last of Stoneman after his horrific ordeal, but by November he was back at the wheel, testing for ISR in Formula Renault 3.5 at Aragon.
How did he feel after setting the 17th quickest time, less than a tenth behind team-mate Laurens Vanthoor?
"Knackered!" he says. "I had a guy massaging my hands it was so painful, and we had to modify the steering wheel to strap my fingers on so I could hold on!
"It was tough but we'd paid our deposit and I wanted to do it."
Stoneman spent a quiet winter with his family before turning his attention to a proper racing comeback. He explored options in the United States (and tested in Indy Lights for Andretti Autosport) but decided against the 'Road to Indy'.
"The driving wasn't hard but it wasn't a move I wanted," he explains. "It was a lifestyle choice. I didn't want to leave home and had to keep in close contact with the doctors.
"When I was ill I wasn't allowed to go further than one and a half hours drive away from the hospital."
Stoneman did a couple of races in Radical sportscars, but spent last year partaking mainly in water sports. "I had an offer from P1 Superstock to do powerboats," says the man whose dad is an ex-powerboat world champion. "They want to be seen as non-wheeled motorsport and bring people in from real motorsport.
"My family background helped, but I built the boat up and towed it to the races myself."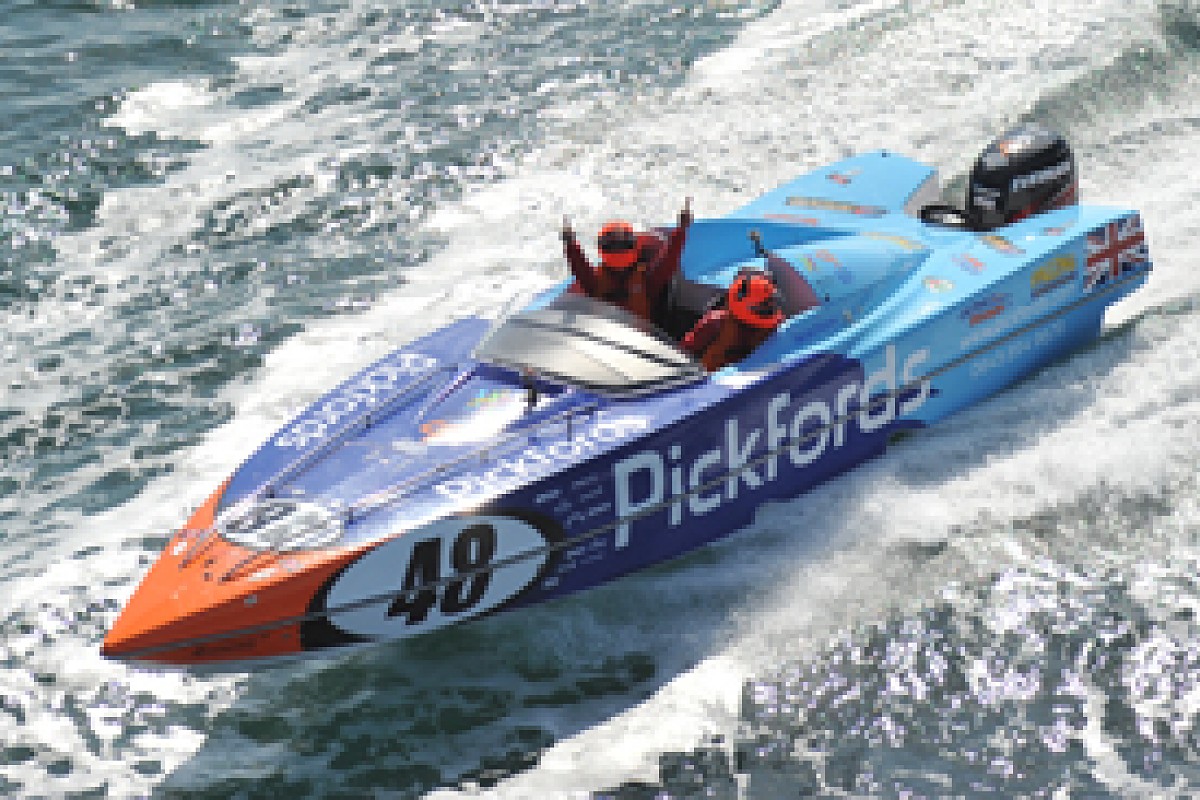 Celebrating the P1 Superstock powerboat title
Dean proved a dab hand on water, winning all but one of his races to become champion in his debut season.
"It was physical but nowhere near as physical as driving," he says. "It was a different experience and I really enjoyed it. It was more about enjoying myself after what I'd been though than pushing myself to succeed."
Stoneman's chemotherapy hadn't killed his racing bug and soon he was itching to get back into four-wheeled competition. "I always knew if I survived that I would get back in a racing car," he says. "Even if it was two, three, or four years down the line."
Dean caught up with Tiff Needell at the P1 powerboat awards earlier this year, where Tiff advised him to look at Porsches.
By the following Thursday (thanks to the links Dean has with ex-Carrera Cup GB racer Tim Harvey's BRDC Superstars programme), Stoneman was testing for Redline Racing at Brands Hatch. He was on the pace within five laps, and struck a deal to return to racing full-time in the series shortly afterward.
Having taken two wins on his series debut at Brands in March, putting him firmly in the frame for the title in his rookie season, a career in sportscars is now the focus.
"It's €1million to do World Series, then next year the same, unless someone in F1 takes you on," he argues. "GTs is a good place to be right now, and I can look at it as a potential career rather than a dream.
"The aim is to become a Porsche factory driver and race at Le Mans. To be seriously ill and then five or six years down the line compete in the most physically demanding race in the world would be quite a story."
Or just another chapter in an already remarkable one.