Formula Vee finally got going at Brands Hatch last weekend, after our snowy false start at Donington Park last month.
That at least gave Anderson Sr more time to put our car back together after its unfortunate pre-season shunt at Snetterton! And make some extra adjustments to the cockpit to make me more comfortable.
We went testing at Brands a week before the race. This provided our first proper day of dry running this year, and thus our first real opportunity to learn about the car's behaviour after all our revisions over the winter.
It took all day, but by the last half-dozen laps the car started to make sense to me. This was mainly about getting rid of old driving habits, built up over four seasons of driving a car that fundamentally wanted to understeer at every turn.
Old habits die hard they say, and I'm not getting any younger! But we got there in the end, achieved a reasonable base set-up for the car, and managed to go under the existing lap record on the final lap of the day.
So, we headed to the following weekend's race confident of fighting for pole.
We were late out for qualifying, following a delay to repair some broken concrete at the exit of Paddock Hill Bend, and I missed out on the top spot when we did finally venture out for practice.
The session was a scrappy affair. The volume of traffic jostling for position made it feel more like a race! I didn't play my strategy very well in hindsight: I fought too hard to get through the slower cars, rather than backing off to find some space in the 25-car field.
Nevertheless, reigning champion Paul Smith (nursing a broken right hand) and I were the only two drivers to lap under 53 seconds. My best (52.5s) was two tenths shy of his benchmark.
The post-qualifying paddock talk was dominated by an official protest against Smith by another competitor.
Smith's AHS Dominator was protested for running a system known as 'One shot', which provides extra fuel to the manifold that connects his Tillotson carburettors to his engine.
The chief scrutineer ruled the system illegal, but Smith (and four others who run the system) assured officials it was disconnected.
The protest was withdrawn before the first race, on the proviso the 750 Motor Club (which runs Formula Vee in the UK) issues an official bulletin confirming a ban on One Shot under the current regulations.
It's a controversy that dogged the formula throughout last season. Hopefully, we are now finally on the road to resolving it.
With that business behind us it was time to get down to racing. Our first attempt on Saturday was red flagged twice: first for a brake line failure on Ian Buxton's GAC that pitched him off at Druids, then for oil laid down by a leaky car at Druids and Graham Hill Bend.
I managed to lead by several lengths across the line in the restarted race (for the first time since 2011!), but Smith was back ahead at Paddock on lap two before the reds flew again. "It feels like we're never going to get to race this year!" he quipped in parc ferme.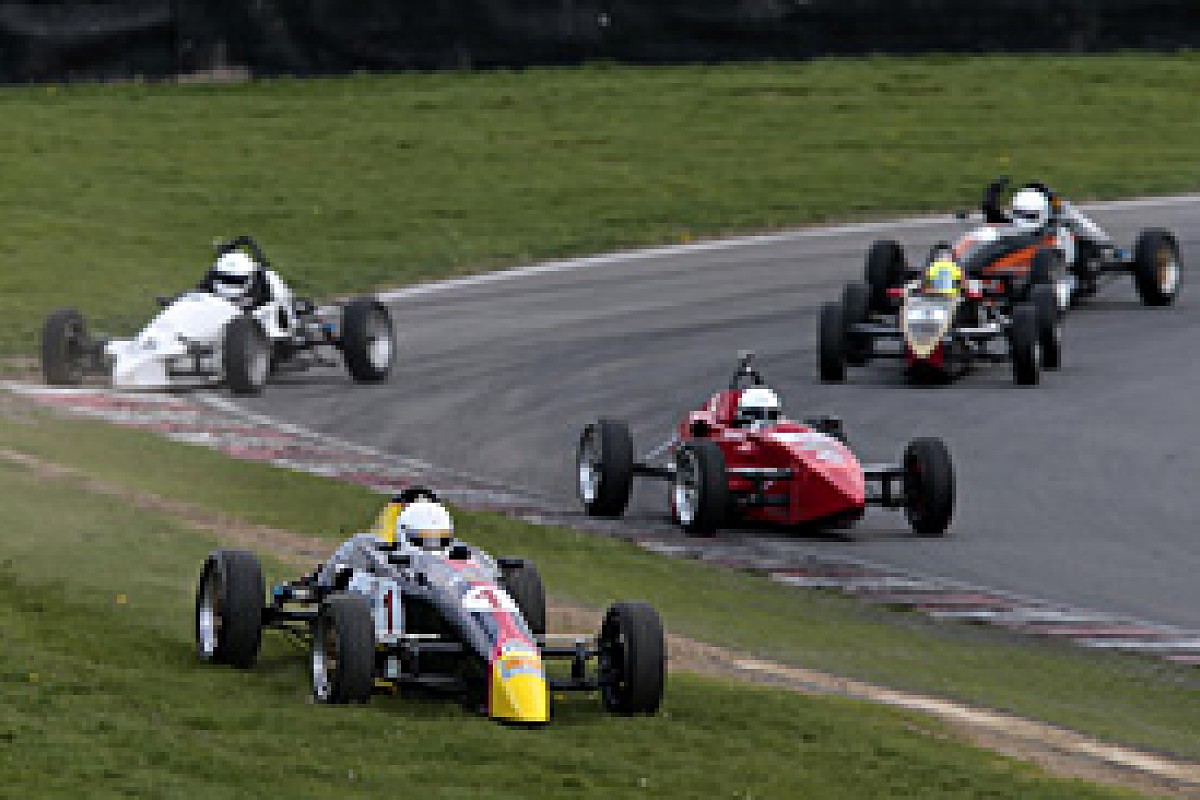 Paul Smith goes off in front of our man © Gary Hawkins
Our race was put back to the end of the day, and the officials did a commendable job clawing back enough room in the timetable to give us a run.
The track was sodden after a heavy mid-afternoon downpour and the re-run quickly became a two-horse race between Smith and me.
He was quicker initially, but I came back at him later (helped by eventually using the correct gear at Paddock!). Having just cut my quickest lap of the race, I made a small mistake at Graham Hill and slid wide onto the kerb, letting Smith off the hook just as he set his best lap of the contest.
Traffic was equally unkind to each of us, so the race was settled. We both described it as stalemate afterwards.
Double champion Martin Farmer (who tends not to like slippery conditions) finished some 16 seconds further back in third.
Sunday brought nothing but bright sunshine to Brands, so there was no prospect of anything other than a bone-dry race.
I started on row two this time, on account of my second best time in qualifying not nearly matching my fastest.
We were concerned our car was giving away traction to Smith's (particularly at Clearways), but in our efforts to compensate we made too many adjustments to the set-up and lost the balance of the chassis to chronic understeer.
I battled my way past Buxton and Dan Pitchford's Leastone in the early laps to grab third, but couldn't catch the leaders as I struggled with the handling imbalance. My exuberance at Graham Hill eventually led to an official warning from the clerk of the course for exceeding track limits.
Farmer drove a really impressive race, harrying Smith for the lead, setting a new lap record and finishing just a tenth adrift of a driver who was walking off into the distance last season.
I think that bodes well, because it suggests the championship will be hotly contested this year.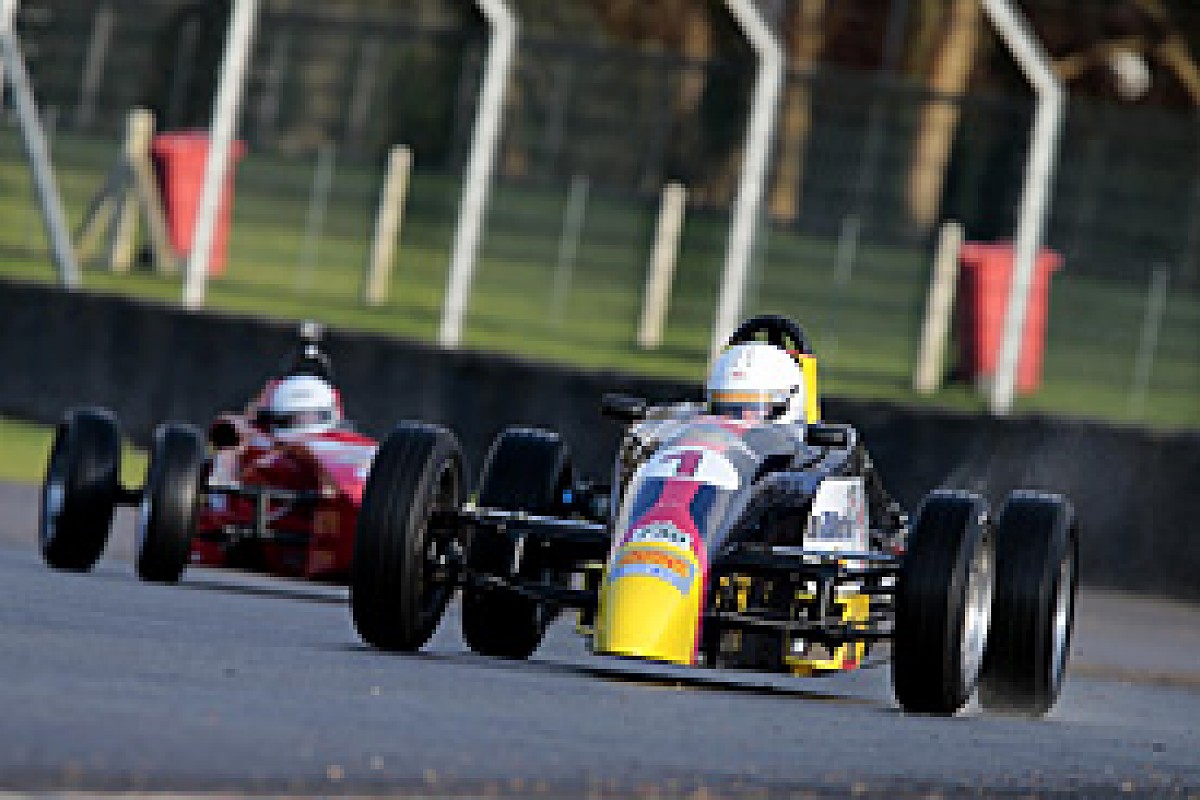 Anderson chasing the leader © Gary Hawkins
From a personal point of view, I'm not sure whether it's worse to know we've underperformed than to be scratching our heads wondering what to do to close the gap?
I guess knowledge is always preferable to ignorance, so we can't be too unhappy! Especially as we have more points on the board than at this stage last season.
Snetterton next, at the end of May: One race each day on the 300 and 200 Circuits, where it will be up to us to start realising our potential.
Previous entries:

AUTOSPORT gets Formula Ford race chance
AUTOSPORT on the pace in Formula Ford