Car repaired after my pre-season testing shunt at Snetterton, I expected to trudge up the M1 to Donington Park last Friday, for the first round of my Formula Vee title tilt.
Heavy snow put paid to that, so I stayed at home and twiddled my thumbs instead.
Then came an unexpected phone call from Ford Motorsport boss Mike Norton.
"What are you doing next weekend?" he asked me, with a tone of mystery in his voice.
"Going up to Oulton Park to cover British GT," I replied, eager to return to my lunch.
"Is there any way you could not do that and come to Brands Hatch instead?" he prodded.
"Possibly... Why, what do you have in mind?" I asked, now less concerned by food and intrigued to learn his proposal.
"How do you fancy racing in the first round of the British Formula Ford Championship?" he answered, casually dropping a bombshell in my right ear.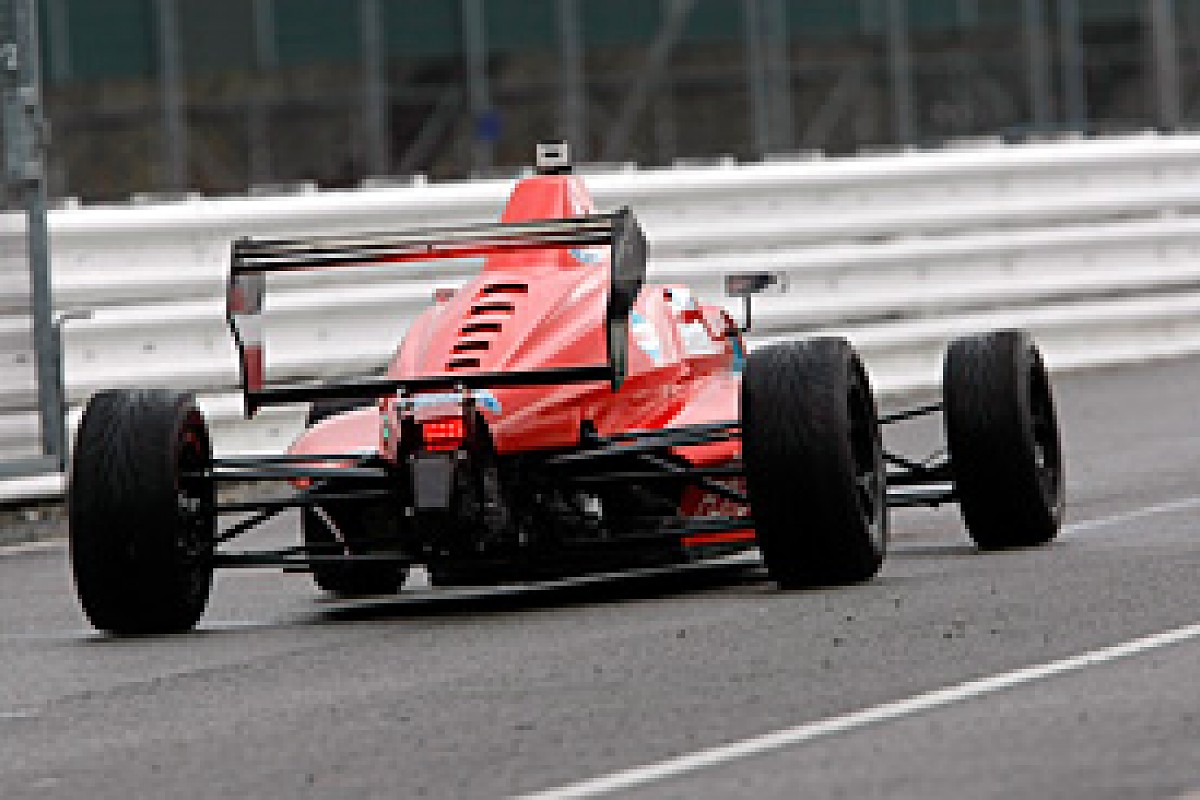 Anderson will drive Jamun's car © autosport.com
"One of the Argentinean lads has broken his hand and Jamun has asked us to find them a driver.
"We thought of you because you know the track, you've driven the car, and you're almost up to speed."
He didn't need to ask me twice.
After last week's last-minute cancellation, I expected to wait until the end of April to begin my racing season - at Brands Hatch, ironically.
Instead, I will suit up this weekend to race a Jamun Racing Mygale in the first round of the new-look Formula Ford EcoBoost 200 championship, as former champion Scott Malvern's team-mate!
The series had a tough first season with its all-new EcoBoost cars last year. So it's added wings to the cars front and rear, and rejoined the British Touring Car Championship support package (for the first time in a decade) in a bid to increase its appeal.
Now Formula Renault UK is dead, Ford can see an open goal. The Blue Oval is keen to ensure EcoBoost is successful, so it's also pumped fresh funding into the championship.
Early signs are positive. The number of entries has doubled compared to last year, and at least 12 drivers are expected to line-up on the grid for the first round, with more to come.
That I am one of those 12 is down to an unfortunate incident for one of Jamun's regular drivers. Argentinean teenager Juan Rosso suffered a broken hand in a testing crash and withdrew from the first round.
Jamun and Ford have pulled out all the stops to get the car ready for me to race. The team has contracted staff in to prep the chassis, while Ford has supplied parts and transported the engine to renowned builder Scholar for tuning.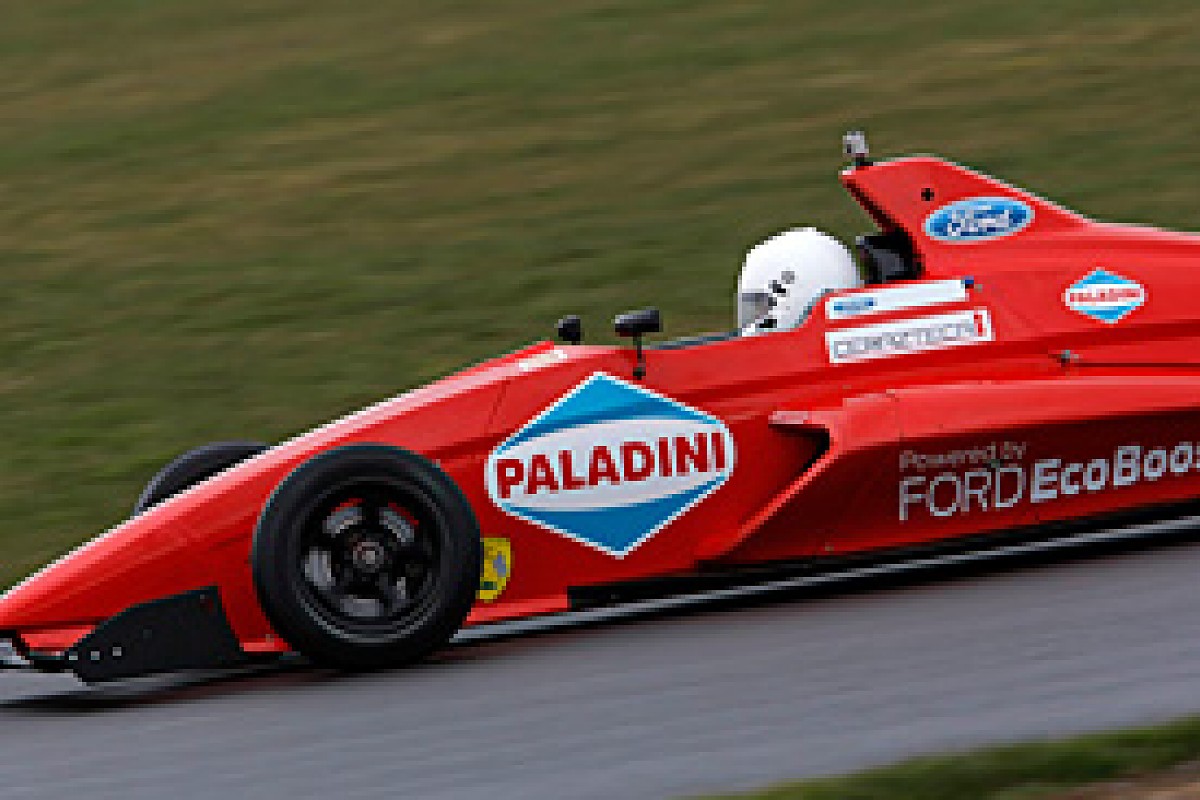 Argentinean Juan Rosso got injured in testing © autosport.com
I expect to head to Jamun's Kent base on Thursday for a seat fit before we get down to business with two 45-minute test sessions on Friday.
I don't have long to get up to speed, but I tested the Mygale 'show car' for an AUTOSPORT feature on Valentine's Day, so I have some references to shorten the learning curve a little.
But all that doesn't matter really. I've been handed a rare chance to race in a national-level slicks-and-wings series for the most successful team in British Formula Ford's recent history.
I can't wait.
20th MARCH - NOT THE BEST OF STARTS
It wasn't supposed to start this way. This was meant to be the moment we rolled out our latest wares and began to show the world we mean business this season.
But you can't change history. So here I am, standing cold and wet at Snetterton with my car crumpled against a tyre wall. The word running repeatedly through my mind is not fit for family consumption.
Every racing driver crashes from time to time - some more frequently than others! You feel desolate when it happens to you. The confidence that propelled you into the previous corner faster than ever before evaporates. You feel like a novice again.
Thoughts of injuries are always suppressed by concern for the state of the machinery. 'Forget my neck; will the car be OK for the next session?'
Mine wasn't. Pre-season preparation has not been ideal (parts delays and the arrival of a Portuguese Water Dog puppy into the Anderson household). Now, thanks to my greediness with the brakes meeting perfectly with the boggy outskirts of the Snetterton 300 Circuit, that preparation is set back a few steps further.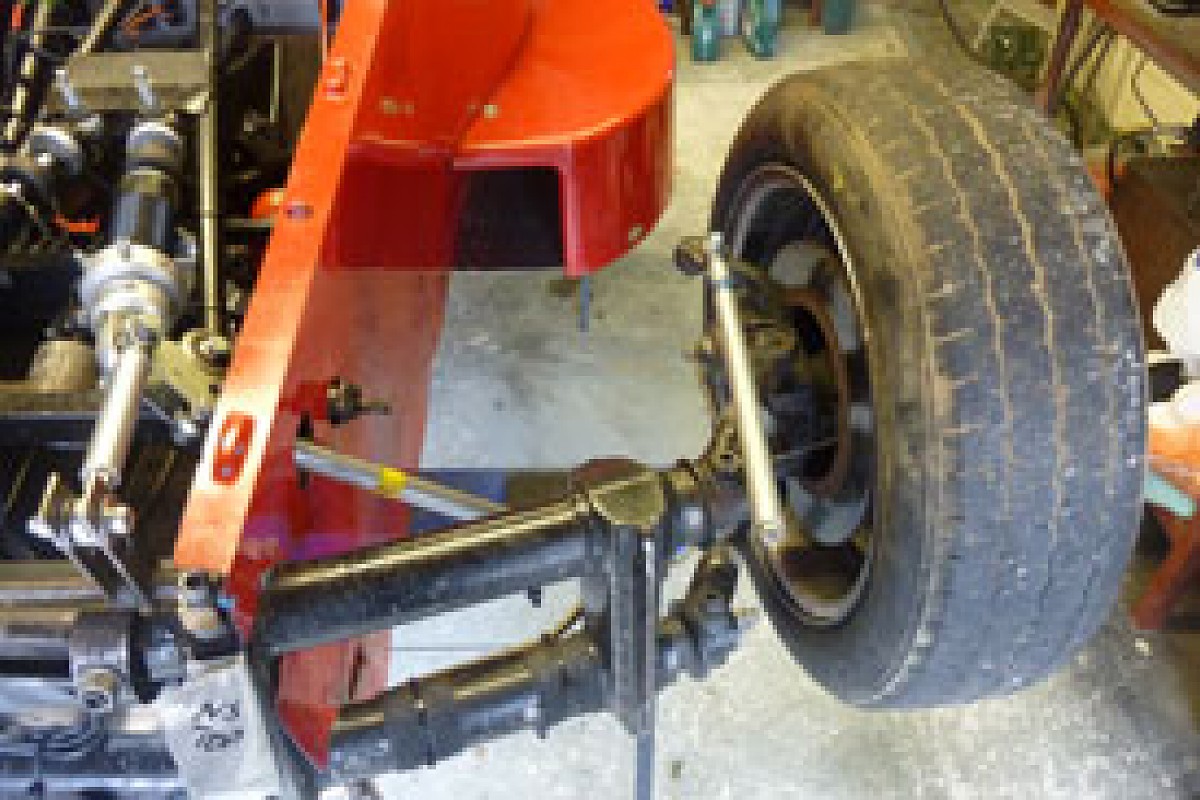 Meeting with the barriers wasn't in the plan
This was our one and only test before the first race of the season, and I've rewarded all the hard work done over the winter by stuffing it into the barriers. The car is broken. My thumb hurts. I'm feeling sorry for myself.
Over in the pitlane my dad Phill must be cursing under his breath. He's laboured for the past six months to give me a car that can win the championship. Now he will have to labour to put it back together again. Sorry dad!
Like many petrolheads, motor racing is a family business for us. My dad and I have spent 17 years travelling up and down Britain (and occasionally to Belgium) to feed our habit, first in karting and then in single-seaters.
We've spent the past four years racing in Formula Vee. This is an entry-level single-seater series for cars based on the iconic Volkswagen Beetle. In the 1960s Formula Vee was a Germanic international rival to Formula Ford. The likes of Niki Lauda, Emerson Fittipaldi and Keke Rosberg all raced Vees in their formative years.
The category still has a strong following. There are national series in Australia, Brazil and Britain, and the cars are still popular in the United States. In the UK, Formula Vee is run by the 750 Motor Club and is probably the cheapest place to go single-seater racing. It attracts a broad mix of drivers, from the classic 'weekend warrior' club racer right through to ambitious youngsters looking for a cost-effective way to learn the ropes.
Chassis are of free construction (within prescribed tolerances and materials), so budding designers can build and race their own cars. Ours is designed by Alan Woodward of GAC Motorsport.
Formula Vee permits chassis and engine development © Gary Hawkins
Alan is one of several low-volume constructors whose cars populate the championship. Most are based on old Formula Ford 1600 designs (the GAC traces its roots to a Swift), adapted to take the mandated VW parts (front beam axle, rear swing axle, 1300cc air-cooled engine, and Type 1 four-speed gearbox).
My sister Jenny joined the formula in 2008. I followed a season later. We came from high-performance, slick-tyred, bike-engined Formula Jedi, which can lap the Brands Hatch Indy Circuit in a Formula Renault-matching 45 seconds. So racing a car with only 85bhp and skinny treaded tyres was a culture shock.
Raw performance is no reason to stick with Formula Vee, but the wheel-to-wheel racing is superb. The cars are lightweight (just 375kg without the driver) and aerodynamically inefficient, so slipstreaming is essential and makes for exciting battles.
I've done two full seasons in Vee (2010 and '12) and two part seasons (2009 and '11), winning three races in total. My best result was second in the 2010 championship. I've led the standings in each of the past three seasons, but not been able to sustain the challenge. Last year we abandoned our campaign early to develop the car for this season.
That's the other great thing about Formula Vee - it's a formula that permits development to chassis and engines. Our GAC has been continually updated over the years, chiefly in pursuit of extra stiffness to aid cornering. The front wheels are very high and prone to overloading, so it's a constant battle to prevent the car giving up to understeer.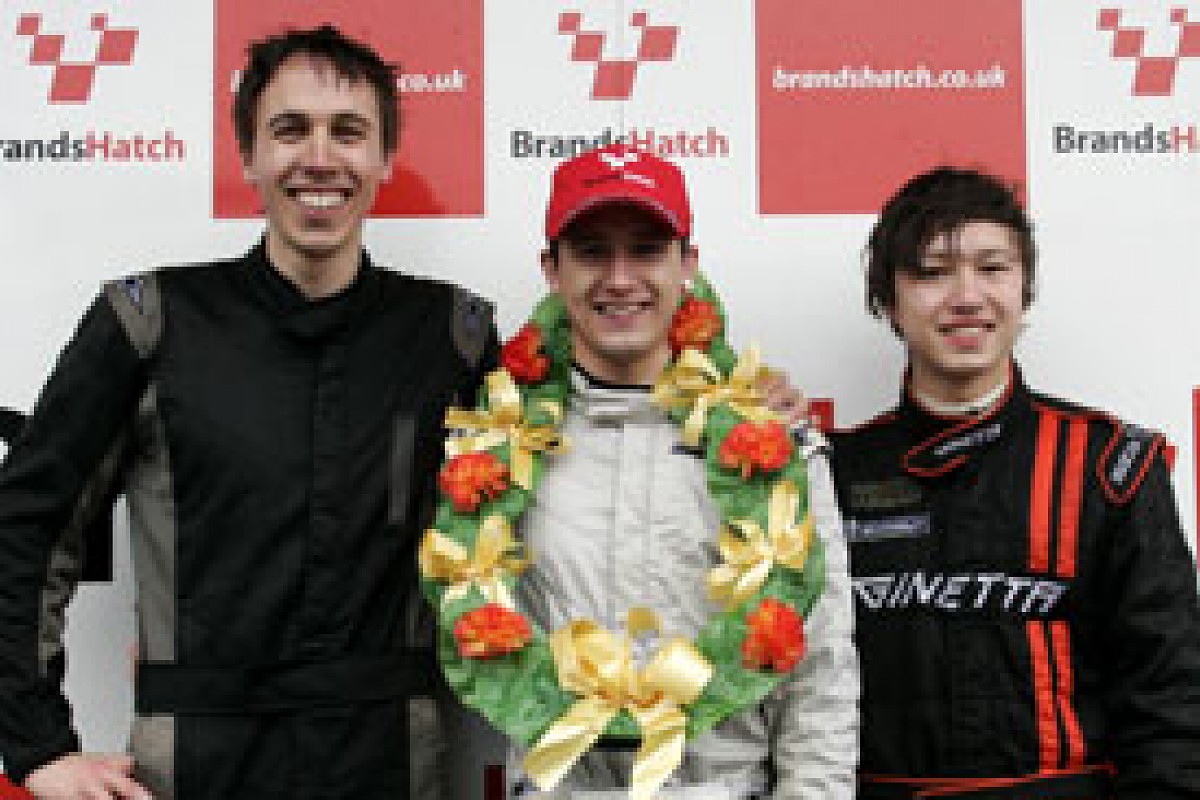 Our man (left) on the Brands Hatch podium © Gary Hawkins
A wet qualifying session at Anglesey last August perfectly highlighted this problem. I qualified third, 1.5 seconds behind runaway champion Paul Smith and 0.8s adrift of former double champion (and Force India Formula 1 simulator driver) Sam Oliveira. The circuit's twisty nature really punished the car's turning inefficiency.
Two engine failures that weekend effectively ended my title hopes for the season. During the six-hour journey home to Surrey we resolved to launch a counterattack for 2013. So for this year we have converted the car to a shorter wheelbase in pursuit of better handling. Meanwhile, GAC has built us a fresh engine that produces significantly more power than the ones destroyed in Wales.
A cold, wet day at Snetterton last Friday was our first opportunity to glimpse the potential of the updated car. It's even had a re-spray to Ferrari red in the hope of better things to come!
The day didn't start well (I didn't fit the car when I sat in it for the first time) but by the afternoon we had put some useful miles on the engine and were presented with a chance to push a little bit harder on a slowly drying track...
Perhaps my crash was the circuit's revenge for a less-than-glowing review I wrote for AUTOSPORT when it opened in 2011. Whatever, I headed back to Woking with my proverbial tail between my legs - only a week to go until the first race at Donington Park, and now a race against time to be ready.
We'll have to just fly by the seat of our pants I guess. Not ideal. But as one mechanic said as he passed my sorry wreck in the paddock: "If you want to make an omelette, first you have to break a few eggs."
Be sure to check out Ben's regular updates this season as our man bids to become Formula Vee champion.