Perhaps hoping its revised car would strike a fresh chord on the heartstrings of UK motorsport, Formula Ford EcoBoost with wings made its full test debut at Brands Hatch on Valentine's Day.
It's fair to say that the fledgling relationship between Ford's latest engine technology and its long-standing single-seater formula hasn't exactly flourished yet. New (wingless) cars were introduced with 1.6-litre turbocharged propulsion last year, but grids were poor. Only retention of a separate class for outgoing Duratec-engined cars prevented calamity.
Ford has given the formula a facelift for this season, with standard-issue wings added front and rear. Engine power has also increased from 175bhp to 200bhp, to compensate for extra drag.
The front wing is significantly larger than the rear. The idea is to give back the downforce lost when cars are following each other closely. The £3000 upgrade is expected to produce around 200kg of downforce at 150mph. That's almost half a Formula Renault 2.0 car and around a fifth that of an F3 car.
AUTOSPORT participated in the new Formula Ford's first proper run © LAT
"The wings don't produce a huge amount of downforce," concedes Ford Motorsport boss Mike Norton. "Ours is an engineering formula so they have to work, but they're not just cosmetic. Their performance is limited."
Ford wants the cars to have some downforce in high-speed corners but negligible levels in slow ones. The cars have no diffuser and run at a 40mm minimum ride height. "Ford is renowned for overtaking and we want to retain the spectacle," adds Norton. "To see cars just pounding around is a waste of time. We want the cars to be at each other, overtaking lap after lap."
AUTOSPORT was privileged to participate in the first proper running of the car, which completed straightline testing at Ford's Dunton base and a few laps at a wet Silverstone 'sampler day' before Christmas.

Our car was Ford's own Mygale, but this is not a spec Formula. A new model from rival constructor Sinter has just started testing, while Ray is also planning a car. French firm Beta Epsilon (renamed since the company built cars for Formula Renault in 2010 as Barazi-Epsilon) is also set to launch a new car in '13.
Track conditions weren't ideal at our Brands test, and AUTOSPORT's first two runs on treaded Dunlops were mainly about survival. But the car didn't feel intimidating, despite slightly violent turbocharged power delivery and limited traction. This is important when you consider the car is aimed at drivers making the step from karting.
Joey Foster knows Formula Ford very well. The 2003 British Formula Ford runner-up (in the Zetec-engined days), Formula Ford Festival winner and three-time winner of the Walter Hayes Trophy for Kent-engined cars also completed some laps at Brands.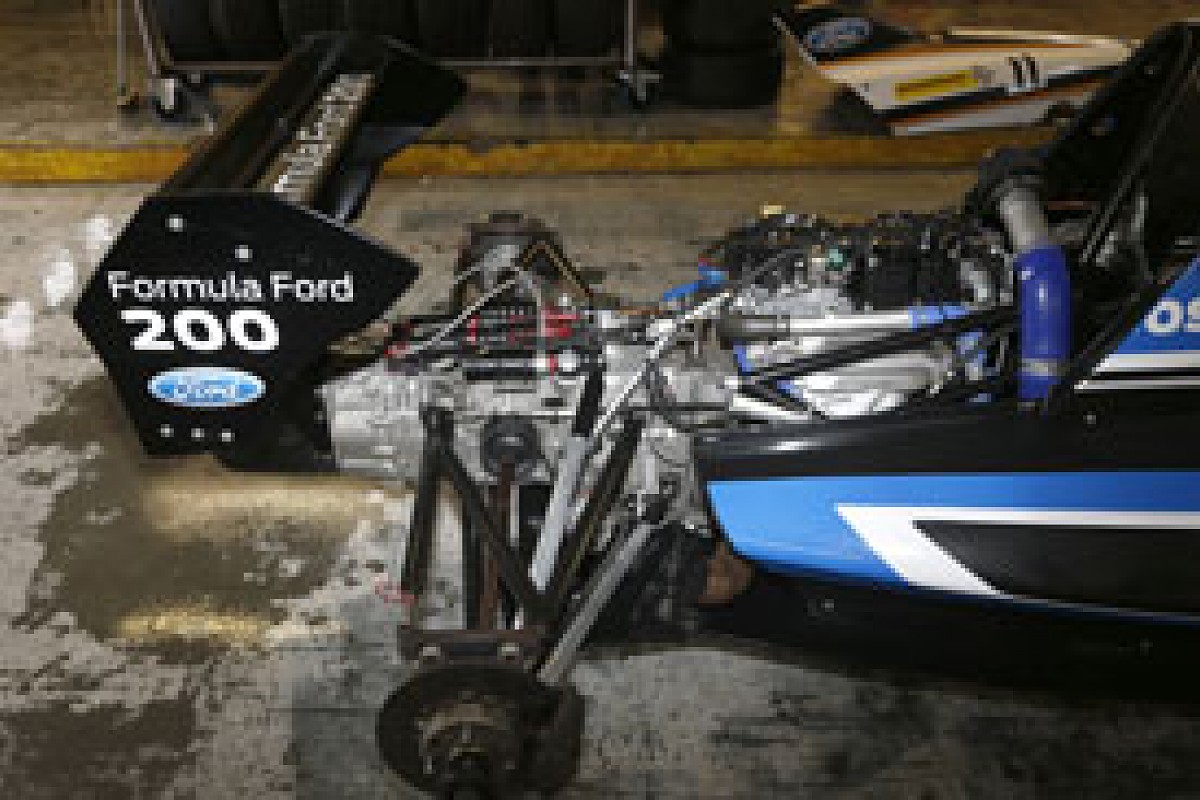 Ford worked on a smoother turbo power delivery © LAT
"It was a little bit tricky with the conditions but the car felt well-balanced," says Foster. "The boost doesn't come in quite where you want it, but the traction is there and the car doesn't move around when you get on the power. The gearshift is something to work on; you have to be quite forceful.
"The car feels like a big Formula Ford with turbo boost. The Duratecs were quite nimble, but this is heavy. I'm trying to think what it would be like if I was a kid just coming out of karting. The boost coming on in different places wouldn't inspire confidence."
This is something Ford is working hard to rectify. Multiple Formula Ford race winner Nick Tandy spent most of the day working with Ford engineers to tweak the electronic engine mapping. By the time AUTOSPORT jumped back aboard for a late-afternoon run on dry-weather Dunlop tyres, the electronics that allow flatshifting through the sequential gearbox were fixed, and most creases in the turbo power delivery were ironed out - to the point where the turbo was barely noticeable.
The car was deeply impressive on slicks, particularly through the fifth-gear sweep of Surtees into the third-gear right-hander at Clearways. The chassis felt very stiff and physical to drive through the exit onto the start/finish straight, which was quite unexpected.
Tandy, whose JTR team will run several cars in the series this season, agrees: "During my final run I started to push faster through Surtees and it was really physical. It's nowhere near as hard as an F3 car but you would expect that.
"The faster you go the harder it's going to be to drive, and they were quite hard to drive before - especially with the wider front tyres from last year. I'm amazed at the way it goes through Surtees. The only time it got out of shape was when I messed up the entry."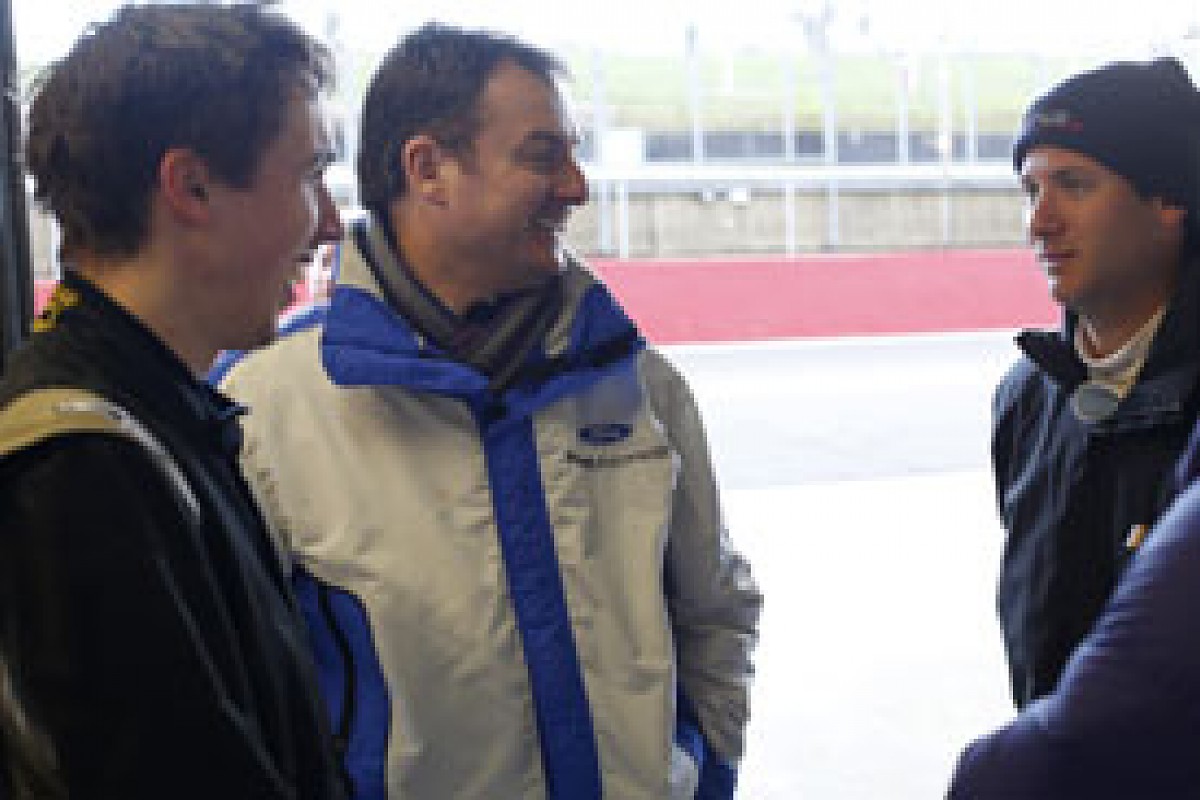 Ben Anderson (left) chats with Mike Norton and Nick Tandy © LAT
Tandy managed a 46.8s lap in far-from-ideal conditions. This would have put him at the front of the grid for last year's races at Brands. He reckons 45s are easily possible in better weather.
Where the car will sit in a table of lap times will be a point of interest this year, especially with renewed competition in the British junior single-seater market. Formula Renault BARC, which enjoyed a popularity boost in 2012, is working on a revised tyre compound and considering increasing the size of its mandatory air restrictor to raise power. Kieran Vernon was on pole with a 45.1s lap at Brands Indy in 2011.
Meanwhile, Jonathan Palmer is launching a brand-new championship, backed by the BRDC and based around a car built by legendary ex-Formula Ford constructor Ralph Firman. We have yet to see where 175bhp Duratec-engined Formula 4 will fit in, and how the new-look Formula Ford will compare. A common issue for both, though, is a prevailing perception that their steel spaceframe chassis aren't as safe as carbonfibre cars such as the Renault Tatuus, despite the fact that they've both passed recent FIA crash tests.
"A 2007 Van Diemen chassis passed the first test without modifications," says Norton. "If you show a parent a side-impact test they're gobsmacked at the ferocity. We have to educate people that our car is exactly the same as a 2008 F3 car in terms of safety. The perception that you can only be safe in a carbonfibre car simply isn't true."
Ford's latest iteration is a serious piece of kit, and certainly not to be dismissed lightly. But only time will tell whether it's enough to make people fall in love with Formula Ford all over again.