Saturday 19 January
After three countries, 15 days and 8,574 kilometres, the 2013 Dakar Rally is over. And for a record 11th time, Stephane Peterhansel is a champion.
Only Sunday's podium ceremony in Santiago remains, but the compulsory duty still allows for plenty of time for the drivers and their crews, many of whom have been working at breaking point, to finally relax.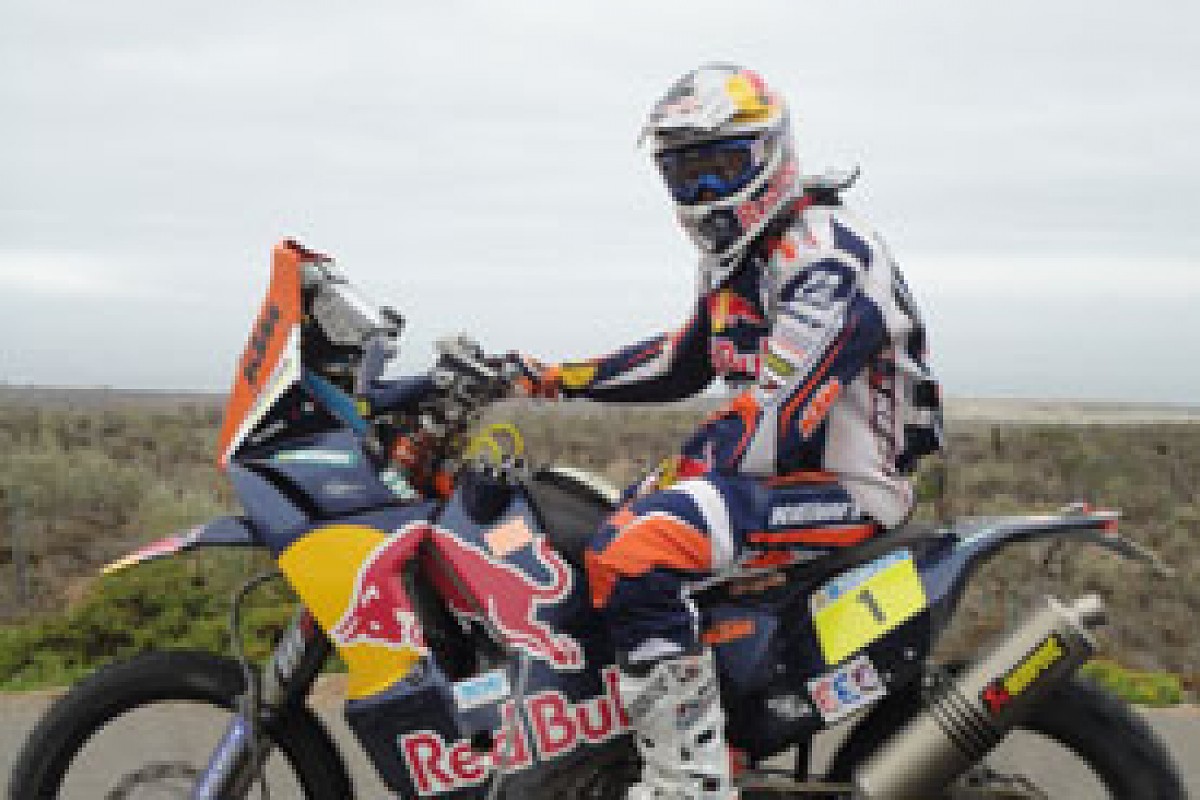 Cyril Despres © autosport.com
Our own trip has also come to an end, and while we had three (two after the rest day) to share the driving, our finishing total of 10,217 km exceeds that of Peterhansel's race-winning Mini by a fairly comfortable margin.
It's impossible to pick just one standout memory from the journey. Even today we had the thrill of running alongside motorbike leader Cyril Despres at 115 km/h on the motorway. The Frenchman was taking it easy, lounging off the side of his bike as he headed for the final loop of special stage and ultimately to victory in the bike class.
It's not just the ability to share the road with riders and drivers, even as they're competing, which makes Dakar so enthralling; there's also the stunning scenery, which changes by the hour as well as by the day, flicking from sweltering desert to rocky forest, from bustling metropolis to serene oasis.
And it's not just the tourists who get to enjoy it: I lost count of the competitors who remarked how much more enjoyable stunning vistas can make a stage even if they don't perform particularly well on it.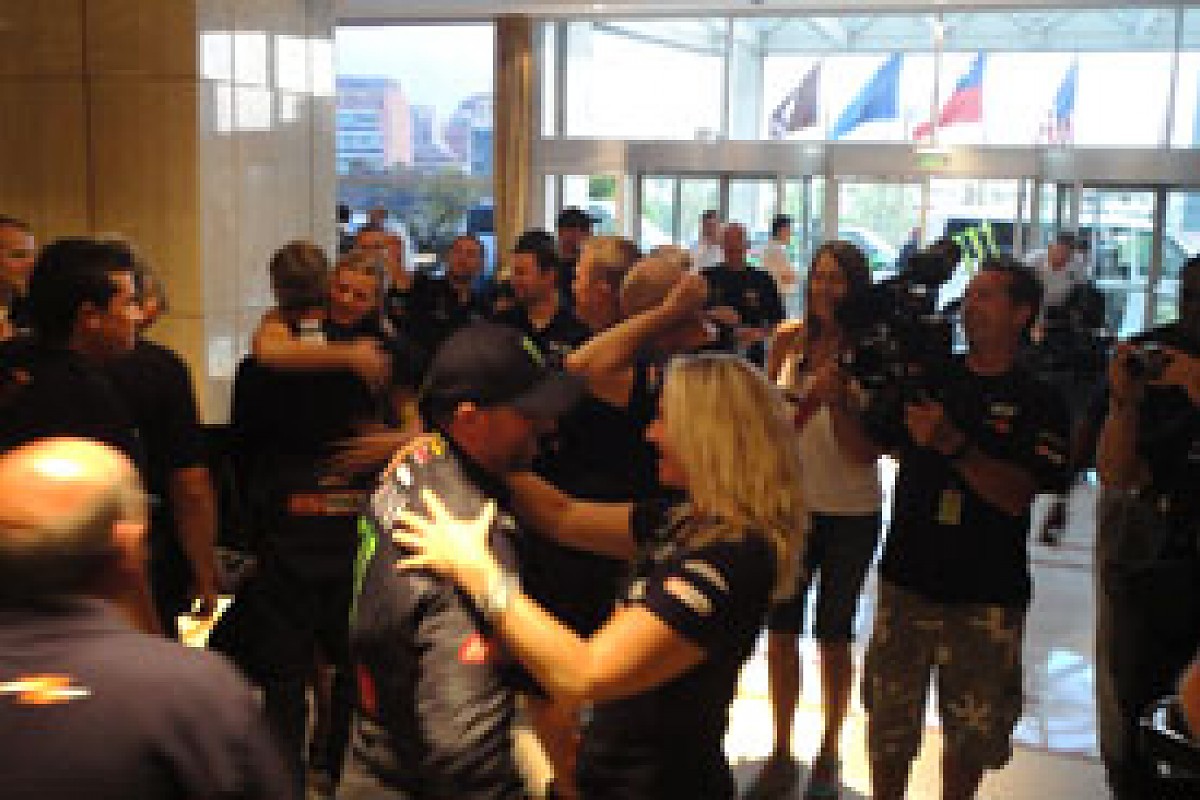 Peterhansel celebrates his 11th Dakar win © autosport.com
There's also the camaraderie, not just within teams but also within the bivouac itself. Nasser Al-Attiyah and Robby Gordon for example were welcome faces within the X-raid camp, while stories of trucks, cars and support vehicles helping other crews out came thick and fast throughout the entire rally.
And finally, at least in this short list, there's the enthusiasm. Perhaps it was because we were travelling alongside Despres, or because our Monster livery was too effective, but the road to Santiago - all 400km of it - echoed to a cacophony of fans, flags and noise.
There's an element of such fervent support being born from the locals' excitable nature rather than their love of Dakar, but whatever the motive the support is richly deserved. Where else would the top drivers dine with 140 other crews, media and organisational staff every day; where else would an 11-time champion ask permission to stay in a small motorhome rather than demand a five-star hotel?
It's not just his modesty and focus that make Peterhansel such a popular champion. His ability to drive smoothly, yet near the ragged edge, for hours on end is formidable in the extreme, and earns almost universal respect among the field. It's a touch ironic that his worst mistakes came when he was deliberately cruising on the penultimate stage and punctured twice. Not pushing hard enough came the verdict.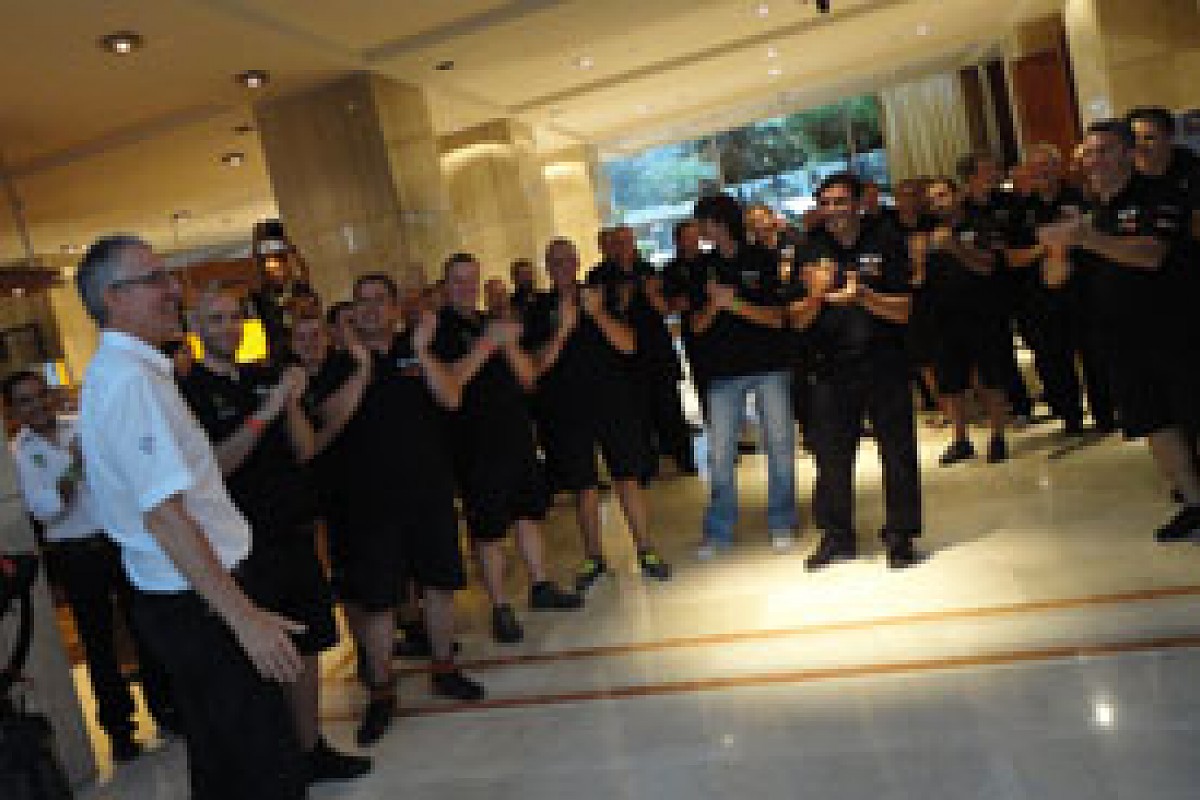 Sven Quandt © autosport.com
After myriad media duties, Peterhansel had one last lap of honour: walking into our hotel. There to meet him, as they had every X-raid driver, was the entire team.
I owe a great deal of thanks to X-raid for getting me out to some of the most remote stages in the world, for being so open and accessible, and for allowing me an insight into a race-winning Dakar camp.
Somehow, the team's en masse celebrations, raucous and impassioned, seemed a fitting way to round out my first Dakar experience.
Friday 18 January
It's funny that after following the Dakar for 13 stages now, it can still take your breath away.
With a late start due to the customary Camanchaca fog, there was plenty of time to work our way down the special stage route and find a good vantage point.
After some expert map reading (I wasn't involved) we settled on a spot just before the finish, which we reached after a few miles of picking our way through the rocky, tricky terrain the competitors would shortly be tackling for themselves.
We made such good time that we were able to watch the first bikers slide their way through the snaking left-right sequence - spectacular in itself even before considering it came at the end of five hours in the saddle.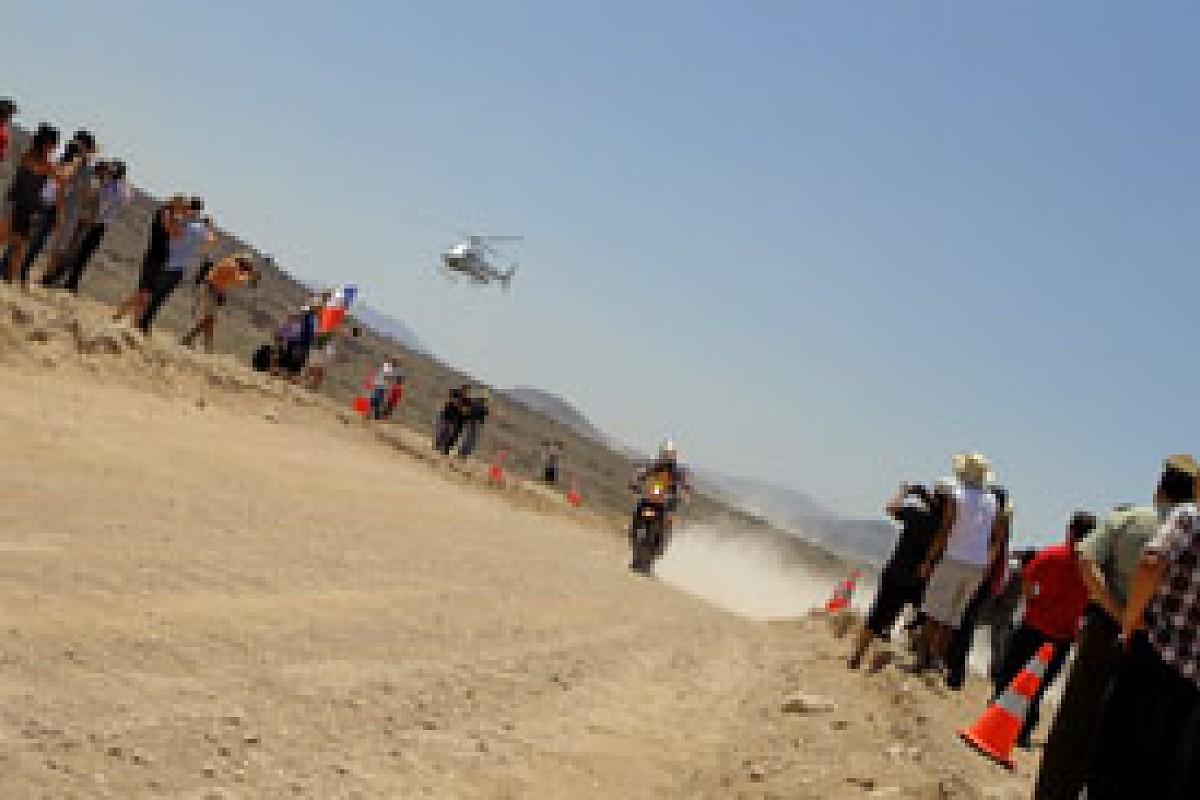 Soon a massive rooster tail of dust snaked up on the horizon, and it was clear one car was approaching, way ahead of the estimated arrival time in the official road book. Whoever it was, they were flying.
One quick glance at the stage was all the encouragement we needed to make sure we were downwind, so we - and a wise few others - crossed just before Robby Gordon roared into view.
Our reward was to be feet away as he threw the Hummer into the left hand kink, kicked the rear out and, engine screaming, kept his car poised on opposite lock all the way down to the right-hander when he snapped the car back.
For those on the other side, including the local police, there was a downside: a barrage of stones and dust which battered cars and people as Gordon flicked one way and the next. Funnily enough, there was a collective rush to move cars back 20 yards for the next competitors.
Our vantage point just feet from the action also granted us the opportunity to compare drivers like Gordon and Guerlain Chicherit, all oversteer and drama, with overall leader Stephane Peterhansel, who came through in languid style.
He was cruising, that much was clear, but it also underlined his ability to drive to the demands of the stage and the competition, two reasons he is so formidable across the two weeks of Dakar.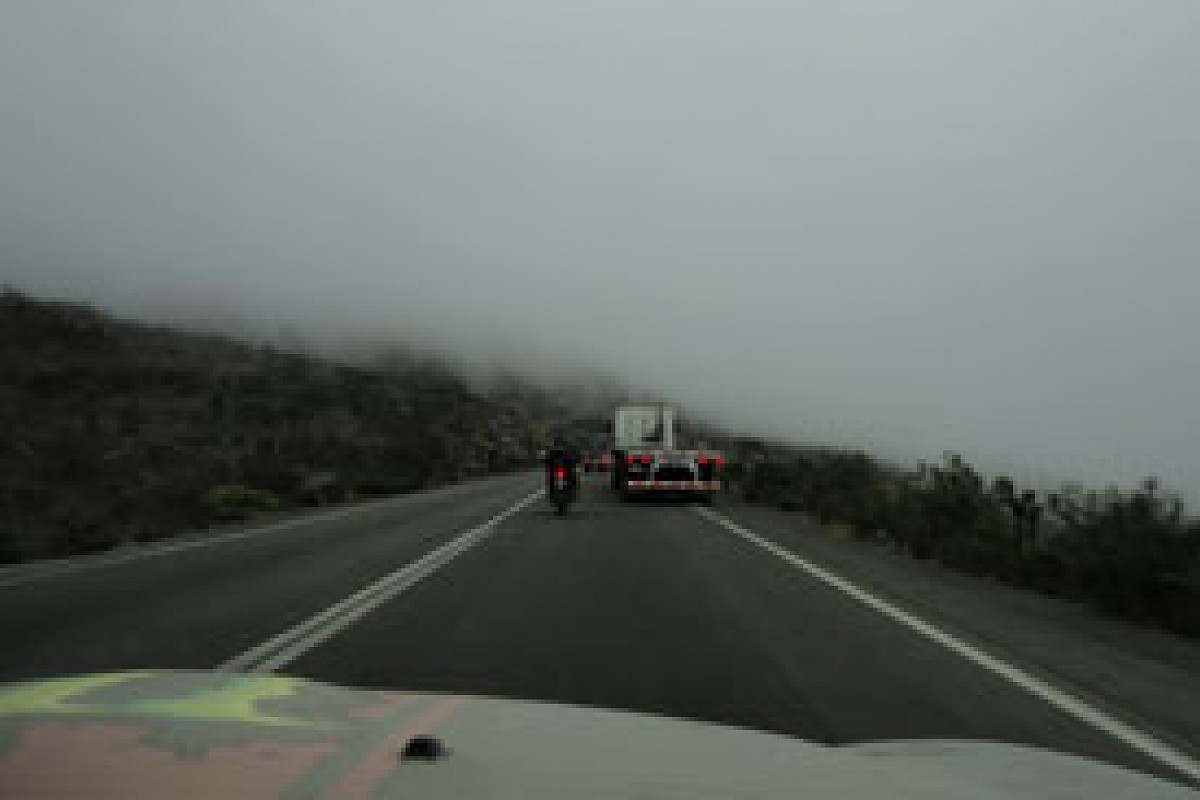 The Dakar can be cold and gloomy too © autosport.com
After watching for several hours we headed off to La Serena and the final bivouac of the rally. Barely 100km into the trip, the sweltering heat of the desert suddenly faded into dense fog and shivering temperatures, which dropped even further when we hit the coast.
There was also another change: traffic. We'd almost been spoiled by 200kms of dual carriageway, so a chain of red lights stretching the best part of eight miles was a rude awakening.
Dakar was founded on the spirit of adventure though, so we decided the queues were simply an opportunity to test our Mini one last time.
A few farm roads and even walkways later and we were there - we even had a police escort back onto the road and into the bivouac. Perhaps they'd seen how well we'd done.
Click here for Race2Recovery's Dakar Rally blog
Thursday 17 January
There's a saying about early birds, and our dedication paid off in spectacular fashion today.
Having pitched up next to the Honda works squad, the shriek of four-strokes was all the alarm we needed - which was just as well as my phone ran out of juice sometime during the night.
One rapid turnaround later - we packed the tent, (semi) washed and ate within 20 minutes - and we were on the road well before the sun threatened the sky.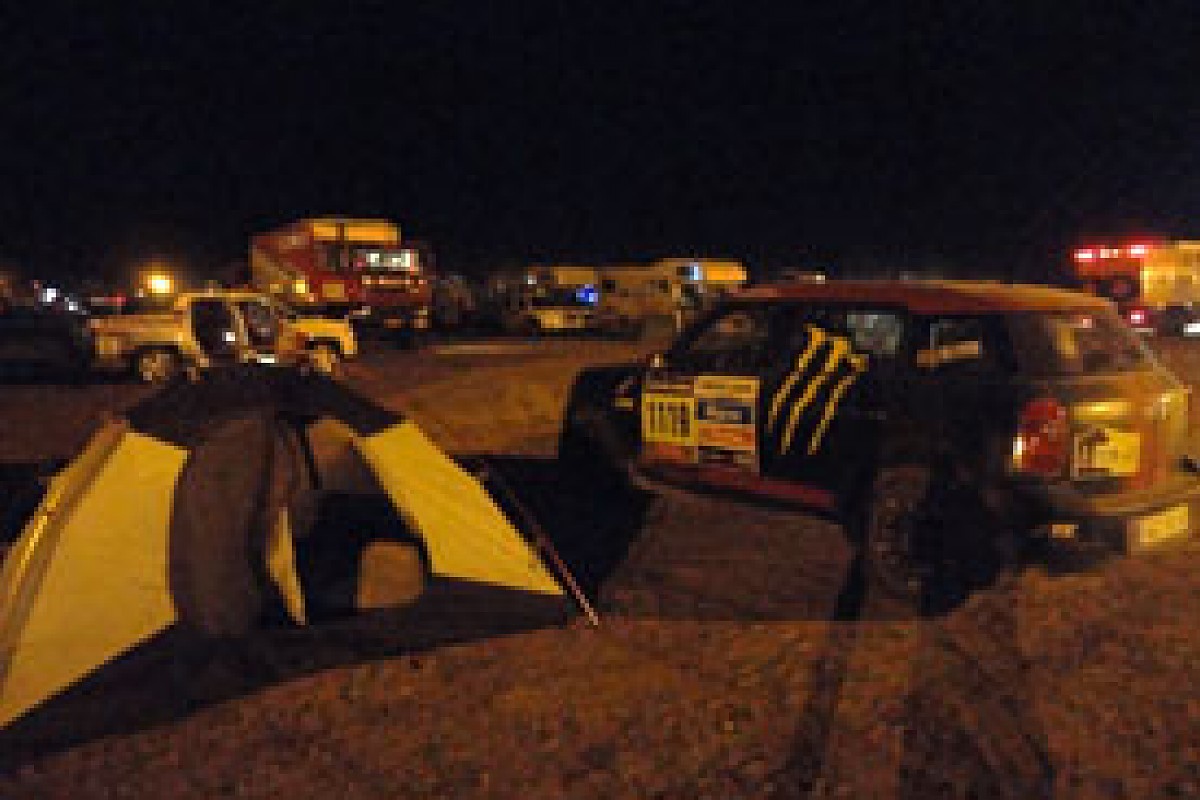 It's 4am, and AUTOSPORT is hitting the road © autosport.com
Initially that meant the beginnings of our Andes crossing was dark and wet, but as we passed the 3000m mark and later wound our way between Ojas de Salado and Volcan Pissis (both easily top 6000m) it grew infinitely more glorious.
It wasn't just us admiring the surroundings. Talking to drivers throughout the Dakar, it's been funny to listen to how some, including current overall leader and 10-time champion Stephane Peterhansel, can prize the beauty of the terrain over their own performances.
But there was another purpose to our early start: with our speed restricted, it was the only way to ensure we got to the start of the special stage ahead of the chasing pack.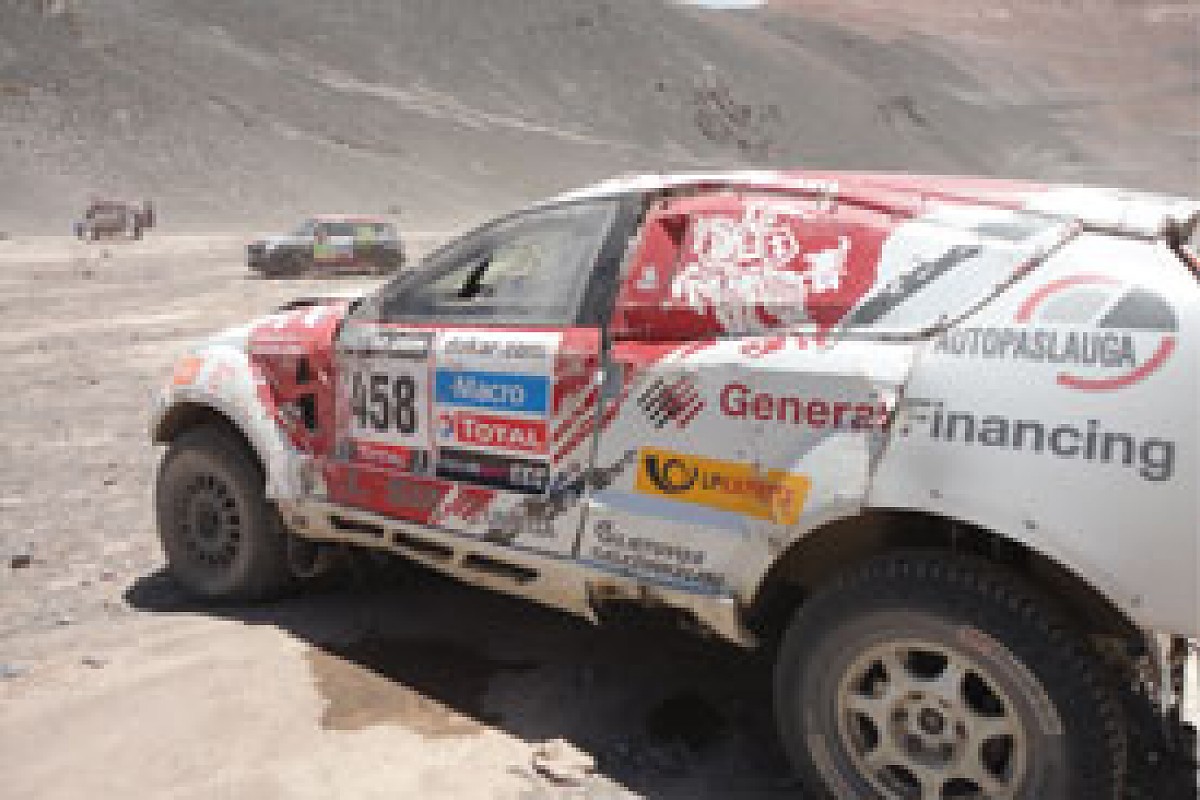 Vanagas's OSC has taken a battering but is still on its wheels © autosport.com
While the frontrunners arrived with cars looking none the worse for wear after 11 arduous days, the same couldn't be said for all. Benediktas Vanagas's OSC in particular was looking sorry for itself, even if it didn't seem to suffer once in action.
After waiting very patiently, we decided to see how we would get on attempting the route... with far from emphatic results.
A few things stick in the mind: how many shocks cars and drivers have to take, how hard it is to follow in the wake of another vehicle, and how disconcerting it can be when the tracks you are following suddenly disappear.
For the first concern, we (sensibly or over-cautiously depending on which side of the car you were on) shelved the attempt after around a quarter of an hour. That said, the Chilean 'roads' we switched onto weren't always much better.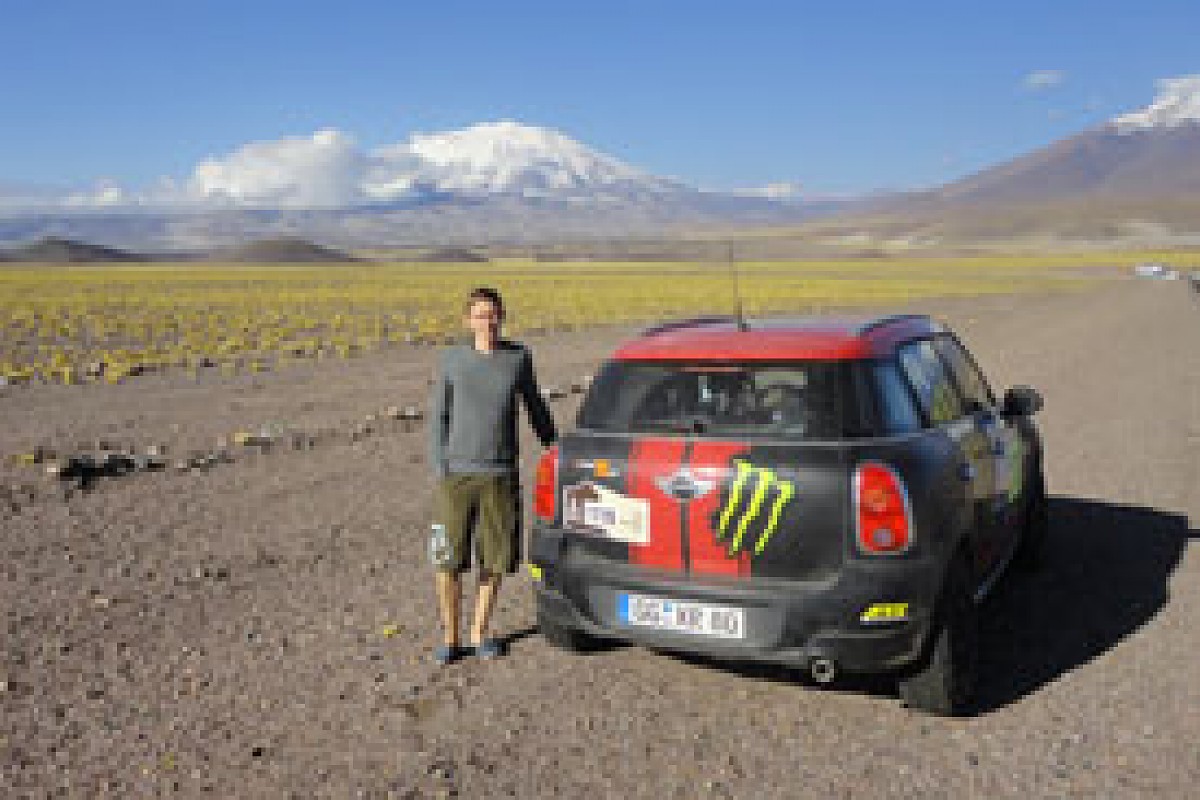 A quick pause for sight-seeing © autosport.com
For the second, it's worth noting that Dakar organisers have an 'elite' list of drivers who might be shuffled forwards in the day's starting order in the event of a disastrous preceding stage.
Robby Gordon for example suffered on the early days, but never started where he had finished the previous day - the logic being that passing so many vehicles would be a massive, and unfair, detriment. Even on dunes passing can be difficult, but on tight and winding tracks it can be as frustrating as sitting behind trucks doing 20km/h on 110km/h Peruvian mountain roads.
As for the final point, it's where a co-driver really earns his salt. Granted neither Claus nor I had the detailed road maps they have access to, but we wouldn't have known what to do with it if the opposite was true.
There was time for one more memory as we came within inches of ploughing into the back of a support truck on the way down to Copiapo.
With copious supplies of sand and dirt the tracks were treacherous and visibility at times was genuinely no more than a yard further than the bonnet, so when a 12-foot high leviathan suddenly brakes there's really not much time to avoid it.
The only course of action was to bolt to the outside and put our Mini's off-road ability to the test once more. Luckily it passed.
Wednesday 16 January
The best laid plans...
La Rioja to Fiambala was supposed to be the stage for us to push deep into the desert in search of the most remote vantage we could reach.
Sure we'd beached ourselves on only the first day, but if we avoided the opening half of the stage the ground hardened and we figured we would be OK. Besides, we had bought a shovel.
Luckily, we decided to view the cars twice: on top of our major trek, we would go to the start to see them off. As it turned out, that was a fortunate masterstroke.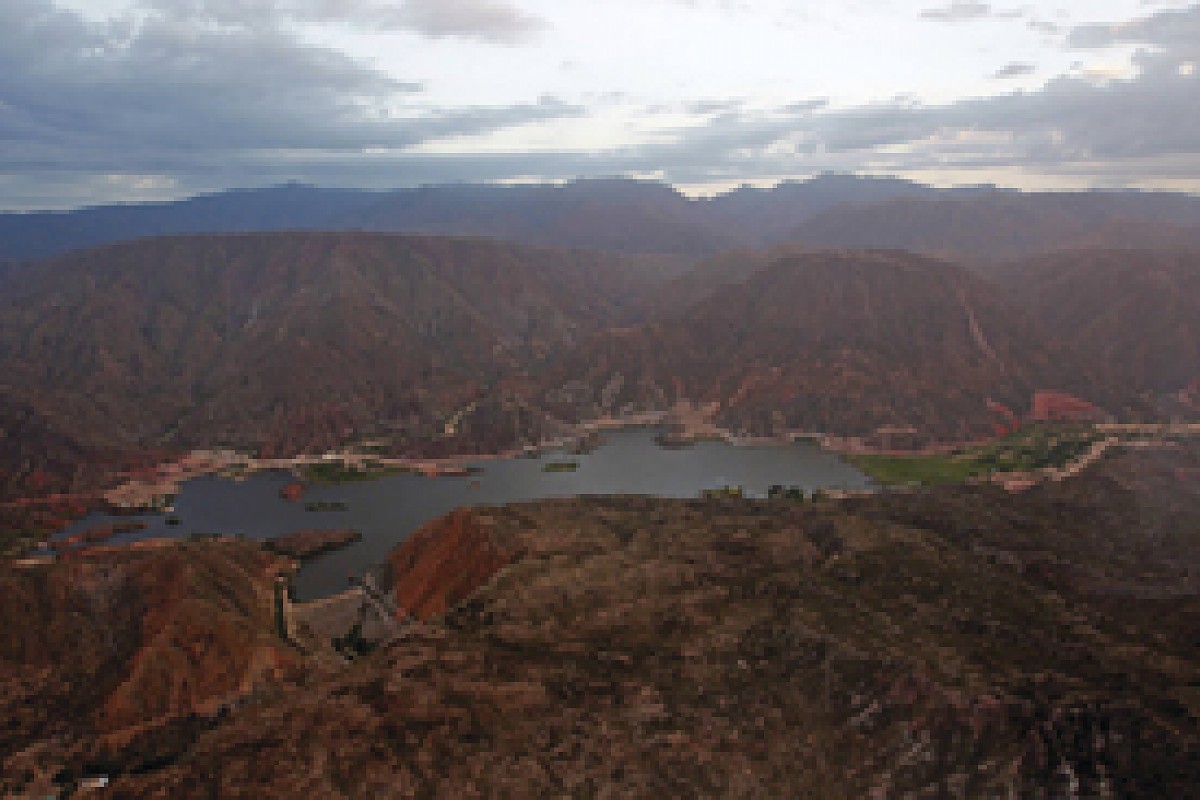 Stage 11 proved to be a short one
We made decent time initially, but as we neared Fiambala the looming clouds were warning enough.
There was also the (repeat) decision to make use of dry riverbeds, and subsequently a second day of carnage as the heavens broke. The stage was stopped, the times reset to CP1, and our desert foray was over before it began.
In the bivouac, it was pointed out this was the stage Carlos Sainz lost out on victory four years ago following a heavy crash in which co-driver Michel Perin (now with Nani Roma) was injured.
As the official roadbook says, it is rare that nothing happens in Fiambala.
Of course it's by no means all the organisers' fault, as they explained in an unusually well attended drivers' briefing.
Part of the trouble stems from the fact the surrounding hills, which make for such stunning stages and scenery, are incredibly effective at channeling an area of rainfall into condensed paths - namely the rivers at 69km and 85km which apparently rose by several metres in the space of an hour.
The result (other than a quiet day for us)? Robby Gordon's eighth Dakar stage win and, at least for the car contingent, a fairly light day at the office.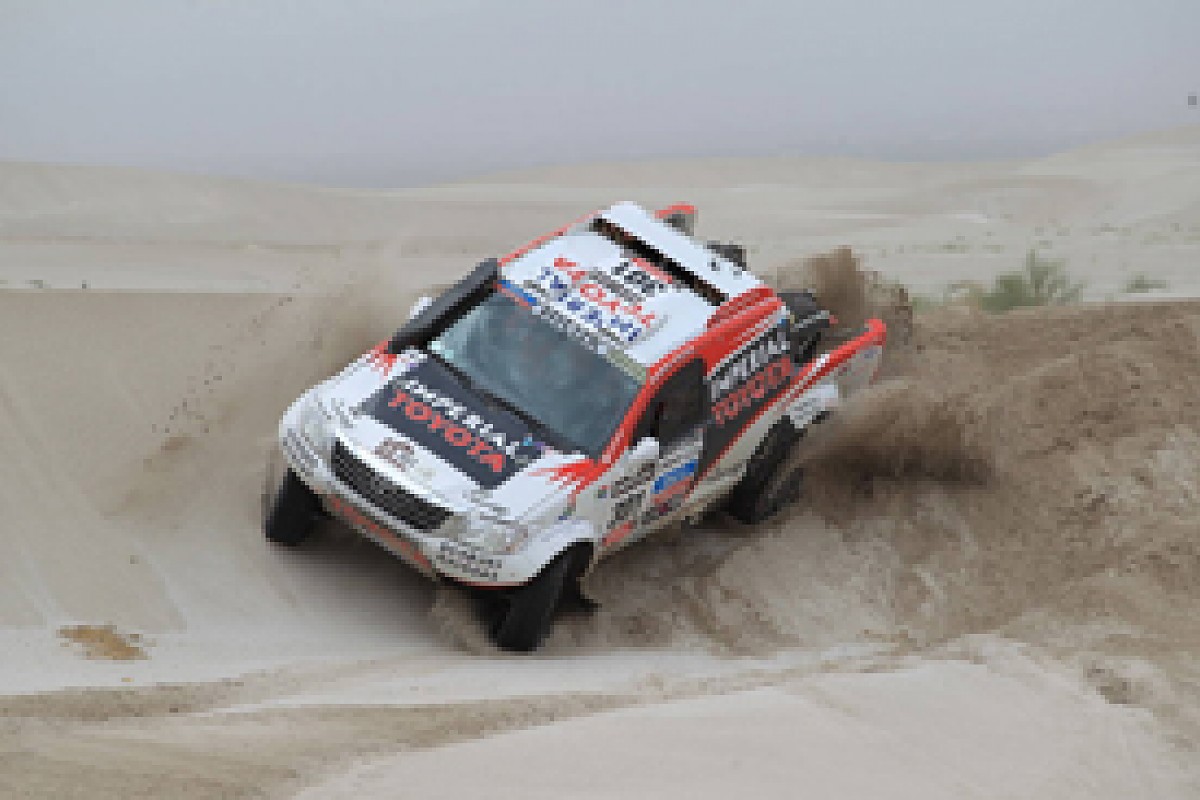 De Villiers was glad to get some extra rest
Not that it wasn't appreciated, particularly by those who spent more than six hours in cockpits topping 70 degrees Celsius yesterday. As Giniel de Villiers put it, "As soon as I got in, I had to sleep. I was completely f****d."
The rest will only be fleeting. Tomorrow's stage is a mammoth 715km trek back across the Andes and into the Chilean town of Copiapo, with the bikes starting out at 4am.
Partly due to today's frustrations, we'll be trying to match them. That means waking from the camp way before sunrise to begin our climb to more than 4,500 metres. Somehow, I think the scenery will more than make up for it.
Tuesday 15 January
"I tell you, the air con is amazing. Just fantastic."
Nani Roma had reason to celebrate Mini's newly-installed cooling systems. In fact, he had 42 of them.
While today's run from Cordoba to La Rioja wasn't the hardest on paper, it was long, coming in at around four hours. And it was hot, with the temperature even at 10pm refusing to drop below 37 degrees. Roads were lost in a shimmer of heat haze, and painted lines were melting off the tarmac.
For the X-raid contingent, and happily for us, the heat could be tempered after five minutes with the car's fan on full blast. For most of the competition, there was no such escape.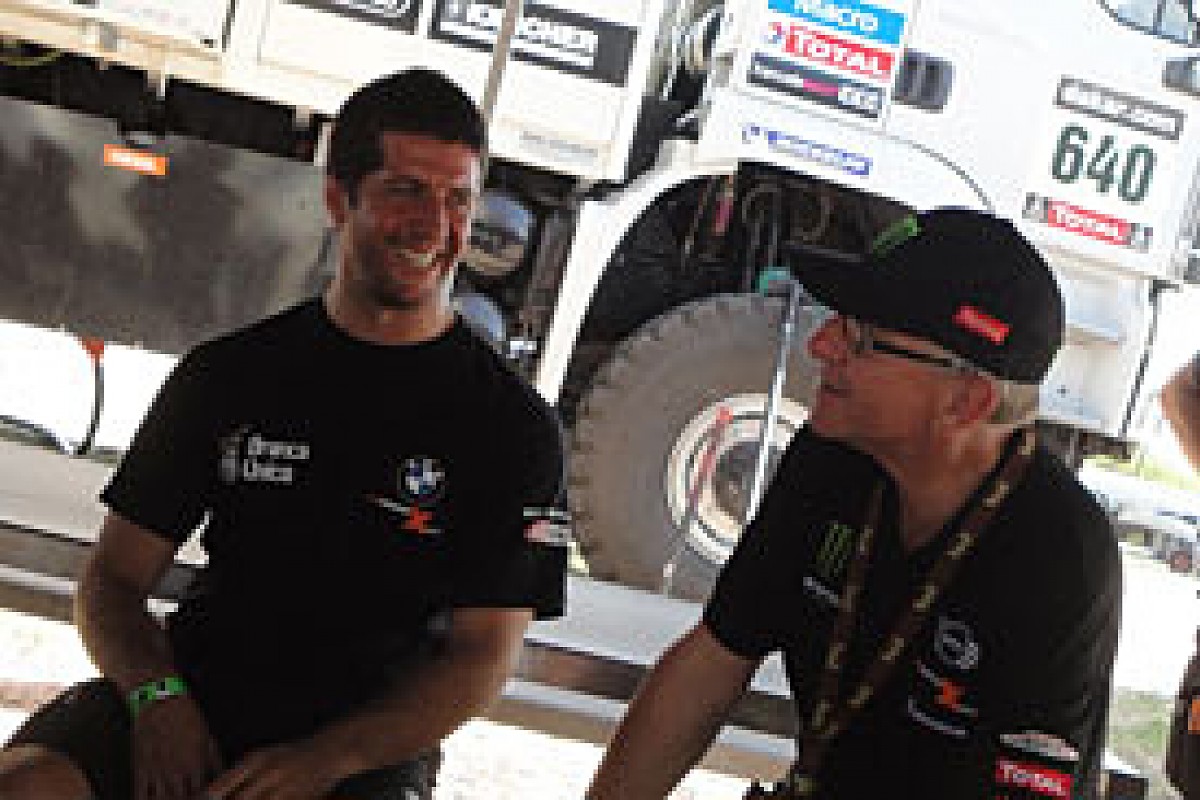 Orlando Terranova © autosport.com
Somehow, there was still a swell of fans sending the rally off from the Cordoba bivouac, and fans greeting us at La Rioja. They had a reason to cheer as well: for the first time in Dakar history the car special stage had been won by an Argentinean, Orlando Terranova.
Our own progress had once again been hit by sickness, but given yesterday's travails we decided an early start was the best way of getting the driving out of the way.
Unfortunately that meant missing a chance of seeing any action out on the special stage, but there was a silver lining: in beating the cars to the bivouac, we also temporarily had exclusive access to X-raid's team doctor Mathias Trost.
One ugly cocktail later (I'm not sure I'd want to know what can taste that bad) and I was suddenly able to function, which certainly helps when it comes to the numerous post-stage duties: chief among them sampling the La Rioja circuit where tonight's bivouac is situated.
The camp was making full use of the final section of the circuit, so after working our way backwards and onto the longer circuit loop all was looking good - right up until the point some flashing blue lights appeared in the rear view mirror. Luckily there was no serious issue, but the planned circuit investigation had to be cut short.
After returning to the X-raid shelter and watching owner Sven Quandt debrief with Terranova, the evening finished with a debrief of my own with Robby Gordon. Just as we were wrapping up his co-driver burst in: "You gotta see this man, we found it."
He may be out of lead fight, but it's done nothing to dim his excitement.
Monday 14 January
For myself and many competitors, today was a rude reintroduction to this year's Dakar after the rest day.
The trucks had the rare honour of opening proceedings, but that just precipitated the fall of Tucuman leader Gerard de Rooy, who suffered a blown turbocharger and surrendered more than an hour.
Next up was motorbike leader David Casteu, who hit early mechanical problems and then, far more literally and more seriously, a cow.
The Frenchman dislocated his shoulder as a result of the impact - bad enough in itself, but with further problems shortly before the stage's finish his bid for victory is done.
That's also the case for Nasser Al-Attiyah, who had been the only man within touching distance of long-term leader Stephane Peterhansel.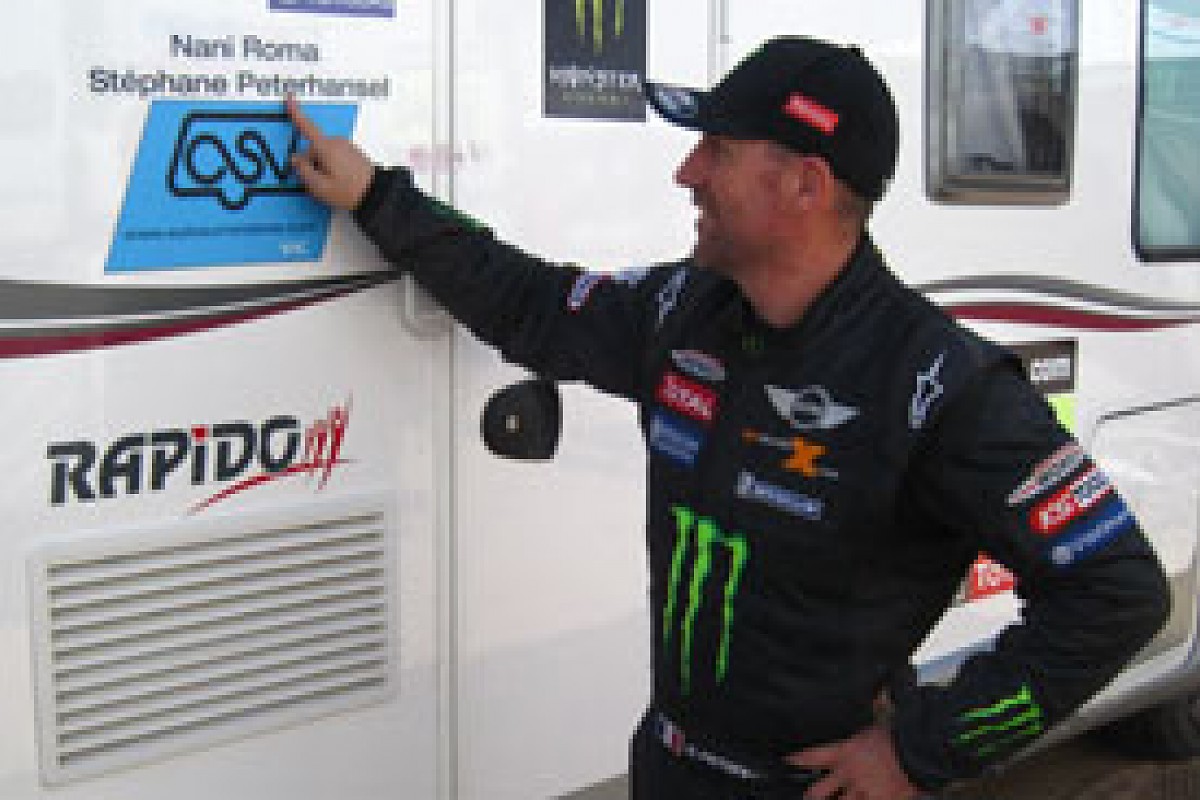 Stephane Peterhansel is now in a great position © autosport.com
After losing time early in the run from Tucuman to Cordoba, the Qatari's bid was officially over when - according to other competitors - he suffered race-ending damage via contact with a tree.
He was by no means the last man to struggle - Guerlain Chicherit for example finished the last 15km with no front brakes - but his exit was massively significant in the overall leaderboard, leaving Peterhansel with a commanding gap out front.
Al-Attiyah pledged to return stronger next year (a potential Dakar debut for Sebastien Loeb is already the subject of excited speculation), but we missed his farewell after enduring a torrid day of our own.
By accident rather than design, we were experiencing first-hand a common problem for Dakar competitors: putting in the miles while suffering from illness.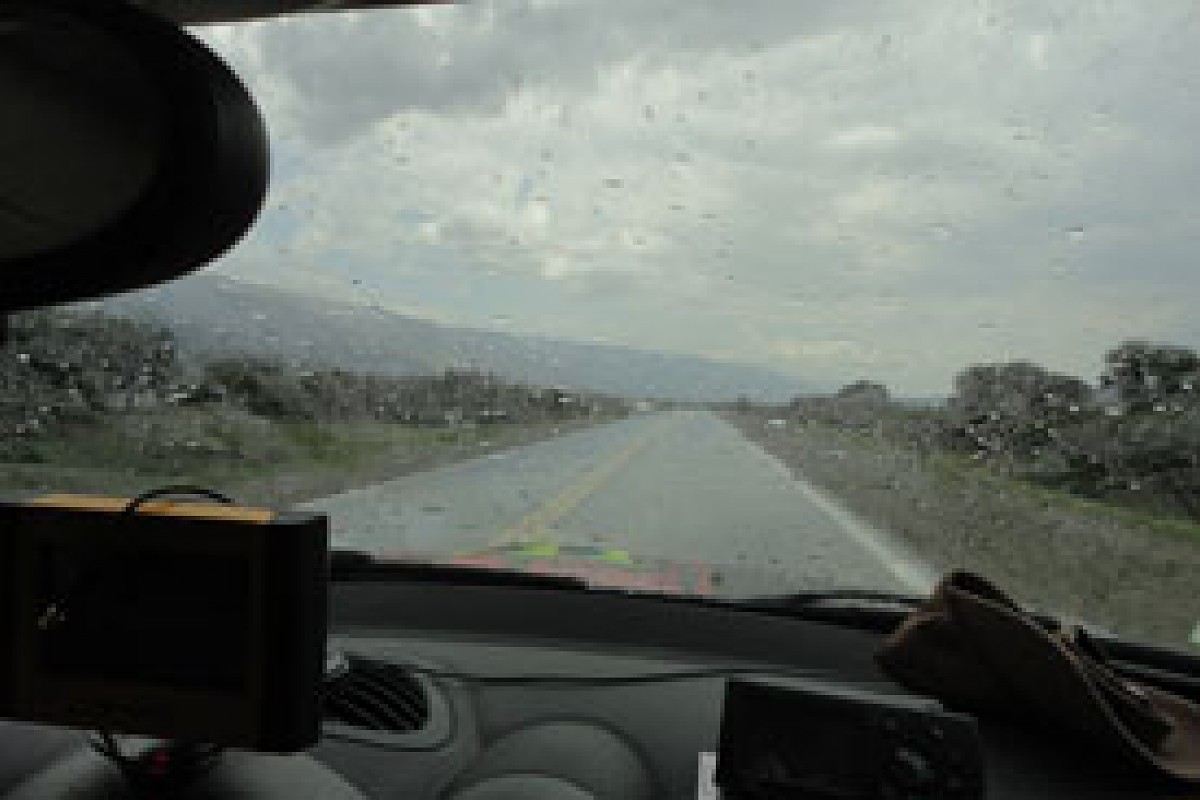 Genuine rain on the Dakar © autosport.com
The bad news was that we were also one man down, Paolo Lorenzi having left for Italy after the rest day. That left us short of options, so after seemingly drinking our weight in Red Bull and Monster to try and perk up, we made slow and halting progress south from Tucuman.
It wasn't all bad: nearly every time we stopped we were (or rather our car was) swamped by fans wanting to take photographs. There was even a touch of home in a brief rain shower - the only difference being that, five minutes after it had passed, everything had already dried out. It wasn't really that surprising given we topped 38 degrees...
Sunday 13 January
The 'spirit of Dakar' is an intangible yet omnipresent aspect of the rally itself, constructed upon founder Thierry Sabine's original sense of adventure and the commonality of the challenge of crossing South America's toughest landscapes.
It is, in part at least, why competitors loan parts and assistance to each other; why adversaries out on stage can walk into each other's camps and jokingly discuss the day; why those who are stuck can often be rescued by their rivals (Nasser Al-Attiyah for example was pulled clear by Stephane Peterhansel's stable-mate Boris Garafulic yesterday).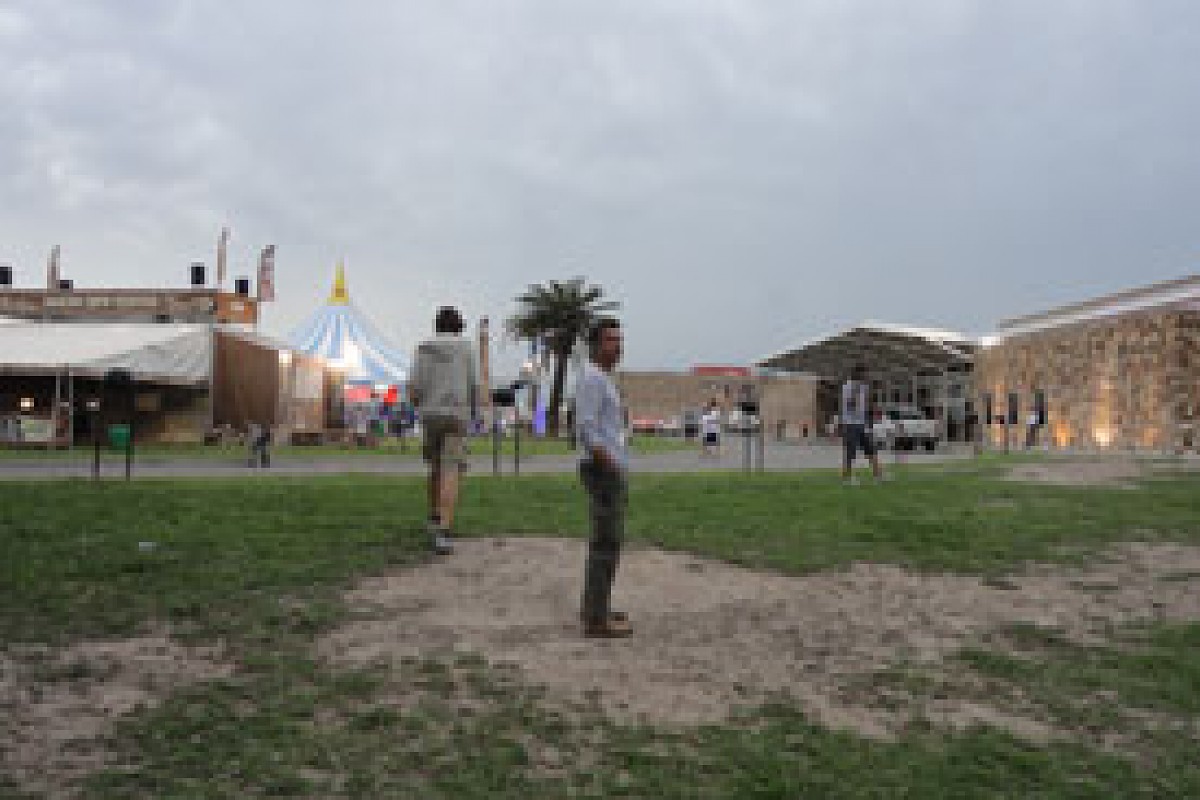 The fancy biouvac © autosport.com
Since hitting Argentina however, there have been some who question whether the modern Dakar's off-track facilities remain true to the spirit of Sabine's original vision.
In electing to run the race in South America, organisers the ASO (Amaury Sport Organisation) managed to play upon the willingness of new countries to host the Dakar, not dissimilar to how Formula 1 picks new venues to visit.
While in Peru and Chile (for one night so far) that meant compact bivouacs in the middle of deserts, Salta and Tucuman have been situated in the relative luxury of sprawling sports facilities. There were even indoor toilets in the former.
For a rookie like myself that's not necessarily a bad thing, but it is noticeable how much more sanitised the last few days have been when compared to the (sometimes terrifying) facilities of previous nights.
The Dakar never stands still for long however, and after a busy rest day - an 11am drivers' press conference ensured plenty of early fans, while a midnight music concert kept them pouring in throughout the day - we have the small issue of an 852km trek down to Cordoba, including a technical special that should play into the hands of Peterhansel and the X-raid team.
Apologies for sending this late - I couldn't find a strong enough internet connection last night, so I'm sending it from the road. Luckily enough, petrol stations in South America normally offer free, and very good, wireless.
Saturday 12 January
How do you stop vehicles designed to take on more than 500 miles of the world's toughest conditions?
Letting the heavens open in spectacular fashion is a start. Choosing a route crossing a supposedly dry river bed will also help...
Chaos reigned on stage eight of this year's Dakar. First the opening half of the special (which was to be run on two sections) was cancelled due to the kind of downpour you get when relentless 40 degree heat finally breaks.
The second went ahead, but by the time the cars hit it, the rain was catching up. What was a dry riverbed in the morning was suddenly more than one metre deep and running so quickly it was more than just a simple obstacle, it was impassable.
For those not yet at the river, the stage was 'neutralised' at the second split, 55 miles in. So far so clear, but organisers had a problem: others had managed to complete the stage, while some had crossed the river but then hit trouble - notably the man lying second in the standings, Nasser Al-Attiyah.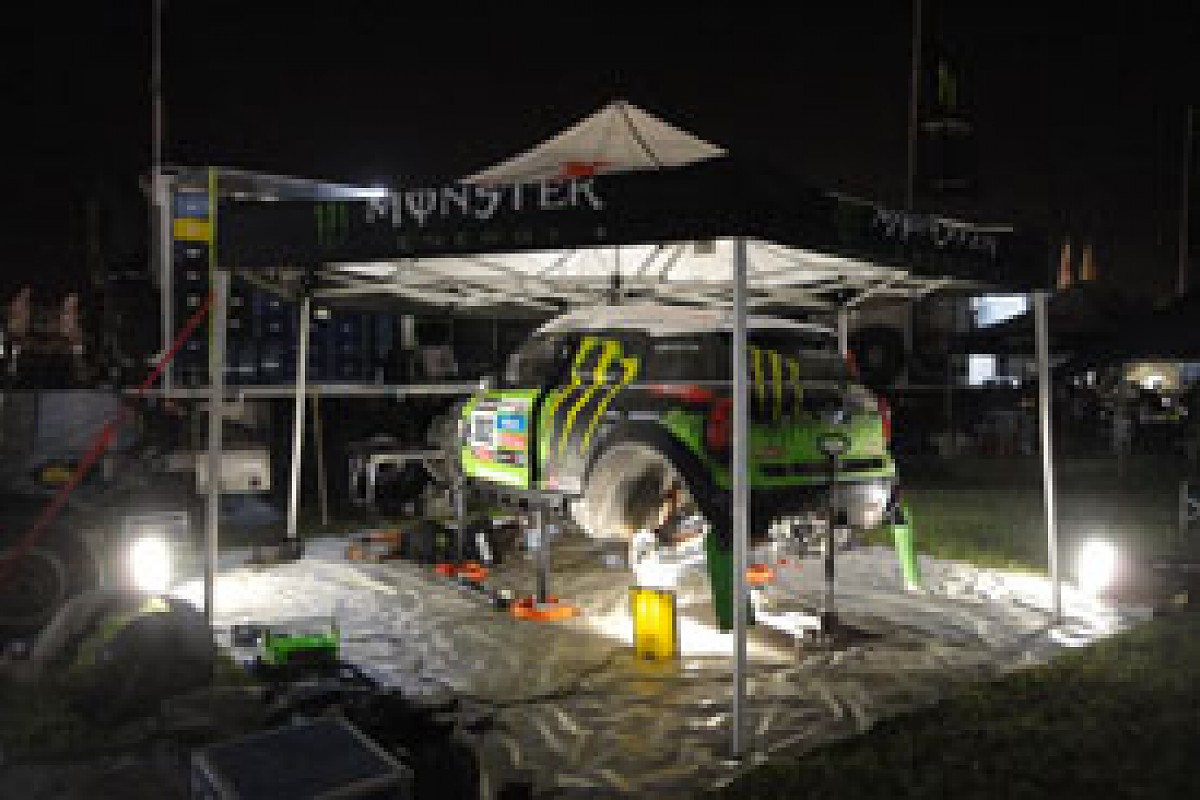 Rest days aren't restful for everyone © autosport.com
Some sort of compromise was always going to be likely, and organisers found the perfect solution. Stephane Peterhansel, the man leading the rally, was the last man to finish before the stage was neutralised.
By resetting all other competitors to his time, rather than resetting to CP2 (when Al-Attiyah was ahead) or using the slowest man's time (Al-Attiyah would have lost 20 minutes to Peterhansel), they managed to keep the lead battle interesting while also ensuring Guerlain Chicherit's heroics didn't go unrewarded.
With everything else about Dakar seeming so alien (today's stage for example featured an ostrich fleeing from the bonnet of Al-Attiyah's buggy) the liturgy of the stewards made for an unglamorous, and all too familiar, end to the first half of this year's rally.
It was also in stark contrast to the progress of the travelling fleet of assistance vehicles, crews and media, all of whom had a relatively simple 186-mile trek down to Tucuman, where tomorrow's rest day will also be spent.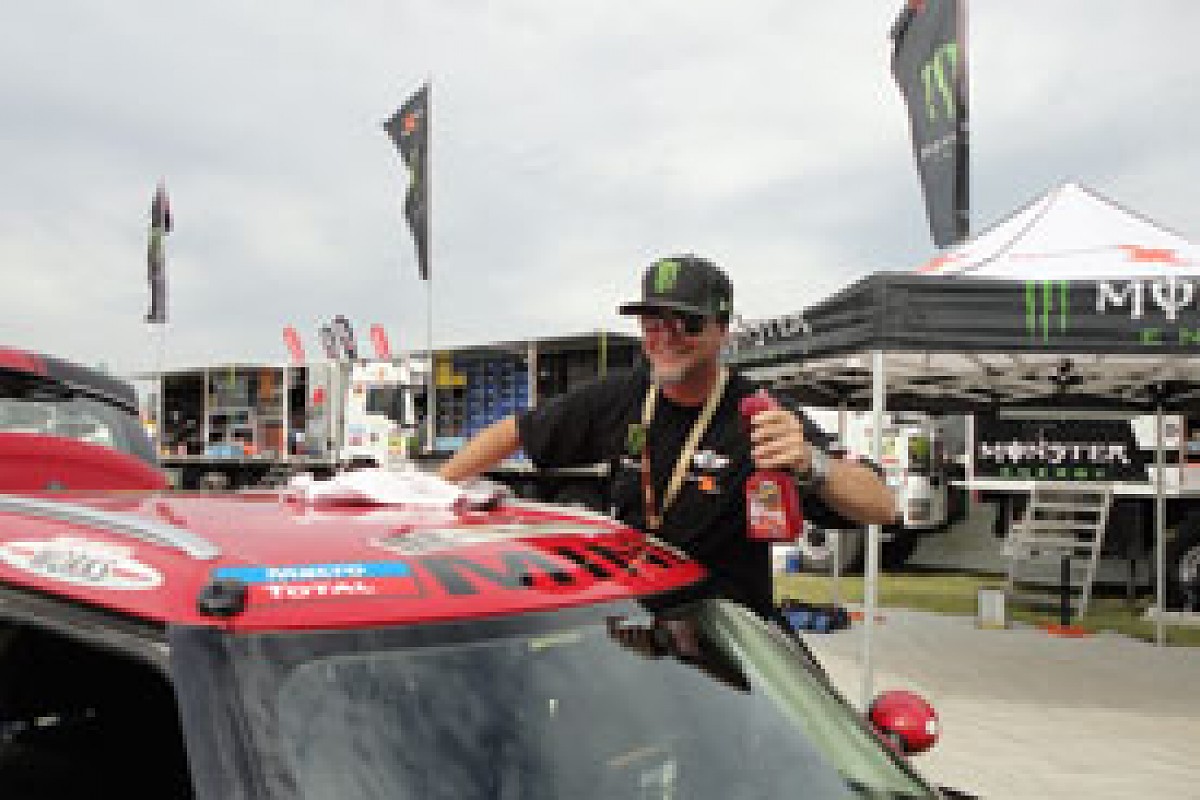 Monster's Joe Parsons helped bring Tremayne's vehicle back to a respectable state © autosport.com
With no time pressure, we were able to take the scenic route through Tucuman itself, and get our first real taste of the throng of Argentinean fans lining the roadsides leading into the bivouac. Come midnight, when we finally left, they were still out in force, clamouring for a glimpse of this year's stars.
Once they'd passed the river, either by backtracking or through the assistance of helicopters, there was also a rare moment for competitors to unwind after a punishing opening eight days.
We even managed to clean our car for the first time since Lima (X-raid has been pushing us to match its own standards for a few days now) with a little help from Monster's Joe Parsons.
Of course, a Dakar rest day is a bit of a misnomer: there are still vehicles to ready, another stage to prepare for and, tomorrow especially, a multitude of media requests to handle.
Thanks to the happy coincidence of today's decisions the battle for the overall lead is also finely poised, which only adds to the intrigue.
Click here for Race2Recovery's Dakar Rally blog
Friday 11 January
I've heard a lot about high altitude and its effects, from the long-distance athletes who use it to boost their training to travellers laid low by sickness by the decreased oxygen. Today, I got my first taste.
There was to be no respite after yesterday's near-500-mile trip to Calama, just another four hours of snatched sleep and 467 miles of travelling, nearly all of which was done above 3000m.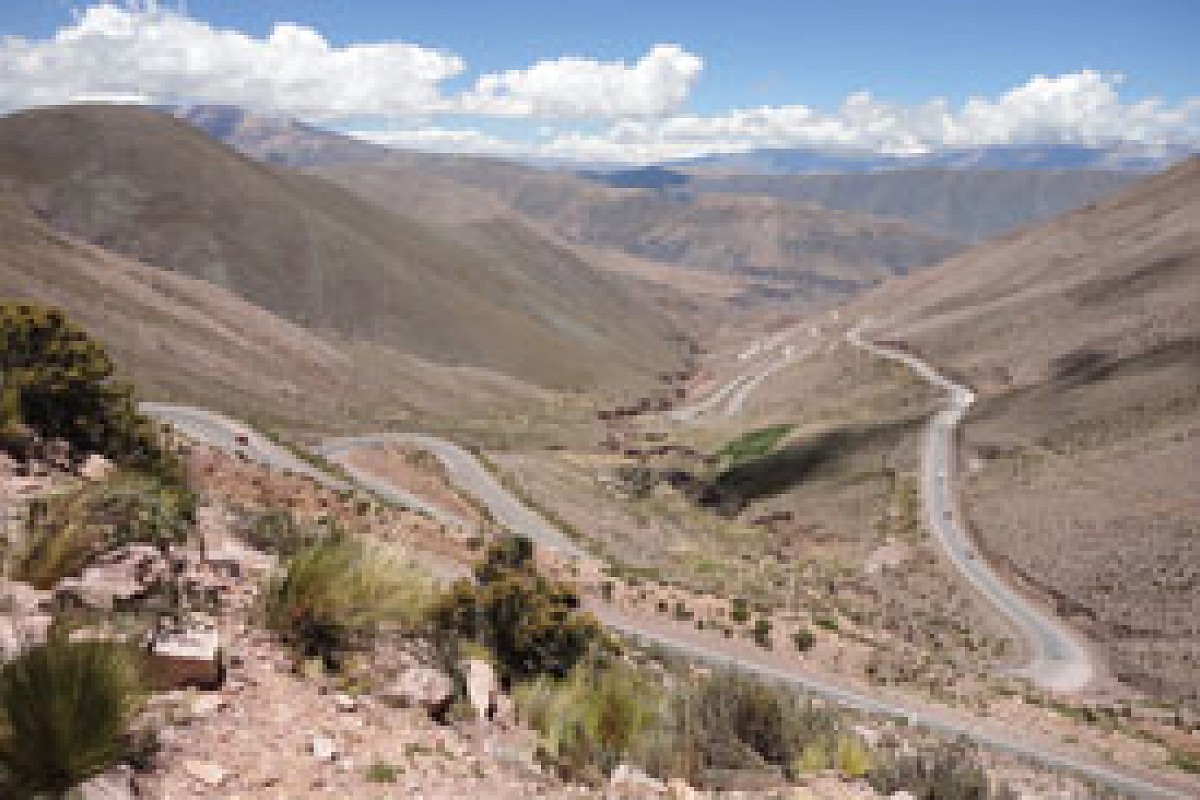 The view across the Andes © autosport.com
Surprisingly even when we peaked at 4842m none of us were suffering any adverse effects, although I did find myself exhausted when I tried to go for a quick explore up a nearby hill.
We made good time too - as other cars were belching out black smoke due to their engines struggling in the thin air, our Mini was flying and we arrived easily in time to catch the start of the special stage.
In fact, there was even the opportunity to stop and catch up with the X-raid team and with Nasser Al-Attiyah, both stopped at the side of the road for final checks and tweaks before entering the controlled start zone.
We split the driving fairly evenly, so once we had crossed into Argentina (just one day after reaching Chile) I was fresh and able to see out the final 220 miles. While all of us coped relatively well, we couldn't help but acknowledge how useful sharing the load was. It's a luxury obviously denied to all competitors.
In particular I can't express how hard it must be for the bikers, especially those further down the order who spend the best part of 12 hours every day in tense special stage mode and still have to complete all the road mileage, replenish and somehow find time to sleep. Oh, and they also tend to start at around four in the morning.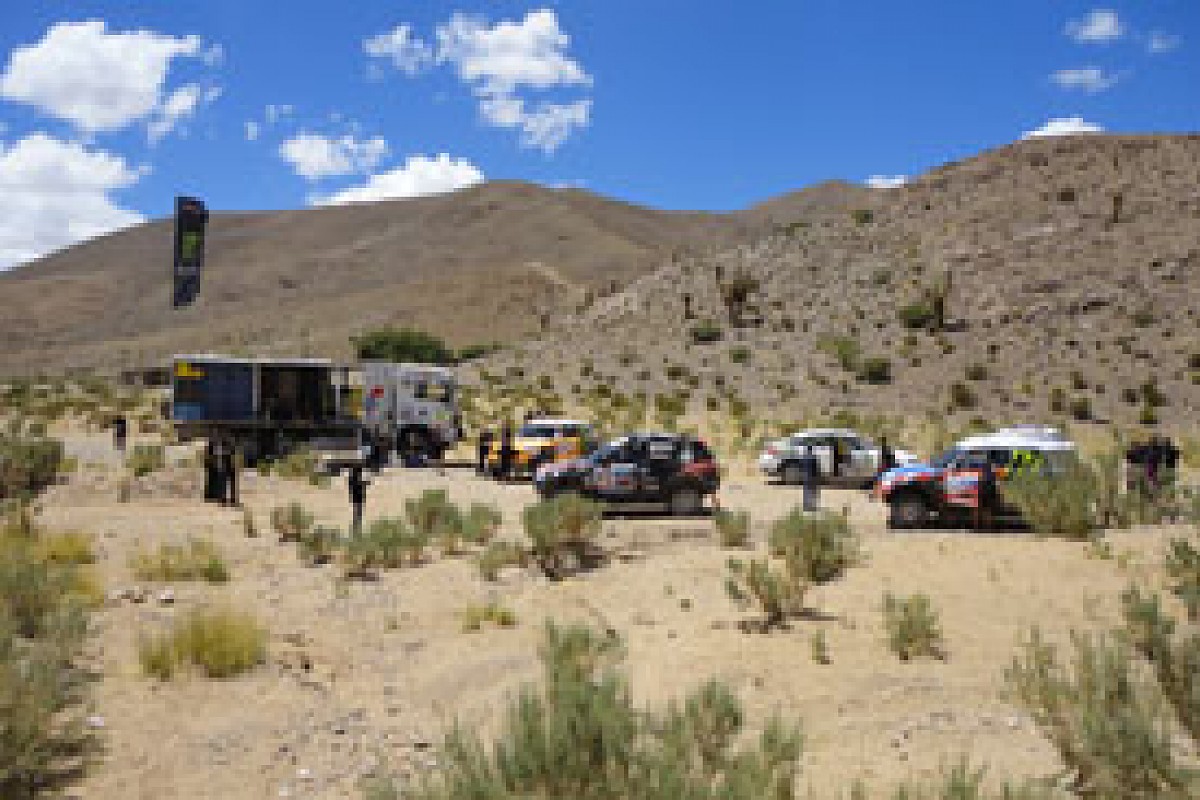 © autosport.com
There's plenty of heroic stories, like Joan Barreda, who crashed heavily twice yesterday but still hauled his bike to the finish, handlebars almost at 90 degrees in order to keep the wheel in a straight line.
It's also not difficult to see how accidents can happen - be they on the stages, back at the bivouac or, as was the case today, tragically on the road. United by heartbreak and the commonality of their challenge, the riders gathered to offer a fitting tribute to Thomas Bourgin's memory late this evening.
Click here for Race2Recovery's Dakar blog
Thursday 10 January
Opening a stage can sometimes work in a driver's favour; On soft sand, for example, the man first across will most likely have the best traction, partly because they will churn the surface up for those behind.
Often, though, following another is more preferable, primarily because their dust trail provides a clue to routes between waypoints. When Nasser Al-Attiyah lost ground and finished seventh on the run to Arica, he was therefore by no means disheartened: he would feel the benefit the following day.
"When you open a stage it can sometimes work in your favour, but you also have no-one ahead, no dust trail, to act as a guide," he told me on Wednesday evening. "I lost time, a few minutes, but I start seventh tomorrow so there is a chance to make up a lot of ground if everything goes well..."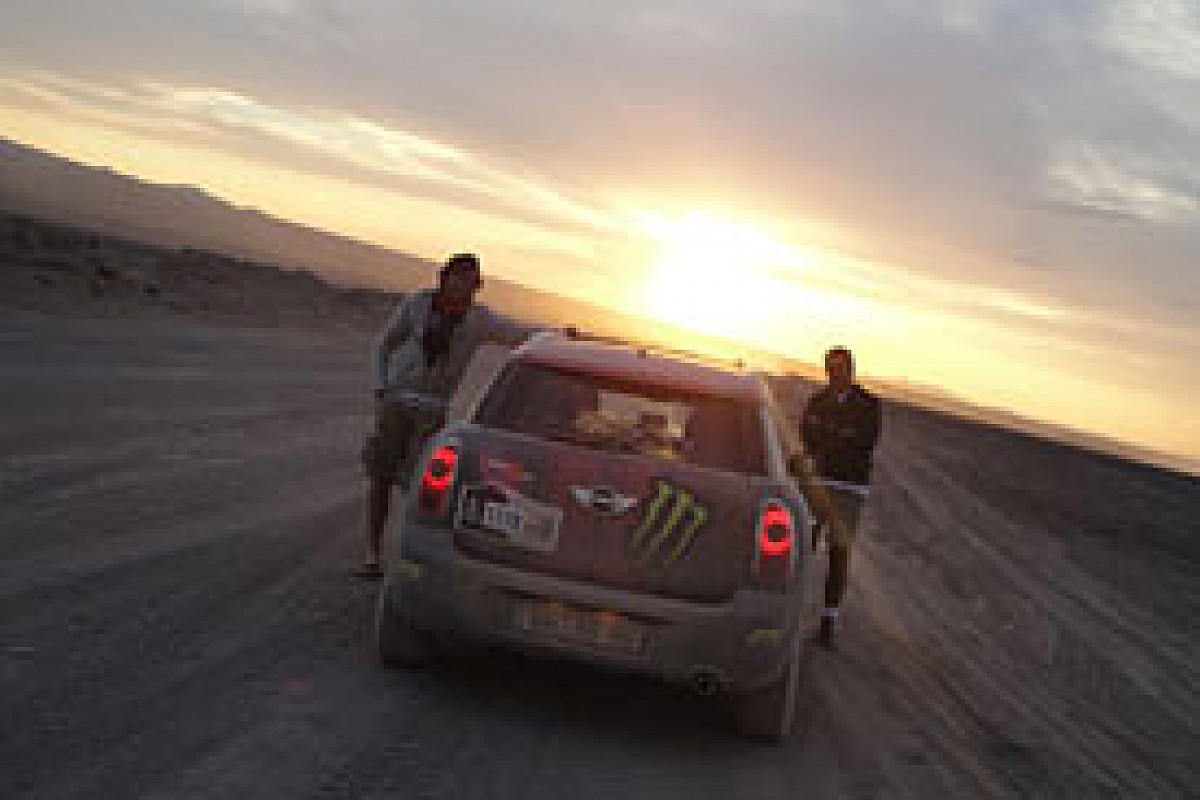 The AUTOSPORT car at sunset © autosport.com
The prediction proved uncannily accurate, with the Qatari more than eight minutes clear at the stage's finish. It was his third victory so far, and moved him to within 80 seconds of Stephane Peterhansel.
There is still a massive way to go however, and the strain is beginning to show in many camps - a situation hardly helped by an unfortunate two-hour time shift (the bad way) as we moved from Peru to Chile.
For us, that meant less than four hours' sleep, our first pre-dawn start (the sun rises before 5am in Peru) and getting in 186 miles in order to get to the start of the special before the cars left. We arrived in the nick of time to watch Nani Roma, Peterhansel and the rest of the field disappear into the folds of the Atacama.
We were also able to speak to those further down the order, for whom completing the Dakar is looking increasingly remote - drivers like Stefanie Manns, who finished so late yesterday due to a severe oil leak that her crew had no time to fix it before today's start.
She estimated she wouldn't have enough oil to make the stage's finish, but if she waited for a truck tow she'll have the same issues all over again tomorrow. At the time of writing she was yet to finish, but hadn't been declared a withdrawal either.
After staying for a few hours we headed off again, and I brought my 250 miles stint at the wheel to an end by pulling into the X-raid service bay - a necessary moment of respite which split today's special into two halves - just in time to watch Stephan Schott head in.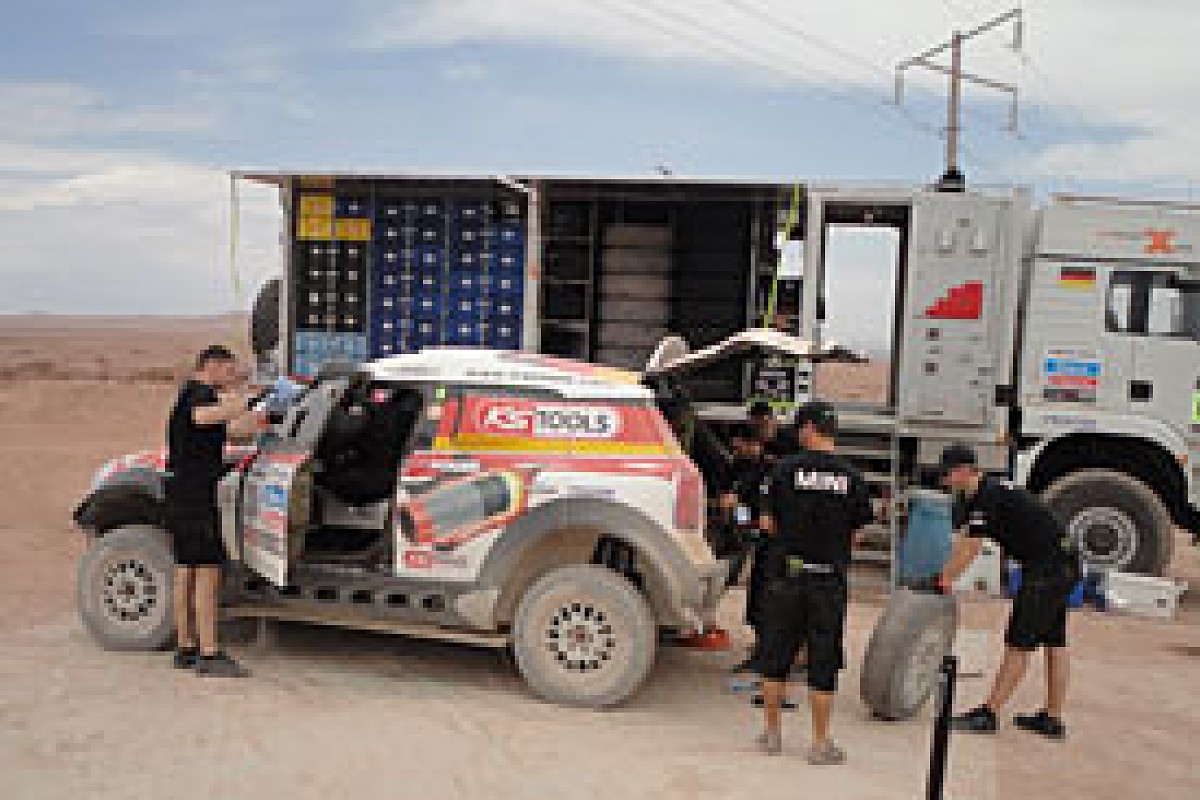 Stephan Schott © autosport.com
We were still only halfway through our own journey, so I passed over driving and settled in for the rest of the ride.
Eventually we arrived at the bivouac just as the sun was setting, so we took the chance to dive off into the desert once more for a few photos to mark our dusk-till-dawn slog.
Unfortunately there was to be no fanfare, as we were then told about the two fatalities and several injuries in a crash involving a Race2Recovery support vehicle and a taxi just shy of the Chilean border.
I've been speaking to the team throughout our journey so far and they're an extremely close-knit group, so the sense of shock was obvious. I wish Justin Birchall, Lee Townsend, John Winskill and the four injured Peruvians a speedy and full recovery.
Wednesday 9 January
Things don't always (perhaps that should be often) go to plan on Dakar, to the extent that 'expect anything' seems far more apposite than simply expecting the unexpected.
The lesson has been brought home several times already this trip. There was the violent barrel roll of a mini-taxi as he fought for position with a rival when trying to join the main road (it's the first crash I've ever seen, and happily no one was hurt). There was the bus parked across both lanes of the motorway so that its passengers had a better view of the nearby special; the road to the beach which ended unannounced in a sandpit; and today, the turn which wasn't.
We'd impressed ourselves by finding a Dakar Turn 1 - a sharp left-hander 200m down from the start of the Arequipa-Arica special. Having beaten the cars to the start, it was a no-brainer to stand on the outside and watch them tear their way down, brake heavily and throw themselves into the turn, which included a well-placed ridge right on the apex.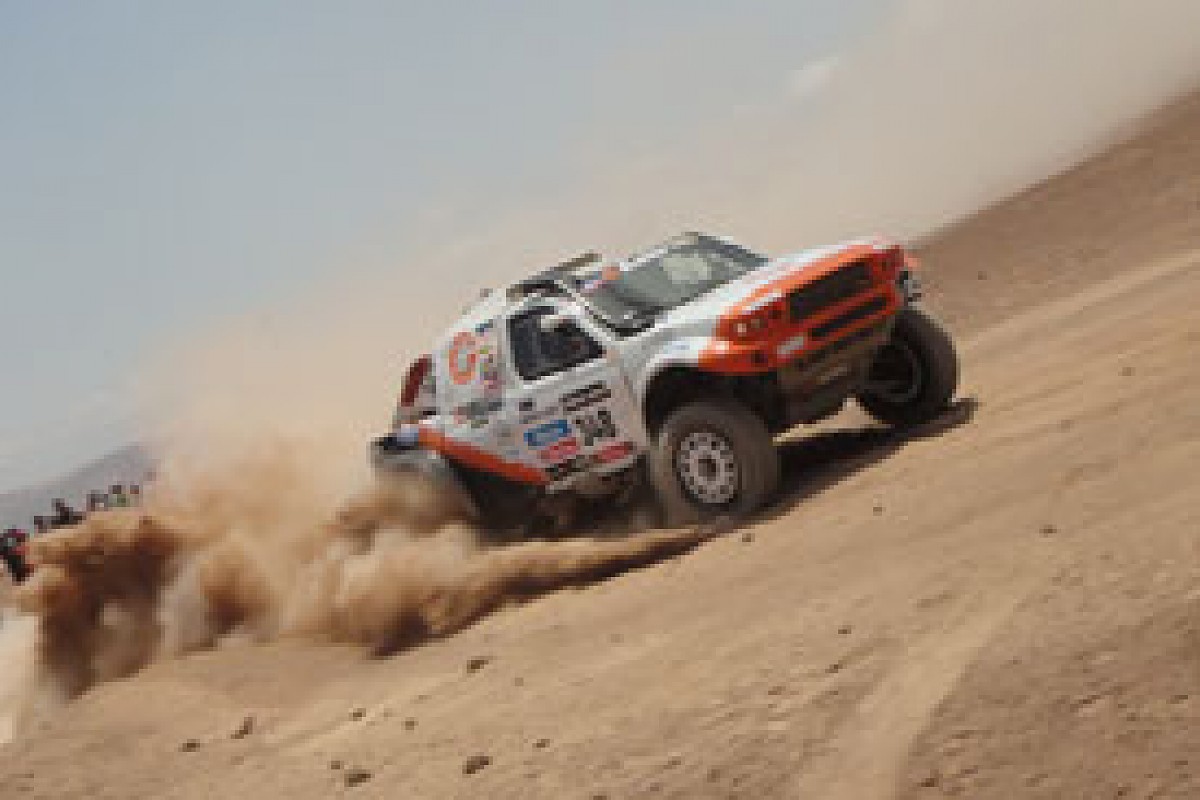 Our man followed the action closely © autosport.com
Nasser Al-Attiyah opened proceedings and roared past: so far so good. But when Guerlain Chicherit followed him down, he picked a slightly different line - namely ploughing straight on between two massive banks of fans and then picking his way slalom-style through the parked cars. Dakar after all is about waypoints: between them, you choose your own path.
Despite spectators having stood right where Chicherit headed only moments before, police were fairly unconcerned - at least until the photographers who had missed their shot demanded changes.
For Chicherit, the incident was a precursor to a far bigger problem - just 11 miles in his power steering failed, leaving him to fight the twisty, rocky course unaided for the next two hours. He lost a chunk of time and damaged both wrists, which could potentially wreck what has been a promising rally thus far.
As Chicherit struggled, Jacques Barron found a far nicer way to lose time out on stage. This being the Dakar, he stopped on a dune where 36 of his friends had gathered en masse to sing happy birthday to him. We never found out whether there was also cake and candles.
As intoxicating and charming as the chaos can be, there's a massive amount of underlying organisation, such as the 'Dakar special' lanes to smooth crossing between Peru and Chile; we got through in minutes.
In the process there was the odd situation of being confronted by armed police and specially trained sniffer dogs, hunting not drugs but fruit and vegetables. Having binged the previous evening (a wild night of pineapples and mangos) we were clean.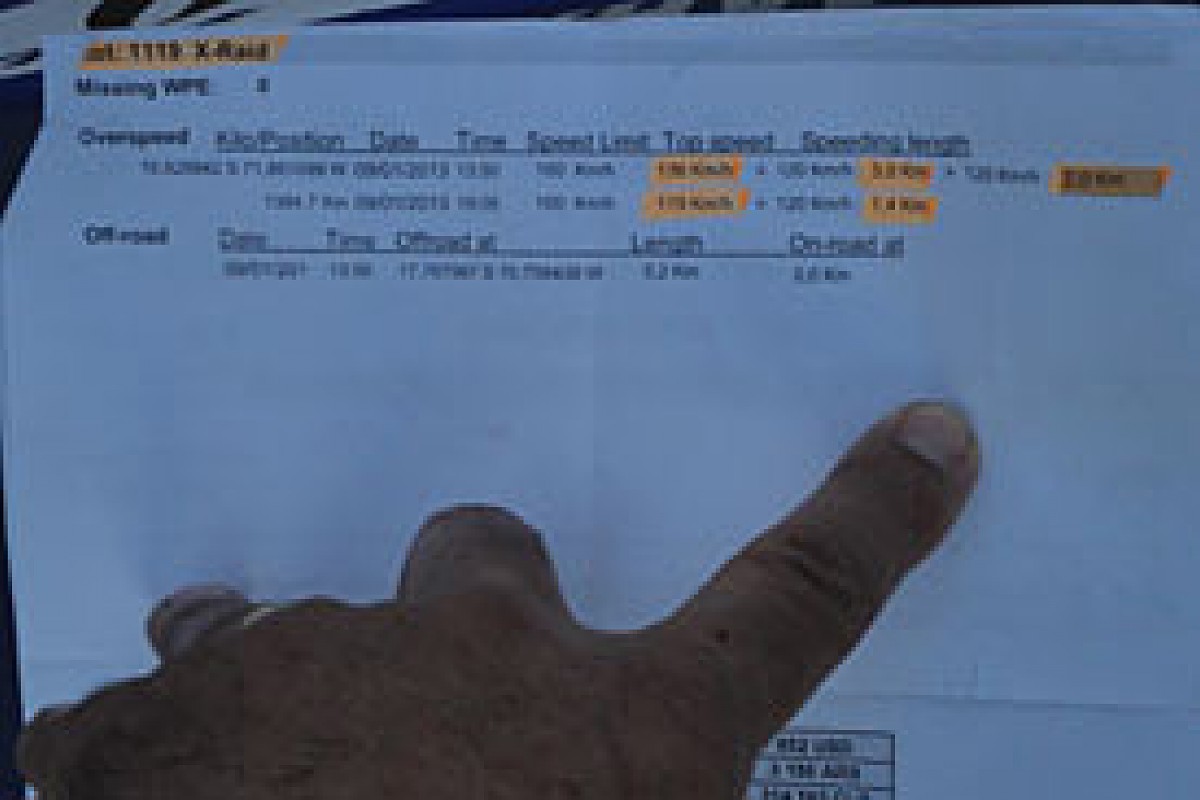 A speeding fine for the AUTOSPORT crew © autosport.com
We arrived in the bivouac just in time to see Al-Attiyah and Nani Roma lead the pack back. The latter had won the stage, continuing an impressive fight back from his early delays. The former was also in the mix until the final 40 miles, when he was pointed in the wrong direction by a group of spectators and lost five minutes.
The day finished with a mini victory for myself and team-mates Paolo Lorenzi and Claus Muhlberger when we were issued a speeding fine by the route police, a charge we denied.
Their ace card was a detailed read-out of our transgression using our GPS system, only we could trump that: their data also had us cresting the special stage dunes at the exact same time we were meant to be doing 130km/h on the motorway. The complaint was quickly shelved...
Tuesday 8 January
Day 4's 179 miles of vicious dunes had long been talked about as one of the rally's toughest stages, and from the myriad retirements, accidents and crashes, it lived up to its billing.
For those who did manage the crossing - in whatever fashion and at whatever pace - the trial was still not over. There was still the small issue of 429km on winding, single-lane public mountain roads.
OK, road mileage will never tax car or driver like crossing a relentless sequence of dunes will. But over a marathon event like the Dakar, the hours spent driving between special stages equate to less time recharging, less time for debriefs and preparation, and less time for the car to be checked or fixed. There's also the issue of limited supplies of water and sustenance, particularly for riders. In short, it all adds up.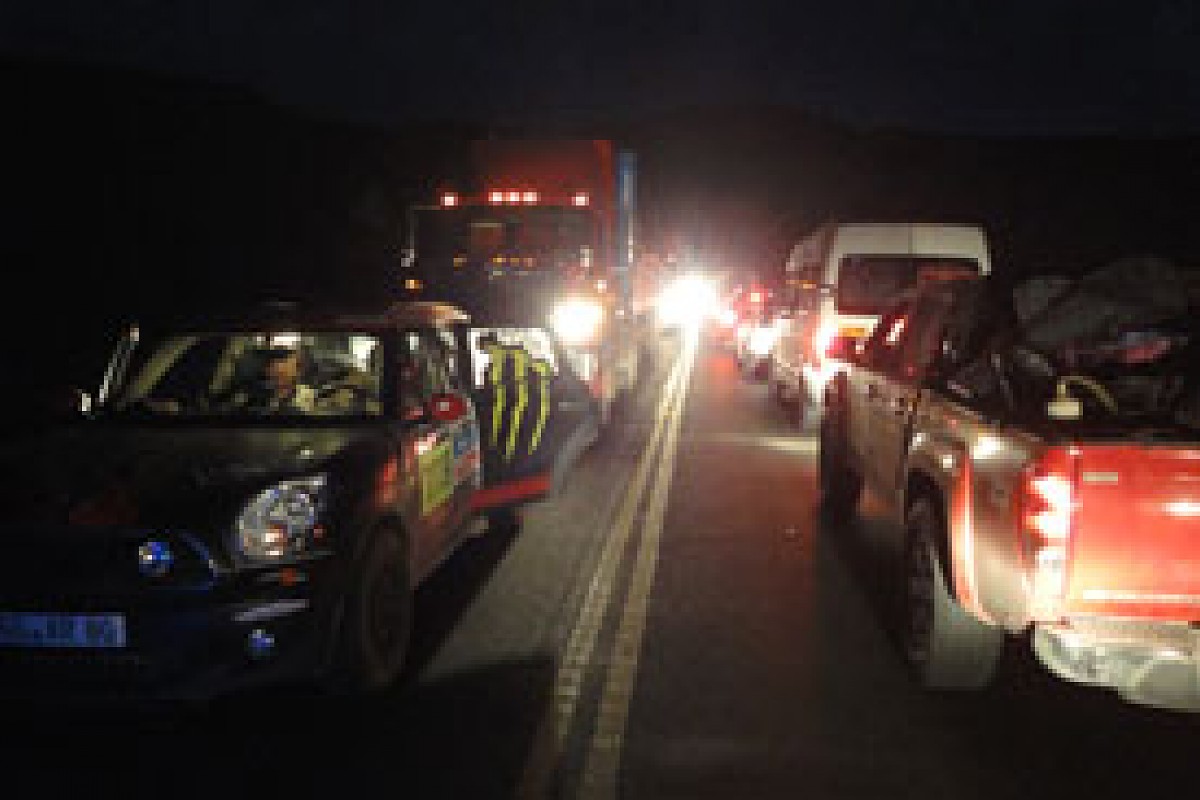 Traffic was a problem even during stage connections © autosport.com
That was apparent as soon as we entered the Arequipa bivouac, with teams either already working into the night or - in the more unfortunate cases - still awaiting the return of their cars when we left at 10pm. Given that every piece of equipment must be back on the road before 8am, it could be a tense night for some.
Part of the problem, which is conversely part of Dakar's fascination and appeal, is that competitors are not immune to the mundane and tedious issue of everyday traffic - and spending hours behind a truck crawling up a winding mountain road definitely falls under both categories.
Our own journey, for example, took the best part of 12 hours. Scratch off two for watching out on stage, and two for a ridiculous final three-mile stretch, and that still means eight hours for 310 miles - just over 37mph.
As we wound our way up and down the fringes of Navado Sara and its sister mountains, so too did the likes of Stephane Peterhansel and Nasser Al-Attiyah (watching them boss their way through traffic really is fantastic, incidentally).
On the one hand, that produces unique scenes like Ronan Chabot refuelling his SMG buggy at a local petrol station where we had stopped to buy Cheetos. But when we hit stand still two-lane traffic which took two hours to crawl through, so too did the Dakar men.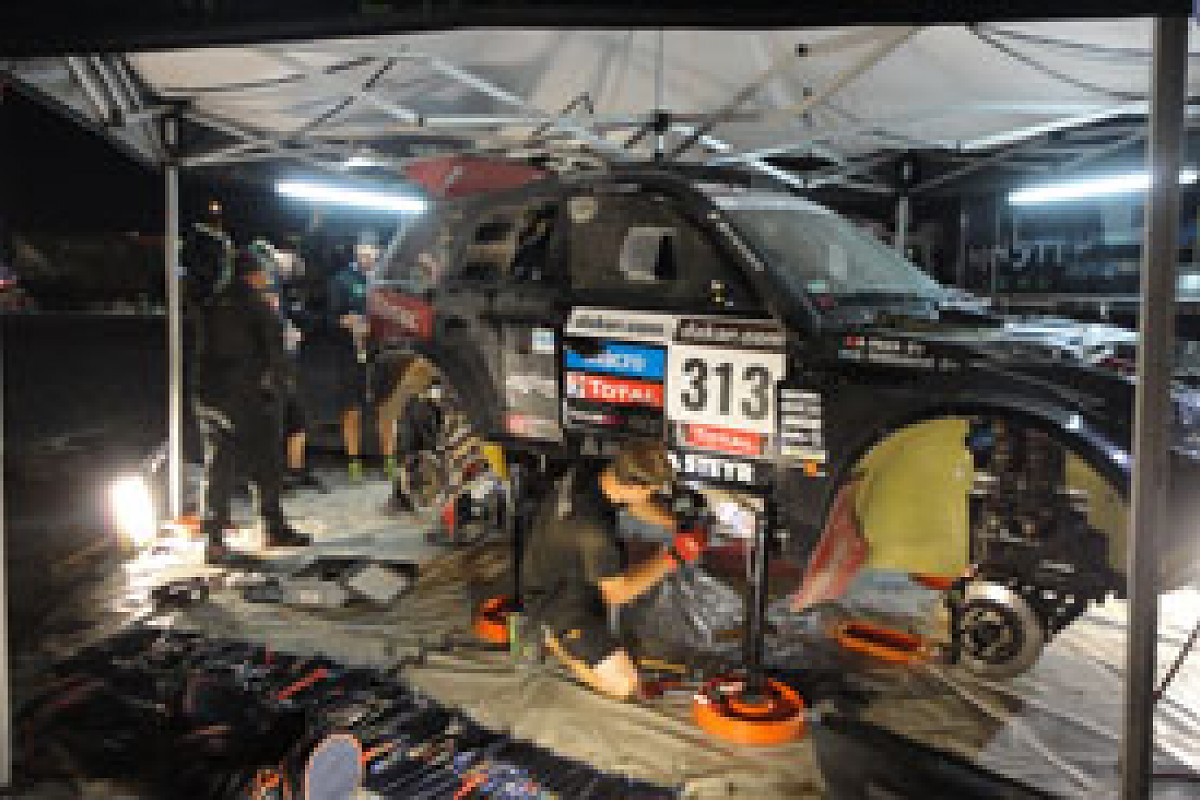 Teams worked long into the night after day 4 © autosport.com
After such a punishing special stage, it was an inescapable reminder that this year's Dakar has begun in earnest.
The pace isn't about to let up either: those who do manage to start on Wednesday (and there's plenty of damaged vehicles needing attention) face another 316 miles, followed by three stages all over 466 miles as the race moves south to Tucuman in Argentina.
I at least have two team-mates to share the driving duties with, but there's no get-out clause for the competitors or their crews.
Monday 7 January
There's sand, fine sand and dust. At least's that roughly how I had it figured.
Today was something different though, something altogether more pervasive.
Within three steps my feet were grey; within 10, so was I. Mini tornadoes whipped the desert surface into a billowing frenzy, while quads, bikes and cars (thankfully we missed the trucks) left choking clouds in their wake. I was getting my first taste - literally whenever a breeze kicked up - of fesh fesh.
We'd come to this point specifically for the fine sand and dust that has earned notoriety as one of Dakar's most difficult surfaces.
The dust itself can be a problem - following another vehicle at anything closer than 200 yards results in extremely limited vision - while the shifting sands can not only kill traction but also leave pilots following the sands rather than the direction of their wheels.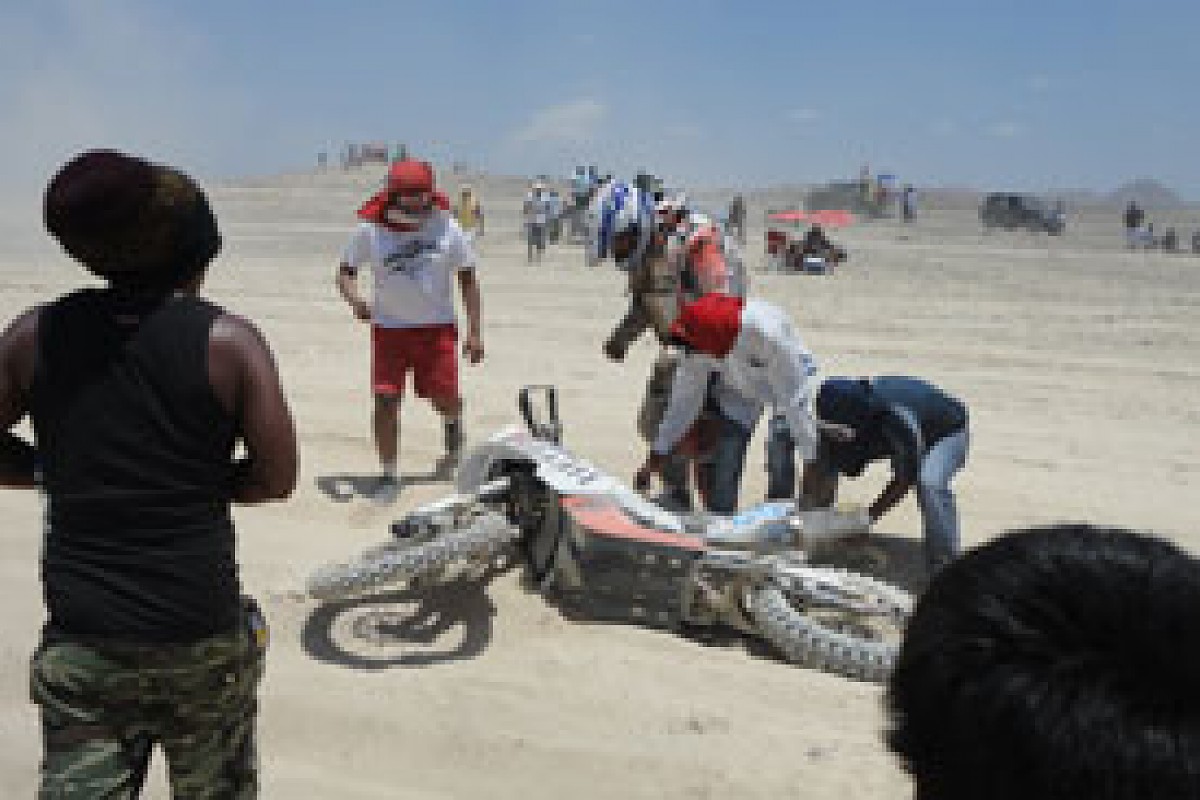 Aguilar hits trouble © autosport.com
It didn't take long for a physical demonstration. Jorge Aguilar, riding a KTM in the bike category, had the misfortune of being the test model, crashing right at our feet as his front wheel caught a dune running opposite to his rear wheel's path.
From the mushrooming cloud it was clear he did at least have a cushioned fall, but it came at a price: a helmet full of dust that left him almost retching and unable to see.
Help wasn't slow from the spectators lining the area, and one emptied bottle of water later he was back on his bike and underway once more.
Some crashes, like that of Aguilar, can be anticipated: after four hours of riding in 35 degree heat, it's easy to imagine how concentration can slip.
More surprising was Krzysztof Holowczyc's accident less than 30 miles in. The Pole, tipped as a potential winner, broke several ribs and injured his back - the full extent still isn't known - when he landed heavily after cresting a dune.
"It wasn't a big accident, not high speed. The car is fine, the co-driver is fine, but Krzysztof was not so lucky," came the verdict of X-raid team owner Sven Quandt. "He tried to carry on for two or three miles, but eventually the pain was too much."
Spending time with a team like X-raid, it's easy to overlook just how difficult Dakar really is; to neglect the fact that for most, simply finishing is the target.
Conversely, there's also a danger of forgetting this is most definitely a race, especially given how alien everything is, from the thousands-strong Bivouac camps to sharing the roads with drivers en route to each day's special stage.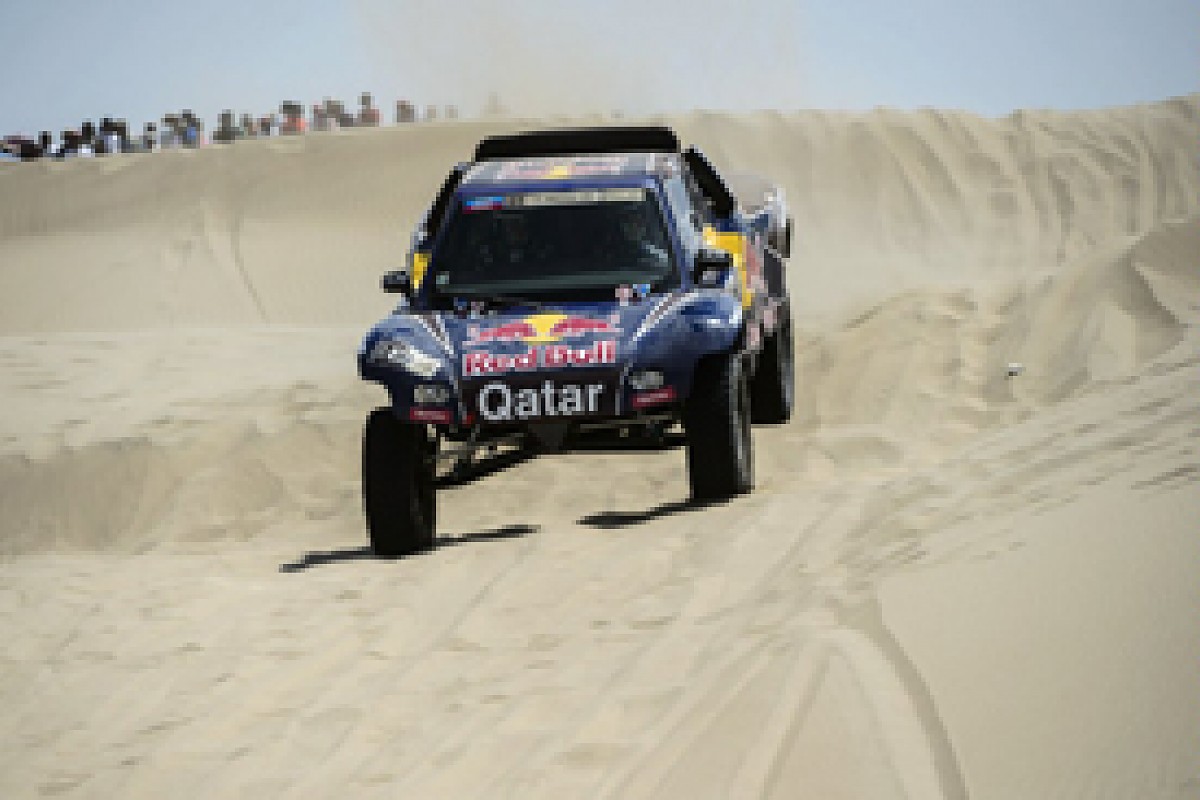 Sainz is now playing catch-up
On that front it was a slight shame to follow a familiar pattern of penalties, protests and appeals that centred on Carlos Sainz's day-two travails.
The Dakar GPS works via a checkpoint system (there's no line to follow like town sat navs, but there is an indication of distance and direction to the next gate). Sainz's failed to register one check point, and he was able to prove he lost 21 minutes going in circles as a result: penalty rescinded, and he was back in the lead.
But each car has a back-up GPS for exactly this situation, and Sainz was using it for another purpose; moreover the malfunction could have been a team rather than electrical fault: penalty restored. To make matters worse he suffered a litany of electrical problems, and slipped from the overall lead to an hour down by the day's end.
Given that the Red Bull buggies have a sizeable speed advantage over the X-raid Minis, I asked Quandt how his cars were keeping pace - and how Stephane Peterhansel happens to be in the lead.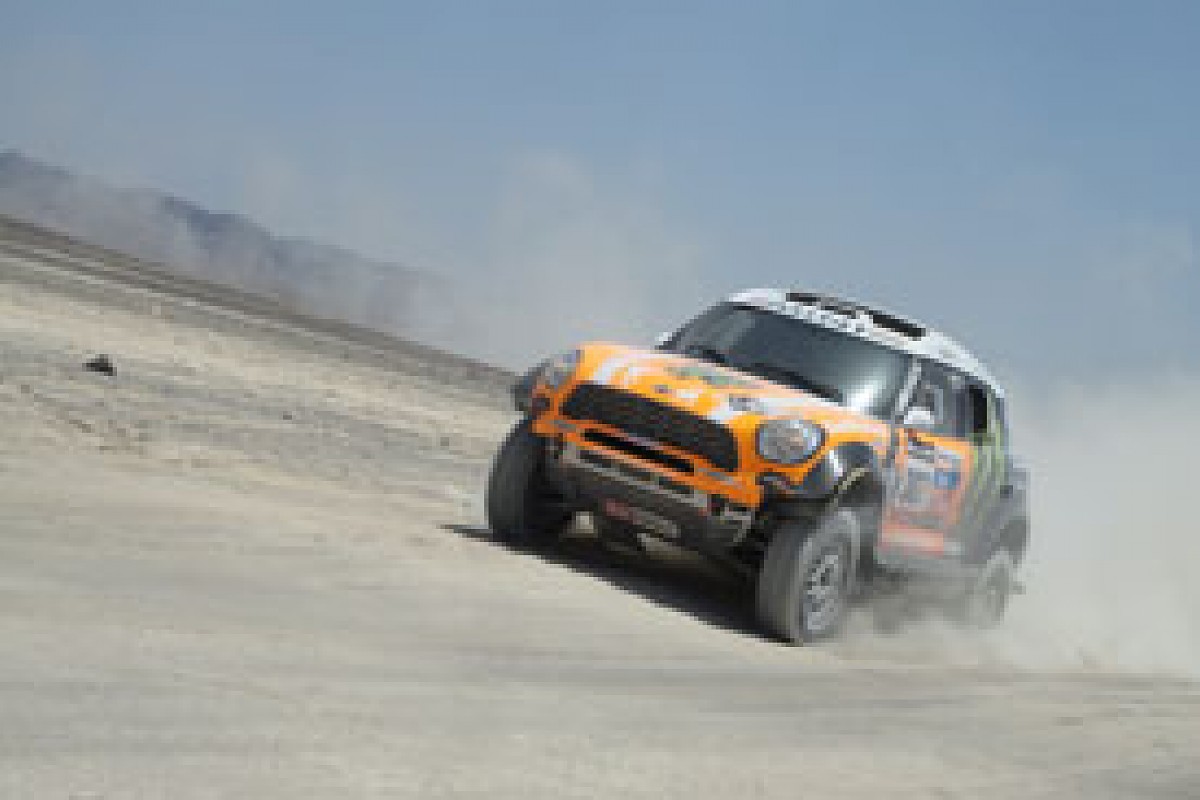 X-raid is staying clear of quicker rivals © autosport.com
"Suspension, suspension, suspension," came the response. Not a new Channel 4 TV show, but, according to Sven, one of the most critical areas for Dakar.
"Reliability is a must, that's obvious; after that it's suspension and then power that are most important," he explained.
"We've really made progress this year - our new suspension is probably the most radical thing we have done in the last three years. We have been lucky too - the buggies are faster than us but have made too many mistakes - but for us, suspension is key."
They'll need it on Tuesday. A gruelling 179 miles of special stage, and 446 miles in total, awaits, including several savage descents. We'll be doing our best to keep up, although we've been advised to miss the worst stuff and head for the beach for the best photos.
Click here for the Race2Recovery Dakar Rally blog
Sunday 6 January
We hadn't come all this way to stick to main roads, and we certainly hadn't come all this way to get stuck at the first attempt and never again brave the dunes. After yesterday's failure, there was therefore only one course of action: head straight back into the desert to try to catch the start of Dakar's second day.
That meant an early start and us once again leading out the 2013 car contingent, at least until the town of Ica, where Carlos Sainz, Stephane Peterhansel and Leonid Novitskiy picked us off.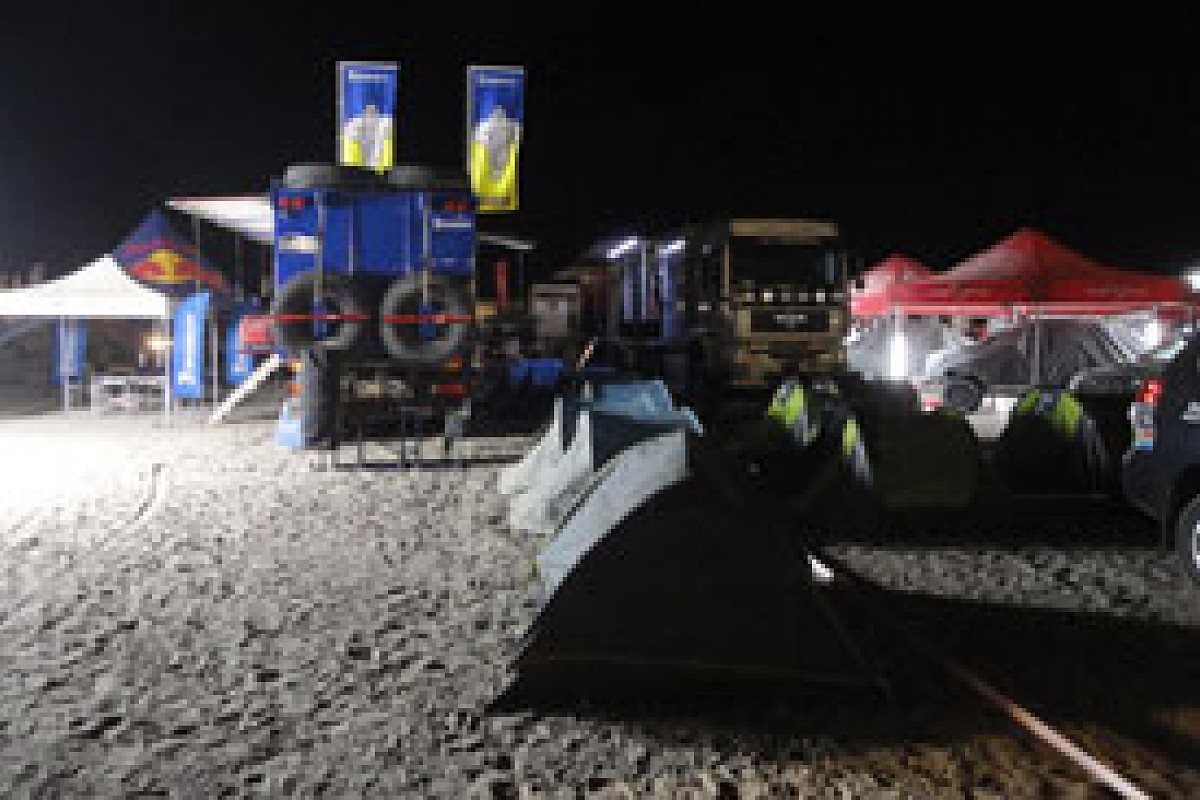 The bivouac after stage two © autosport.com
Once on the sand there was - happily - to be no sinking repeat on our way to the start, and our perseverance was rewarded with an absolutely breathtaking landscape on which an ever-growing car park of both fans and competitors was increasingly interrupting.
Not that anyone was complaining. The informal start procedure meant drivers were being approached right up until clambering into their machines, and they were only too happy to sign autographs or chat to the media. They were also checking out their competition, with Peterhansel giving Nasser Al-Attiyah a brief guided tour of the inside of his Mini.
One of the most outstanding memories of the day however was just how close you could stand to the cars once the action was underway. Save for the first 100 metres there was no policing of the route - checking 150 miles of desert is a tricky business after all - which meant you could secure a watching spot barely two feet from the cars (and with no barriers in between) simply by walking five metres into the desert. In the short break between cars, fans would then walk down the course to find a new spot, only needing to take two steps to the side once the roar of an engine or a billowing dust trail signalled the next car's start.
We were aiming to get back to Pisco in time for the finish, so after a few hours we took a nifty road-based shortcut back to the Bivouac hoping to beat stage one winner Carlos Sainz and the rest of the frontrunners.
We just missed seeing Peterhansel take the flag, and therefore assumed we'd also missed Sainz and Red Bull team-mate Al Attiyah. Not so: on what seemed a relatively straightforward day on paper, the pair had lost significant time trying to navigate a large dune around 47 miles into the course.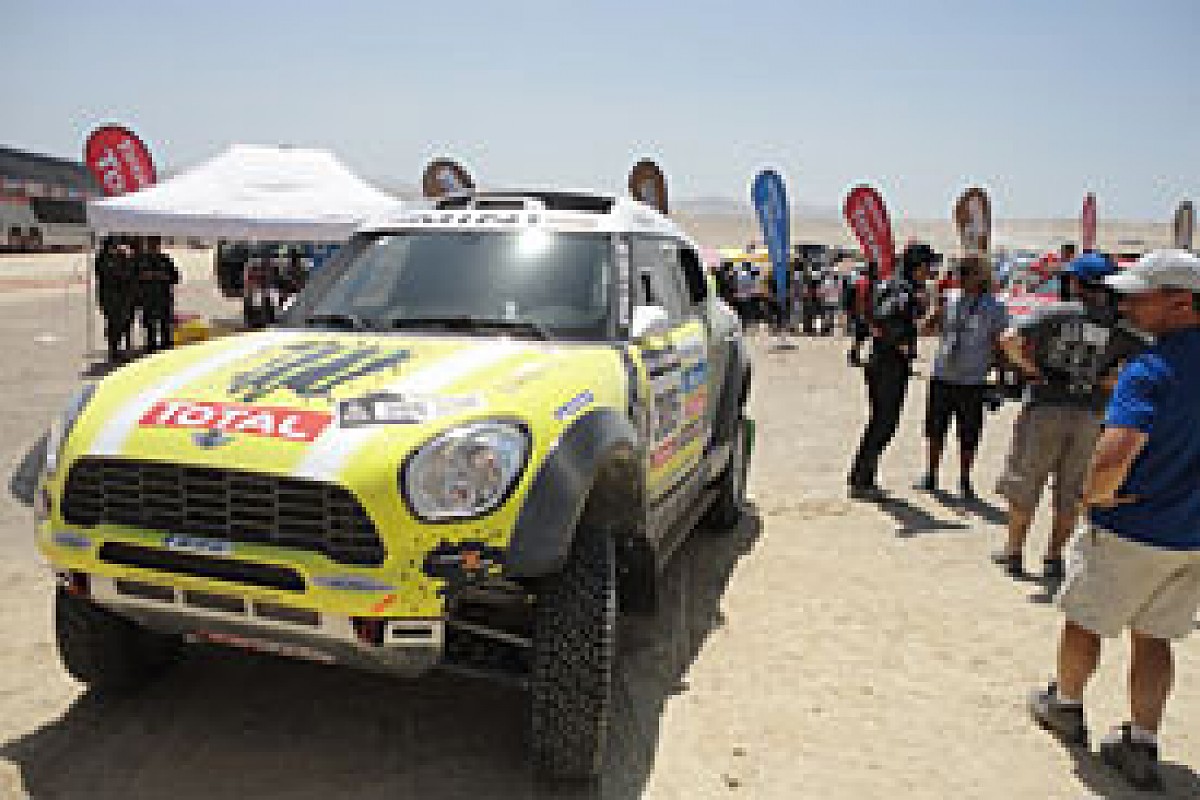 Nani Roma's car © autosport.com
Nani Roma and Robby Gordon also lost time, the former due to a puncture that needed lengthy repairs (drivers must return with the carcass of an old tyre if they need to change) and the latter bemused by what he deemed an incorrect marking on the official road map.
For them, the damage was at least purely temporal. Over in the bike category Briton Paul Jay suffered far worse, dislocating his shoulder and bringing an early end to his Dakar journey. Despite that, and even with passing out when the doctors popped his shoulder back in, he remained upbeat and is hoping to follow the rally until its conclusion as a spectator.
As the drivers headed first for media interviews and later debriefs, the Bivouac we have called home for two days was beginning to disassemble. With just a smattering of tents and trucks left, the day's bustling metropolis looked more like a remote lunar landscape when we left.
The teams will have plenty of practice unpacking and repacking over the coming days: save for the rest day on the 13th, the Dakar moves to a new location every day herein until it reaches the finish at Santiago.
Saturday 5 January
I've never been a morning person, but getting up at the crack of dawn somehow seems easier when half of Lima seems to have done the same, with fans lining the roadside throughout the first 62 miles of our first day.
The reception for every Dakar vehicle was awesome, and for a time we had pride of place at the head of the convoy following our decision to skip the opening podium proceedings.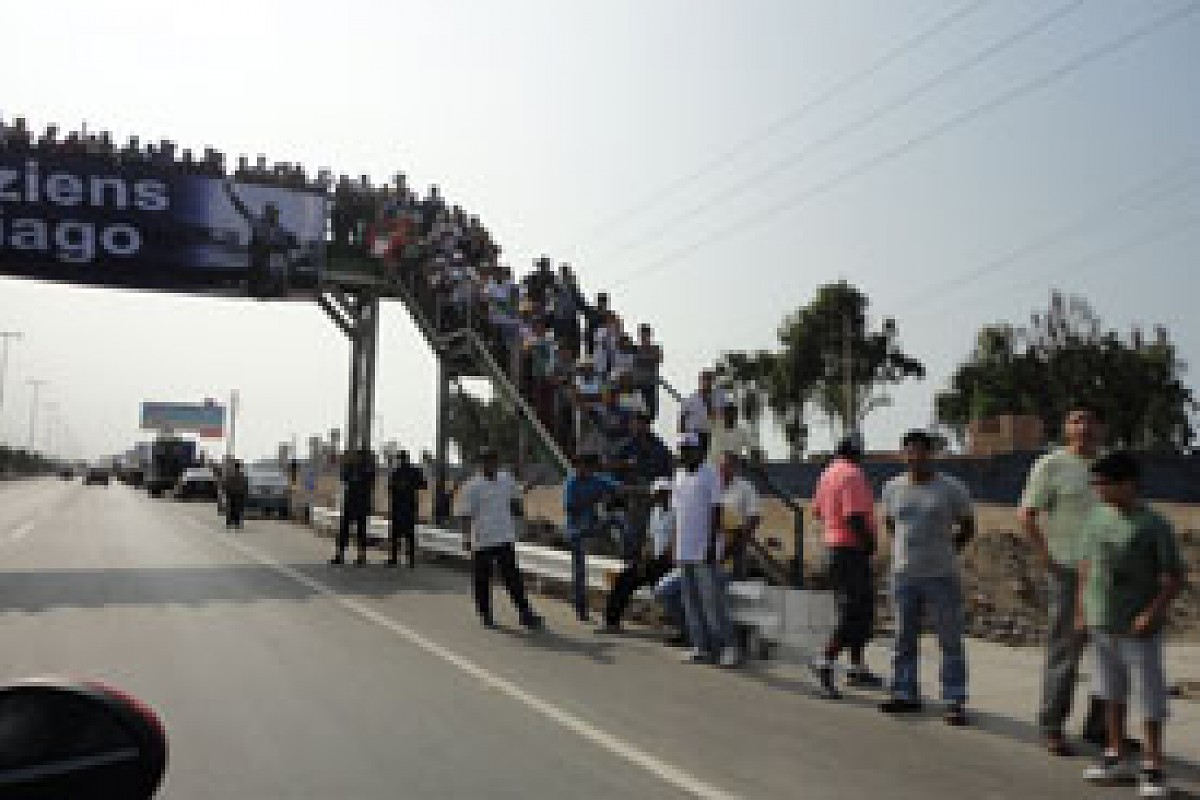 The crowds were out in force again © autosport.com
After a while the bikes started to trickle by, but that just adds to the hype on the streets and on the roads themselves - with a few of the more daring Peruvian drivers (and Dakar bikers) pulling alongside for 62 miles of handshakes and photos.
Once we'd picked our way past an off-the-map army barracks, the trip to Pisco was plain sailing and we even had time for a quick supply stop just before the start of the day's special stage. Cue a flood of roadside fans clamouring for autographs and photos.
We made such good time that we were able to watch the cars arriving at the Bivouac, where they enjoyed a moment's pause before heading out onto the special stage. There was even chance to have a quick catch up with Nasser Al-Attiyah, who was optimistic of starting strongly even though the eight-mile loop was relatively inconsequential.
As it was both Al-Attiyah and his Red Bull team-mate Carlos Sainz flew, the Spaniard finishing the day comfortably fastest.
That had been expected, but there was a shock when Robby Gordon lost momentum on a climb and then broke the transmission trying to select reverse. Having, in his own words, cruised the opening, he was suddenly faced with a 10-minute delay - tripled due to the short distance of the stage - and is already up against a sizeable deficit.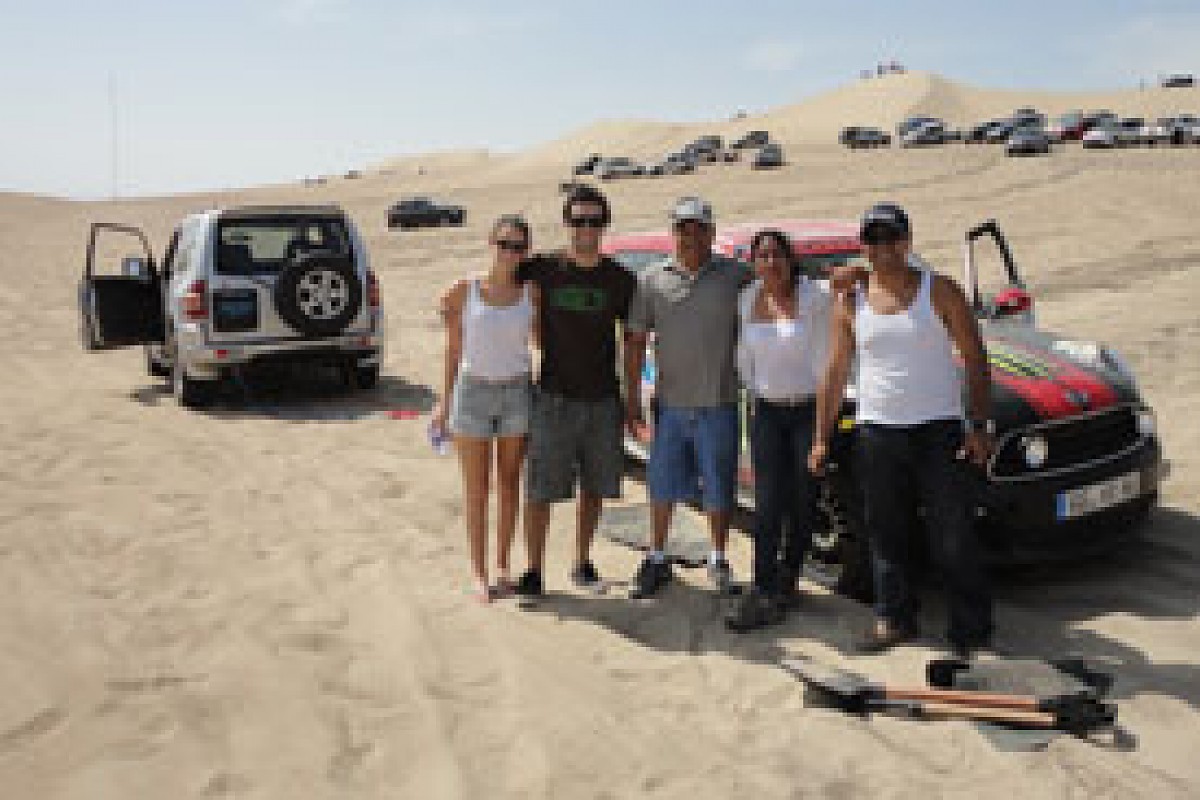 AUTOSPORT's crew is finally rescued © autosport.com
Not that we saw any of the action; we'd headed for the dunes in good time, but fell foul of an especially soft patch of sand and found ourselves beached. The good news? I wasn't driving. The bad? After digging, pushing and sweating and swearing in equal measure for a few hours, we were sunk even further.
Eventually we were towed out and, after a healthy berating of driving standards, managed to catch the last of the cars coming over the final crest of the stage. No one got stuck, but there was a bizarre moment when a co-driver sprinted (of a kind) up the crest in the wrong direction.
After playing dodgem with a few cars, his partner finally appeared and he was able to hop back in for the final 100 metres. We never did find out how he fell out originally...
Friday 4 January
"I'm ready to go, we're well prepared and now we just have to do what we set out to - gun for the win. I'm hoping to be Stephane Peterhansel's nightmare."
Given the colourful nature to his 2013 build up, it's perhaps unsurprising that Robby Gordon was happy to kick off the verbal sparring with Peterhansel and his other rivals before this year's Dakar Rally has even begun.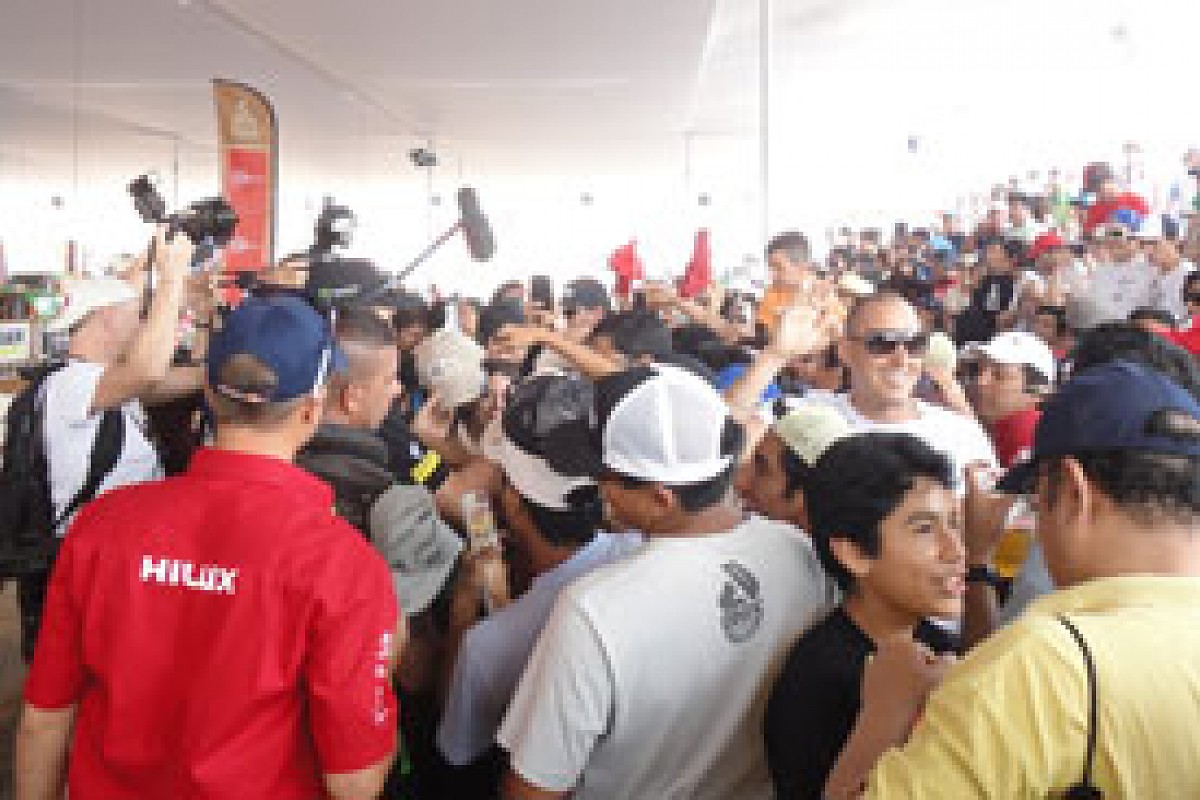 A huge crowd is already in attendance even before the start © autosport.com
He certainly had time to do so; Friday was spent mainly on final licence and medical checks, leaving drivers with relatively free schedules and time to kill.
It was also the time for final scrutineering, and it could well be that 2013's new rulebook could settle the race - or at least swing the early exchanges in favour of the two-wheel brigade, led notably by Nasser Al Attiyah and Carlos Sainz.
The open dunes should play into the hands of the Red Bull-backed buggies and Gordon's Hummer, which have a significant top speed advantage over pre-race favourite Peterhansel and his Mini stablemates. It's a testament to the X-Raid team that the 10-time winner remains the logical choice for victory, but it's certainly no foregone conclusion.
One of the beauties of the Dakar 'bivouac' - officially the paddock but in reality a migrating, swarming village of drivers, cars and personnel - is the easy access to the stars of the show.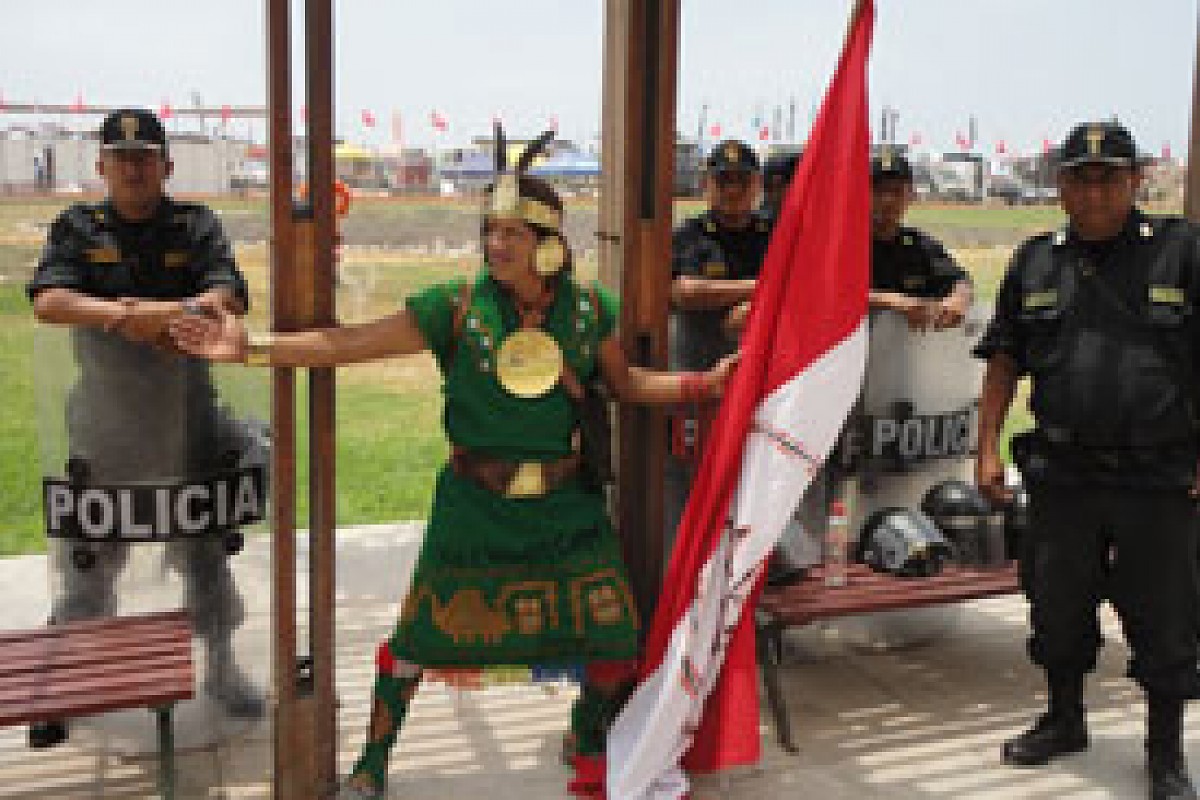 This man left Tremayne in no doubt that he was at the Dakar © autosport.com
It's as true for the fans as it is from the media, which leads to massive crowds and fervent support - from the man garbed in warrior dress who greeted me in the morning by screaming 'Dakar' repeatedly, through to the police who celebrated with him and the throng which gathered when Gordon, Peterhansel and Nani Roma signed whatever was to hand. Dakar organisers estimate that 4.5 million spectators turned out for last year's rally; as optimistic as many official statistics are, its believable given Friday's crowds.
The flip side of that - and of the race starting in a city of 9 million, all of whom seem to own a car and possess their own idea of where lanes start and finish - is that getting anywhere is a serious struggle. From the four-hour accreditation fight yesterday to the 80-minute journey to the media briefing (six miles away) today, travelling by road can be a slog.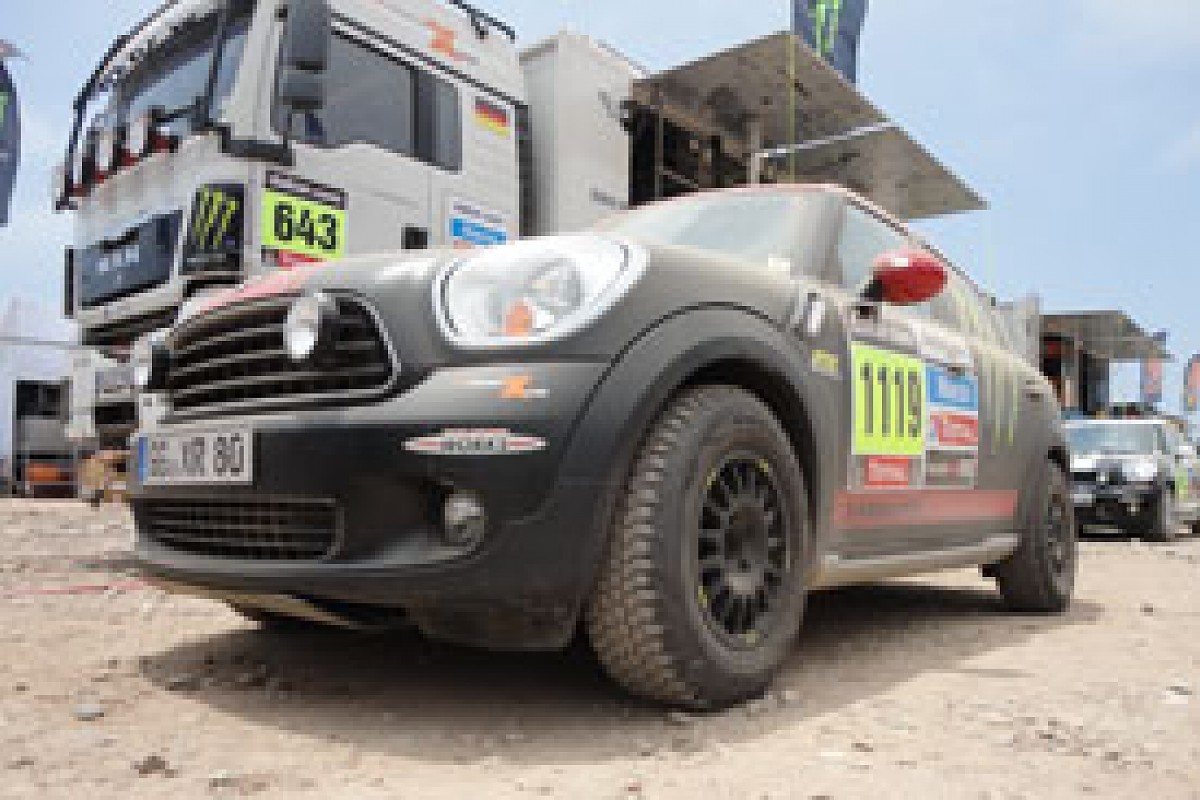 This will be Tremayne's home for the next few weeks
Having taken charge of our Mini Countryman it's perhaps for that reason, on top of the general zeal to get going, that we're aiming to beat even the bikes out of Lima tomorrow, skipping the starting podium ceremony (and accompanying crowds) and heading straight for Pisco. 155 miles down the road, it's on a short eight-mile loop that the race gets underway in earnest, and we'll hopefully have front row seats.
Thursday, January 3
It didn't take me long to reply when, around a month ago, I was asked if I'd like to drive a support vehicle on the 2013 Dakar Rally. Perhaps it was all of two seconds - the details would sort themselves out later. I'd be there.
For now, the 'there' is Lima, Peru, incidentally the first time the country has hosted the start of the race. On Saturday we will have moved the best part of 300 miles down the coast to Pisco, and the race will have begun in earnest.
Fifteen days later, and more than 8,200 additional kilometres down the road, we'll be crowning the winners of the 34th Dakar Rally.
Beyond the usual platitudes, there's a lot I've never been able to fully appreciate about the Dakar. What, for example, distinguishes the killer stages from your 435-mile 'transfer days' as they are dubbed?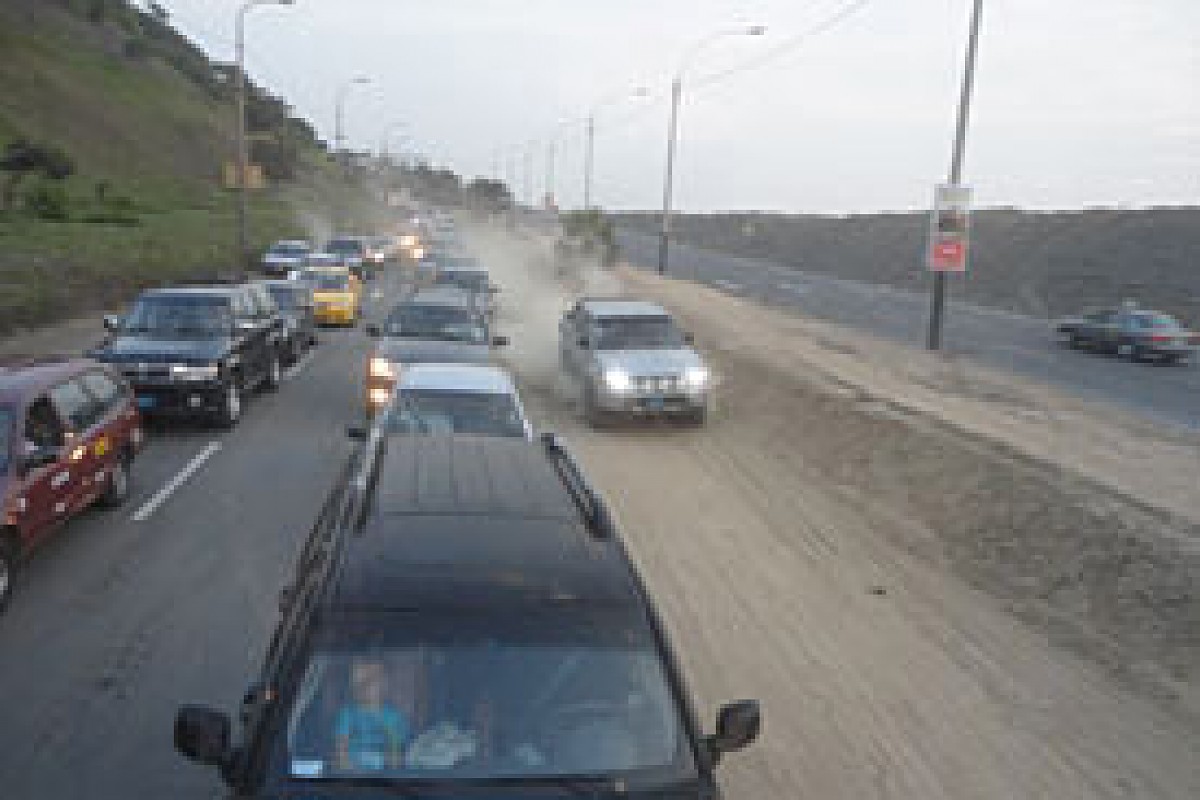 Traffic was heavy on the way to the starting spot © autosport.com
How much of a toll does the accumulated mileage take? And how do the drivers and riders cope with the altitude sickness, mental strain and sleep deprivation that comes with the unrelenting march through the desert?
Over the next two weeks, I'm hoping I will get to at least partly answer some of the above questions and - internet permitting - I'll be keeping this blog up to date with daily updates on our progress and exploits along the western coast of South America.
It won't happen solely through my own driving - our Mini Countryman may be modified to cope with the unforgiving terrain, but largely we'll be taking a specific support route to swerve the more outrageous landscapes.
That said, I've already been warned the first four days will be extreme (and that's before we've got to the Andes and the Atacama...)
I'll be sharing the car - for the first week with two other journalists, and for the second with just one. We'll have the company of two other X-Raid media cars for good measure, although internecine races will largely be dependent on who gets up the earliest.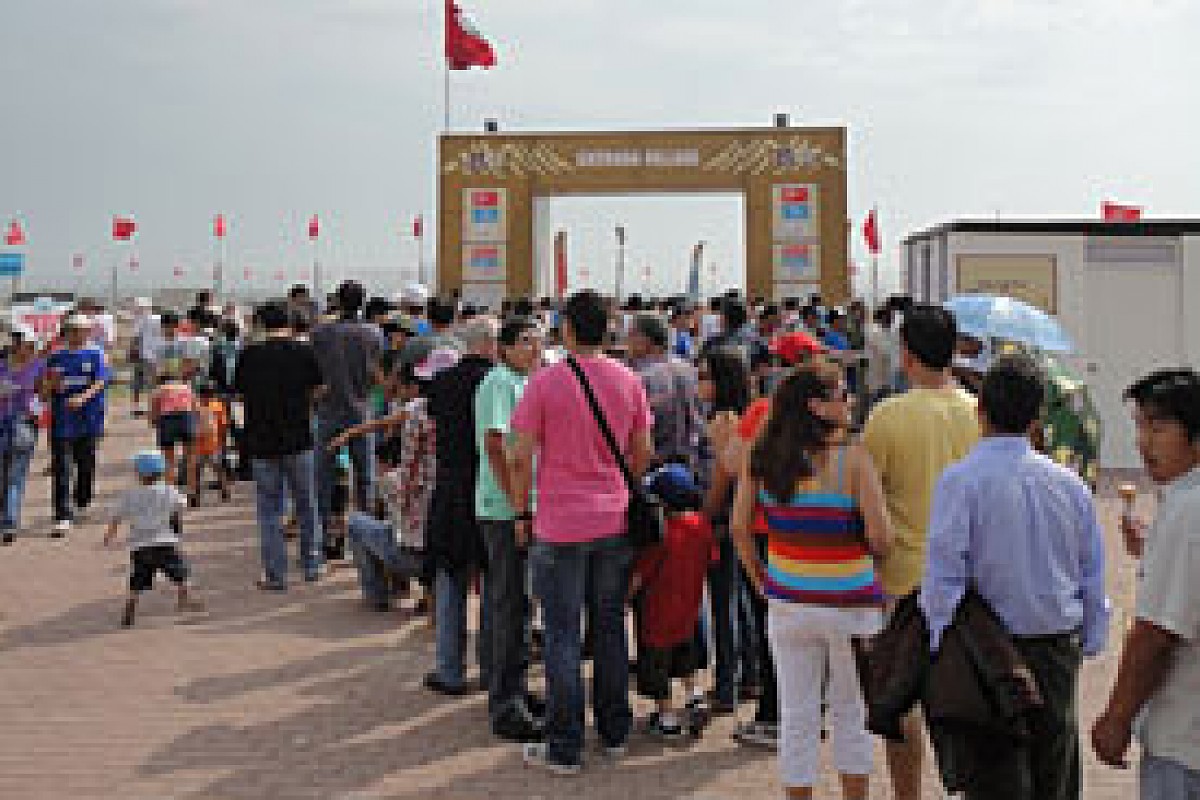 The crowd waits in line © autosport.com
Dakar organisers are very strict about speeding on road sections, and - as they stress so belligerently - can even punish the team's competitors for the transgressions of the support pack.
Tomorrow is the final day of preparations for the teams, drivers and riders, which means a hive of activity down at the Bivouac.
There was already heavy traffic and big crowds today, as my photos (hopefully) show.
I'll also get my first glimpse of the car tasked with transporting us and all our kit down to Santiago. The next time you hear from me, we will just be on the cusp of starting that journey.