Silverstone, September 30
Before this blog was conceived, AUTOSPORT's first taste of its 2011 Caterham Academy car on-track had been at a pre-season test at Castle Combe.
Back on that grey April day, the entire Academy field had been pounding round under the watchful eye of several instructors, who were trying to give us as many tips as possible before we got our competitive season underway.
At the end of that day, I wasn't around the first time that one of the instructors came around the paddock to talk me through the notes that had been compiled on my red-and-white car. He would return later, but his words to our photographer stuck in my memory for the entire season.
"So this is the AUTOSPORT car, eh? Well, he's not stood out..."
Funnily enough, that line wasn't repeated when I finally received my one-to-one tuition shortly afterwards.
Moving on, after our spectacular Mallory Park antics last time out, the Academy field headed to Silverstone, where our season finale would be staged on the fantastic full grand prix circuit.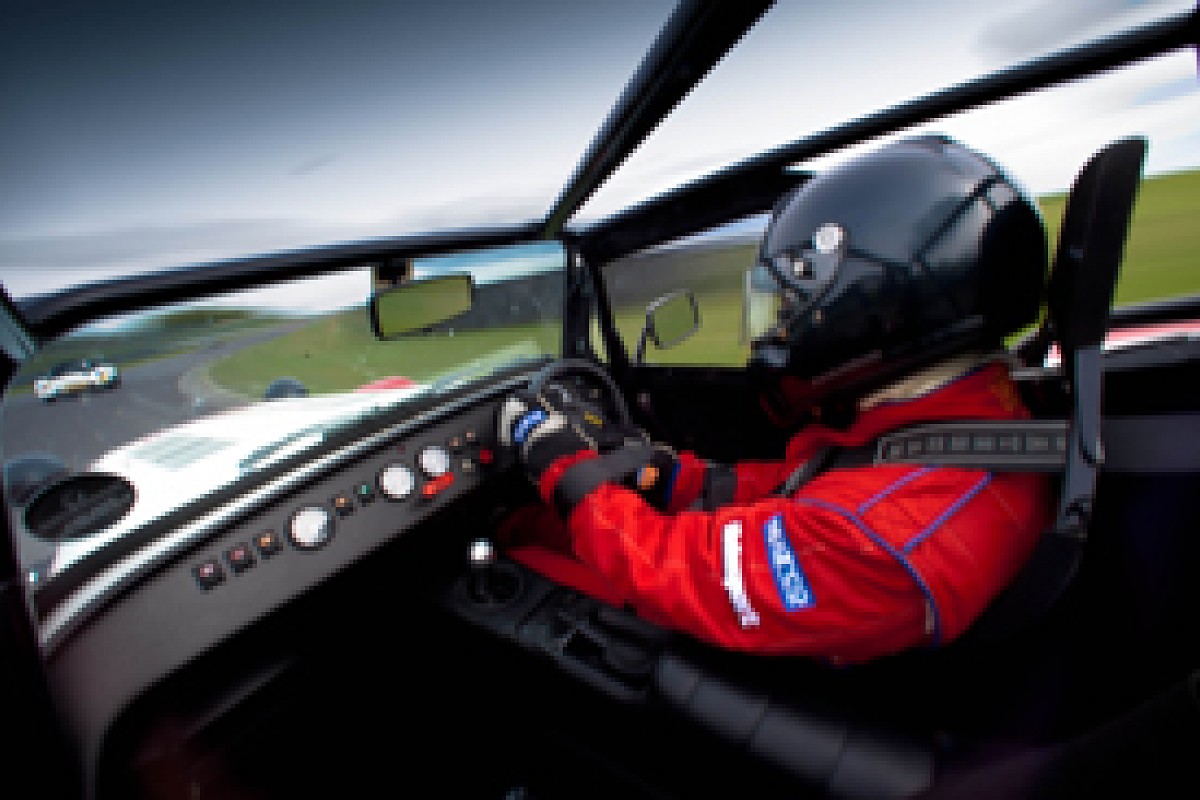 Freeman came on a long way since his Castle Combe test © LAT
Sure, it was taking us 2m40s to do a lap (compared with Mark Webber's British GP pole position of 1m30s), but even at those reduced speeds the Silverstone layout is incredible to drive. And, believe me, at 100mph the left-right entry to Becketts does not feel like reduced speed.
Now, to return to my unimpressed instructor from that Castle Combe test. When we all climbed out of our cars after qualifying at Silverstone, there were lots of furrowed brows. A 15-minute session didn't give you many chances to get a lap together, and if you messed up there was quite a wait to try again compared with somewhere like Mallory or Brands Hatch Indy.
I felt like I'd had one clear lap, which had been Okay, if unspectacular. So I was as shocked as my instructor would have been to hear our champion Elliot Norris shout over to me that I'd taken pole position, on the most high-profile circuit on our calendar.
Earning a pole position is a great feeling, and all the little things that come with it such as the congratulations, seeing your name at the top of the results sheet, sitting at the front of the assembly area and leading the field around on the warm-up lap are all moments to be savoured.
But it was also a sign of just what can be achieved by a season of racing in a novice championship. As my Castle Combe instructor made clear, I had some work to do going into our season, and along with so many other people in the Academy I went through a steep learning curve and came out the other side a far more polished racing driver than I went in.
Oh, and how did my race from pole position go? Well, after a start that would have made Webber cringe, a multi-car slipstreaming dice, a few stints in the lead, and a collision with the champion at Brooklands, I took my worst finish of the year with eighth. But at least I stood out...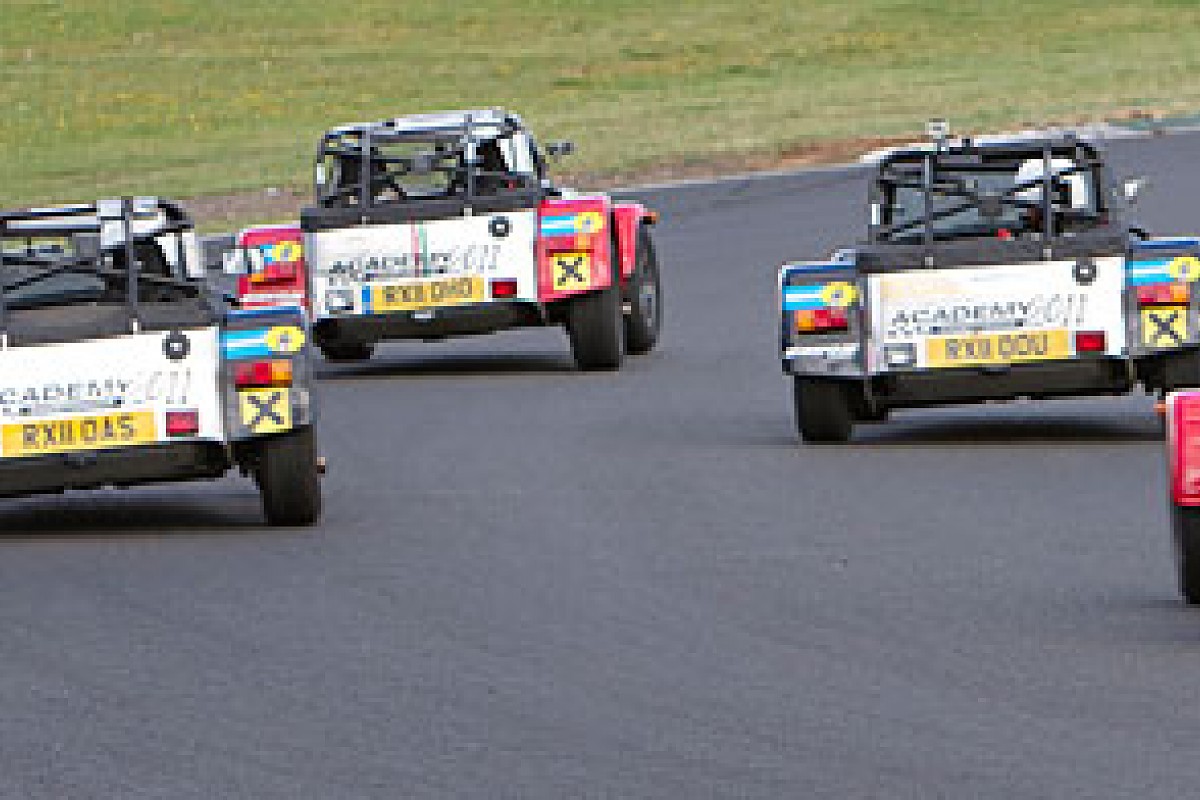 Mallory Park, September 19
Our AUTOSPORT Caterham Academy field got a first hand taste of a good old fashioned slipstreamer classic recently. Mallory Park is no pre-chicanes Monza, but it produces a very similar style of racing to that which is still remembered so fondly from the Italian circuit's days gone by.
In the heat of battle, it's amazing how quickly you can drive a track without paying much attention to its actual layout. It is often wondered how NASCAR drivers manage to spend so much of a restrictor-plate race looking in their mirrors, even if all they have to do is turn left.
Mallory Park has a lot in common with an oval (aside from running clockwise), and its relatively simple yet fast layout laid the foundations for our most frenetic race yet. Five of us were able to make a break at the head of the field and drafted past each other repeatedly throughout.
But this is no race report. On reflection, it was frightening to think just how little attention can be paid to the road - even by novice racers - when its time to roll the sleeves up and go into battle.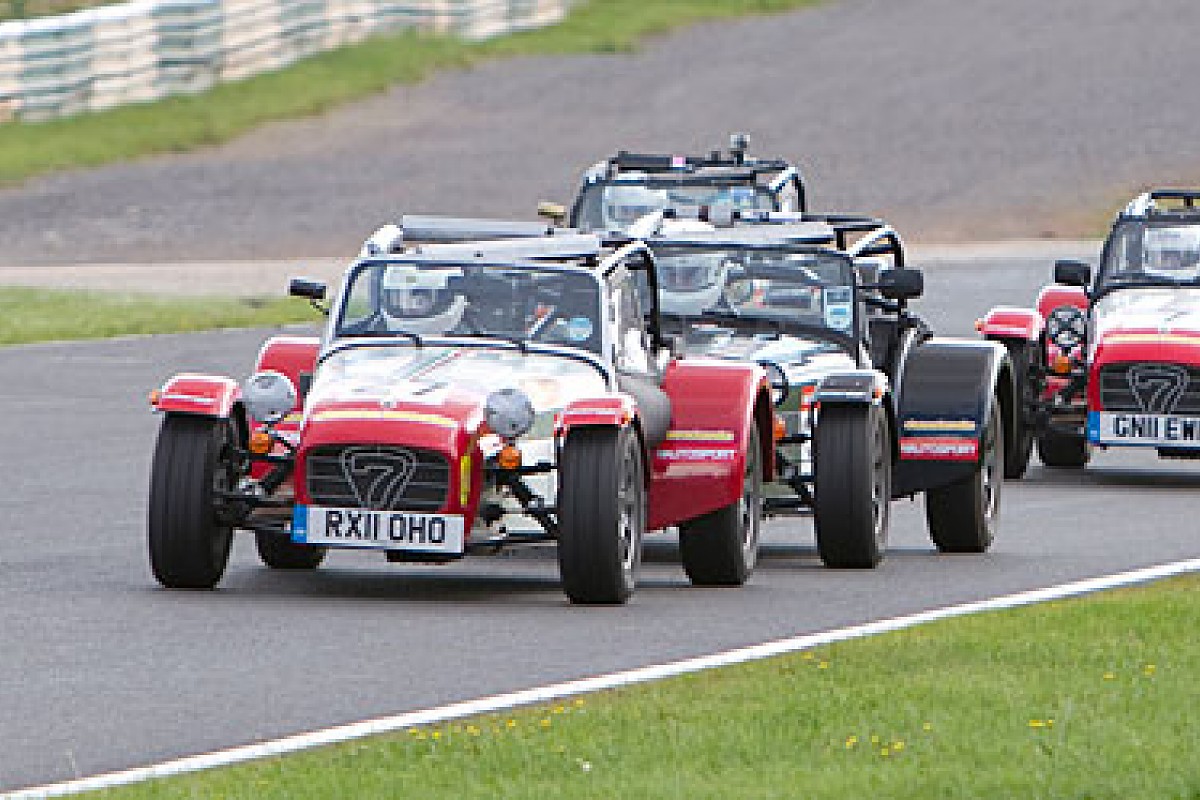 Our lead group of five spent the entire race inches apart (for the record, I was 0.7 seconds off the win and came home fourth!). And in a fight like that, all of our focus was on the cars around us. Unlike in qualifying, there is no time to pick your lines, stick to your braking points and think about every little movement the car is making.
You can get around surprisingly well even when a lot of your attention is on the rear view mirror, and when you are millimetres from the rear of another car you barely notice what would normally be considered as quite a sizeable moment as you catch it instinctively and try not to lose any time.
Ask any driver to drive like that with the track to themselves and it would be almost impossible. Spend how many seconds looking in the mirror per lap? Brake how much later for a corner and still gather it up? Run how far off line and keep your foot in? No way...
Yet in race conditions where the smallest margins can mean everything, somehow instinct takes over. You can catch slides that are seemingly impossible to save, and with minimum fuss as well. Because while all of this is going on, your brain has no time to dwell on what has just happened, what you have recovered from, or how close you have just come to flying off the road!
One of those involved in the thick of this fight was Elliott Norris, who survived to the chequered flag to seal the 2011 championship. Here is our race in all its glory, from the on-board cameras mounted on his car:
Rockingham, July 16
After battling our way through changeable conditions at Brands Hatch for our first taste of circuit racing, the majority of my Caterham Academy rivals agreed that we would rather have had heavy rain or no rain, instead of those tricky in-between conditions.
So, for our second race - at Rockingham this time - we got what we supposedly wanted: we had a track that could be best described as flooded for qualifying, yet when we lined up to race later that day it was on a dry surface in beaming sunshine.
It can be a bit of a cliche to go on about just how poor visibility is on a racetrack in serious wet conditions.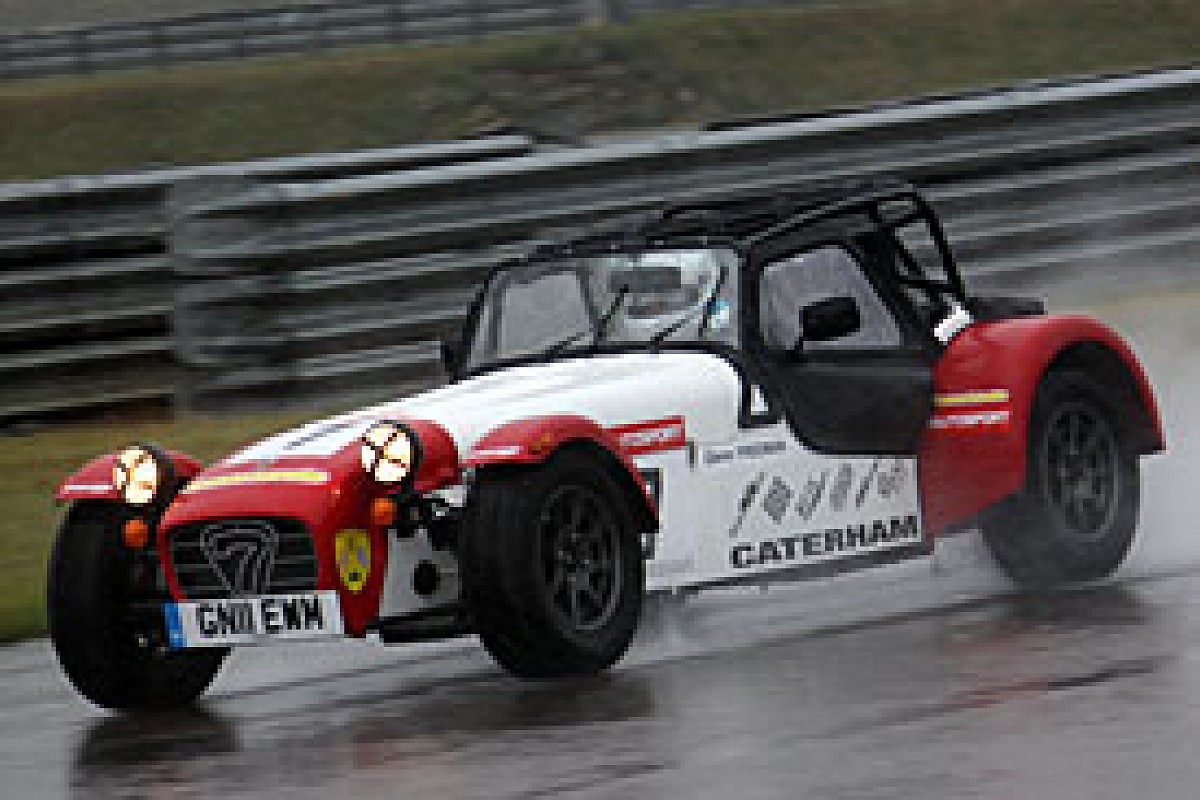 Freeman battles with the spray in qualifying © Rick Wilson
Remember, recent grands prix such as Korea 2010 and Canada '11 have been seriously delayed more through the amount of spray rather than the track being particularly undriveable.
But there were no FIA delegates up in race control halting the on-track action at Rockingham, where the conditions were so bad that you had to improvise to work out where to brake and turn in - it really does get that bad.
Handy markings, such as the word 'ROCKINGHAM' on the outside wall on the run to the first hairpin, are invaluable in this situation.
As are the headlights on Caterhams, which meant that after several laps of feeling like I had the track to myself, I got a glimpse of Charlie Bowman just before he charged past me on his way to a dominant pole position.
"Ah," I thought, "now I can see what he's doing and follow him round."
Not at all. Charlie was earning 'rainmaster' status out there, and despite braking slightly earlier than him for the following corner, I still found myself scrambling to stay on track.
Best to let him go and keep doing my own thing. And like any excuse-filled racing driver, I decided it had to be down to car set-up... honest!
A race in those conditions would have been madness. But, as it turned out, our first fully dry encounter of the year wasn't far off that.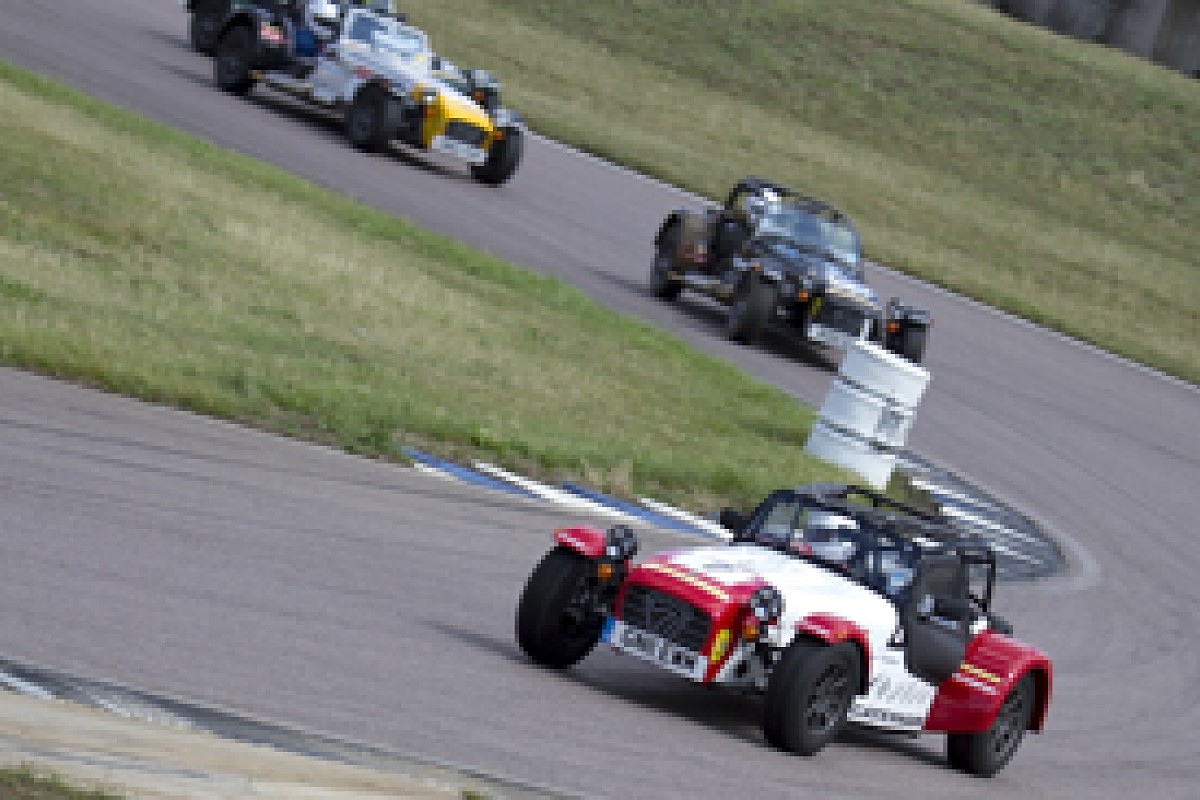 At least race day was a bit drier © Rachel Horgan
From 10th on the grid, having amusingly qualified in between Rob Chappell and Daniel Siviter - the two drivers I was parked between in the paddock - I was in the thick of what became a seven-car scrap for the lead.
I got as high as fourth, but fell back into the clutches of those behind as championship leader Elliot Norris defended his podium place from me.
From then on it felt like we were all trying to recreate a British Touring Car Championship race, with all sorts of paint- and position-swapping taking place.
With perhaps one exception, it was remarkable how fair the racing was at such close quarters. We've only got two races under our belt, but the level of trust and respect on show was impressive, and certainly confidence-inspiring for the wheel-to-wheel battles that are surely still to come this season.
The beaming smiles on everyone's faces afterwards, regardless of finishing position, suggest that I wasn't the only one to feel that way.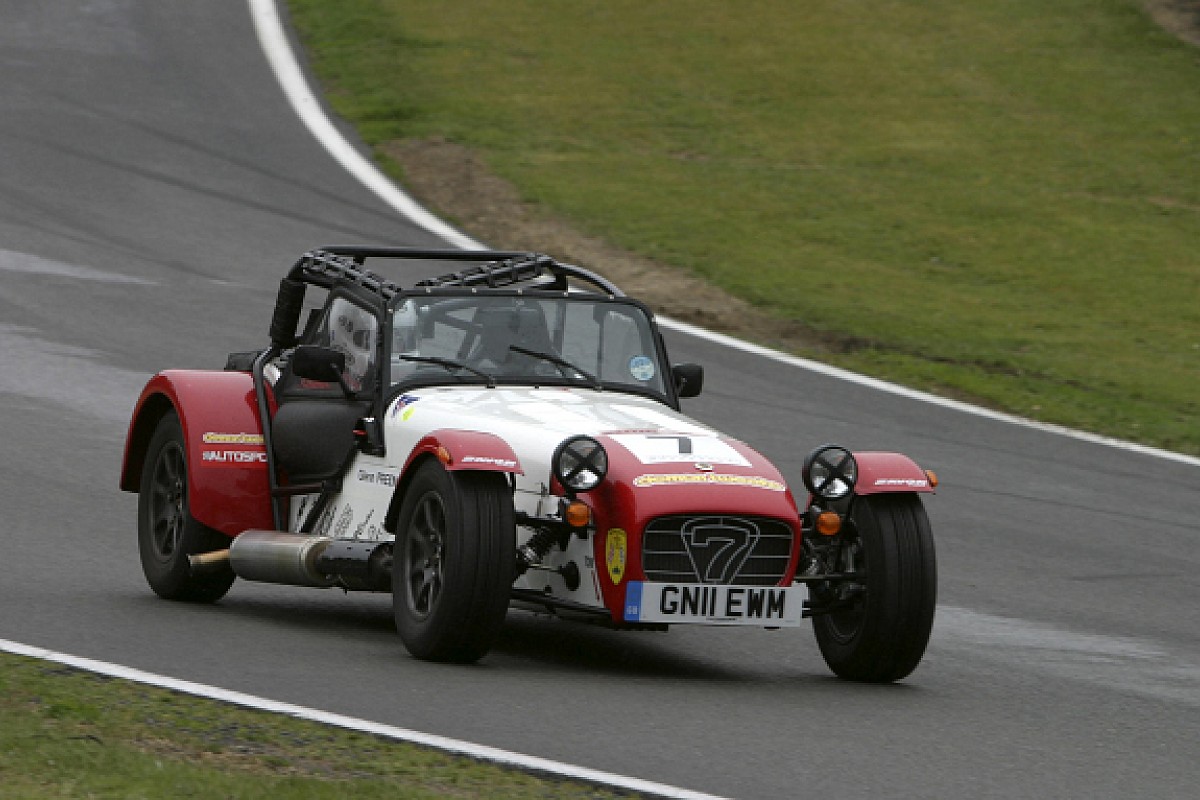 Brands Hatch, June 11
The mind boggles at some of the things racing drivers come up with when they are interviewed post-race. Just how can their brains allow certain sentences to come out of their mouths?
Well, from now on, I'll certainly be giving drivers a bit more slack with their comments after I experienced the spotlight of a post-race interview after finishing on the podium for the first Caterham Academy race of the season at Brands Hatch on June 12.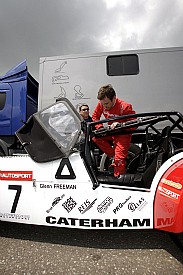 Freeman gets ready © Gary Hawkins
After a wild race, blighted by changeable weather conditions and an oil slick laid round most of the lap in the previous event, I came home third in the opening race of the season behind race winner Charles Bowmont and championship leader Elliott Norris.
In the whirlwind of dealing with our first proper podium presentation we had microphones thrust under our faces so we could be interviewed for the circuit PA system and then for TV. It was all such a blur that afterwards it was hard to recall exactly what I'd even said!
Some of my friends in the grandstands told me later that I'd got a few laughs from trackside when I was a little too keen to express my desire for the lead pair to fall off in the closing stages of the race! As Lewis Hamilton knows only too well - sometimes a joke can sound different in your head in comparison to when you say it out loud, but it seems my comments were just about taken in the right manner.
So while I will forever have some sympathy with drivers when they make the occasional verbal blunder post-race, what is harder to tolerate - and this has always been the case - is listening to someone struggle to string three interesting words together to describe their race to those who want to know.
Yes, us racing novices are all a bit new to this, and naturally everybody was buzzing about their experiences afterwards so they had plenty to say. But while I can't remember the specifics of my interview because of being a bit caught up in the euphoria of it all, what I do know is that it wasn't very hard to tell an interesting story down the microphone.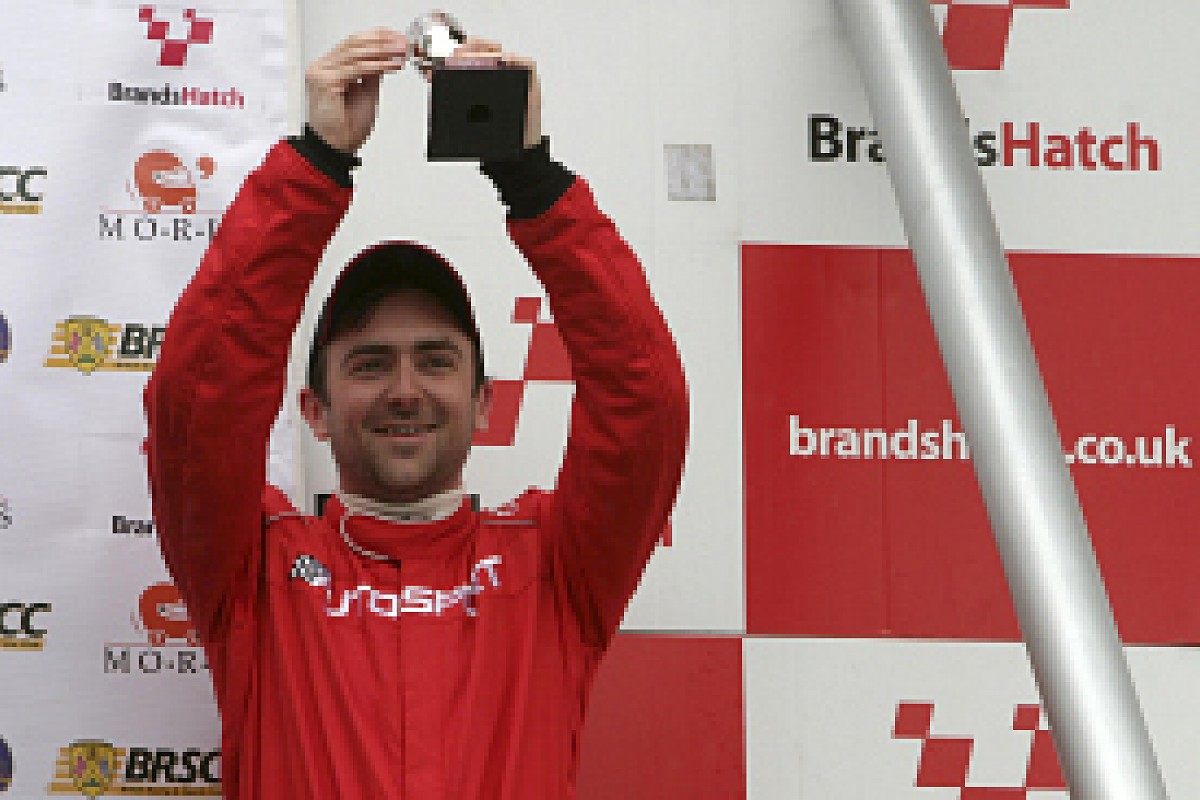 What a tiny trophy! He'll have to win next time © Gary Hawkins
Quite how racing drivers manage to sound so dry in those situations is a bit of a mystery. I can't speak for my fellow podium finishers, but even as someone who's not particularly much of a chatterbox, when the adrenalin is still pumping it's hard not to go on an entertaining ramble. Charles and Elliot had plenty to say seeing as their battle for the lead was settled on the final lap, so it's fair to say we probably all went on a bit.
I'm sure the novelty wears off over time, but there are plenty of culprits that have never sounded remotely interesting who are doing themselves, and their sport, a disservice. I'm yet to see any of that among my fellow Academy racers.
Curburough, May 14
Remember one lap qualifying in Formula 1? It was up to the drivers to put it all on the line with no margin for error. They had one chance, and all eyes were on them. Talk about pressure.
The majority of the drivers - as you would expect from the best in the business - made it look pretty straightforward. From the outside it could almost be taken for granted just what a challenge that qualifying format posed.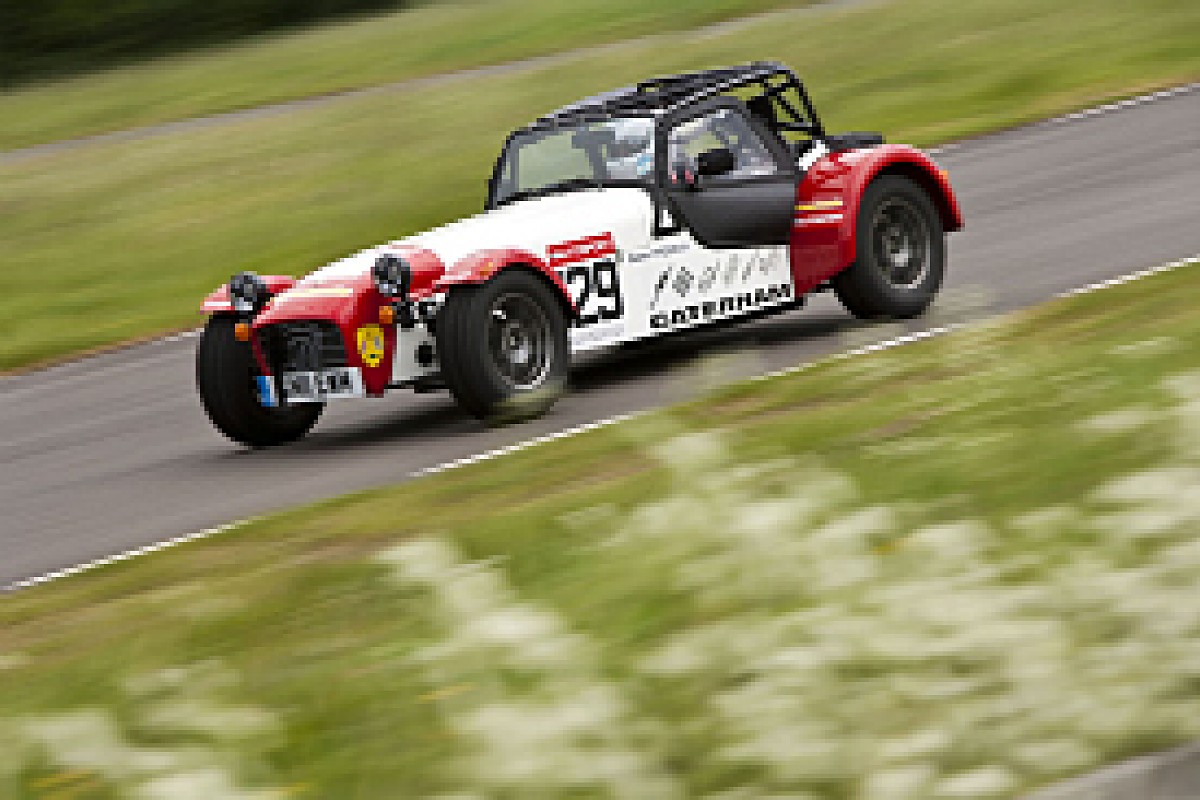 Freeman pointing the right way. That'll be a practice run then © LAT
One lap qualifying is obviously a thing of the past in Formula 1, but lower down the motorsport ladder there are similar events still taking place. And last weekend, I experienced this challenging format first hand in the entry level Caterham Academy series.
For those that didn't see our recent feature in AUTOSPORT outlining what we're up to, I'll be racing as a guest in this year's Caterham Academy championship, which was created in the 1990s as an easy way for racing novices to get started in motorsport.
As well as documenting my progress with occasional features in the magazine, I'll be sharing my experiences in this blog on AUTOSPORT.com.
So, back to one-lap competition. As a way of easing its competitors into motorsport, the Academy kicks off with three Sprint events. This is where you drive over a short distance from point to point, one at a time. Naturally, the fastest time wins.
The pressure is on in Sprinting, because track time is so limited. Last weekend at the Curborough Sprint venue we each had two practice runs, followed by two timed runs. That limited running meant that quite a few drivers went along for some testing during the week, but an AUTOSPORT workload offers no such freedom from the office!
After two sensible practice runs I was fourth fastest. So the strategy for the timed runs was to get a banker run in first, and then go all out on the second run. As the first car to do a timed run, my Caterham broke the silence of the lunchbreak. Two corners later, the sound of an accelerating engine was replaced with the screeching of four spinning tyres.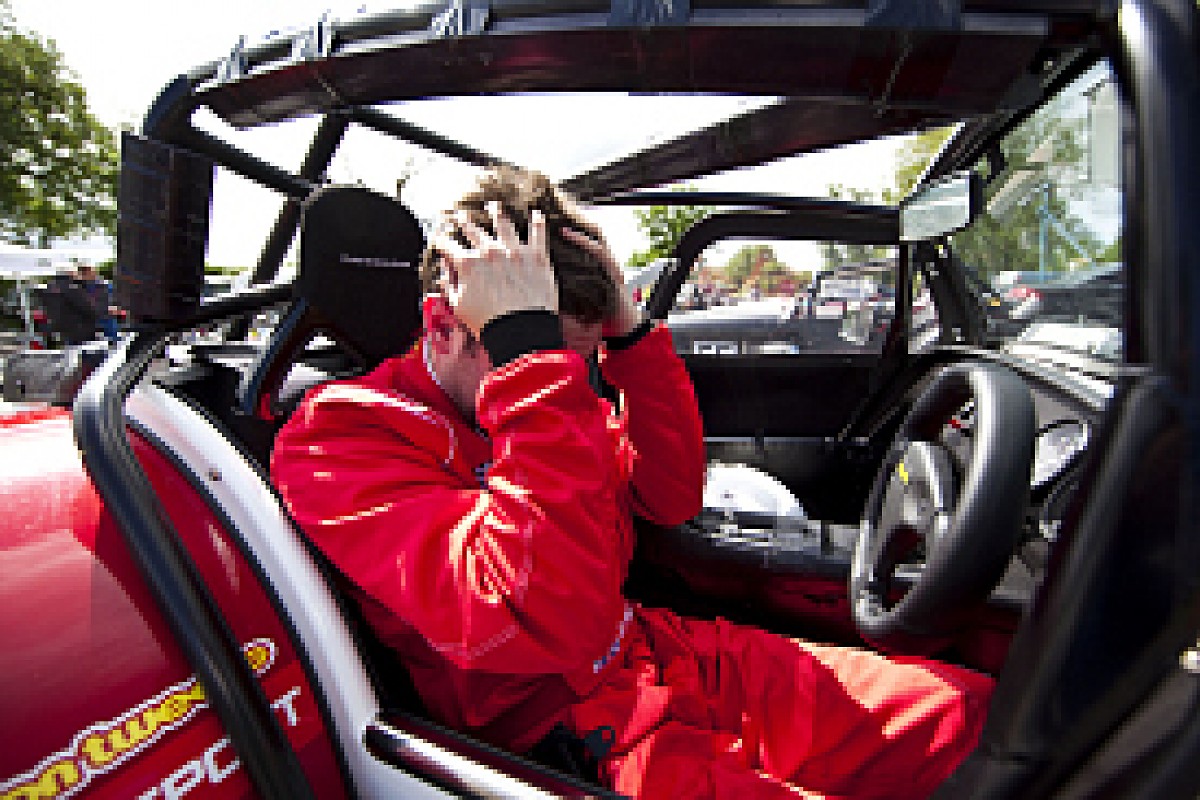 Only one word for it; Frustration! © LAT
I'd been given a tip on a better line to take through the second corner, which was a fast left-hander. With no chance to try the new line I threw the car into the corner in blind faith, and hit a bump that I'd not encountered before.
After nearly saving the huge slide that followed, the next thing I knew I was in the grass, facing the wrong way, and selecting first gear.
LAT photographer Drew Gibson, who had come along in the role of mechanic (duties included applying numbers to the car and checking tyre pressures), shook his head upon my return to the paddock.
"What did we say about just doing a banker?" he sighed.
It was a lesson in keeping a cool head in those situations. It certainly never looked that complicated in one-lap F1 qualifying.