*Glenn is delivering live updates on his progress on the Dakar Rally route via Twitter. You can follow him at http://twitter.com/glenn_autosport
January 7
Today we got our closest possible test to what the competitive crews have to go through in the desert in terms of navigation.
Our plan was to catch the cars, bikes and trucks through a particular set of sand dunes, the co-ordinates of which we were given before we set off in the morning. And the information we had at our disposal made it into a mini stage.
This hill proved too steep for AUTOSPORT © autosport.com
Like the competitors, we had a series of way points as guidance to get us to our destination. While the first one was simply telling us where to turn off the main road, the rest were just random points in the desert, and we had to decide on our own way to each.
In terrain like we have in Chile this is not a simple case of travelling as the crow flies. We had a GPS system that showed our position in relation to each way point, but it was then up to us to find a route through the dunes.
Our first passage was a non-starter when we realised that the most straightforward route was in fact too steep for our Volkswagen Amaroks to climb. So with Markus at the wheel, and me on the GPS and maps, we set about going round them.
It was a fascinating glimpse into what the crews go through, although they don't have as much help from a GPS system. The easiest route is not always clear when you have nothing but hills in front of you, but we made good progress.
The rest of our group stopped at a spot where they were happy to stay, but Markus, Scott and I went on in the hope of finding something even better. In the end we found a great place, opposite a severe drop.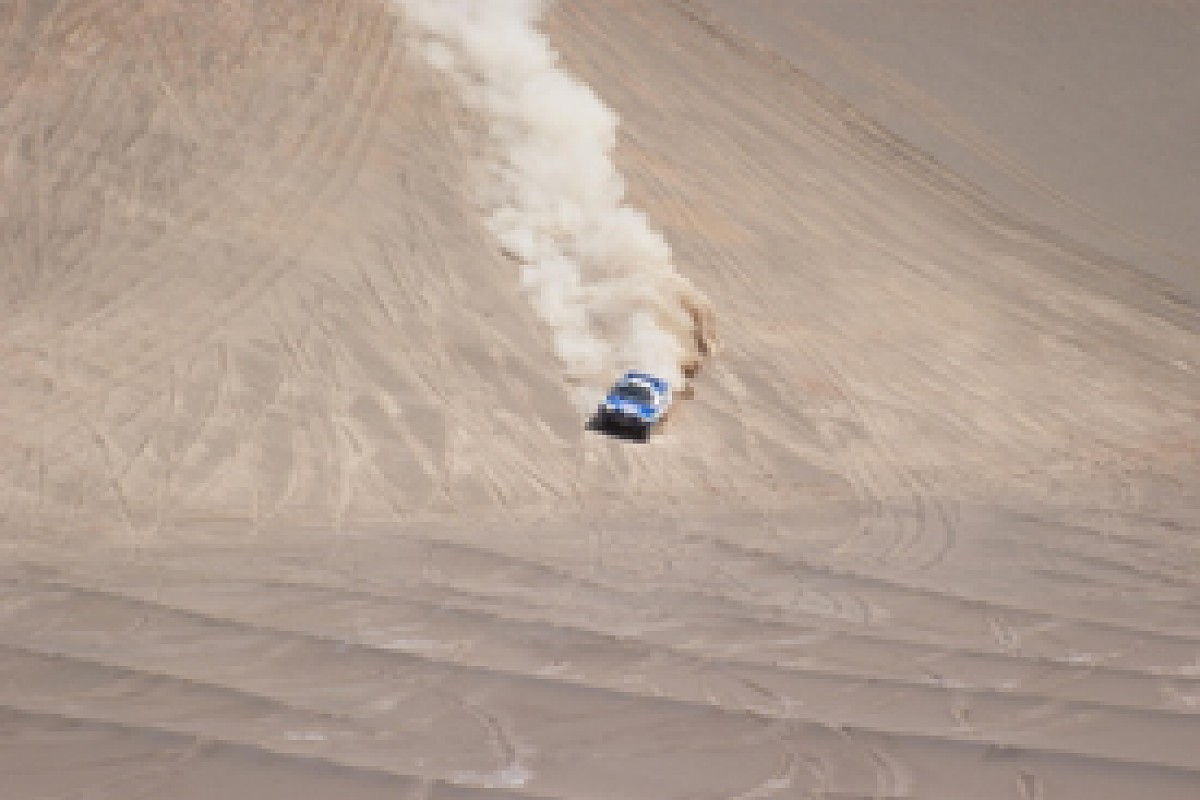 Giniel de Villiers demonstrates how it should be done © autosport.com
After a couple of hours we noticed a lone biker was stood at the bottom of our dune. It turned out his chassis had broken and he was stranded, so we picked him up and took him to the bivouac.
Today was my last day on the road, as Saturday is the rest day and I fly home on Sunday. I was able to sign off by driving us out of the dunes, which we managed by following tracks in the sand like the competitors do. It can be pretty unnerving when they suddenly disappear!
From Sunday, my AUTOSPORT colleague Peter Mills (@Peter_Autosport on Twitter) takes over from me alongside Markus and Scott. We've done well so far, now it's up to him to bring it home in the second week.
• Driving the Dakar: Daily blog image gallery.
January 6
Now that the Dakar has embedded itself in Chile, the character has changed. Things are a lot sandier than they were in Argentina and today we got to experience monster sand dunes for ourselves.
Today finished in the town of Iquique in spectacular fashion, with cars plummeting down from the top of what is basically a sand mountain, not a dune. The 135mph speeds carried by the lead cars was phenomenal - they were flying at times, with their wheels just kissing the ground in between.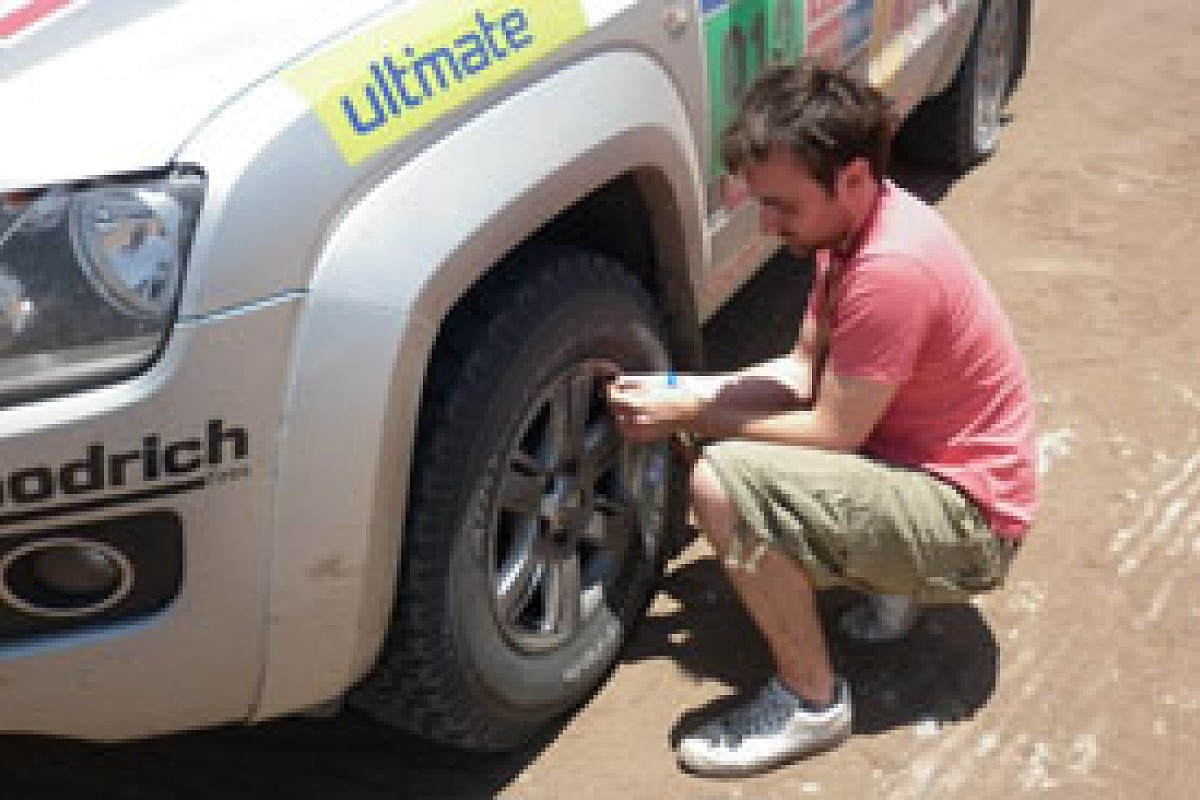 Glenn dropping the pressures for an assault on the dunes © autosport.com
But the focus in our VW Amaroks was getting up this beast rather than coming down it. It was decided the night before that we would have a challenge to see who could get the highest up the dune. Myself and Markus dropped Scott in the bike paddock (to lose some ballast) and then set about letting down our tyres so they could handle the sand.
We were only the second team to attempt, and Markus gave me the wheel for our run. Given my lack of off-road experience, my strategy was simple - get into second gear and stay flat. It was interesting to try the climb, as it gave an insight into the skills required by the Dakar drivers. Although I'm sure their approach is more complex than mine.
For quite some time we were kings of the mountain, with even the locals struggling to topple us. Then things got controversial. One team realised the climb on the other side of the stage was not as steep at the beginning, so they could get higher and then drive across the stage when it was clear. Surely not in the rules, we claimed.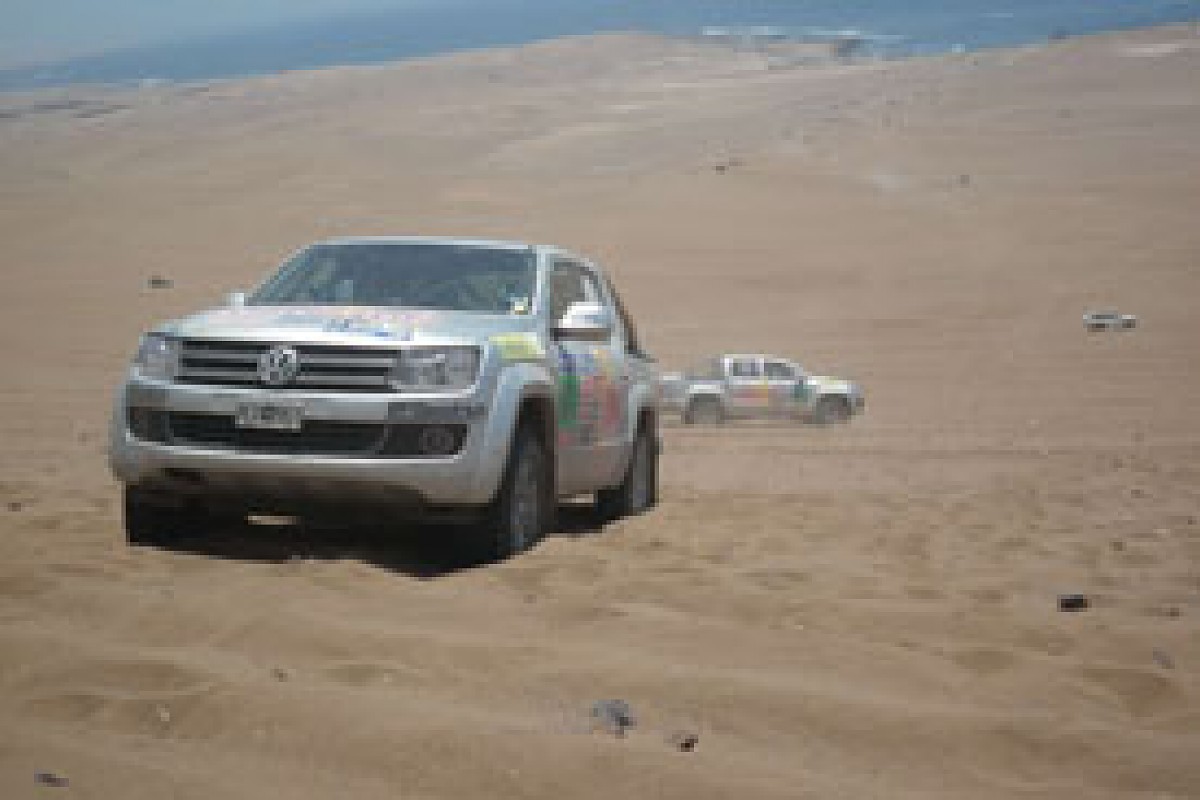 Leading the dune climbing competition - until things got serious © autosport.com
In the end, the competition got serious - with a journalist who has some rally raid experience weaving his way all over the dune, gaining inches at a time. He also crossed the stage in the end, but I accepted a trip through the dunes as his passenger as a payoff.
Today also gave me first-hand experience of a very common problem for co-drivers in particular - clocking up miles while feeling ill. At least I had two team-mates to leave all the work to - there's no such get-out clause for the competitors.
January 5
For the first time on our mission as a support vehicle, we were actually called upon for support. What a rush!
Shortly after crossing the border to leave Argentina for Chile, we came across a buggy jacked up at the side of the road. Because of the border checks, traffic was not particularly regular on this part of the route and as we got closer we saw the driver - who is completing the route alone without a navigator - frantically waving for help.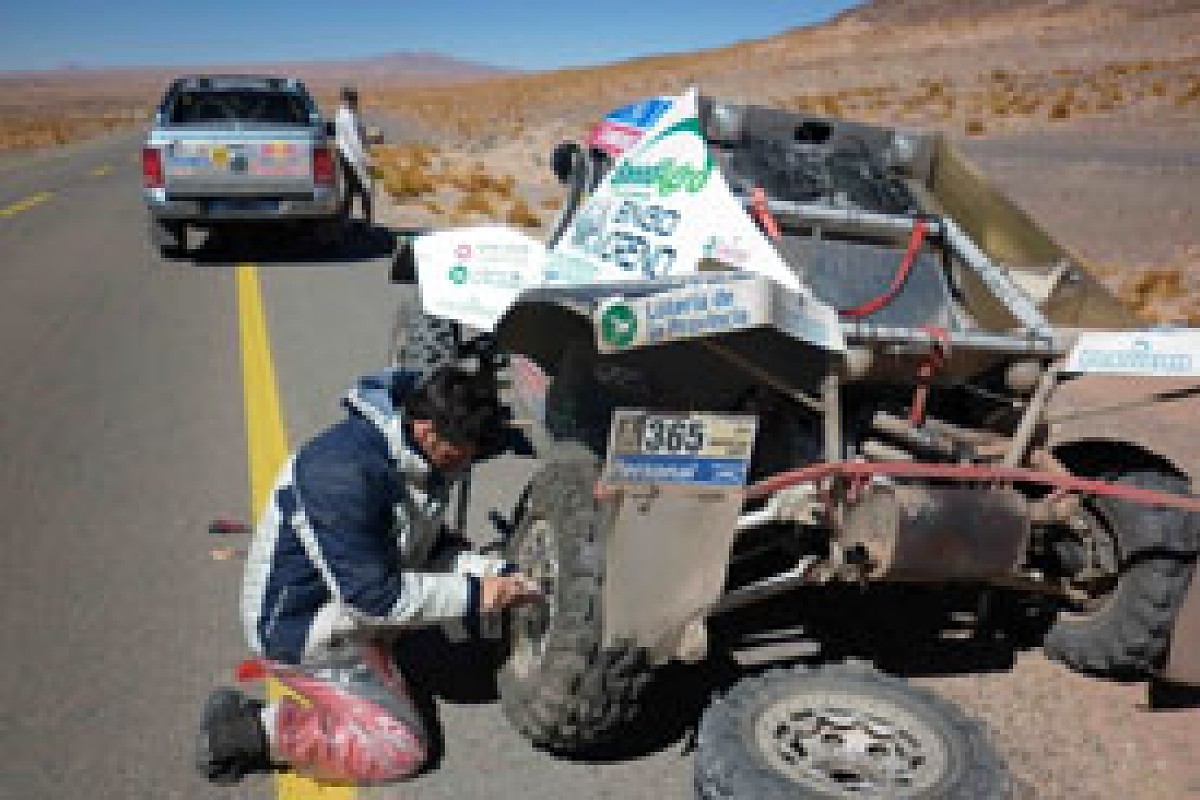 Stopping to help a stricken competitor © autosport.com
He was simply trying to change a wheel, but because of the suspension travel on his buggy he couldn't get the car high enough to seat the wheel properly. Scott and I were ordered to lift the suspension so he could get the ground clearance needed. Much to his relief we just managed it, and it was very satisfying to genuinely be of use (for once).
Aside from moving countries, the other key part of today's trip was hitting an altitude of over 4800 metres. There was much discussion about this on the night before, as people feared the effects of altitude sickness.
My team-mates both suffered when we got up in the clouds. Scott went straight for the oxygen supply, which he somehow managed to finish before the end of the journey! Markus was feeling a little worse for wear and had to give up the driver's seat about a third of the way in. That left me to finish the job, completing roughly 400km. I was fine with the altitude, but all that concentration left me with a headache by the evening.
We'd also enjoyed the delights of camping at the bivouac the previous night. My hat goes off to those that put up with the noise, the climate, the (terrifying) facilities, and of course the attentions of South American insects, every single night through the Dakar.
One bug fell on me and woke me up in the night, and then made a lot of noise as he scurried around my tent. He didn't see sunrise...
• Driving the Dakar: Daily blog image gallery.
January 4
"Okay Glenn, now we need to push a bit."
I didn't know whether to be excited or insulted. By the time my team-mate Markus made this statement, my gravel roads debut on our Dakar journey was already 15 minutes old. I'd been "pushing" to that point, which included overtaking some slower traffic, and I'd only backed off because the road was barely the width of our VW Amarok. But the leaders were nearly at our destination - checkpoint 1 on today's stage - and time was of the essence. Once again, we just made it.
Day three was a cracker for roads. We passed on the option of the relatively short service route and headed into the mountains for the first time. It started with narrow, rough, twisty asphalt roads as we climbed. With a bit of sickness kicking in - probably because I'd inhaled my cornflakes as we were leaving the hotel - it was time for another tactical snooze to set me up for later in the day.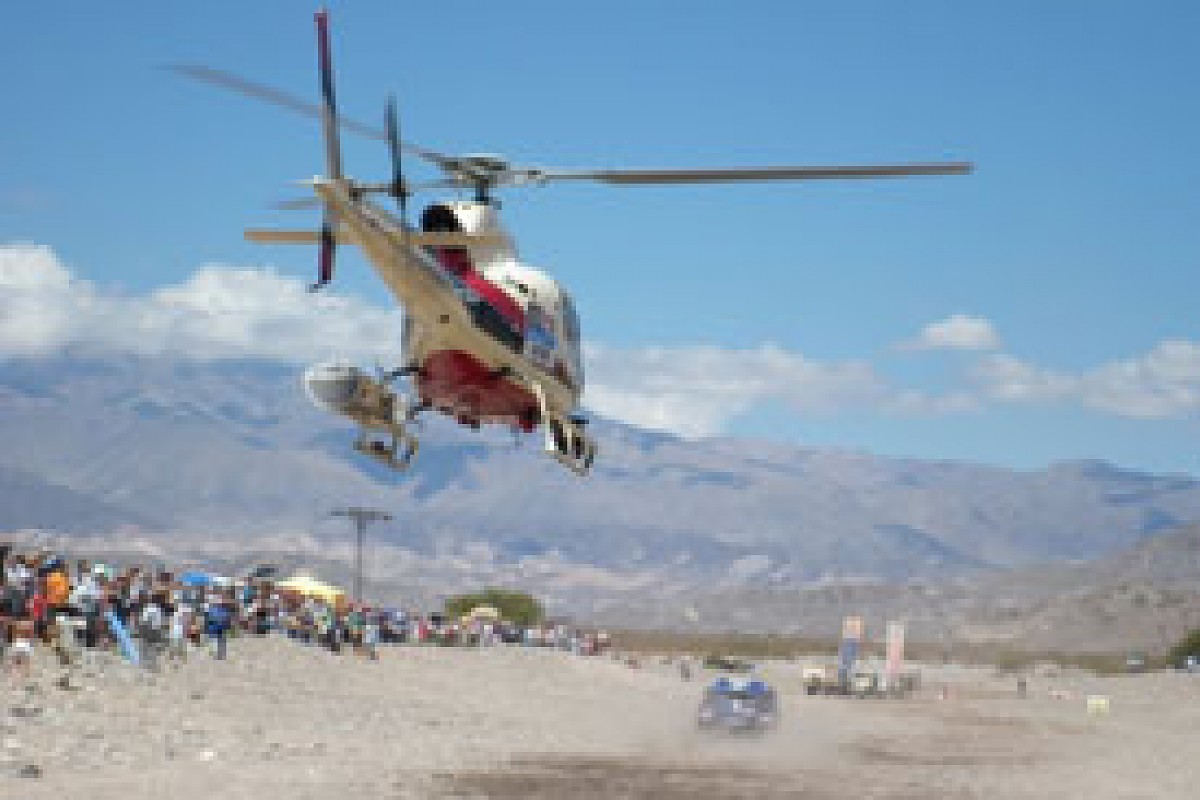 A Glenn's-eye view of a helicopter following Giniel de Villiers © autosport.com
The gravel roads were as fun as expected. Our truck is nice and forgiving, so it's hard not to have a good time. But all the roads we used today, even the asphalt ones, were brilliant.
They wound their way up mountains and then through valleys, making for some fantastic scenery along the way. In the end, the backdrop looked so good that we headed into the rough stuff to take some action shots of our Amaroks.
On the stage itself, the over-riding memory from the day will be the low-flying helicopter that was following Giniel de Villiers. The pilot dived towards us as de Villiers went by, and it was the lowest I've seen a helicopter that wasn't landing or taking off. That was impressive and terrifying all at once, but the mini-sandstorm that came with the experience wasn't appreciated.
Tomorrow we leave Argentina behind and head into Chile, crossing the Andes. We'll hit an altitude of 4836 metres, and will be above 4000 metres for 200km. Some of the trucks have been fitted with oxygen tanks - ours included - and people in our convoy are already declaring that they'll need them.
Apologies for the lack of pictures with this update, we're running off a very slow internet connection due to camping at the bivouac. Hopefully we can add some snaps in later.
• Driving the Dakar: Daily blog image gallery.
January 3
We didn't travel all this way just to drive on South America's normal road network. So today we veered off of the Dakar's service route and hit some proper gravel roads for the first time.
This was our bid to get to a good spot on the stage to watch the cars come through. We were aiming for a water crossing but found our route blocked by the police. In fairness, it was because our cheeky shortcut would have involved mixing it with the bikers on the stage itself!
So we moved on, and had to stand our ground when our fleet of Volkswagen Amaroks were blocked off on another route. After some swift interference from those in the group that speak Spanish, we were on our way. But I was pleased to hear my team-mate Markus say he was just a few seconds from flooring it, as the police don't have that much control over fully-registered event vehicles.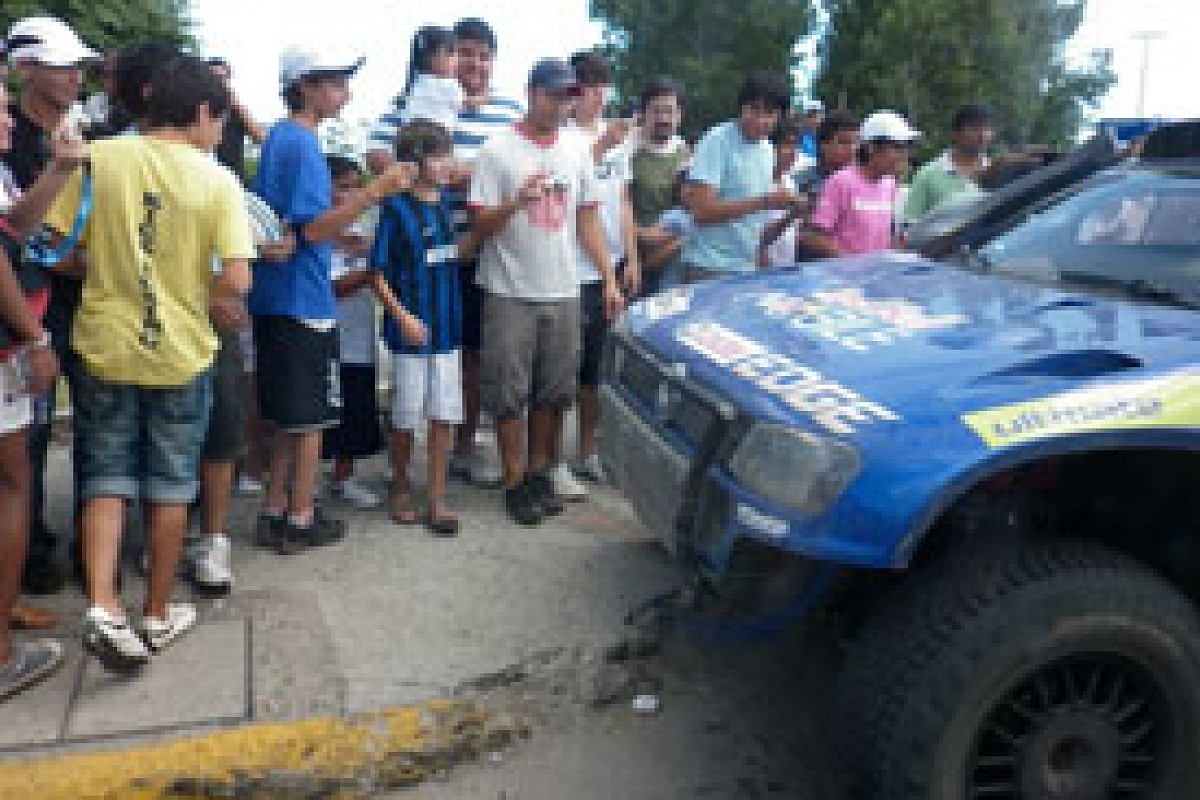 Giniel de Villiers taking his Volkswagen to the people © autosport.com
Markus pressed on when leading our convoy on the gravel roads, which were a welcome change from the motorways we dealt with on day one. I'm still eagerly awaiting my first stint on gravel, as the Amarok seems happy going forwards and sideways on the loose.
For the second day running we were caught in a huge rain shower, too. Yesterday we were on the road when the storm hit, but this time we were stage-side. We dived for cover in the truck and had de-misted the windscreen just in time to see Robby Gordon get completely locked up at the 90-degree left hander we were watching at. Credit to him, because rather than reverse out of the bank he hit, he simply grabbed first gear and drove over it. I hear he wasn't so lucky elsewhere in the stage.
With both of my team-mates struggling to stay awake, I settled in for a stint of nearly 300 kilometres after the stage (our total distance was 600km today). I handed over to Markus to bring it home and soaked up the atmosphere as the people filled the streets of Tucuman outside the bivouac. There was barely room for the cars to get through and Giniel de Villiers even took to the path to get around us.
Nobody seemed to mind - the people here can't get enough of this event. They even moved out of the way so we could perform a U-turn over a central reservation on our way to the hotel in the evening.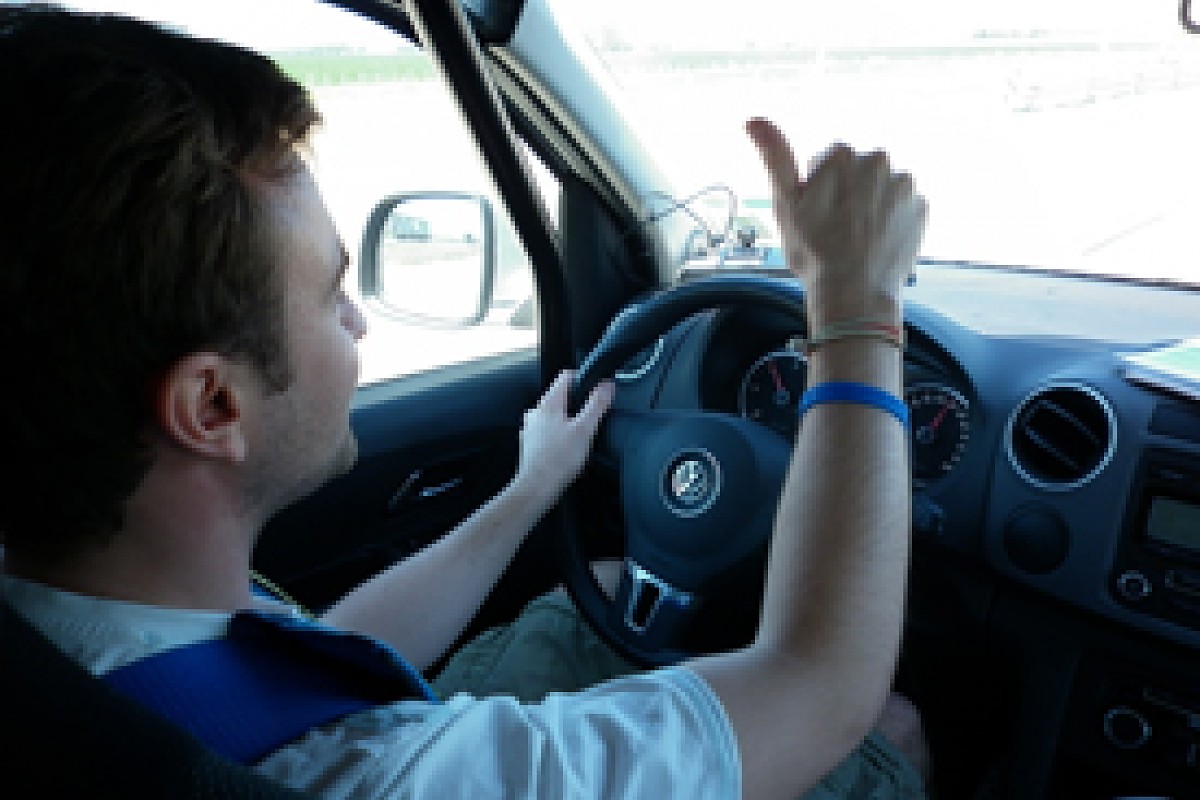 AUTOSPORT's Glenn Freeman during his mega stint on day one © autosport.com
2 January
We're not actually competing in the 2011 Dakar Rally, but that doesn't mean we didn't celebrate a victory of sorts on our first day on the road.
Call it a wrong turn, a moment of genius or just a fluke, but we ended up on a road so new that it wasn't in the roadbooks we'd been given by Volkswagen. As our convoy turned off, our unaware driver (me) just followed signs to Cordoba and carried straight on. In the end we were so far ahead that we declared ourselves Day One winners and stopped for lunch at a roadside restaurant to let the others catch up. Some, amusingly, then charged on by.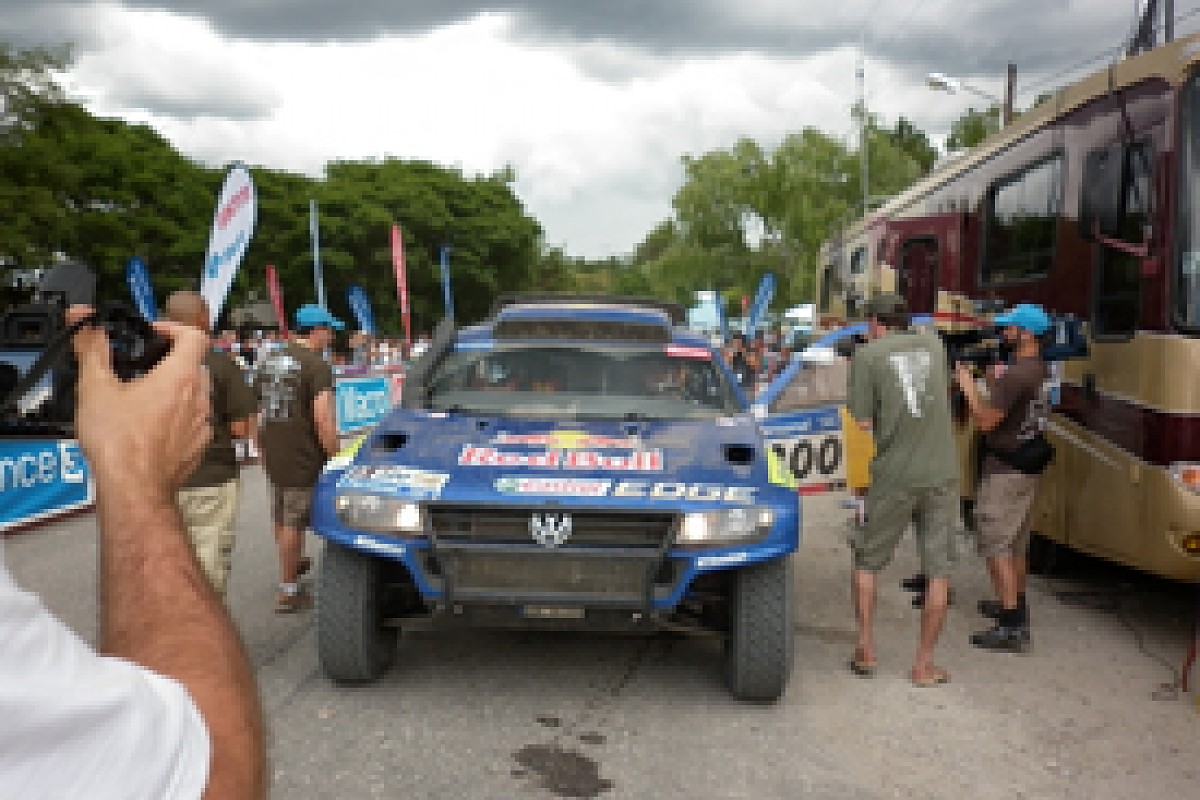 Carlos Sainz arrives at the finish of day one © autosport.com
Everyone in our group was making great time, so we had the chance to catch the finish of the first stage rather than drive straight to the Cordoba bivouac as planned. After a stint of around 250 kilometres I was back in the role of navigator, charged with getting us to the finish before the first car of Carlos Sainz. It was tight, and involved some off-road driving to get around a road closure, but we made it with five minutes to spare.
The diversion to the finish made our day one route a bit more interesting. The plan was for most of the 800 kilometres to be on motorways, to give us a nice easy day to get used to our Volkswagen Amaroks, but also to give us a taste of the sort of endurance required to follow the Dakar. A 'tactical snooze' in the morning set me up for a lot of driving later in the day.
Fans surround the Dakar cars © autosport.com
Talking of snoozing, our day got off to a slow start at 4.30 in the morning. Just as we hoped to leave, myself and Markus Kleemann from VW learned that our third team-mate - American journalist Scott Bloom - had been up late working the night before and forgot to set an alarm!
One of the standout memories from day one has to be the reception all the Dakar vehicles received from Argentinian fans at the roadside. Throughout the whole day, even our service route was lined with people, all waving and taking pictures. At one petrol station I was even asked for an autograph. The locals had obviously heard what great time we made.
* Glenn Freeman will be delivering live updates on his progress on the Dakar Rally route via Twitter. You can follow him on http://twitter.com/glenn_autosport

31 December
What would you sacrifice a New Year's Eve party for? It's a question that had never crossed my mind, until I got a phone call about three weeks ago asking if I'd like to drive a support vehicle on the 2011 Dakar Rally. It was a no-brainer to say 'yes', but the only catch was that I'd be away from friends and family when 2010 morphed into 2011.
Oh well.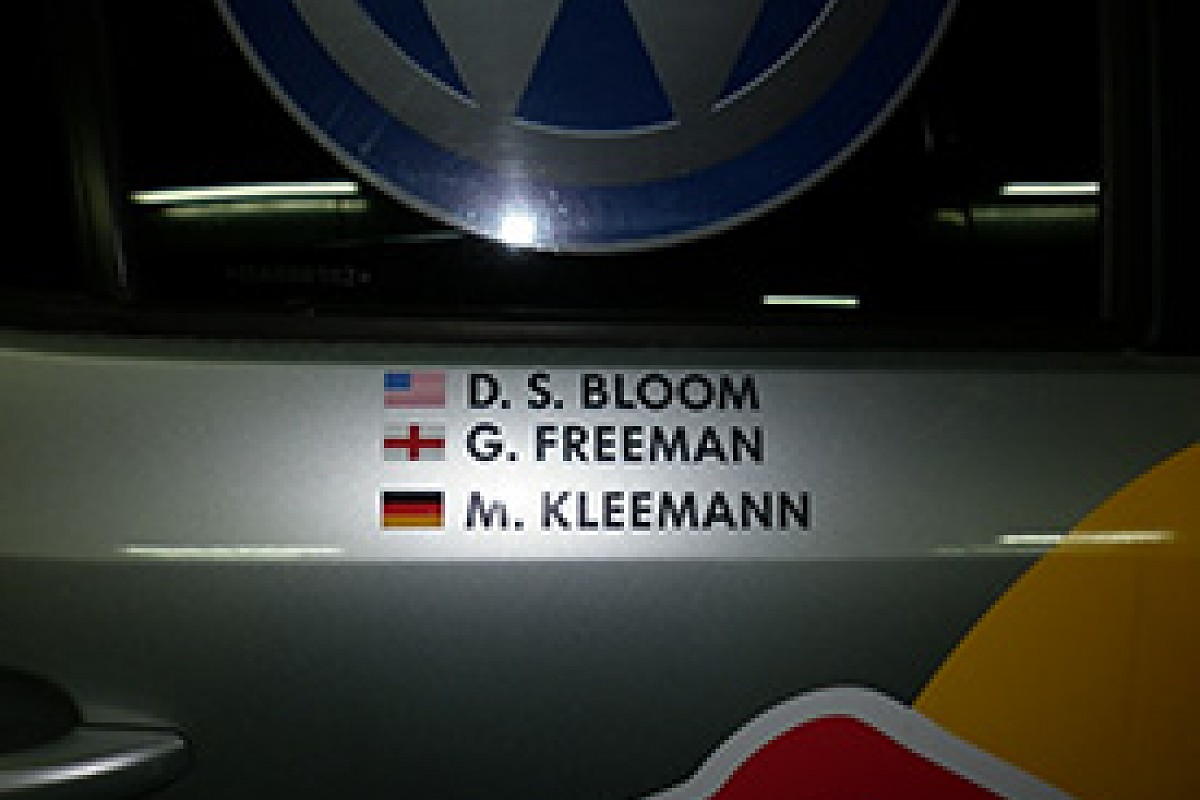 The most important sticker © autosport.com
Once the event is up and running, I'll be keeping this page up-to-date daily (or almost daily) with details of our exploits. But for now, here's a quick explanation of what we're up to, plus a couple of (terrible) pictures.
I'm one of a group of journalists who have been invited to drive some of Volkswagen's support trucks during the 2011 Dakar. We're in teams of three, and have been entrusted with a VW Amarok pick-up truck to drive through Argentina and Chile.
Our route isn't quite as gruelling as the actual stages. For the most part we take on a specific support route, which cuts out some of the more outrageous sections of terrain that the race cars, bikes, quads and trucks have to tackle. But we'll still be driving hundreds of kilometres per day, and I'm told that our passage over the Andes in particular will be an extreme test next week.
We've also been given a stern warning about speeding on road sections. Our vehicle is fitted with a couple of high-tech tracking devices, one of which keeps tabs for the organisers on how long we spend over the speed limit. If they decide it's too much, they can penalise Volkswagen's race cars. Hopefully Carlos Sainz will not need to come and hunt me out afterwards...
Unlike normal press cars, our support trucks have had modifications made to them to allow us to join the rally route itself if we so wish. To do the whole route would mean setting off hours before the first bike competitors each day, and they sometimes start so early in the morning that it's just not feasible, despite the eagerness of one of my team-mates to get up ridiculously early each morning.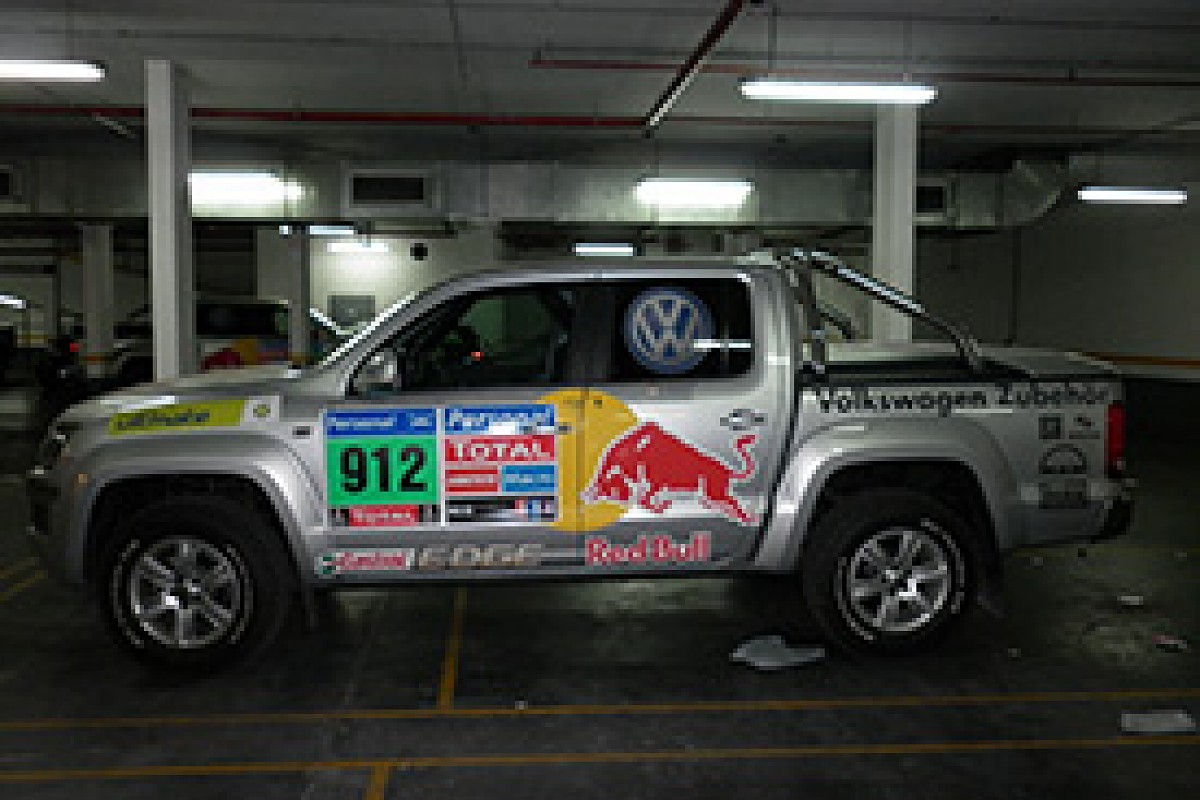 Glenn's wheels for the Dakar Rally © autosport.com
The competitors get themselves underway on January 1, so no partying for them. But as the first day is all non-competitive mileage, we don't leave Buenos Aires until January 2. That does mean that we start by having to make up the ground we give up on the first day, so we kick off with over 800 kilometres of driving.
The next time you hear from me - unless you're following @glenn_autosport on Twitter - will hopefully be at the end of that mammoth day.
Until then, Happy New Year.