The first meeting of the nine-round, 2010-11, Andros Trophy gets under way at Val Thorens this weekend. Through its 22-year history, the ice-racing series has attracted its share of big name competitors. Skoda's recent signing of Jacques Villeneuve has provided the championship with yet more headlines, while Andros Trophy founder Max Mamers' innovative support series for electric racers gathers increasing plaudits.
Among this seasons crop of drivers are six ex-grand prix men, four of whom will take to the wheel of Skoda's 350 bhp, mid-engined Fabias. The 1997 Formula 1 world champion Villeneuve will be joined at the Czech squad by effective team leader Olivier Panis, Paul Belmondo (who plans a limited campaign of four or five meetings) and Franck Lagorce - who has replaced outgoing champion Jean-Philippe Dayraut.
The 2009 and 2010 winner has switched to Sebastien Chetail's Sainteloc Racing team. Dayraut will have his work cut out thanks to a hefty 40kg of success ballast in his new BMW 1 series.
"The ballast is not something that we can overlook," said Dayraut. "We are the only ones to have it, and it is really a big disability which is going to hurt our performance.
Jean-Philippe Dayraut has a new car for 2010/11 © autosport.com
"My toughest adversary should once again be Alain Prost, and his Dacia Duster. Skoda can rely on two quick and experienced pilots in their ranks. That car doesn't have any secrets left for the engineers to discover, and they can also rely on the work that I did for them over the last two years. Our task is arduous, but we are here to work."
Reigning Auto GP champion and 2009 Renault Formula 1 driver Romain Grosjean is entering his first full season with DA Racing's Clio 3 DAR02. Grosjean dipped his toe in the water with Dominique Dubourg's team last season. The Clio is regarded by some as too fragile to stage a championship assault just yet. MTechnologies have been charged with overseeing development, suspension work will be carried out by Boron engineering and the engine managed by Sodemo.
"I wanted to launch myself fully in this adventure," said Grosjean. "My team-mate 'JB' [Jean-Baptiste Dubourg] already has not so bad experience of racing on the ice, and that's a good thing. Mostly we agree about things, and that's important in a championship like the Andros Trophy."
The electrique series grid has expanded by four cars to 12. Among the new boys are Super GT champion Loic Duval and sportscar and touring car regular Soheil Ayari. After the odd appearance in the SEAT Leon Super Copa series, Cathy Muller, sister of World Touring Car champion Yvan, makes her return to competition since stopping 14 years ago to have a family.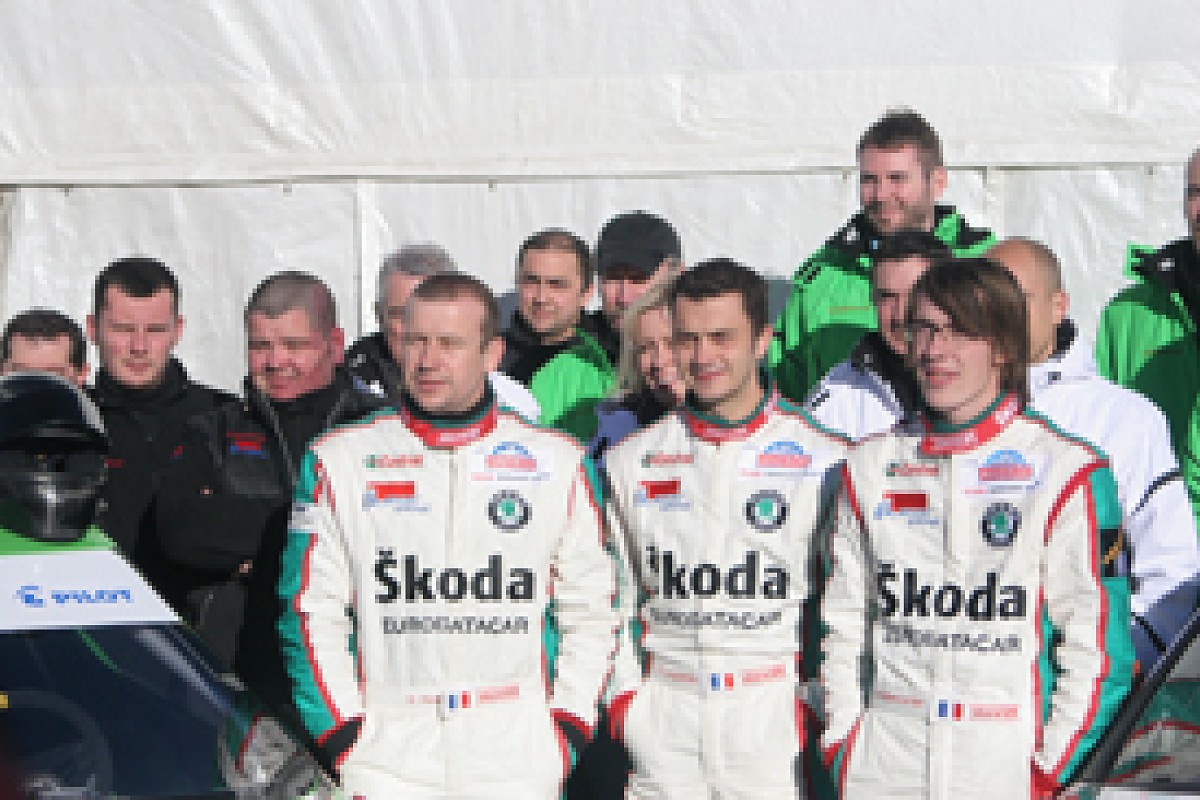 Skoda's Olivier Panis, Franck Lagorce and Gregoire Demoustier © autosport.com
The technology from the series has already spawned the 340 horsepower Furtive-eGT electric road car, which has been developed by Luc Martinelli's Exagon Engineering concern. Among their many other projects, battery suppliers SAFT are working with Formula 1 teams on the new-generation Kinetic Energy Recovery Systems.
Monegasque former Le Mans winner and sportscar stalwart Stephane Ortelli is expected to be a pacesetter in the electric series.
"Last year everything was new to me, I felt it was a bit like when I was learning how to drive fast," said Ortelli. "For Monaco, this series is especially important because Prince Albert is really, really focused on saving the environment.
"But I like the way these cars slide. You always hear people speaking about the attacking and passing, so it is still racing and I am enjoying it. This year the cars haven't changed that much, but they are a little stronger. Last year every time you bumped into someone you had to be really careful not to damage the wheels. It is good for the people who watch as the cars are always sideways and there's a lot of contact."
Ortelli confirmed that he is trying to persuade his co-driver in his 1998 Le Mans success, Allan McNish, to race in the championship. McNish had planned to test at Val Thorens earlier this year, but was forced to drop out of because of a commitment for employer Audi.
"Yes, I am still trying to bring Allan McNish here to do at least one race," said Ortelli. "Perhaps he can fill in for me if there is a weekend that I can't drive. I think he is the most French guy from England [sic]!"
The Andros Trophy will culminate with a return to the Stade de France in Paris for its final round on March 5th 2011.