The UK club racing season finally began last weekend, although the three meetings that did run were very different to normal. At Castle Combe, normally bustling with spectators, it was eerily quiet but the new procedures seemed to work well
Castle Combe Circuit had a strangely eerie air to it before 0800hrs last Saturday, the sky and paddock roads a sullen grey monotone. Surprisingly few people were about, revealing more grass than I've seen in years. I was cheerily waved in by marketing director Tom Davis to report on the renaissance of club racing, on hold since COVID-19 lockdown led to Motorsport UK cancelling all event permits for three months until 30 June.
Thirty-three years to the day since front suspension failure pitched my ex-David Sears Argo JM6 Formula 3 car into the barrier approaching Tower Corner - the gouge in my shin inflicted by the strategically padded steering rack is a memento - my name was 'on the gate'. Alongside was that of Motorsport UK chief executive Hugh Chambers, there to observe, with colleagues also covering two-day Cadwell Park and Snetterton events.
This was not the start of Castle Combe's 70th anniversary celebrations that enthusiasts had yearned for. With Easter Monday's Howard's Day jamboree and May's Bank Holiday event cancelled, it was an unusual beginning to a new era of British club racing. One currently with no end date...
But for all the venue owners' disappointment at not being able to admit spectators - as much their lifeblood as the competitors who pay to entertain themselves and fans - the scene was not dissimilar to my first experience of Combe on 29 July 1967. And while it was largely damp this time, Britain's fickle summer climate thankfully failed to serve up the torrential rain in which the Austin-Healey Club's closed permit meeting ran 53 summers ago.
OPINION: Why club racing's 'new normal' sacrifices are worthwhile
Normally bustling with activity, the paddock resembled a ghost town from the set of an old Wild West movie, with some wearing facemasks and looking nervously over their shoulders as if anticipating the filming of 'Bunfight at Cafe Bar H'. Traditionally packed at breakfast time, the rebranded Tavern was operating on a one-in, one-out, one-way basis, offering fine fare for takeaway only.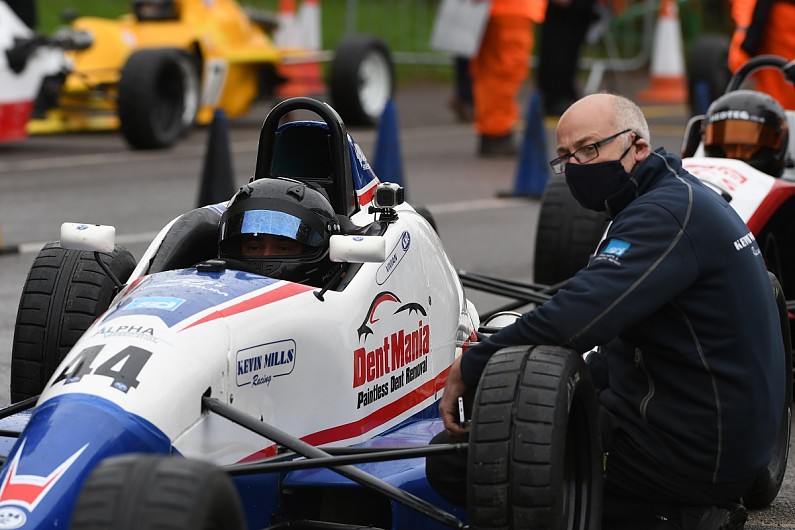 It was quiet outside too. Competitors across the four Castle Combe Racing Club grids had entered online and filed self-declarations for scrutineering, obviating the familiar rigmarole of pushing the cars to the old bay adjacent to Camp Corner while others lined up for qualifying. Around 10% would randomly be selected for spot-checking by Motorsport UK officials but, with only 85 to accommodate, an almost apologetic magnitude of social distancing was evidenced.
Per protocols, marshal numbers were restricted to two (post chief and flag) at each of the 14 points around the 1.85-mile circuit, with paddock and grid workers taking the number to around 50, around one third of the regular turnout. Not being called up for the 'season opener' inevitably upset some loyal volunteers, but rest assured the orange army will be rotated if guidelines cannot be changed.
The concern that reduced marshalling manpower to push a broken-down car to safety would bring a rash of red flags proved unfounded
Race control officials and timekeepers remained in the tower, but stewards were accommodated on The Strawford Centre's upper floor above the competitor liaison desk, manned by the circuit's Jo Lewkowicz and Castle Combe RC's Shirl Davis, who jointly oversaw the collection and return of rented timing transponders in sealed bags.
Repurposing the media centre for triage alongside the normal Peter Baskett Medical Centre left the press posse - all three of us! - homeless, albeit Paul Lawrence and Steve Jones were wielding cameras trackside. No printed programmes, entry lists or result sheets made us more reliant than ever on observation, beavering and the commentators to glean information.
Having the PA silent was not ideal, particularly for crew members trying to follow their charges from the pitwall. Instead, commentary was livestreamed over the TSL Timing portal, Chris Dawes doing a fine job of calling the action while satisfying his local Twittersphere tribes prior to virtual podiums out of view.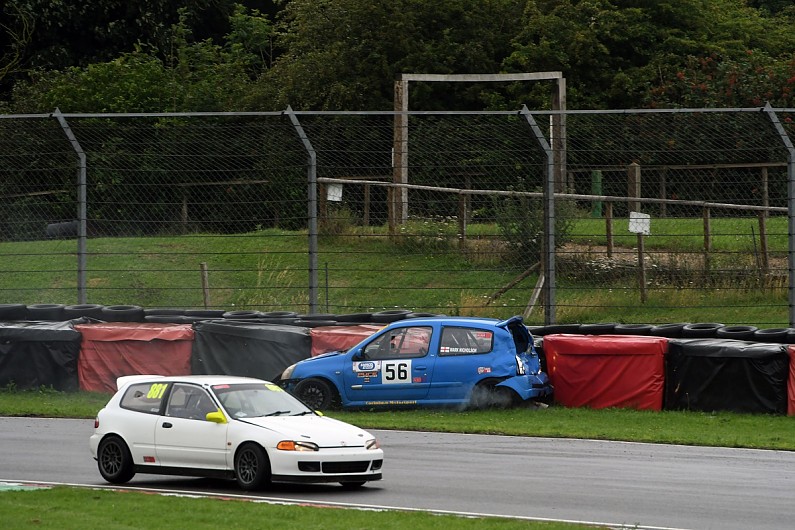 In uncharted waters, the logistics of the event's conduct evolved as it progressed. A major incident as the morning's third soggy practice session was flagged away - a rampant Lamborghini Gallardo smote both banks between the pitlane assembly area and the track - caused towards an hour's delay. Its driver escaped with bruised ego and pocket. With only four categories in attendance, there was sufficient slack in the timetable to finish. Precious track time would have been lost at a regular Combe event.
As always, there were excursions during the racing, but the Recticel buffers on the guardrails at Camp and Quarry reduced impacts and vehicle damage. No fast response emergency car intervention was required. The concern that reduced marshalling manpower to push a broken-down car to safety would bring a rash of red flags proved unfounded. It will remain firmly in clerks' minds as they strive to protect their colleagues in the front line.
"We called this pioneering event the Castle Combe Challenge, and we knew it would be a challenge," said CCRC chairman Ken Davies before the action started. "Somebody had to be the first to run a race meeting under the current restrictions, but everybody rose to the occasion. We learned a lot today and got to the end. A great team effort. Maybe this is the new normal for a while, but thankfully we proved equal to the task."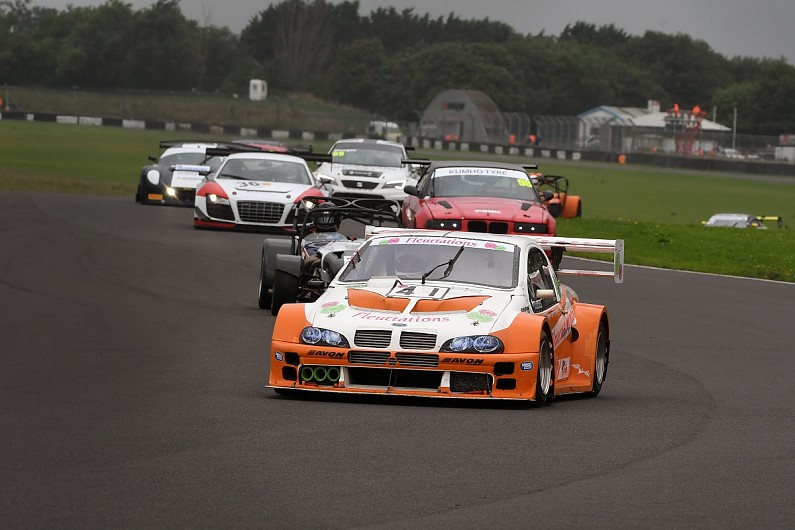 Autosport has produced a standalone special magazine to celebrate our 70th birthday. All current print subscribers will receive a copy for free. To order your copy of the 196-page Autosport 70th Anniversary issue, please go to: autosport.com/autosport70th