A resolution to the Vnuk motorsport insurance crisis has taken a step in the right direction, after an EU government committee recommended motorsport be exempt from new insurance law wording.
The 2014 Vnuk court case set a precedent that all vehicles should have insurance, even if they are being used on private land.
That would mean that all cars competing in motorsport events in Europe would need to be insured.
For example, any crash between cars competing in motorsport would be treated as a road traffic collision, consequently involving the police.
Most insurance firms have confirmed this would make motorsport uninsurable.

The threat to motorsport's future that won't go away
But in a draft report from the European Parliament's Internal Market and Consumer Protection Committee (IMCO) issued last week, it has recommended that the phrase 'in traffic' to be inserted with the intention of making the sport exempt from the Vnuk precedent.
While this still needs to be successful via a vote from the Parliament, Commission and Presidency of the EU, it marks the first time the EU have outwardly recommended motorsport be exempt, at any level.
Motorsport UK chief executive officer Hugh Chambers said: "We welcome this latest development, which appears to be heading in the right direction, and will be working with the FIA to ensure a positive outcome.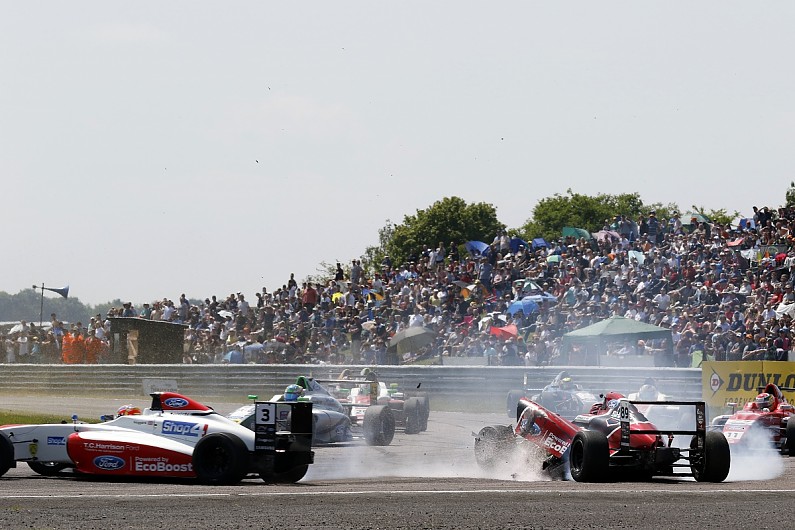 "Motorsport UK has been making the case for excluding motorsport from the Motor Insurance Directive since 2014.
"The VNUK threat has not gone away but the direction of travel is looking more favourable and we will continue to lobby on behalf of all our members and stakeholders."
Last month the Motorsport Industry Association launched a campaign to make it easier for people to contact their relevant MEP in the EU to raise Vnuk as a threat to motorsport.
It has created draft letters in multiple languages to make contacting the relevant person easier. More information can be found here.
The body has claimed that the crisis could "close down all motorsport" in the EU.
If Britain successfully leaves the EU in March next year through Brexit, a transition period has been agreed where Britain would follow EU law until the end of 2020.
An unsuccessful campaign to have motorsport made exempt from the Vnuk interpretation would lead to a period where motorsport is uninsurable and unable to go ahead in the UK until the end of 2020, despite Brexit.