Optimum Motorsport Aston Martin pair Jonny Adam and Flick Haigh sealed the British GT championship title with fourth place in the season finale at Donington.
The title is Adam's third in four British GT seasons and his third with as many different co-drivers, after claiming the 2015 crown with Andrew Howard and following up with Derek Johnston in '16, while Haigh becomes the series' first female outright champion after Jamie Chadwick won the GT4 division in '15.
Adam and Haigh only needed to finish sixth to be assured of the championship regardless of where their closest title rivals - Barwell Lamborghini pair Phil Keen and Jon Minshaw - finished, but found the going tough in the early stages from fourth on the grid.
As poleman Minshaw escaped into a 15-second lead, the second Barwell Lamborghini of Sam de Haan backed the pack up behind him, with Graham Davidson's Jetstream Aston Martin and Johnston's TF Aston falling out of contention in skirmishes behind.
Following a safety car to clear oil dropped by Will Moore's GT4 Aston, Mark Farmer eventually managed to pass De Haan for second, while Rick Parfitt Jr's Bentley also took advantage of the mayhem to take fourth from the cautious Haigh, who had a 20-second pitlane penalty to serve courtesy of victory in the last round at Brands Hatch.
Following the pitstops, Farmer's TF Sport Aston Martin team-mate Nicki Thiim closed in on Keen and eventually passed him at the Old Hairpin on lap 59.
Keen briefly got back ahead when Thiim was baulked in traffic on the penultimate lap, but the Aston Martin got a better exit out of the Melbourne Hairpin - only to receive a 30-second penalty for exceeding track limits moments later that demoted he and Farmer to second behind the winning Lamborghini.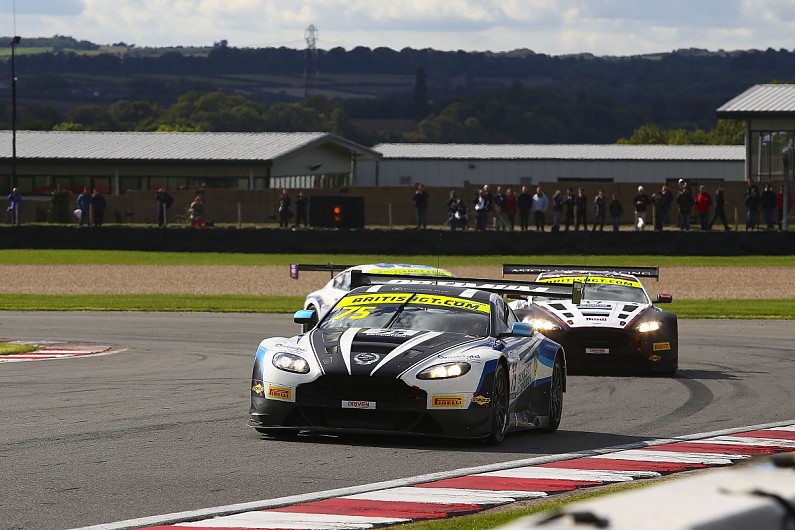 Behind the two leaders, Ryan Ratcliffe took over Parfitt's Bentley in third and soon had Adam on his tail, the Scot having passed De Haan's team-mate Jonny Cocker and the Beechdean Aston of Darren Turner on lap 40.
A charging Yelmer Buurman in the ERC Mercedes then passed Adam and Ratcliffe in quick succession to take third, with Adam following through when Ratcliffe had a moment on the kerb at the Old Hairpin.
Despite falling 19 seconds behind Buurman, fourth at the flag was comfortably enough for Optimum to take the title, capping a season in which Adam and Haigh had only once finished outside the top four.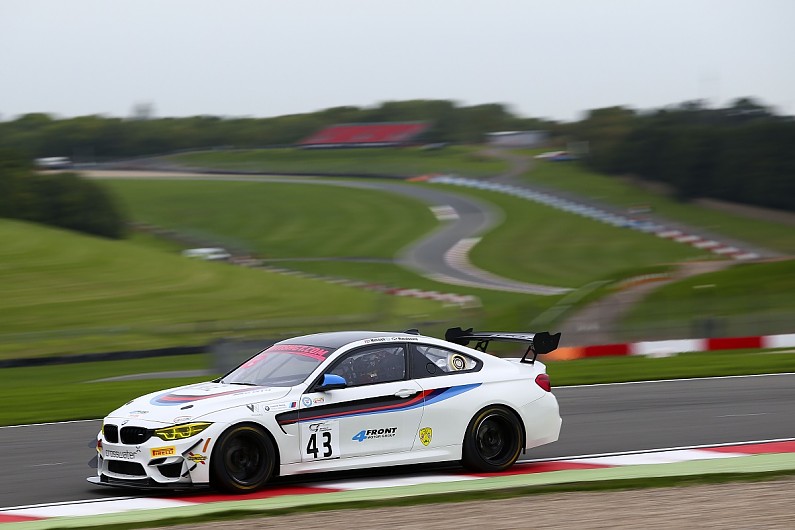 Jack Mitchell survived a 10-second stop go penalty to claim the GT4 title in the Century Motorsport BMW, finishing eighth in class with co-driver Dean MacDonald.
Mitchell's championship hopes hung in the balance after he was forced to relinquish a comfortable fourth place with 20 minutes to go, but crucially passed Jason Wolfe's Invictus Racing Jaguar to claim the points he needed to deny Charlie Fagg and Michael O'Brien's Tolman Motorsport McLaren, which finished second.
Finlay Hutchinson and Daniel McKay recovered from a trip through the gravel to win in their Equipe Verschuur McLaren.