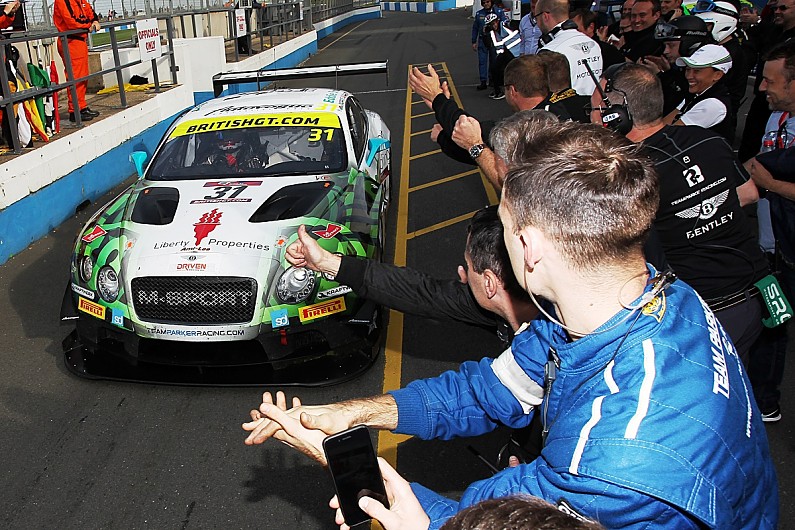 Rick Parfitt Jr and Seb Morris secured Bentley its maiden British GT Championship title in a tense finale at Donington Park, despite Aston Martin dominating.
TF Sport's Derek Johnston and Jonathan Adam claimed a comfortable race victory ahead of the sister Vantage GT3 of Mark Farmer and Jon Barnes on a weekend dominated by the older Aston Martin.

Parfitt/Morris drove a controlled race to finish fourth, which secured them the title after another mistake from Jon Minshaw limited the Barwell Lamborghini he shared with Phil Keen to third.

Minshaw had made a great start to the race to split the two Astons, before spinning at the chicane in the opening laps to drop to ninth.
Minshaw managed to battle back up to fifth before handing over to Keen, who rejoined third ahead of Morris after the Bentley had served its additional stop time.

Johnston/Adam's Vantage jumped the sister car during the pitstops to lead comfortably over the final half of the race, as Keen set about hunting down Barnes for second during a great recovery drive, but he fell just short.

With Keen/Minshaw on the podium, Morris was free to nurse the Continental home and secure the title by six points.

Keen and Minshaw were later excluded from the race for passing under yellow flags.
"It's unbelievable," said Parfitt. "It just hasn't sunk in.
"Seb and I have been the perfect combination this year, we've pushed each other and he's brought me on so much as a driver."
Morris added: "It's been a really special year and I've loved every minute of it. Rick has driven brilliantly all season.
"We were trying not to think about the title or any points permutations to stay calm, but it was still a very nervous time."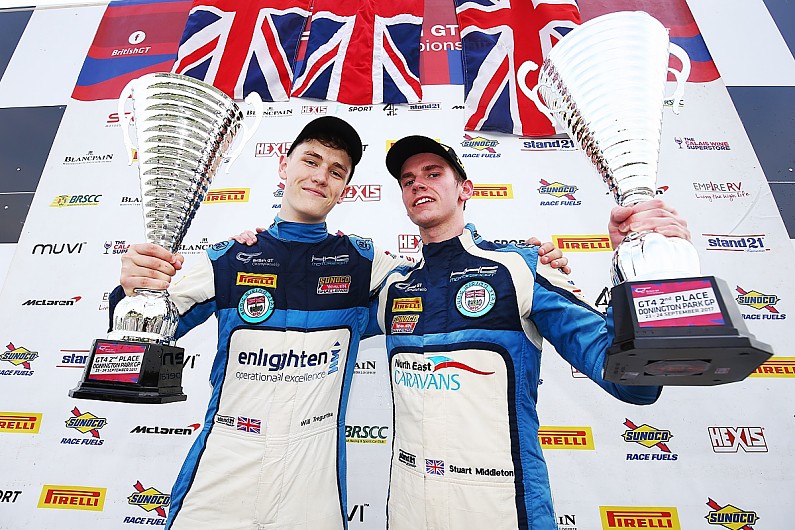 In the GT4 class, Will Tregurtha and Stuart Middleton took the crown in their maiden year, aided by heartbreak for the rival Lanan Racing crew.
The result made Tregurtha/Middleton the youngest crew to ever win a British GT title.
Alex Reed was at the wheel of the Lanan Ginetta he shares with David Pittard when the car was damaged beyond repair after being caught in a tangle with the Academy Motorsport Aston Martin of Will Moore.

With their main rivals out, Tregurtha/Middleton were de facto champions with an hour to go, and celebrated the title with second place in the race, behind the dominant Optimum Motorsport McLaren 570S of Graham Johnson and Mike Robinson.

"What a year, and what a result!" said Tregurtha.
"We knew we'd won it as soon as Lanan retired, and I feel really sorry for them as we all wanted a good race to the finish.
"But Stuart and I have been within a tenth of each other all season and it feels so good to have wrapped the title up after all the hard work by HHC."