Seven-time NASCAR Cup champion Jimmie Johnson has hit out at Penske's Ryan Blaney following their clash at Watkins Glen, hinting that he could retaliate in a future race.
Blaney started from the rear of the field after making unapproved pre-race adjustments, but climbed to fifth at the finish.
But Blaney had pitched Johnson into a spin at the Carousel in the final stage, with light contact putting the Hendrick Motorsport driver into the tyre barrier.
Johnson scored points in the first two stages but finished 19th, which was a blow to his bid to make the playoffs cut.
He now lies 16th and just inside the cut with four races left in the regular season.
After confronting Blaney in the pitlane, Johnson said: "I was trying to hear what he had to say, but his lips were quivering so bad he can't even speak.
"I guess he's nervous, or scared, maybe both, I don't know what the hell the problem is. He just drove through me, spun us out.
"That has big implications on what we're doing for the playoffs, [I'm] clearly not happy with what he did there. He just drove through me in the Carousel over there.
"He claims it was racing, I can't wait to go racing. Everybody stay tuned."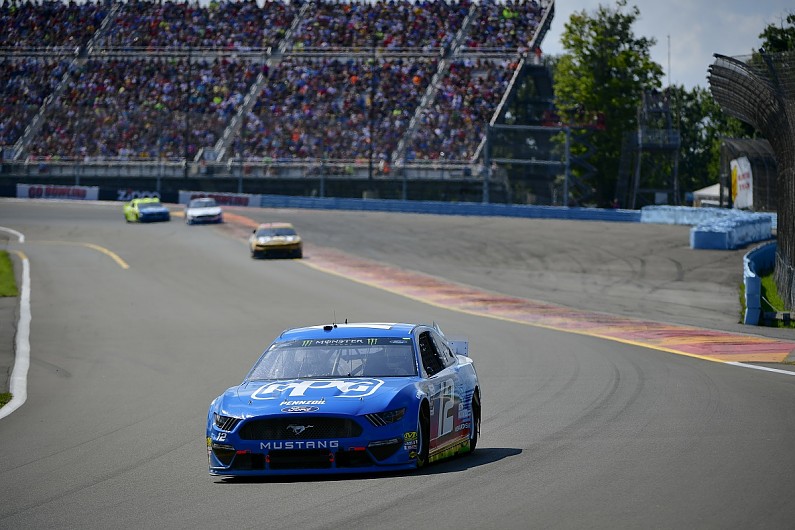 Blaney played down the incident, and added Johnson was the "last person I want to spin out".
He continued: "He hit the third kerb pretty bad and got in that position and he was up, and I had a good run.
"I was there. He left probably a lane-and-a-quarter or so [of space], and I took it. At first, he didn't turn down.
"I thought he knew I was there, and then he kept coming. I tried to check up and it was just too late."
Speaking about their pitlane confrontation, Blaney added: "He's trying to get in the playoffs now and have good runs. Trust me, the last guy I want to spin out is Jimmie.
"We always run great together, and I've looked up to him for a long time and still do.
"[He's] the last guy I want to spin out. It didn't end well, he wasn't happy and I can't blame him.
"He'll probably race me pretty hard here for the next few weeks, but can't blame him for that. [It was] definitely not my intention there."