Front Row Motorsports Ford driver Michael McDowell set the pace in the final practice session for the NASCAR Cup season-opening Daytona 500 on Saturday.
McDowell set his top average speed of 191.440mph early in the 50-minute session with a 47.012-second while drafting with the Germain Motorsports Chevrolet of Ty Dillon.
Dillon (pictured below) ended up second-fastest, 0.002s off McDowell, while pole-winner William Byron and his front row partner Alex Bowman were third and fourth in their Hendrick Motorsports Chevrolets.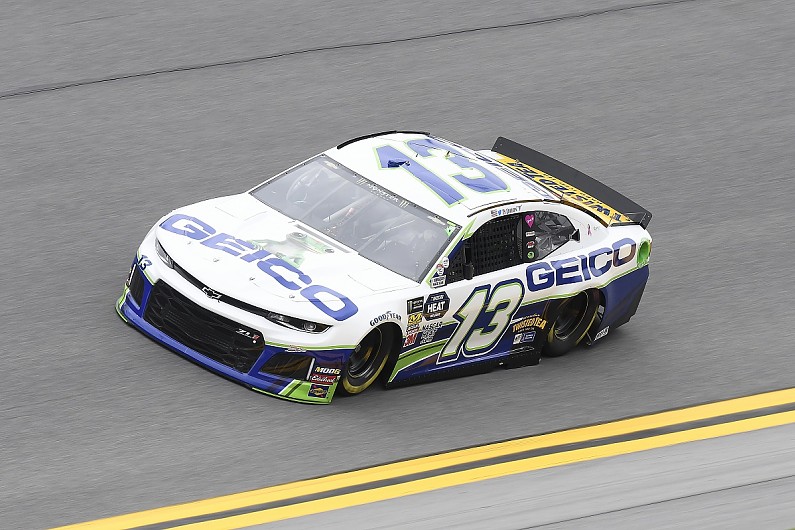 Only 21 of the 40 cars entered in the race elected to take to the track on Saturday, and of the Toyota squads only Parker Kligerman of part-time entrant Gaunt Brothers Racing participated.
There were no incidents during the session, and Kurt Busch completed the most laps with 16.
Saturday practice was the last track activity for the majority of the Cup field before the 500 on Sunday afternoon, although a handful of the entrants - including Chase Elliott and Brad Keselowski - will contest the Xfinity Series season-opener later on Saturday.
Final practice times
| Pos | Driver | Team | Car | Time | Gap | Laps |
| --- | --- | --- | --- | --- | --- | --- |
| 1 | Michael McDowell | Front Row Motorsports | Ford | 47.012s | - | 9 |
| 2 | Ty Dillon | Germain Racing | Chevrolet | 47.014s | 0.002s | 5 |
| 3 | William Byron | Hendrick Motorsports | Chevrolet | 47.037s | 0.025s | 5 |
| 4 | Alex Bowman | Hendrick Motorsports | Chevrolet | 47.052s | 0.040s | 10 |
| 5 | Daniel Hemric | Richard Childress Racing | Chevrolet | 47.140s | 0.128s | 3 |
| 6 | Joey Logano | Team Penske | Ford | 47.276s | 0.264s | 4 |
| 7 | Jimmie Johnson | Hendrick Motorsports | Chevrolet | 47.279s | 0.267s | 14 |
| 8 | Daniel Suarez | Stewart-Haas Racing | Ford | 47.336s | 0.324s | 2 |
| 9 | Jamie McMurray | Spire Motorsports | Chevrolet | 47.339s | 0.327s | 12 |
| 10 | Brad Keselowski | Team Penske | Ford | 47.367s | 0.355s | 11 |
| 11 | Kurt Busch | Chip Ganassi Racing | Chevrolet | 47.433s | 0.421s | 16 |
| 12 | Darrell Wallace Jr. | Richard Petty Motorsports | Chevrolet | 47.573s | 0.561s | 5 |
| 13 | Ryan Blaney | Team Penske | Ford | 47.592s | 0.580s | 3 |
| 14 | Chris Buescher | JTG Daugherty Racing | Chevrolet | 47.617s | 0.605s | 8 |
| 15 | Matt Tifft | Front Row Motorsports | Ford | 47.665s | 0.653s | 7 |
| 16 | Kyle Larson | Chip Ganassi Racing | Chevrolet | 47.712s | 0.700s | 10 |
| 17 | Tyler Reddick | Richard Childress Racing | Chevrolet | 47.767s | 0.755s | 3 |
| 18 | Ryan Preece | JTG Daugherty Racing | Chevrolet | 47.976s | 0.964s | 10 |
| 19 | Parker Kligerman | Gaunt Brothers Racing | Toyota | 48.000s | 0.988s | 5 |
| 20 | Landon Cassill | StarCom Racing | Chevrolet | 48.318s | 1.306s | 6 |
| 21 | David Ragan | Front Row Motorsports | Ford | - | - | 0 |