Paul Menard was fastest in Friday's practice sessions for the NASCAR Cup season-opening Daytona 500, with the second session ending up being a showcase for the new Ford Mustang.
Wood Brothers driver Menard led the way with a time off 44.830 seconds and an average lap speed of 200.758mph as Ford drivers took four of the top five positions and nine of the top 10.
Jamie McMurray, the lone Chevrolet in the top 10, ended up second for Ganassi.
Ricky Stenhouse Jr was third, while Ryan Newman and Clint Bowyer completed the top five.
McMurray aside, Fords swept the entire top 13 - with Austin Dillon the next of the Chevrolets in 14th.
But only 29 of the 40 cars entered elected to take part in the session, and Parker Kligerman was the sole Toyota to run.
In the earlier session, Toyota had been fastest as Joe Gibbs Racing team-mates Kyle Busch and Martin Truex Jr led the way.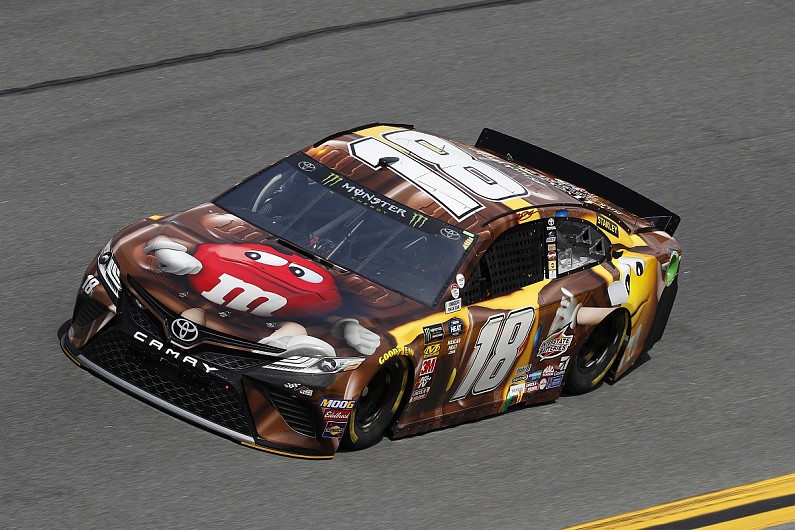 Busch, who was involved in an incident with Jimmie Johnson in the first of Thursday night's Duel qualifying races, bolted to the top of the speed chart with a 44.936s effort and an average lap speed of 200.284 mph late in the session.
Truex was 0.019s slower in second, with rookie Ryan Preece completing the top three ahead of Erik Jones and Ryan Newman.
On the longer runs, Denny Hamlin - seventh fastest overall - set the best average among the drivers who ran at least 10 consecutive laps.
Matt DiBenedetto and Jones were second and third in that category.
Polesitter William Byron was 16th quickest in the first Friday session and 26th in the second.
Saturday's schedule features one more practice session before NASCAR's showpiece race on Sunday.
First practice times
| Pos | Driver | Team | Car | Time | Gap | Laps |
| --- | --- | --- | --- | --- | --- | --- |
| 1 | Kyle Busch | Joe Gibbs Racing | Toyota | 44.936s | - | 15 |
| 2 | Martin Truex Jr. | Joe Gibbs Racing | Toyota | 44.955s | 0.019s | 19 |
| 3 | Ryan Preece | JTG Daugherty Racing | Chevrolet | 44.962s | 0.026s | 17 |
| 4 | Erik Jones | Joe Gibbs Racing | Toyota | 44.965s | 0.029s | 14 |
| 5 | Ryan Newman | Roush Fenway Racing | Ford | 44.979s | 0.043s | 21 |
| 6 | Matt DiBenedetto | Leavine Family Racing | Toyota | 44.982s | 0.046s | 18 |
| 7 | Denny Hamlin | Joe Gibbs Racing | Toyota | 44.990s | 0.054s | 18 |
| 8 | Darrell Wallace Jr. | Richard Petty Motorsports | Chevrolet | 45.084s | 0.148s | 28 |
| 9 | David Ragan | Front Row Motorsports | Ford | 45.159s | 0.223s | 20 |
| 10 | Chase Elliott | Hendrick Motorsports | Chevrolet | 45.179s | 0.243s | 16 |
| 11 | Ty Dillon | Germain Racing | Chevrolet | 45.242s | 0.306s | 23 |
| 12 | Jimmie Johnson | Hendrick Motorsports | Chevrolet | 45.244s | 0.308s | 21 |
| 13 | Michael McDowell | Front Row Motorsports | Ford | 45.309s | 0.373s | 20 |
| 14 | Brendan Gaughan | Beard Motorsports | Chevrolet | 45.338s | 0.402s | 8 |
| 15 | Daniel Hemric | Richard Childress Racing | Chevrolet | 45.392s | 0.456s | 26 |
| 16 | William Byron | Hendrick Motorsports | Chevrolet | 45.397s | 0.461s | 32 |
| 17 | Tyler Reddick | Richard Childress Racing | Chevrolet | 45.404s | 0.468s | 22 |
| 18 | Austin Dillon | Richard Childress Racing | Chevrolet | 45.411s | 0.475s | 27 |
| 19 | Clint Bowyer | Stewart-Haas Racing | Ford | 45.460s | 0.524s | 12 |
| 20 | Casey Mears | Germain Racing | Chevrolet | 45.586s | 0.650s | 11 |
| 21 | Parker Kligerman | Gaunt Brothers Racing | Toyota | 45.820s | 0.884s | 8 |
| 22 | Chris Buescher | JTG Daugherty Racing | Chevrolet | 46.203s | 1.267s | 9 |
| 23 | Alex Bowman | Hendrick Motorsports | Chevrolet | 46.617s | 1.681s | 20 |
| 24 | Aric Almirola | Stewart-Haas Racing | Ford | 46.660s | 1.724s | 12 |
| 25 | Joey Logano | Team Penske | Ford | 46.716s | 1.780s | 13 |
| 26 | Landon Cassill | StarCom Racing | Chevrolet | 46.894s | 1.958s | 16 |
| 27 | Jamie McMurray | Spire Motorsports | Chevrolet | 46.953s | 2.017s | 18 |
| 28 | Matt Tifft | Front Row Motorsports | Ford | 46.993s | 2.057s | 4 |
| 29 | Daniel Suarez | Stewart-Haas Racing | Ford | 46.999s | 2.063s | 9 |
| 30 | Brad Keselowski | Team Penske | Ford | 47.013s | 2.077s | 13 |
| 31 | Kurt Busch | Chip Ganassi Racing | Chevrolet | 47.207s | 2.271s | 18 |
| 32 | Paul Menard | Wood Brothers Racing | Ford | 47.261s | 2.325s | 18 |
| 33 | Ryan Blaney | Team Penske | Ford | 47.322s | 2.386s | 10 |
| 34 | Ricky Stenhouse Jr. | Roush Fenway Racing | Ford | 47.353s | 2.417s | 9 |
| 35 | Kyle Larson | Chip Ganassi Racing | Chevrolet | 47.486s | 2.550s | 21 |
| 36 | Corey LaJoie | Go FAS Racing | Ford | 47.818s | 2.882s | 12 |
Second practice times
| Pos | Driver | Team | Car | Time | Gap | Laps |
| --- | --- | --- | --- | --- | --- | --- |
| 1 | Paul Menard | Wood Brothers Racing | Ford | 44.830s | - | 12 |
| 2 | Jamie McMurray | Spire Motorsports | Chevrolet | 44.844s | 0.014s | 18 |
| 3 | Ricky Stenhouse Jr. | Roush Fenway Racing | Ford | 44.851s | 0.021s | 16 |
| 4 | Ryan Newman | Roush Fenway Racing | Ford | 44.857s | 0.027s | 24 |
| 5 | Clint Bowyer | Stewart-Haas Racing | Ford | 44.868s | 0.038s | 12 |
| 6 | Aric Almirola | Stewart-Haas Racing | Ford | 44.872s | 0.042s | 19 |
| 7 | Daniel Suarez | Stewart-Haas Racing | Ford | 44.880s | 0.050s | 14 |
| 8 | Joey Logano | Team Penske | Ford | 44.899s | 0.069s | 16 |
| 9 | Ryan Blaney | Team Penske | Ford | 44.904s | 0.074s | 16 |
| 10 | Brad Keselowski | Team Penske | Ford | 44.904s | 0.074s | 16 |
| 11 | Kevin Harvick | Stewart-Haas Racing | Ford | 44.913s | 0.083s | 15 |
| 12 | David Ragan | Front Row Motorsports | Ford | 45.035s | 0.205s | 13 |
| 13 | Michael McDowell | Front Row Motorsports | Ford | 45.056s | 0.226s | 15 |
| 14 | Austin Dillon | Richard Childress Racing | Chevrolet | 45.309s | 0.479s | 12 |
| 15 | Kyle Larson | Chip Ganassi Racing | Chevrolet | 45.325s | 0.495s | 14 |
| 16 | Matt Tifft | Front Row Motorsports | Ford | 45.450s | 0.620s | 12 |
| 17 | Tyler Reddick | Richard Childress Racing | Chevrolet | 45.584s | 0.754s | 10 |
| 18 | Landon Cassill | StarCom Racing | Chevrolet | 45.672s | 0.842s | 18 |
| 19 | Darrell Wallace Jr. | Richard Petty Motorsports | Chevrolet | 45.707s | 0.877s | 11 |
| 20 | Chase Elliott | Hendrick Motorsports | Chevrolet | 45.710s | 0.880s | 11 |
| 21 | Jimmie Johnson | Hendrick Motorsports | Chevrolet | 45.747s | 0.917s | 10 |
| 22 | Ryan Preece | JTG Daugherty Racing | Chevrolet | 45.760s | 0.930s | 23 |
| 23 | Daniel Hemric | Richard Childress Racing | Chevrolet | 45.782s | 0.952s | 12 |
| 24 | Alex Bowman | Hendrick Motorsports | Chevrolet | 45.808s | 0.978s | 20 |
| 25 | Brendan Gaughan | Beard Motorsports | Chevrolet | 45.929s | 1.099s | 6 |
| 26 | William Byron | Hendrick Motorsports | Chevrolet | 45.978s | 1.148s | 6 |
| 27 | Ty Dillon | Germain Racing | Chevrolet | 45.983s | 1.153s | 9 |
| 28 | Parker Kligerman | Gaunt Brothers Racing | Toyota | 47.084s | 2.254s | 8 |
| 29 | B.J. McLeod | Petty Ware Racing | Chevrolet | 48.461s | 3.631s | 8 |