New NASCAR Cup Series champion Joey Logano has admitted he "felt really weak" and like his career was over when his initial big break with Joe Gibbs Racing went awry.
Logano joined the Cup series with praise from veterans such as Mark Martin and with the nickname "Sliced Bread", coming off the back of a first Xfinity series win in just his third start, and by 2009 he was also the youngest winner in the top tier.
But he struggled for consistent success in the Cup series, and was left out in the cold by JGR after the 2012 season.
Critics were quick at that time to label Logano "overrated", who suggested he was not deserving of a full-time Cup ride at such a young age - he was 22 when he was dropped by JGR - because he "didn't pay his dues".
"You come in with so much hype, and you're expected to win right off the bat," said Logano.
"You know if it wasn't for that hype, I wouldn't have had the job anyways, so I don't think it's a bad thing in any way.
"But I expected to go out there and win, as well, and just got my butt handed to me on a platter. It was hard.
"There's a lot of times that I felt really weak, and I'd break down, and it was just hard.
"When you're confused, you don't know how to be better."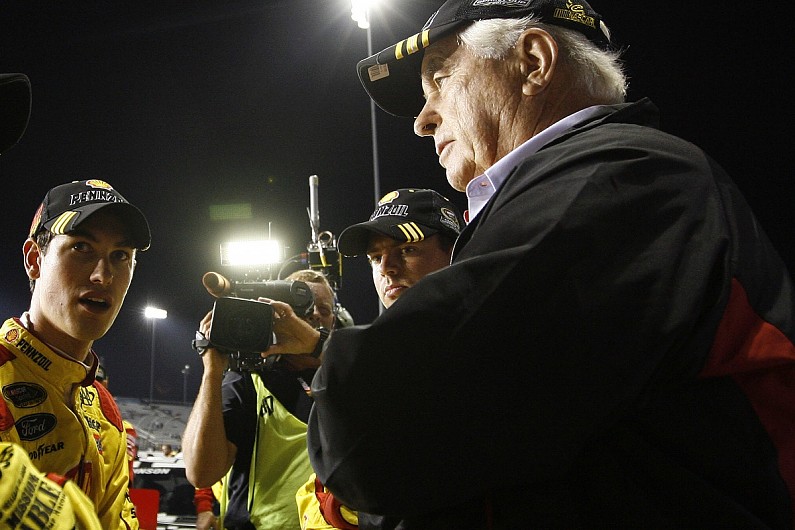 Veteran team owner Roger Penske and Cup driver Brad Keselowski believed Logano's true talent remained untapped and were confident they could help bring it out.
In his first two years at Penske, Logano went from a driver in danger of losing his ride to recording a five-win season that included his first appearance in the final four.
"At the time that I was losing my job at Gibbs, that was a pretty low point for me, and I don't think I think as clearly as I do now about all the lessons I learned," he said.
"I was thinking, 'I'm not going to be a race car driver anymore and what am I going to do with my life, this is awful'.
"The next thing you know, there's the #22 car, Roger Penske, [crew chief] Todd Gordon and an amazing team all the way through that wants you to drive."
Logano added six wins in 2015 but failed to advance to the final four after a run-in with Matt Kenseth at Martinsville in the semi-final round of the playoffs, but he returned to the final four in '16 and finished as series runner-up.
His revitalised career stalled once again in 2017 during what he called a "horror film" season - despite an early win at Richmond, Logano's team was penalised and was not allowed to use the win to make the playoffs.
Despite having the majority of the season to secure a playoffs spot, he failed to do so - missing the cut for the first time since 2013.
But over the off-season Logano and Gordon duo focussed on how to execute races better - which was a constant theme of his successful 2018 championship charge.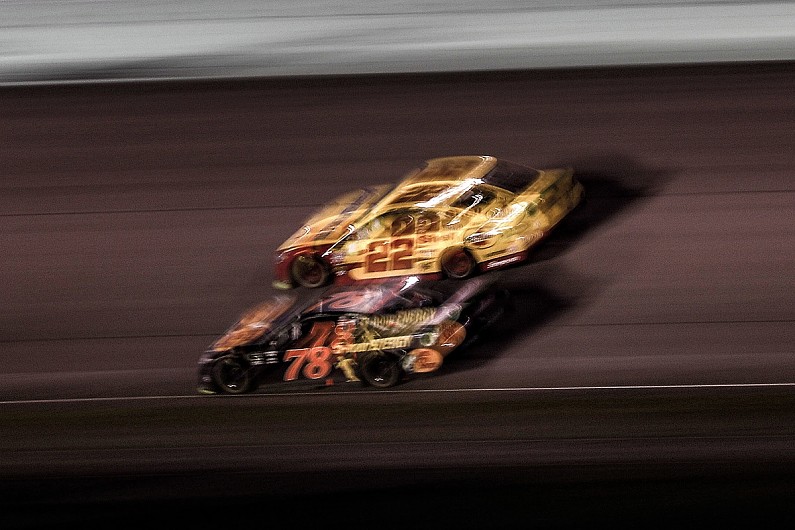 Logano also went from a fearful driver at times to a fearless one, willing to do whatever it takes to win - as Martin Truex Jr found out at Martinsville in their last-lap clash.
"Honestly, I just felt like I'm back to where I was growing up," said Logano.
"As the kid growing up, I was an aggressive racer, and I was able to win a lot of races.
"I got humbled pretty quick [in NASCAR]. I got beat up. I got pushed around a lot. I wasn't fast. I didn't have respect. I think that beats up your confidence pretty quickly.
"You have to kind of dig back inside. Every sport is a mental sport, so you have to really figure out how to be strong again and dig out of holes."