Defending NASCAR Cup series champion Martin Truex Jr says it is "eye for an eye" if he finds Joey Logano in front of him during the title decider at Homestead.
Truex and Logano clashed earlier in the playoffs at Martinsville when the Penske driver collided with the Furniture Row Racing man on the final lap to secure his place in the final four.
That left Truex with work to do in order to seal his place in the championship hunt and he vowed to stop a Logano title win if the opportunity arose.
Truex then made the final four alongside Logano, Kyle Busch and Kevin Harvick.
In a discussion with NASCAR.com's Jonathan Merryman ahead of the race about what lengths they would be willing to go to in order to take the title, Truex was asked about his approach to Logano this weekend.
"[The] #22 [Logano] in front of me? He's going, eye for an eye.
"That's how he did me [at Martinsville], that's how how I'll do him."
Truex added his approach would be different if he was racing the other two title contenders, using Busch as an example.
"I won't move the #18 [Busch] to win, I won't do it. I'll beat him fair and square or finish second."
When Logano, who previously declared himself the title favourite, was asked about his rival's approach, he said: "That's up to them, whatever they want to do.
"I will race hard, there will be some banging I'm sure. I'm not here to crash anyone. I'm there to win.
"I expect to be raced the way I race people. wouldn't surprise me if we get bumpers into each other, I expect the same."
Busch was more measured in his comments, saying it "depends who you're racing and who you're racing around".
"Last year showed there can be grace in losing and not pushing the issue and doing something stupid."
Harvick added: "You're pretty willing to sacrifice it all at this point to win a championship, not worry about anything and analyse all those scenarios, because it's hard to plan.
"I can't tell you right now, I don't have a masterplan!"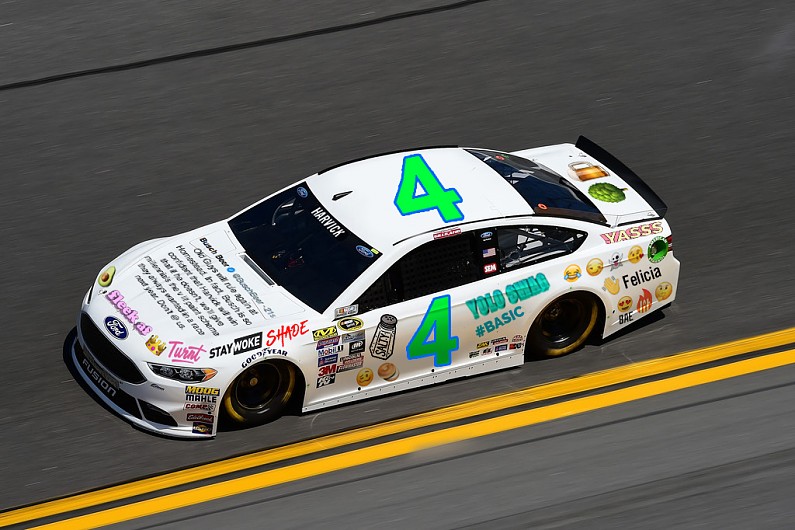 Harvick's sponsor Busch Beer is gambling on the driver to win the title this weekend, promising to run a "millennial-inspired' livery in 2019 if he fails to do so.
The Stewart-Haas Racing driver has regularly used the hashtag #oldguysrule in 2018 after NASCAR heavily promoted its young drivers as the future of the series.
Veterans Harvick, Truex and Busch then went on to dominate the regular season.
"Busch is a fun partner and they like to make things interesting," Harvick told Autosport.
"It's great that they have so much confidence in what we do as a team.
"We do our best every time we get to a race track and this week is no different.
"It's been an interesting year with a lot of the younger guys coming into the sport in a big way, but at the same time you can't replace experience and fast cars.
"We've been fortunate to have both. Hopefully, we can win and not worry about running the millennial scheme next year."