Kurt Busch and Chase Elliott say they only have themselves to blame for being eliminated from NASCAR Cup Series title contention at Phoenix.
Busch went into the cut-off race fifth in the standings, just three points behind Stewart-Haas team-mate Kevin Harvick, while Elliott was sixth.
Elliott and Busch both led the race, and their chances were also boosted by the initially dominant Harvick tumbling down the order with a puncture.
But Busch received a one-lap penalty for passing the pace car, while Elliott was penalised for pitlane speeding.
They were then caught up in a late restart crash when Busch was collected by Denny Hamlin and sent into Elliott, and then hit again by Alex Bowman.
Though Busch felt he was the innocent party in that accident and had angrily questioned the pace car penalty on team radio, he accepted the ultimate blame for his title bid ending.
"Thanks to everybody that put their talent into that #41 car," said Busch.
"I just didn't get the job done to get us to Homestead."
Busch's pit penalty had come when he inadvertently passed the pace car while it was on track and he was in the pit entry.
He had questioned the fairness of the decision on team radio but accepted it post-race.
"If the rule earlier on the pit road of passing the pace car is black and white, I just need to get brushed up on my rulebook," said Busch.
"I didn't gain anything by doing what I did."
He got back in the lead fight by staying out on old tyres as others pitted under a late caution, but was then eliminated in a restart accident that began with contact between Erik Jones and Hamlin.
"If I could have been to somebody's outside off [Turn] 2, then I thought we had a good shot of maintaining the lead and I just got cleaned out. I flat-out got cleaned out," said Busch.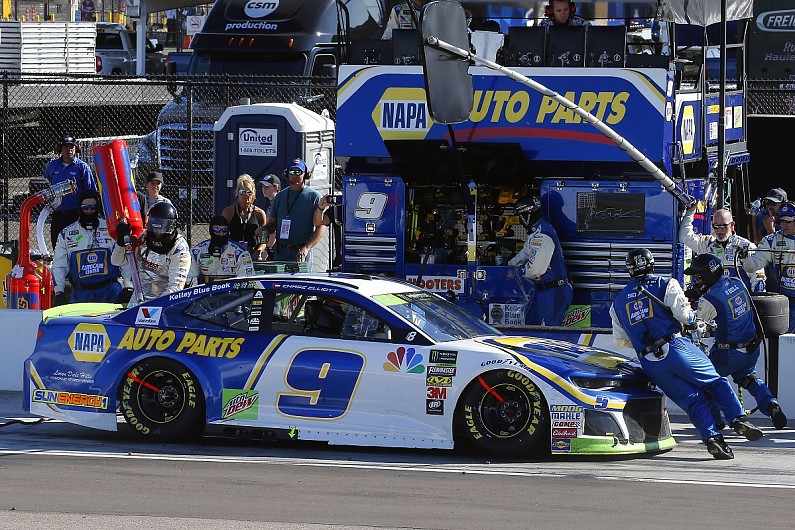 Elliott could only finish three laps down in 23rd after Hendrick patched up the damage his Chevrolet received when Busch rebounded off the wall into it.
But Elliott said it was his own fault he was caught up in the crash because he would have been further up had he not earned the penalty.
"Don't speed before that and you don't get caught back there," said Elliott.
"It was completely my fault and when you make mistakes like that, you get put behind and that's when you get wrecked.
"You can't come down pit road leading the race and speed and expect to race for a championship the next week.
"That was just my fault and really no excuse for it."
Harvick recovered to fifth place and made it through to the championship decider, where he will take on Phoenix winner Kyle Busch, reigning champion Martin Truex Jr and Martinsville winner Joey Logano.