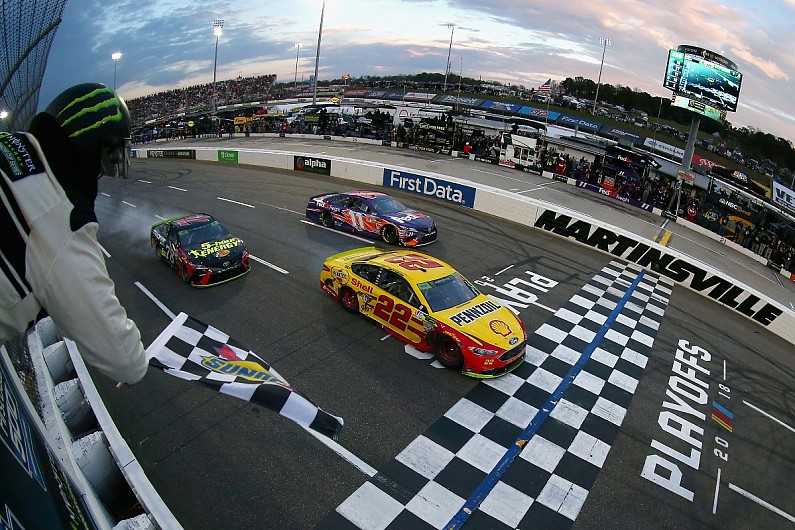 Penske's Joey Logano booked his place in the NASCAR Cup title decider by sealing Martinsville victory in a last-corner collision with Martin Truex Jr.
Reigning champion Truex of Furniture Row Racing had passed long-time leader Logano to lead with two laps to go.
But Logano tapped the rear bumper of Truex's Toyota and elbowed his way alongside going into the race's final two turns.
This put Truex into a slide that allowed Logano and runner-up Denny Hamlin to pip Truex to the finishing line - Hamlin's run nearly allowing him to beat Logano too as the Ford fishtailed past the chequered flag following the contact.
Winning the first of the three 'round of eight' playoff races means Logano is the first driver to guarantee going to the Homestead season-closing showdown with a title chance.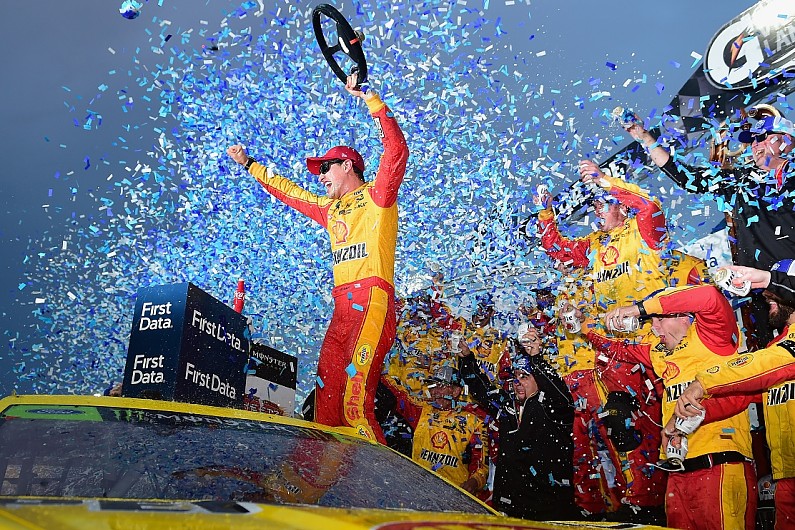 Truex had made rapid progress from starting the race in 33rd place after failing post-qualifying inspection.
He was within the top 10 by the end of the first stage and was fighting at the front by early in stage three.
Joe Gibbs Racing's Hamlin had been a contender throughout in his Toyota and came on strong towards the end of stints.
This allowed him to win the first stage then late in stage two he closed in on Logano - who had led all of that section of the race.
The pair finished the segment side-by-side but with Logano just ahead.
Hamlin's points-leading team-mate Kyle Busch finished the race in fourth place ahead of Logano's Penske team-mate Brad Keselowski, who was another to start at the rear after his Ford underwent unapproved adjustments after qualifying.
Kurt Busch, one of four Stewart-Haas Racing drivers in playoff contention, finished sixth ahead of recent form man Chase Elliott of Hendrick Motorsports, who was more subdued this time in finishing seventh in his Chevrolet
Kevin Harvick did not show the strong pace he had in recent rounds, as he finished 10th behind Ryan Newman and Daniel Suarez.
Of the remaining playoff contenders, Aric Almirola of Stewart-Haas Racing finished 11th while his team-mate Clint Bowyer was a lapped 21st after an eventful run that included in the last 50 laps being tapped into a spin by Jimmie Johnson.
Race result
| Pos | Driver | Team | Car | Laps | Gap |
| --- | --- | --- | --- | --- | --- |
| 1 | Joey Logano | Team Penske | Ford | 500 | 3h29m32.s |
| 2 | Denny Hamlin | Joe Gibbs Racing | Toyota | 500 | 0.107s |
| 3 | Martin Truex Jr. | Furniture Row Racing | Toyota | 500 | 0.221s |
| 4 | Kyle Busch | Joe Gibbs Racing | Toyota | 500 | 0.624s |
| 5 | Brad Keselowski | Team Penske | Ford | 500 | 1.239s |
| 6 | Kurt Busch | Stewart-Haas Racing | Ford | 500 | 1.356s |
| 7 | Chase Elliott | Hendrick Motorsports | Chevrolet | 500 | 4.458s |
| 8 | Ryan Newman | Richard Childress Racing | Chevrolet | 500 | 4.916s |
| 9 | Daniel Suarez | Joe Gibbs Racing | Toyota | 500 | 5.617s |
| 10 | Kevin Harvick | Stewart-Haas Racing | Ford | 500 | 6.299s |
| 11 | Aric Almirola | Stewart-Haas Racing | Ford | 500 | 6.792s |
| 12 | Jimmie Johnson | Hendrick Motorsports | Chevrolet | 500 | 7.386s |
| 13 | Chris Buescher | JTG Daugherty Racing | Chevrolet | 500 | 7.745s |
| 14 | A.J. Allmendinger | JTG Daugherty Racing | Chevrolet | 500 | 8.479s |
| 15 | Ty Dillon | Germain Racing | Chevrolet | 500 | 8.539s |
| 16 | Jamie McMurray | Chip Ganassi Racing | Chevrolet | 500 | 10.731s |
| 17 | Alex Bowman | Hendrick Motorsports | Chevrolet | 500 | 12.124s |
| 18 | David Ragan | Front Row Motorsports | Ford | 500 | 12.338s |
| 19 | Ricky Stenhouse Jr. | Roush Fenway Racing | Ford | 500 | 15.563s |
| 20 | Ryan Blaney | Team Penske | Ford | 500 | 19.288s |
| 21 | Clint Bowyer | Stewart-Haas Racing | Ford | 499 | 1 Lap |
| 22 | Paul Menard | Wood Brothers Racing | Ford | 499 | 1 Lap |
| 23 | Matt Kenseth | Roush Fenway Racing | Ford | 499 | 1 Lap |
| 24 | Cole Whitt | TriStar Motorsports | Chevrolet | 498 | 2 Laps |
| 25 | Michael McDowell | Front Row Motorsports | Ford | 497 | 3 Laps |
| 26 | Erik Jones | Joe Gibbs Racing | Toyota | 494 | 6 Laps |
| 27 | D.J. Kennington | Gaunt Brothers Racing | Toyota | 493 | 7 Laps |
| 28 | Regan Smith | Leavine Family Racing | Chevrolet | 492 | 8 Laps |
| 29 | Ross Chastain | Premium Motorsports | Chevrolet | 492 | 8 Laps |
| 30 | Austin Dillon | Richard Childress Racing | Chevrolet | 491 | 9 Laps |
| 31 | J.J. Yeley | BK Racing | Toyota | 491 | 9 Laps |
| 32 | Landon Cassill | StarCom Racing | Chevrolet | 490 | 10 Laps |
| 33 | Jeb Burton | Rick Ware Racing | Chevrolet | 489 | 11 Laps |
| 34 | Darrell Wallace Jr. | Richard Petty Motorsports | Chevrolet | 488 | 12 Laps |
| 35 | Joey Gase | StarCom Racing | Chevrolet | 467 | 33 Laps |
| 36 | Matt DiBenedetto | Go FAS Racing | Ford | 451 | 49 Laps |
| 37 | Kyle Larson | Chip Ganassi Racing | Chevrolet | 393 | Engine |
| 38 | Timmy Hill | MBM Motorsports | Toyota | 368 | Engine |
| 39 | William Byron | Hendrick Motorsports | Chevrolet | 364 | Accident |
| 40 | Hermie Sadler | Premium Motorsports | Chevrolet | 230 | Brakes |
Playoff standings

| Pos | Driver | Points |
| --- | --- | --- |
| 1 | Kyle Busch | 4104 |
| 2 | Kevin Harvick | 4083 |
| 3 | Martin Truex Jr. | 4083 |
| 4 | Joey Logano | 4074 |
| 5 | Kurt Busch | 4058 |
| 6 | Chase Elliott | 4052 |
| 7 | Clint Bowyer | 4041 |
| 8 | Aric Almirola | 4033 |