After 35 weekends and nearly 14,000 miles of racing, just three points - the equivalent of three positions in the order - separate title contenders Carl Edwards and rival Tony Stewart heading into the 2011 NASCAR Sprint Cup Series season finale.
With so many variables factoring in such a competitive environment, it's amazing to have two drivers so evenly matched, as those three points are exactly the same margin that split them before the Chase started.
During the nine weeks of this year's championship play-off, Edwards and Stewart have scored the same 356 points, although trough very different ways. It has been a battle of consistency versus winning, Edwards not winning once but scoring a 5.2 average finish, which is right up there with Jimmie Johnson's best from previous championship seasons. On the other hand Stewart has won four races, twice doing so back-to-back, matching the previous record for wins during a play-off.
As things stand before the green flag waves at Homestead, if either Edwards or Stewart win the race they will clinch the title automatically. Looking at the trend being set by the last few Chase races it's rather likely that both will end up fighting for victory in what has arguably been one of the closest fights for the Sprint Cup series title.
Past statistics at Homestead point to Edwards as the natural favourite to win the race and become champion - he has won two of the last three races at the Florida venue. Adding to Edwards' favourite status, Roush Fenway has won all but one Homestead race in the past seven years, while Stewart won the first two Cup races ever held at the 1.5-mile, although back when the track had less banking, less grip and probably played more to his strengths.
The build up to the season finale has been enlightened by Stewart's claims when talking to the media for the past few weeks, heating things up before cars turned a wheel at Homestead.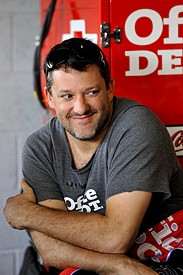 Stewart enjoys trying to get a psychological edge © LAT
For the most part they've had separate media sessions, but last week at Phoenix Edwards walked into the minuscule deadline room in the media centre after the race, while Stewart was still answering questions.
Drivers usually prefer not to get into verbal exchanges when facing the press, while some may prefer to block any kind of outside influence from what a rival may say in public, specially when in the heat of a championship battle. However Edwards seemed at ease with sitting beside Stewart after beating him to second place at Phoenix, despite probably knowing that his rival had been trying to play mind games with his words in the previous two weeks. At Texas a week earlier for example, Edwards seemed to struggle a bit in dealing with what Stewart was throwing at him.
Last Thursday NASCAR arranged its annual championship contenders press conference seaside at Miami's South Beach. There both answered questions on stage right next to each other, in what was a perfect opportunity for Stewart to strike again. Last year Denny Hamlin sat in the middle of contenders Jimmie Johnson and Kevin Harvick at the same press conference as he led the points into the season finale and he barely managed to keep himself together, a scenario that later transpired on the track when he lost his best shot at the Cup title.
This time, for the most part, Edwards and Stewart were at ease in front of the cameras and the media, but when asked by a colleague if they would do a 'bump-n-run' to the other on the last lap if that move gave them the title, Stewart saw his chance to have a go at his rival again. This is what they said:
Tony Stewart: I'd wreck my mom to win a championship. I'll wreck your mom to win a championship [smiling]. I respect him as a driver, but this isn't about friendships this weekend. This is a war. This is a battle. This is for a national championship. It's no holds barred this weekend. I didn't come this far to be one step away from it and let it slip away, so we're going to go for it.
Carl Edwards: Did you say something [smiling]?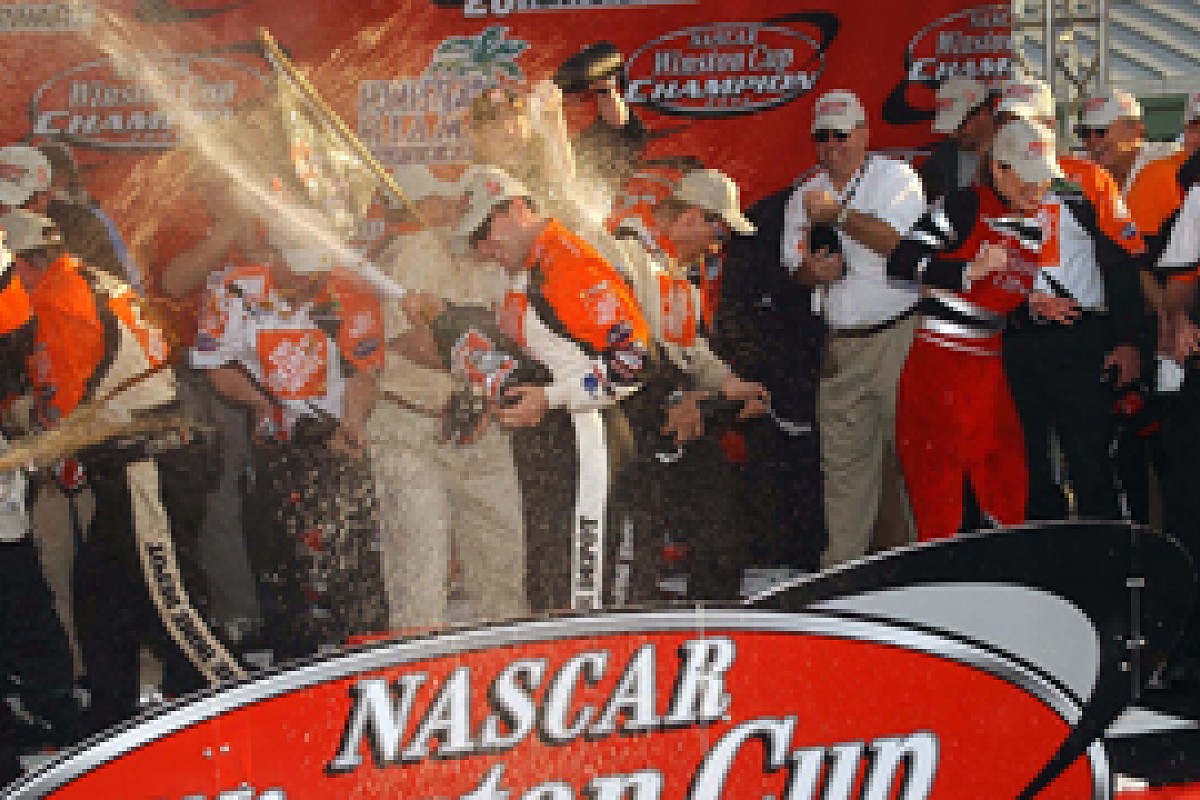 Stewart's first title came nine years ago © LAT
Tony Stewart: Yeah, you can come visit my trophy in the room at Vegas when you come out there [smiling].
Carl Edwards: He's got the talking part figured out. Problem is, you haven't led the points yet this year, have you?
In fact, Stewart has led the championship twice during the season, first after the third race at Las Vegas where Edwards won and more recently after winning for the second time during the Chase at Loudon. Stewart then hit back hard at his rival with his response, before Edwards gave up on the exchange.
Tony Stewart: They say there's talkers and doers. I've done this twice [won the title].
Carl Edwards: That's the funny thing. I've listened to you talk a lot today. You've talked a lot about your past successes. That is very respectable. And truly, all joking aside, that will make it more fun if we're able to beat you. It will make me more proud. But this is going to be a good competition, you guys. Don't think for a second that either one of us are going to let anything slide. We're going to go out here, we're going to race hard, and we're going for this championship. I don't think you could find two harder racers than us up here and we both know that about each other.
"He's like an easy target," said Stewart on Saturday afternoon, alluding to their exchange from Thursday. "It's like bringing a knife to a gunfight in that battle. We get to go do what we do for a living tomorrow. It's nice that 30 hours from now we are all going to know how it played out and shook out. It's been a fun week obviously. Like I said, he is a fun guy to pick at. He makes himself an easy target, so that makes it easier."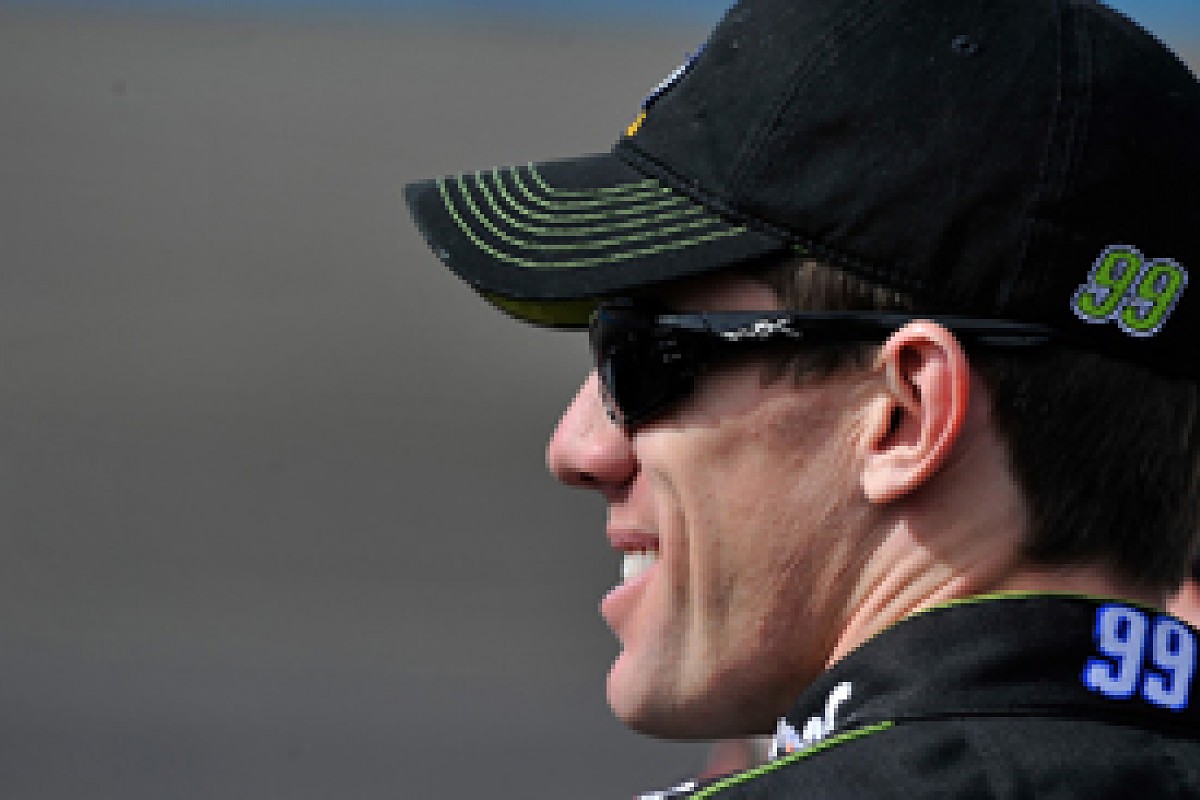 Edwards has not been ruffled by Stewart's words © LAT
Clearly Stewart has enjoyed the talking part in public, but as results show thus far, Edwards is not really having any of it. Yes, he hasn't won in the war of words on stage, but on the track he starts the title decider from a privileged pole position that will most likely allow him to lead the race and score an additional point. He expects Stewart to recover from a lowly 15th-place in qualifying to contend for victory and even before this weekend he predicted the championship may end up getting down to the last lap of the Chase.
Following rain on Friday at Homestead which moved Cup practice to Saturday, it has been a very compact weekend and especially a very tight and busy Saturday for Edwards, who has achieved two of his targets for the weekend. After claiming pole for the Cup championship finale, he went on to finish third in the Nationwide Series race to clinch the owners' title for Jack Roush, which means he outscored new champion Ricky Stenhouse Jr, a fellow Roush driver.
Edwards ran all but one Nationwide race this year but was not eligible for the title as a new NASCAR rule restricted drivers to contending for only one national series championship. Had that rule not been in place, he would be a two-time Nationwide champion by now and potentially the first to win two NASCAR titles in the same year, an impressive accomplishment. The extra time on the track probably also served him well, keeping his focus while Stewart probably watched on the TV from a couch in the privacy of his motorhome.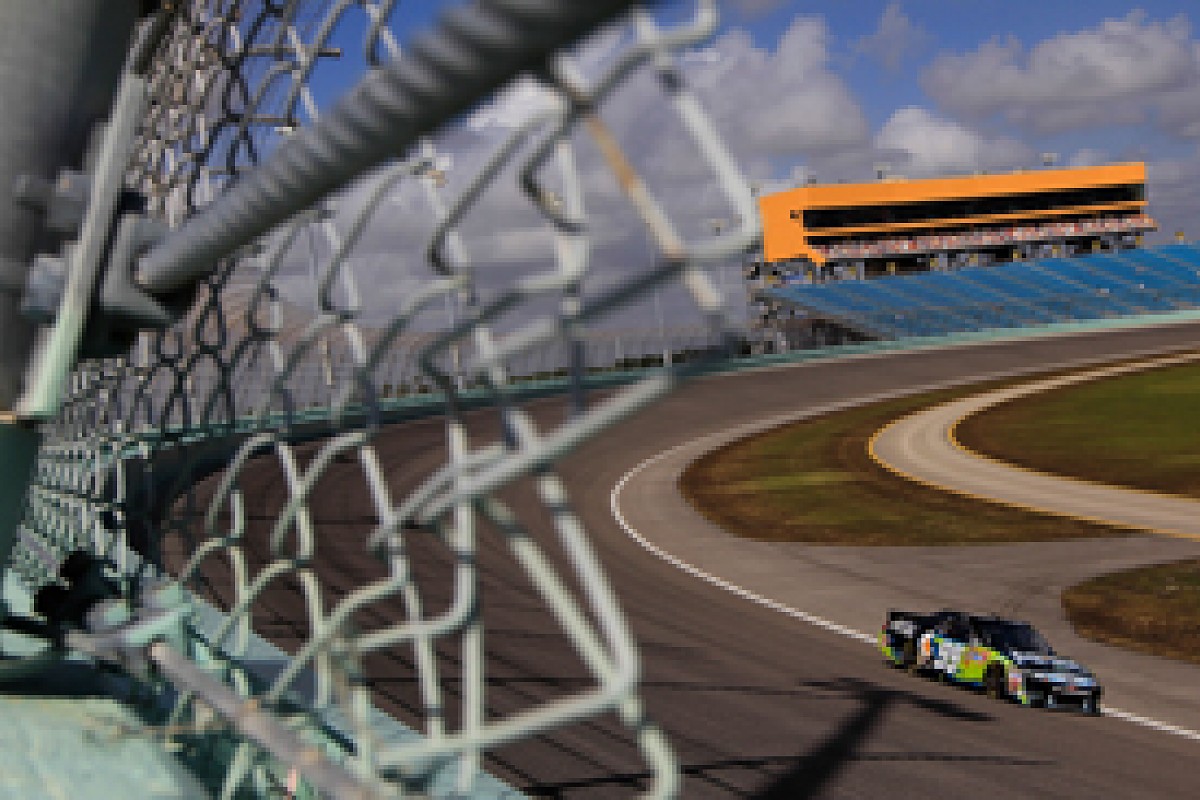 Edwards has had the raw pace at Homestead so far
Edward's on-track approach for the Cup finale was very different to Stewart's as he focused solely on race trim during the first 90-minute session of the weekend, running 49 laps and showing good consistency to finish second fastest with his first lap of the day. He also ran the second fastest 10-lap run, better than Stewart's fastest, although it came very early into the session when track conditions were at its best with the cool temperatures of morning providing plenty of grip.
Stewart was almost as fast as Edwards in those first 10 consecutive laps of the day - both of them running on new tyres - although the later they went on their runs, the better Stewart's pace became relative to Edwards'. Stewart did his qualifying simulation runs in the latter part of that first session, improving on each attempt, then shifting back to race trim during the final 60 minutes of practice to complete 52 laps on a slicker track, running more than any of his rivals.
Meanwhile Edwards ran only three laps in that last practice, all simulating qualifying in hope of getting the pole that he later sealed. He was set to run more but decided against it after finding a cut in the right rear tyre of the set was was going to run. Stewart has clearly worked more on race pace, knowing qualifying is not exactly his Cup of tea. Edwards knew he had the pace to take pole and be in the safer end of the field for the start of the race. Above all, he needs to avoid getting in trouble.
As the schedule was set initially, teams would have got the chance to run in weather conditions more similar to what they could expect in the race, but the overnight rain meant their running in practice was done on a green track, and with probably higher temperatures than those they will face during the race - which is set to start at 3pm local time, finishing under the lights.
The weather forecast shows there may be some rain on race day, which would probably make the track go towards what they found early in practice, but whatever the conditions, as proved last week on the ever evolving new Phoenix surface, both teams are capable of dealing very well with a moveable target.
We will see what Sunday brings, but there could hardly be a more exiting scenario to decide who succeeds five-time champion Johnson to the throne. Whoever does it will truly be a worthy champion.