Pietro Fittipaldi won the final Formula V8 3.5 title with a race to spare after a second-place finish in Bahrain, combined with engine troubles for Matevos Isaakyan, was enough to claim the crown.
The problems for Isaakyan started before the race even began as his polesitting SMP Racing car refused to pull away on the formation lap and he was pushed into the pitlane for urgent checks by his AVF mechanics.
The Russian managed to get back on track after 10 minutes in the pits, but at five laps down his only hope of keeping the title race alive to Saturday's finale was for Fittipaldi to hit troubles of his own.
Fittipaldi never looked at risk, moving up to second by the first corner as he slotted in behind debutant race leader Henrique Chaves.
Lotus driver Fittipaldi did try to take the position from AVF's Formula Renault Eurocup graduate, but Chaves was too strong defensively to give away what became his maiden win.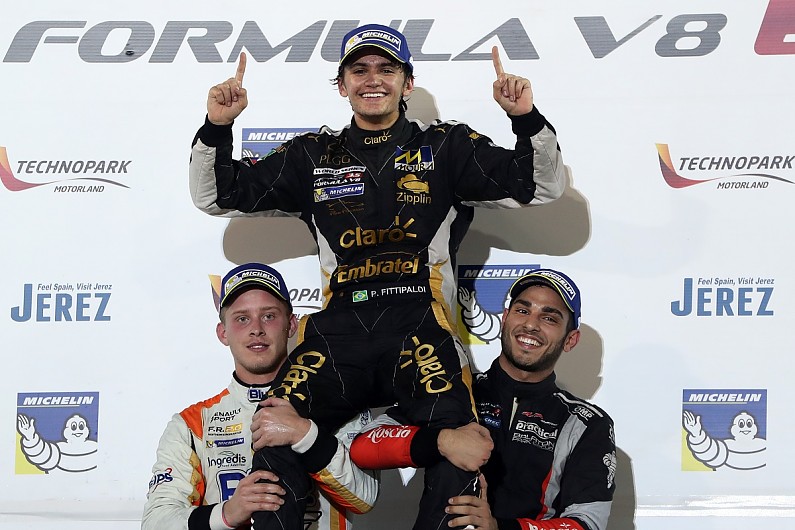 Second-place gave Fittipaldi an unassailable 28-point lead going into Saturday's pitstop race, the last in FV8 history, with only 25 points still available.
RP Motorsport's Roy Nissany recovered from a slow qualifying time caused by a chassis problem to claim a well-deserved podium behind Fittipaldi.
Fourth place went to Nissany's team-mate Yu Kanamaru, who overcame front-wing damage after being aggressively blocked by Rene Binder.
Saturday polesitter Binder picked up a puncture in the incident with one lap to go, wich demoted him to ninth.
Sauber Formula 1 development driver Tatiana Calderon claimed fifth place, just ahead of a hard-charging Alfonso Celis Jr.
Konstantin Tereschenko and Diego Menchaca rounded out the runners still on the lead lap as the pair struggled for pace in seventh and eighth respectively.

Race one result
| Pos | Driver | Team | Laps | Gap |
| --- | --- | --- | --- | --- |
| 1 | Henrique Chaves Jr. | AVF | 23 | 42m07.489s |
| 2 | Pietro Fittipaldi | Lotus | 23 | 1.654s |
| 3 | Roy Nissany | RP Motorsport | 23 | 3.752s |
| 4 | Yu Kanamaru | RP Motorsport | 23 | 7.447s |
| 5 | Tatiana Calderon | RP Motorsport | 23 | 9.334s |
| 6 | Alfonso Celis | Fortec Motorsports | 23 | 11.791s |
| 7 | Konstantin Tereschenko | SMP Racing by AVF | 23 | 17.075s |
| 8 | Diego Menchaca | Fortec Motorsports | 23 | 23.509s |
| 9 | Rene Binder | Lotus | 22 | 1 Lap |
| - | Matevos Isaakyan | SMP Racing by AVF | 18 | Retirement |