Robin Frijns and Jules Bianchi don't agree on much surrounding their Formula Renault 3.5 championship-deciding clash last weekend, but they do share one thing: neither has any interest in discussing it with the other to clear the air.
Fortunately, they had plenty to say to AUTOSPORT on the matter in the wake of the dramatic conclusion to the 2012 season in Spain last weekend. So, with the help of those involved, and a couple of witnesses who were very close to the clash, we can get the clearest possible picture of how four corners decided the destiny of a championship.
THE CATALYST
Had Bianchi not spun trying to pass Kevin Magnussen for fourth on the penultimate lap of race one, he and Frijns would have gone into the decider equal on points. In that situation, the championship would be heading to France thanks to a countback of second places.
Instead, Bianchi went into the race four points behind Frijns, starting two places behind him on the grid. The pair were tantalisingly separated by Arthur Pic in the early laps, but when the championship contenders pitted together at the end of lap nine, they emerged nose-to-tail.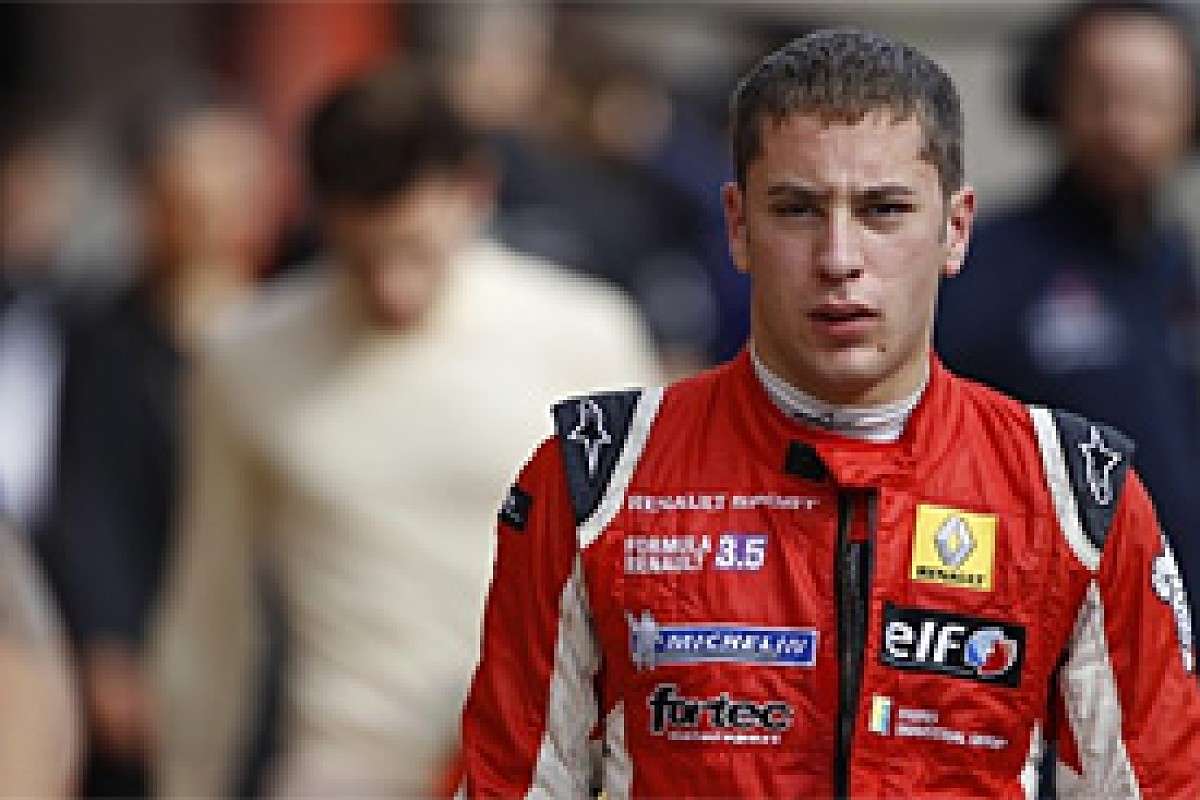 Frijns started race two in the championship lead
For the next 10 laps, a racing game of chess was playing out. Frijns was trying not to get too close to the Team RFR cars (Mikhail Aleshin and Aaro Vainio) in front so that he didn't hurt his tyres in their dirty air, but he couldn't allow Bianchi to get a sniff. Bianchi appeared to be up to very little behind him, but the Ferrari junior was plotting.
"Every time at the end of the straight I was much quicker than him," says Bianchi. "I guess I had a longer sixth gear, and maybe he was on the limiter. I tried a couple of times to overtake him at Turn 10, but he was aware of it so it wasn't working.
"He was being careful, and defending well, but I noticed that he was not defending at Turn 1 at all."
Frijns' lack of straightline speed could have also been down to him saving his time- limited DRS, as he wanted to make sure he had enough left to defend in the closing laps.
"I wasn't struggling for pace," says the Dutchman. "I left a gap to Aleshin and Vainio because I knew if I was too close to them it would be easier to make a mistake. So I would slow the cars behind me, and then when I had clean air I could drive away from Jules again.
"I didn't want to run out of tyre performance or DRS near the end, as then I wouldn't be able to keep Jules behind. Then it started raining a bit."
Rain was in the air throughout the race, and a downpour eventually hit the track when the cars were on their slowing down lap. The sprinkling at Turn 1 on lap 21 was only small, but it was enough to make Frijns - who was on course for the title at this point - take a little extra care.
Bianchi, having had his eye on a move at that very corner for a few laps, pounced. It was a surprise attack, but a good, clean move. Frijns knew it, and turned out of the corner when he realised.
"That was a good move," says the champion. "I didn't expect that - he had already nearly taken me off twice in corner 10 so I was expecting a T-bone shunt if anything."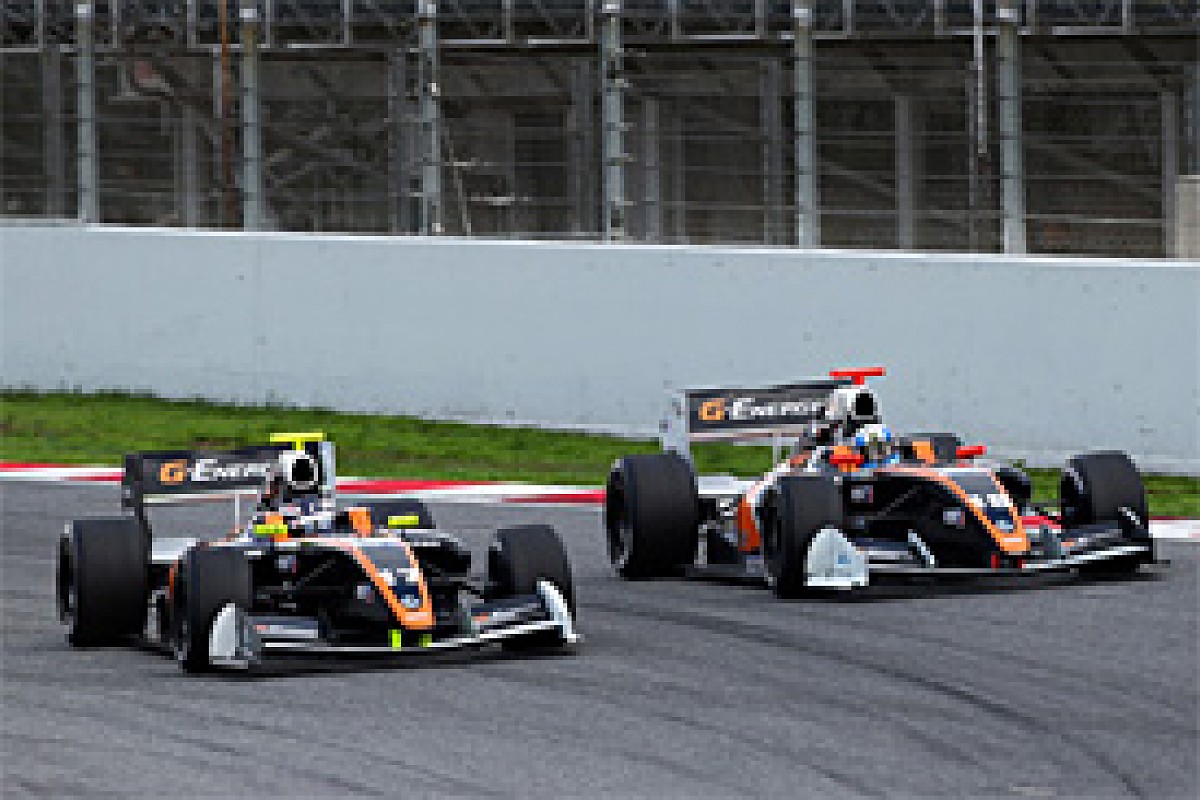 Aleshin and Vaiano fight it out in race two © LAT
Bianchi describes the pass as "a prepared move", and he executed it to perfection.
"Robin had the advantage going into the race, so I had to push, I had to overtake him," he adds. "In the end this is what I did, and it was perfect."
After 20 laps of cat and mouse, the stakes had risen. But the two-point difference between fourth and fifth places wasn't enough. Bianchi needed to catch the duelling RFR team-mates, who were now just one second up the road. Frijns needed to respond, fast.
THE CLASH
Bianchi's GP2 experience had taught him that it is almost impossible to follow another car closely through Barcelona's long Turn 3 without losing heaps of front downforce. So after a quick look in the mirrors on the exit of that corner, he was satisfied that Frijns had indeed suffered in the dirty air, and was already slipping back.
That gave Magnussen, who had been snapping at Bianchi's heels, a run on Frijns into Turn 4. The Dane darted out to the right to see if he could pull off a move to the inside. Frijns made a similar move of his own on Bianchi, albeit from further back. The title contenders were on a collision course.
By the time Bianchi realised what Frijns was trying, it was too late to get out of his way. Seconds later, the Tech 1 car was in the gravel, and Bianchi's title hopes went up in a cloud of dust.
"I didn't see him coming," says Bianchi. "After Turn 3 I saw he was too far behind to make a move. Then suddenly in the next corner I saw him [attacking], and I couldn't do anything.
"I opened the steering but it was just before the impact. It's difficult to say what would have happened if I didn't do that, but of course my car would have been more pointed to the right so it probably would have been a bigger crash."
As it was, the contact was relatively slight, but Bianchi was hit hard enough in the side to head straight off the track.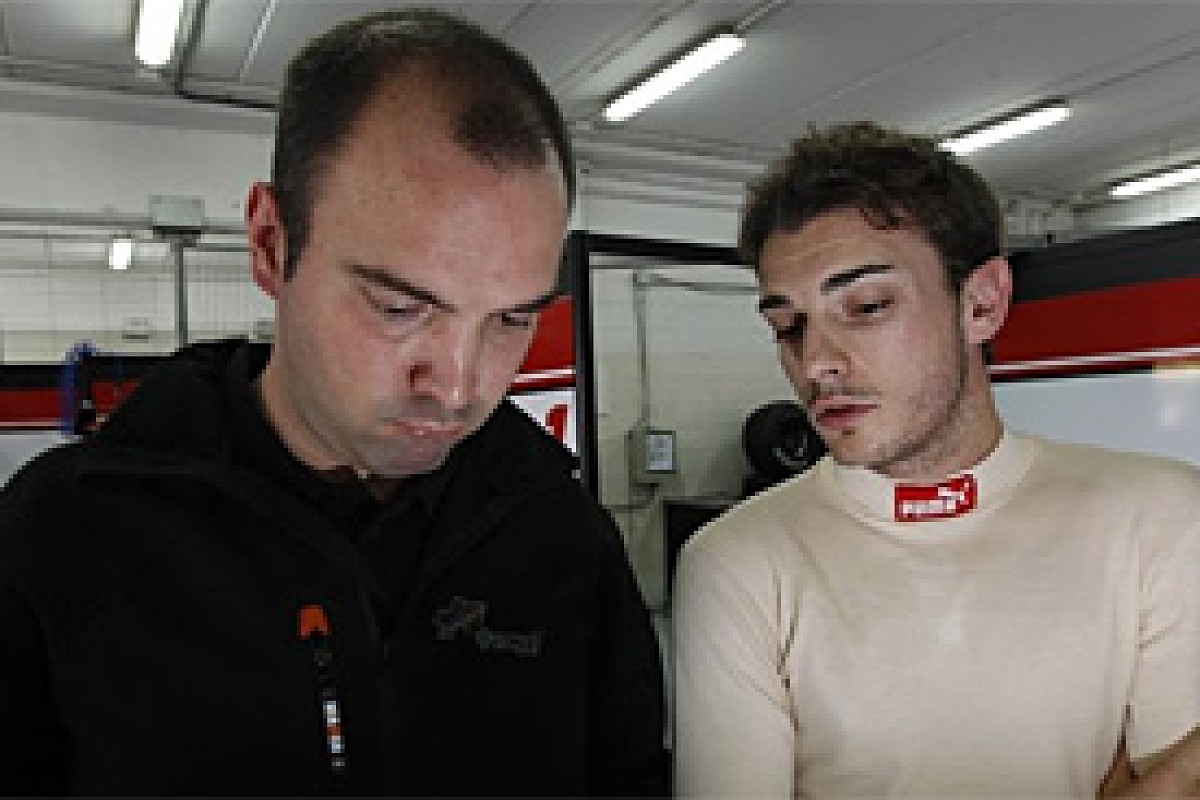 Bianchi was not impressed with Frinjs after the race
Frijns lost a couple of places but continued, and he countered suggestions that he was caught out by Magnussen's attack and over-reacted.
"I wasn't defending from Magnussen, I went there to overtake Jules," he says. "We hit after the apex, and we were side-by-side. For me, it was a normal overtaking manoeuvre.
"The data shows I braked 18 metres later than usual, which is quite normal if you are trying to overtake someone. And people say I wouldn't have made the corner if Jules wasn't there, but my apex speed was only six or seven km/h faster. Again, that's normal, because when you overtake someone you scrub the speed off later in the corner."
Bianchi has his own theory.
"At that time I'm sure he was thinking he was going to lose the title and that made him go for a strange move on me," he says. "Magnussen was trying a move on him, and if Magnussen had overtaken him then I was going to be champion. Robin knew that."
THE WITNESSES
Judging the accident from the outside was tough, especially given the limited number of replay angles. But there were some pretty qualified observers close by: Magnussen was so close to the shunt he was almost involved, and the third title contender last weekend Sam Bird was in the queue of cars forming behind his championship rivals.
Despite Frijns' claims that he wasn't defending from Magnussen when he darted to the inside, the McLaren development driver is convinced that it was a response to his attempted pass.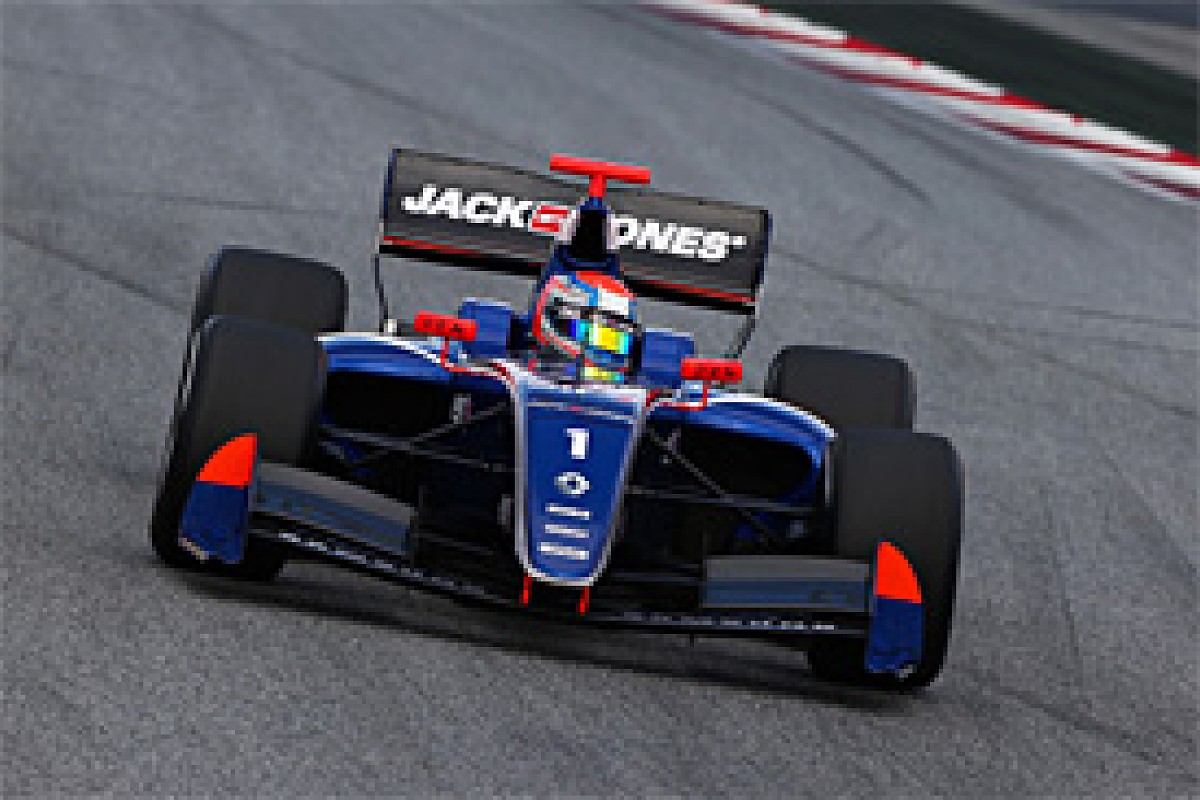 Kevin Magnussen in action at Barcelona © LAT
"I think he was shocked by me pulling out to make a move," says Magnussen. "He immediately went to block. Then, he locked up and realised he was going to hit Bianchi."
Bird adds: "I saw it quite clearly. He steered towards Jules in the corner and you can't do that. It's not the first time he's done something like that this year.
"He needs to learn a lesson, and he's not going to learn it by picking up the championship trophy."
THE FALLOUT
Despite finishing off the podium, new champion Frijns should have been in the post-race press conference with the top three finishers. But he was nowhere to be seen. Seconds after the collision the stewards had announced that it was under investigation, and the protagonists were hauled into the race control tower minutes after the finish.
Three hours later, they were still in there. Eventually, more than four hours after the race had finished, it was announced that Frijns had been given a 25-second penalty in lieu of a drive-through for his part in the clash. It dropped him out of the points, but didn't affect his championship as he was already ahead of Bianchi going into the race.
"I don't know why we waited four hours for this," said Bianchi.
Rather than go their separate ways, both drivers were straight off to the prize giving ceremony, where they shared the stage with Bird. There were a few jeers in the air when Frijns was called up to receive his trophy, and Bianchi made it clear he was in no mood to patch things up.
"We all went on the podium together, and Jules congratulated Sam but not me," says Frijns. "He was saying they had some great battles with each other, but 'some other drivers don't respect me'. It wasn't very nice to hear, but I can live with it."
Bianchi explains that he felt it was right to attend the prize giving.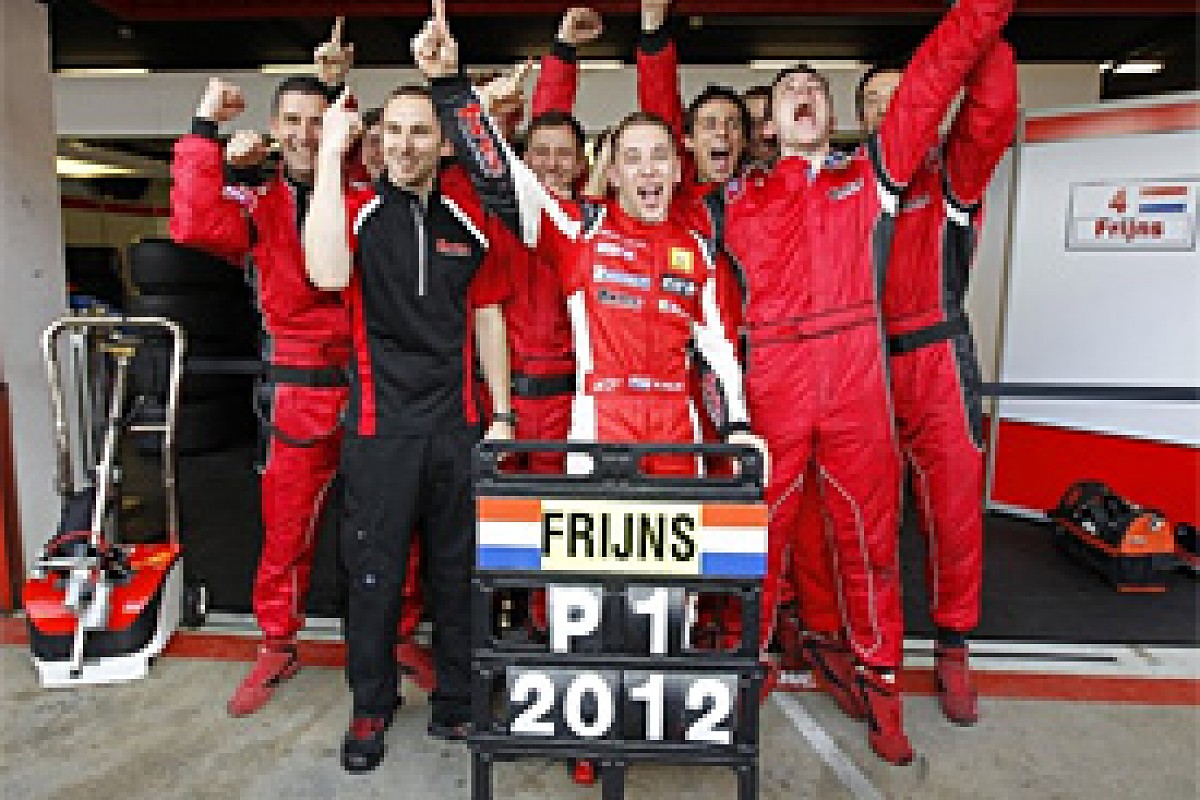 Frijns celebrates his title © LAT
"I went for my team," he said, as Tech 1 landed the teams' title. "They did a really good job. And I went for Renault as well. It was a good season, so I wanted to be there."
On Sunday evening there were rumours of Bianchi's camp challenging the outcome of the championship, but that has been played down.
"I wanted to win this title on the track," he says. "That's what we were in a position to do. It's a shame it had to end this way, because it was a really nice fight through the season and for the spirit of the sport it is not good to have something like this."
Both drivers now turn their attention to Formula 1. Ferrari junior Bianchi has the rest of the season to see out his reserve driver duties with Force India, while Frijns will drive for Sauber and Red Bull at the Abu Dhabi young driver test.
Beyond that, both are in the dark about what happens next in their careers, but those four corners on Sunday have given them plenty of exposure.