Throughout its short history, the GP3 Series has always concluded at Monza and the title has never been settled beforehand. This year, though, its destiny remained in doubt until the campaign's final lap... and long-time championship favourite Mitch Evans was powerless to influence the outcome.
The tension was absolute, and the same could be said for Evans's sense of relief when the chequered flag fell.
The Kiwi wasn't the only driver who could rightfully have claimed the crown, but in the end he was the most deserving. He took only three wins from 16 starts, but 10 drivers shared victories and nobody scored more.
For a better barometer of his consistency, look to four poles from eight qualifying sessions, and the fact that he never started the main race from lower than fourth. Between the highlights, he also suffered some rotten luck.
HOW IT WAS WON
Evans started the year with victory in the first Barcelona race... and a puncture in the second, a microcosm of the season to come.
Challengers to the MW Arden racer came and went during the following four months. Aaro Vainio long seemed set to be Evans's main opposition, but Antonio Felix da Costa (in particular) and Daniel Abt became more threatening as the season went on.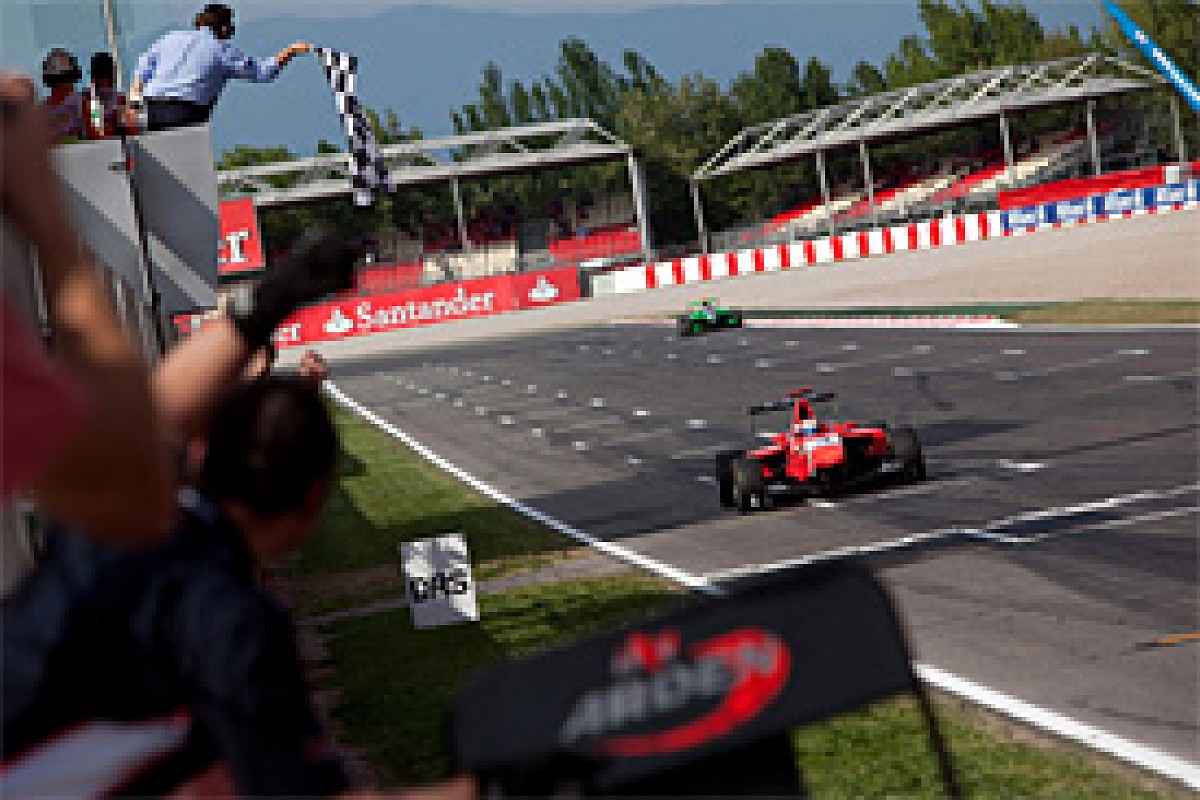 Evans started with a win at Barcelona © LAT
Evans's speed was punctuated by failures to score and, although the Kiwi had a solid points lead prior to the finale, Carlin man da Costa and Lotus/ART pair Abt and Vainio were still in touch.
Evans damaged his car at the opening corner of Monza's first race, da Costa became stuck in gear for a couple of laps and Vainio was penalised for a daft mistake (ignoring yellow flags) at the final corner.
That left Abt needing to win race two and hope Evans failed to score from the back of the grid: both drove brilliantly, but having risen to eighth Evans suffered yet another puncture - inflicted by Vainio - and had to rely on favours from elsewhere.
Abt became immersed in a thrilling slipstreaming contest with Tio Ellinas and the Cypriot went on to score his maiden GP3 win. Evans, meanwhile, celebrated a bigger prize.
STANDOUT PERFORMERS
Evans, obviously. Speed apart, he has a tremendous awareness of what's happening around him - you see him backing off for waved yellows, for instance, and sacrificing a good qualifying lap because he knows there are a few minutes remaining to cool his tyres and try again.
Everything he does is measured and he is blessed with a level of peripheral awareness some F1 drivers lack (morning, Pastor). He has raced single-seaters since his early teens and it shows.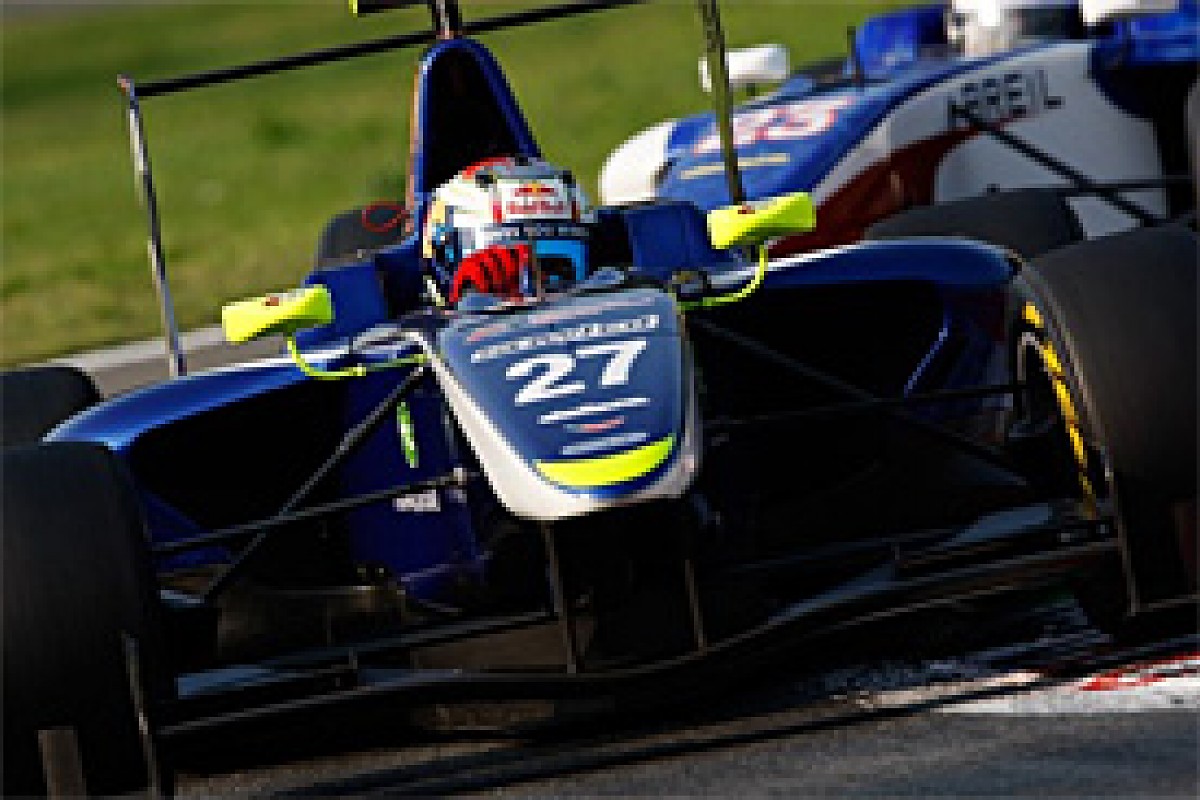 Da Costa was Evans's toughest rival © LAT
For all Abt's late-season flair, da Costa was Evans's toughest rival on raw pace. The Portuguese is a wonderfully committed racer, and adding Formula Renault 3.5 to his palette (Red Bull recruited him mid-season, to replace the hastily and unjustly axed Lewis Williamson) didn't dilute his focus. If anything, he simply became more effective.
Abt's stature grew during the season and there were engaging cameos from such as Marlon Stockinger, Vainio, Patric Niederhauser, Conor Daly, Ellinas, Giovanni Venturini (who did only the second half of the season) and Will Buller.
Of the other UK racers, Alex Brundle took a fine podium in a wet-dry race at the Hungaroring and Alice Powell collected her maiden point in the Monza swansong, while Williamson showed expected flashes of promise when he returned to GP3 from Hockenheim. Irishman Robert Cregan stepped across from sports and touring cars, meanwhile, but failed to score.
SOMETHING TO REMEMBER
The final few laps of the second Monza race stick in the mind, as does da Costa's fantastic Sunday drive at the Hungaroring. Having won the first race, he pitted for slicks at the perfect time to repeat the feat in the second - the only time all season that any driver managed a weekend double.
Abt deserves credit, too, for his conduct at Monza. He hadn't expected to challenge for the title, but then to come so close...
He handled the moment with great dignity.
SOMETHING TO FORGET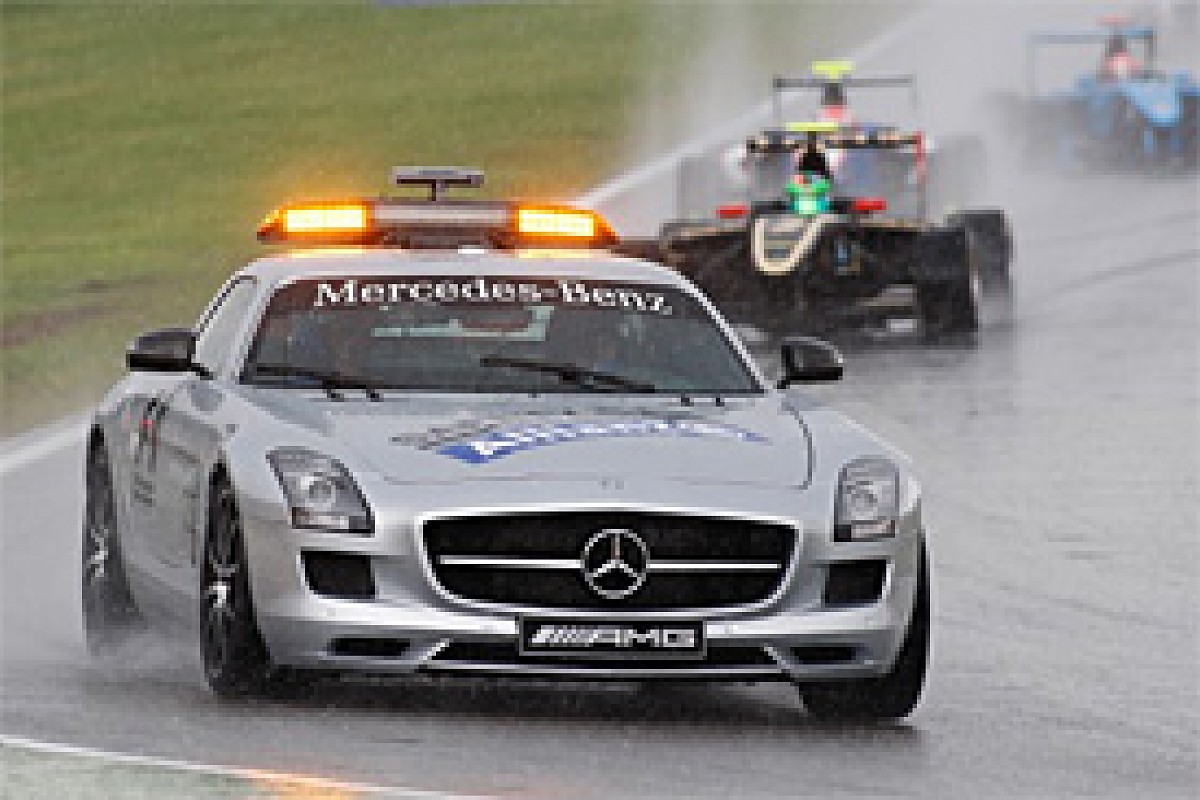 The safety car leads the field at Hockenheim © LAT
Hockenheim, mainly. The weather was bad and some of the driving even worse. The two races were supposed to last a total of 36 laps, but the field was unleashed for just seven and a bit. Safety car driver Bernd Maylander was gainfully occupied, though.
ANY OTHER BUSINESS
Only that there are still far too many bloody championships on the sport's nursery slopes. GP3 produced some fantastic racing in 2012, but given the clutter it's hard to assess drivers accurately in any category.
WHERE NEXT?
After three seasons, 280bhp, four-cylinder turbo engines are to be dropped in favour of 400bhp, naturally-aspirated V6s (bolted to the same Dallara monocoques, albeit with upgraded aero packages). Such close, combative racing merits the superior soundtrack it will now get.