Round 1: Barcelona
Mucke's Nigel Melker becomes GP3's first-ever pole-sitter after a fraught qualifying session, but the Dutchman bogs down on the startline and is eliminated in a crash shortly afterwards. That allows Jenzer driver Pal Varhaug to sweep away and take a relatively comfortable win, with early challenger Robert Wickens forced to spend the latter part of the race fighting off Esteban Gutierrez.
Alexander Rossi recovers from qualifying 28th to finish eighth, taking pole for the sprint race, and the Californian capitalises with a dominant lights-to-flag win ahead of Lucas Foresti and Gutierrez.
Points:
1. Wickens 11
2. Varhaug 10
3. Gutierrez 10
4. Rossi 8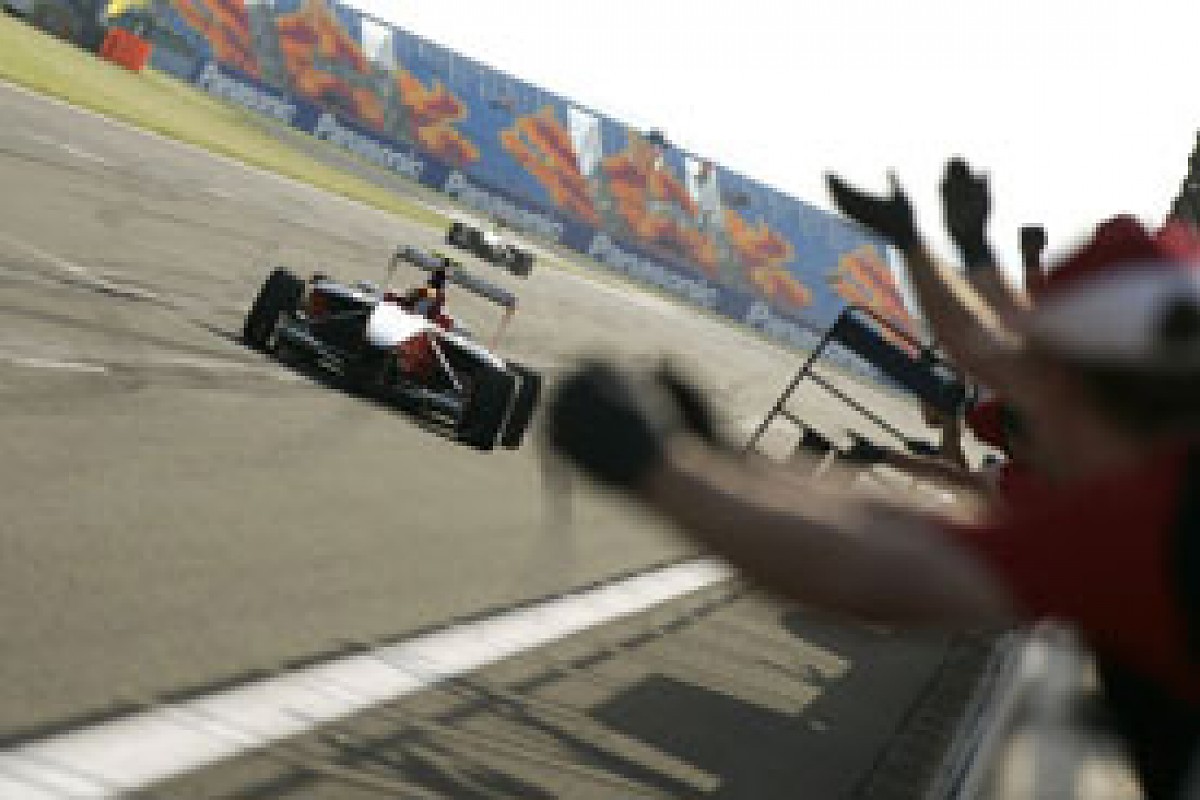 Esteban Gutierrez © LAT
Round 2: Istanbul
Melker takes back-to-back feature race poles and follows it up with back-to-back bad starts. That allows Gutierrez to scorch off into the distance and clock up his first win of the season; the Mexican crossing the line 10.5s clear of second-placed James Jakes. Felipe Guimaraes finishes third ahead of Rossi.
It was a processional race, and there was more of the same the following morning when Manor's Rio Haryanto turned a sprint race pole into an easy victory, with Miki Monras giving MW Arden its first podium in second place and Rossi finishing third.
Points:
1. Gutierrez 22
2. Rossi 17
3. Wickens 11
4. Varhaug 10
Round 3: Valencia
Qualifying ends early due to a crash by Gutierrez; fortunately for the Mexican he had already secured pole. He converted that into a comfortable win ahead of Wickens in the feature race, leaving Atech's Roberto Merhi to complete the podium in his debut weekend. A large chunk of the field had managed to eliminate itself on the opening lap, with the style points going to Guimaraes for launching himself over Melker.
On Sunday, Nico Muller passed polesitter Jakes at the start to take a lead that he would never relinquish. But the big mover was Merhi, who reeled off a string of quick laps to fight his way up to second. Jakes settled for third, while Gutierrez, Wickens and Rossi all failed to score points.
Points:
1. Gutierrez 35
2. Wickens 19
3. Rossi 17
4. Muller 14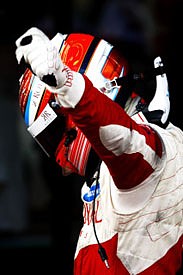 Daniel Morad © LAT
Round 4: Silverstone
Gutierrez's season begins to gain momentum as the ART Grand Prix driver claims pole and follows it up with a generally untroubled victory. Haryanto, who started on the front row alongside Gutierrez, finishes second, but Manor is denied a lockout of the lower two steps of the podium when Adrian Quaife-Hobbs retires while running third. That allows Muller up to third ahead of Tobias Hegewald, who spends much of the race fighting off Rossi.
The following morning, Status's Daniel Morad beats slow-starting polesitter Mirko Bortolotti off the line to take an easy win ahead of the Italian, while Rossi triumphs in a furious battle with team-mate Gutierrez for third.
Points:
1. Gutierrez 52
2. Rossi 26
3. Muller 23
4. Haryanto 21
Round 5: Hockenheim
Wickens rebounds from a disappointing Silverstone weekend to score his first win of the season in a chaotic race. Starting from the second row, the Canadian picked off Jakes and polesitter Josef Newgarden to take a fairly easy win, with Jakes second and Renger van der Zande third, the latter spending much of the race under pressure from Gutierrez. Behind them, things are a bit messy. Two safety car interventions are required; one to mop up a crash at Turn 1 and the second after Rossi belts into Morad on the restart.
Things are equally chaotic on Sunday, with Gutierrez taking the win under the safety car following a crash between Jakes and Newgarden, causing Jakes to suffer injuries that would sideline him from the next two rounds. Pole-sitter Dani Juncadella finishes second, with a nice drive from Stefano Coletti being rewarded with third.
Points:
1. Gutierrez 64
2. Wickens 34
3. Rossi 26
4. Muller 23
Round 6: Hungaroring
Things get off to an extraordinary start when Muller and Gutierrez set identical times in qualifying. Muller is given the nod by virtue of having set the time first, and the Jenzer driver makes the most of it by taking a straightforward win ahead of Gutierrez in the feature race. Coletti is some distance down the road in third after surviving extended pressure from Wickens, while Newgarden and Rossi inherit seventh and eigth when sixth-placed Addax's Bortolotti runs out of fuel at the final corner, setting up an all-American front row for Sunday.
Rossi holds off Newgarden on the run to the first corner to secure the lead and goes on to take the win, while Newgarden's hopes of second are ended by a mechanical problem. That pushes Wickens up to second followed by Carlin's Dean Smith and Coletti. Gutierrez is fifth ahead of Muller.
Points:
1. Gutierrez 75
2. Wickens 45
3. Muller 36
4. Rossi 33
Round 7: Spa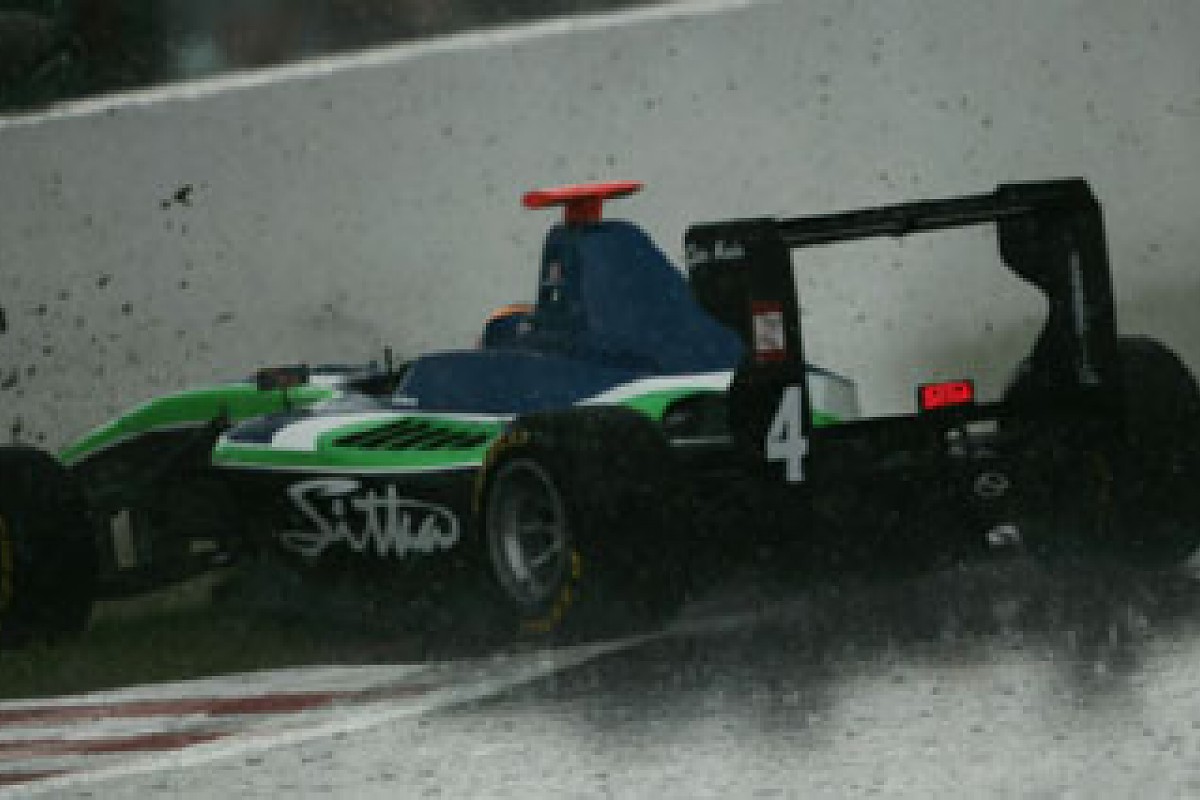 The combination of Spa, rain and 30 GP3 cars proves to be a volatile one. Juncadella takes a dominant pole in the wet, with Gutierrez fourth and Wickens eighth, but the latter gets the last laugh by taking the most bizarre win of the season in the feature race.
Wickens joined virtually the entire field in spinning at La Source when a mid-race downpour struck, but despite breaking his nosecone, he stayed out behind the safety car, remained on the track when almost everyone changed to wets, and then wound the clock down on the restart to ensure that he took the chequered flag first. Leonardo Cordeiro took second for MW Arden ahead of Varhaug.

There were more surprises in the sprint race when Adrien Tambay, who was subbing for the injured Jakes at Manor, opted to stay out on slicks when everyone else pitted for wets and was rewarded with a win. Rossi and Monras completed the podium, while Guiterrez's failure to score points kept the title fight open for the final round.
Points:
1. Gutierrez 75
2. Wickens 57
3. Muller 44
4. Rossi 38
Round 8: Monza
Guiterrez's points advantage was such that he didn't need to do much to secure the title at Monza, and the two points he earned for claiming the feature race pole were enough to see him over the line. He went on to take the win despite extreme pressure from Wickens, while Haryanto managed to hold Muller off to finish third.
Wickens took some consolation from the weekend by winning the last race of the season on Sunday morning, finishing clear of Bortolotti and Muller. Gutierrez was an early retiree after spinning and stalling while trying to avoid another car in the middle of the Parabloica.
2010 GP3 season summary
2010 GP3 final points standings
*For the full analyis of the GP3 season, buy this week's AUTOSPORT magazine - or get the online version, here.