The Tough Times of Takuma Sato

---
By Adam Cooper, England
Autosport-Atlas Contributing Writer
Some drivers crack under the pressure of driving in front of their home crowd. Others rise to the occasion and put in their best performance. Judging by the past three Japanese Grands Prix, Takuma Sato is about to have his best race of the year. It will also be his penultimate race with BAR-Honda, and you can expect some rather abusive banners on that topic from Taku's fans. So where did it all go wrong, and why?
There's a famous shop in Tokyo that is a Mecca for racing fans. It's packed to the ceiling with model cars and other memorabilia, and if you want a Ferrari 312T3 rear wing (it's been in stock for over a decade) or Michael Schumacher's overalls, you know where to go.
There's always a special buzz about the place when Grand Prix week arrives and the local media gets a bit of F1 fever. And of course, the face of the sport in Japan is not that of Schumacher or even Fernando Alonso, but Takuma Sato. His image is everywhere in the shop, staring out of every magazine cover. You can buy BAR hats and shirts, DVDs of his British F3 campaign, replicas of the chain he wears round his neck, or the latest hot item - a cushion shaped like his crash helmet.
Taku Fever has taken over Suzuka for the past few years. The momentum started to build with his first race for Jordan, and it grew with BAR when he replaced Jacques Villeneuve at the last minute two years ago. Every time, the man himself has risen to the occasion and driven his best race of the year, soaking up the pressure and somehow using it to his advantage.
This time around, things will be a little different. The local hero has been dropped by BAR Honda in favour of Rubens Barrichello, and that hasn't gone down very well in Japan. It's going to be fascinating to see how the public reacts. The suggestion is that some extremely rude banners might be hanging in the grandstands opposite the BAR pits...
What no doubt rankles most is that Sato has been dropped not by any old team, but by Honda, the company that kept Satoru Nakajima in gainful employment for so long, and which has hitherto supported Sato so strongly. Any doubts as to where the decision came from were answered this week when it was announced that Honda was buying 100% control of the team. He has been ousted not by a cigarette maker, but by his own mentors.
So are the Japanese fans right to feel indignant? Maybe so, but unfortunately the facts speak for themselves. After Sato showed so much promise last season, when regular engine failures went some way to explaining why he couldn't match the results of teammate Jenson Button, the team was expecting him to progress. And that simply hasn't happened.
Of course there is a rider to the numbers. He missed one race when he was ill (the car blew up anyway), lost a solid fifth place to disqualification at Imola, and was then banned from two further races. But the inescapable fact is that Button has brought the car home in the points in each of the last eight races, saving the team's season, while only rarely has Sato made any sort of impression.
The most telling image was at Spa, where Sato ran into the back of Schumacher, and the German humiliated poor him in front of the world with his frustrated, helmet-tappping reaction. A 10-place grid penalty for Brazil followed, and made him officially guilty.
But if there's one race that sealed his fate, it was Silverstone. On the way to the grid every driver has to go through a sequence of buttons to prepare for the start, and somehow Taku managed to press the wrong one and switch his engine off - a scenario the BAR engineers thought virtually impossible. When your employer is spending millions to provide you with a car, that sort of thing doesn't go down well.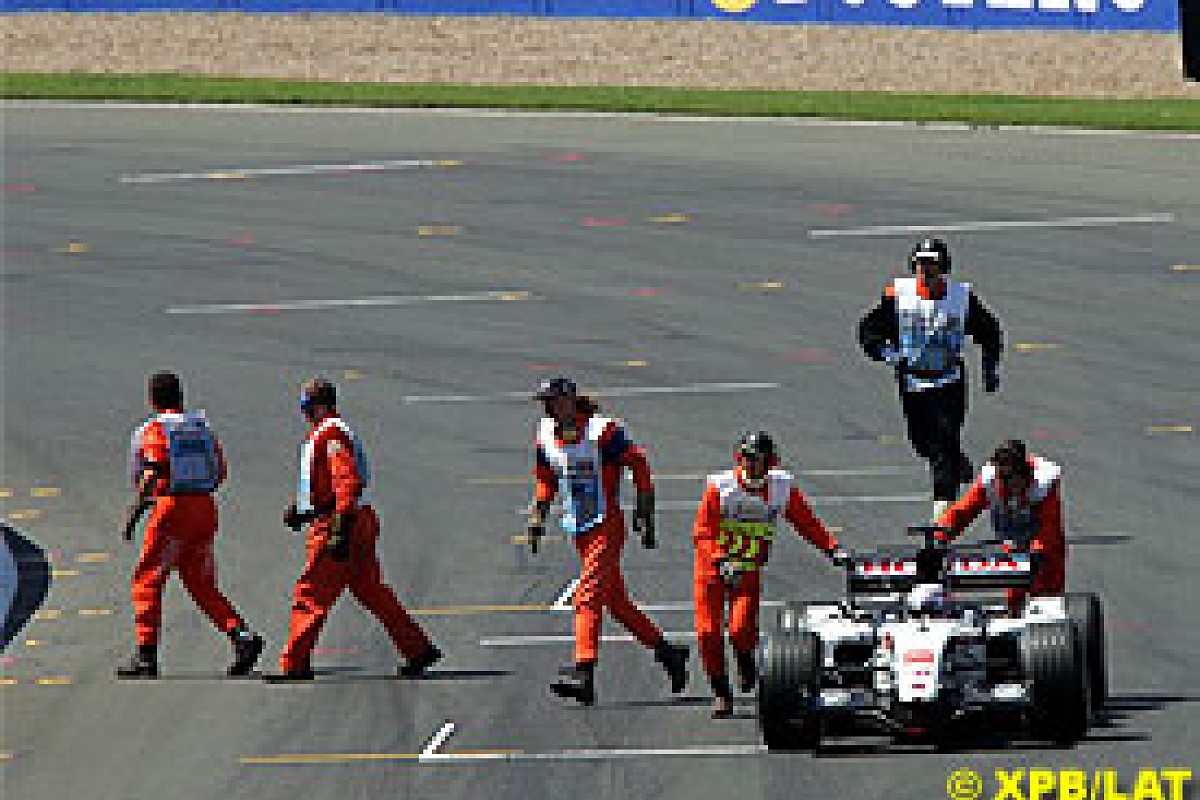 That confirmed what many in the team already felt, that Sato simply wasn't making enough progress to justify his continued employment, and wasn't learning from, or readily admitting to, his mistakes. Points are everything in F1, and if one of your drivers isn't bringing them home, you have to look elsewhere.
The bottom line is that he is not being replaced by an unproven youngster, but by the second most experienced driver in the field, a man with a string of race wins and poles to his name and who brings with him an extraordinary treasure trove of knowledge and experience. To any rational observer, it's a no-brainer. That doesn't make it any easier for the man himself to accept, but he remains resolutely optimistic.
"If we could say one word about this season, it's been tough," says Sato. "A lot of things happened, inside and outside. I've been a little bit unlucky, too unlucky, and I could have had much better results. But this is motor racing, no point to say if or but. It was tough, but having said that, I think it made me stronger in many ways. I learned a lot in very different circumstances. I always feel that I want to beat my yesterday's best, and I want to be the best of the best.
"Specifically you could say we lost points because of this, because of that. There is always a reason. That is why I hope people who are looking carefully understand the situation, and therefore I have a lot of support from them. That's great, but obviously I want to produce results as well, of course. I'm just so disappointed that I couldn't do it up to this stage. But still I really enjoyed it, and I had lots of exciting moments. Hopefully this year was one of character-building, it made me stronger, and now I want to follow to the next step."
Sato knew from the start that this was not going to be an easy year.
"It was hard already in Melbourne, and we were heartbroken," he recalls. "Obviously we knew that we needed to do a lot of work, but when we saw the other people's pace, it was shocking. Then we went to Malaysia, and I was ill. In Bahrain I had an exciting race, although I had a brake problem.
"Back in Europe, at Imola, our pace came back, and we were banned for two races, including Barcelona, where we had very successful testing in the winter, and of course Monaco, a very, very special circuit for everybody, which was really a shame. For me going to the circuit knowing you're not racing was one of the hardest things. After that it seemed to take a long time to get back onto the real pace that we expected.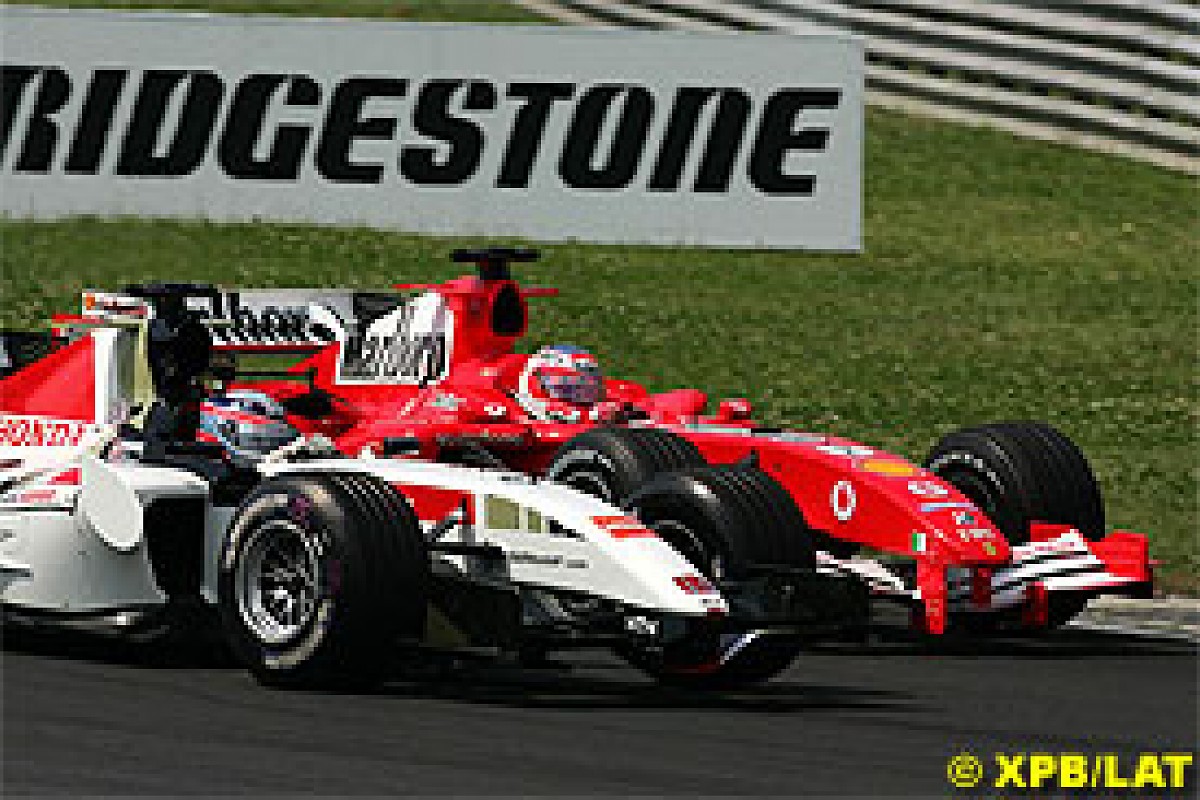 "There were quite a few good races. Hungary was very important. One point for eighth place doesn't say much, but to me it was so important. Obviously Turkey was a difficult situation" - Sato went off in qualifying - "but in terms of the pace I was very satisfied. And Silverstone, although I hit the wrong button and I couldn't start it, pace wise we could have been really strong. In a few races we couldn't introduce the final result..."
Last year's BAR was a great car, and both drivers were able to take advantage of it. This year's 007 clearly isn't as good. It's had its moments, but generally the car has been inconsistent, and even Button has had some very frustrating races. Sato clearly hasn't been able to cope as well in the adverse circumstances.
"With last year's car, wherever we went, we were very competitive," the Japanese driver explains. "It was a very successful car and a very successful season in terms of performance. It seems to be that with this year's regulations somehow we lost a lot more than expected, and more than the other top contenders. We wanted to get it back, and it seems to be that because of that we were always living on the super edge. It just seemed to be so difficult. If you have a big amount of capacity, or potential, you can always drive inside it, and still be very fast.
"But when it's like that... That's why it was a little bit inconsistent. The team did a really good job to find more downforce all the time, and it was easier to control the car, because the characteristics of the car are more similar to last year's now. It was continuous working. In F1 it's never been easy, but even so that's stuff is always challenging."
At times it's been clear that a touch of desperation has crept in. The Spa incident was the most embarrassing, but he had a wild first lap in Hockenheim, getting involved in several skirmishes. It all points to the fact that he's been trying too hard and getting caught up in the inevitable spiral of a lack of results creating ever more pressure.
"Some of the things are obviously avoidable, some of the things I've been unlucky," Sato says. "The fact that you've been in that situation, and you've been under a lot of pressure and you want to perform, and that you didn't get results, even if you're not aware of those mental things, it hurts very deep, and you've always been pressured. It might be I was a little bit overcome. I want to be stronger for that, and hopefully I've learned, and from now on, I think I can cope."
Things came to a head before Turkey, when Barrichello's contract was announced. Matters were confused by the fact that Button's situation was in limbo, and it's easy to forget now that just a few weeks ago the general feeling in the paddock was that the Briton would eventually end up at Williams.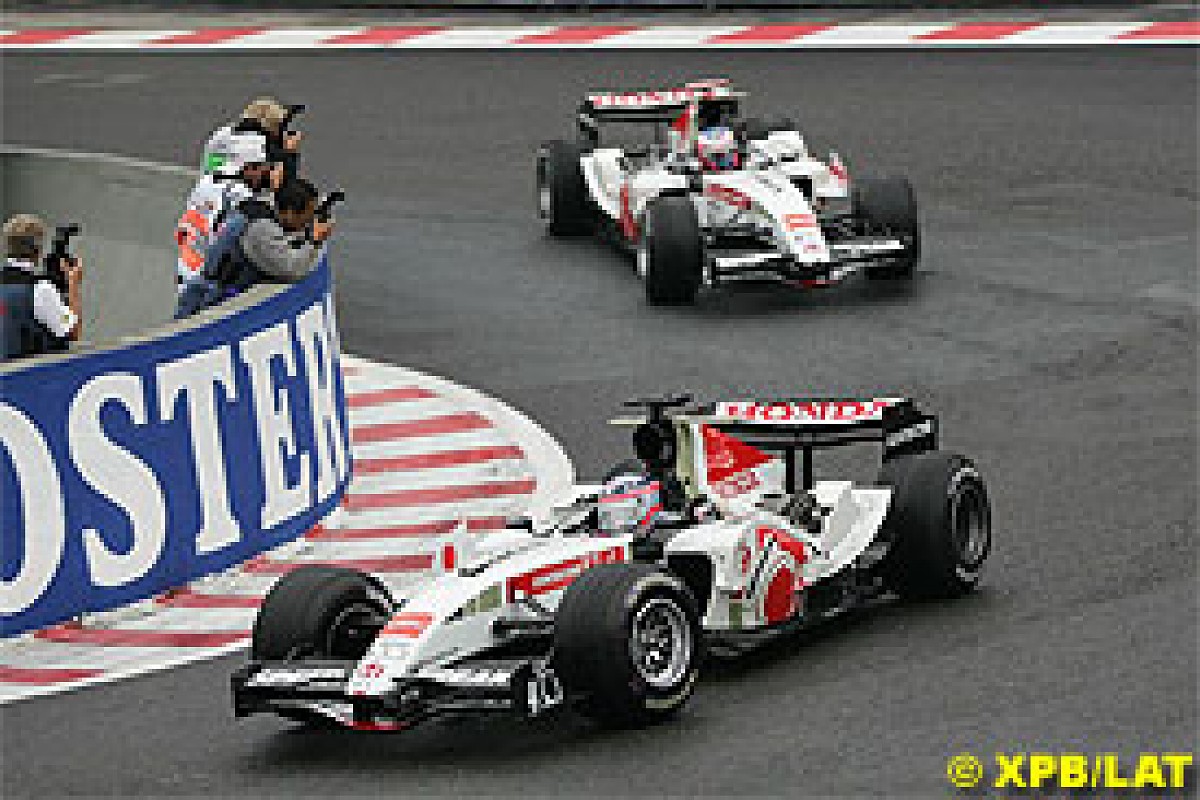 Had that happened, Sato just might have had a reprieve at BAR, albeit for the rather unsatisfactory reason that there were no other sensible candidates available other than Anthony Davidson, whose lack of race experience still counts against him. Those weeks of uncertainty were difficult.
"I knew we needed to renew the contract at the end of this season. The last few months obviously they had a new contract with Rubens, it was getting quite difficult... we were being updated all the time. But I'm not going to talk about it too much, because it's a difficult point. The fact is basically I was very disappointed... but not surprised really. I have my own view and opinion, but I don't want to waste my energy to put it into that. So let's forget about this."
But did he feel let down by Honda?
"Of course as a human being, your initial reaction is very unhappy. But there was a reason for it... I see the real world. Obviously I was very proud I was a team member, and I wish them the best of the luck in the future. Maybe we'll work again, but we don't know.
"Now I have no restriction and I can focus on the last races. I have a lot of support from the team and I want to have a really good race with them, because they gave me such a great opportunity, I really appreciate that."
There remains a possible opportunity with Midland, although clearly the team will need an infusion of Yen from somewhere, while there's also the mysterious new organisation that has recently been mentioned. Honda may yet find a way to help out, as it did when it placed Nakajima at Tyrrell.
As for the short-term future, there's a degree of inevitability about this weekend's Japanese Grand Prix. It doesn't take much effort to imagine that the guy will drive the race of his life on Sunday, and maybe even beat his teammate. If it pans out that way, Honda will no doubt be given a hard time by fans and media.
"We're prepared to be embarrassed," smiles BAR boss Nick Fry at such a prospect.
The problem is, you can't build a career on one race a year...