Wrapping It Up

---
By Richard Barnes, South Africa
Autosport-Atlas Writer
As expected, McLaren dominated the Brazilian Grand Prix. As expected, too, Fernando Alonso did what he needed to do to clinch the drivers' title with two races to spare. Richard Barnes analyses the Spaniard's road to the crown
It was nothing short of utterly predictable. Even as Renault's Fernando Alonso leapt away from pole position to lead Sunday's Brazilian Grand Prix, it was certain that he would soon succumb to the superior pace of Juan Pablo Montoya's and Kimi Raikkonen's McLarens. Equally, there was never a doubt that Alonso would consolidate third position, bring the car home without a hitch and clinch the World Drivers' Championship. And so it was.
Reigning Champion Michael Schumacher had lost any mathematical possibility of retaining his crown long before the F1 circus arrived at the Interlagos circuit in Sao Paulo. All that remained was to see which of the two potential young heirs - Alonso or Raikkonen - would take the title and the credit for breaking Schumacher's five-year Championship winning streak. It was no great surprise that Alonso eventually prevailed over Raikkonen, but it wouldn't have mattered which of the two lifted the title.
Whenever a Champion dominates a sport to the extent that Schumacher has, the natural concern is that the next generation won't live up to his standards. In 2005, both Alonso and Raikkonen have driven at a level worthy of Schumacher. It was particularly fitting that Alonso won, because he did so in exactly the same manner that Schumacher employed late in his career - getting an early anaconda-like hold on the Championship, bending but never breaking, maximizing every opportunity, and just slowly squeezing the opposition into eventual defeat.
Still, Schumacher's successor was going to need more than just a similar approach and a near-flawless season in order to distinguish himself from the seven-time Champion and stand out on his own merits. And Alonso again delivered, by capturing one record that has never belonged to Schumacher, and never will - the title of youngest ever WDC. Already holding the record for youngest GP winner and youngest pole-setter, Alonso completed a unique personal triple with his maiden WDC title.
That achievement invites comparison with the previous record holder for youngest Champion, Brazilian Emerson Fittipaldi, a two-time WDC who retired from F1 in 1980 - one year before Alonso was born. Alonso's rise may have been meteoric, but Fittipaldi's was even faster.
In 1967, Fittipaldi was a karting and Formula Vee Champion in his native Brazil. By 1969, he'd graduated to Formula Three in Britain, taking the title at his first attempt. The next year, he was promoted to the Lotus F2 team, but didn't even see out the season. By the British GP at Brands Hatch in July, he'd been drafted into the F1 team by Colin Chapman, albeit in an older 49C while regular Lotus drivers Jochen Rindt and John Miles were given the revolutionary new Lotus 72 cars.
In his second ever F1 race, Fittipaldi finished a creditable fourth. Just two races later, the F1 world lost Jochen Rindt to a tragic accident during practice for the Italian GP at Monza. Lotus withdrew from the Italian race and the following event in Canada. When the team returned to racing for the penultimate GP of the season in the USA, Fittipaldi found himself not only as the de facto number one, but also racing to try and prevent Ferrari's Jacky Ickx from overhauling Rindt's Championship points lead. Fittipaldi responded with victory, in just his fourth GP start, helping to secure the title posthumously for his late teammate.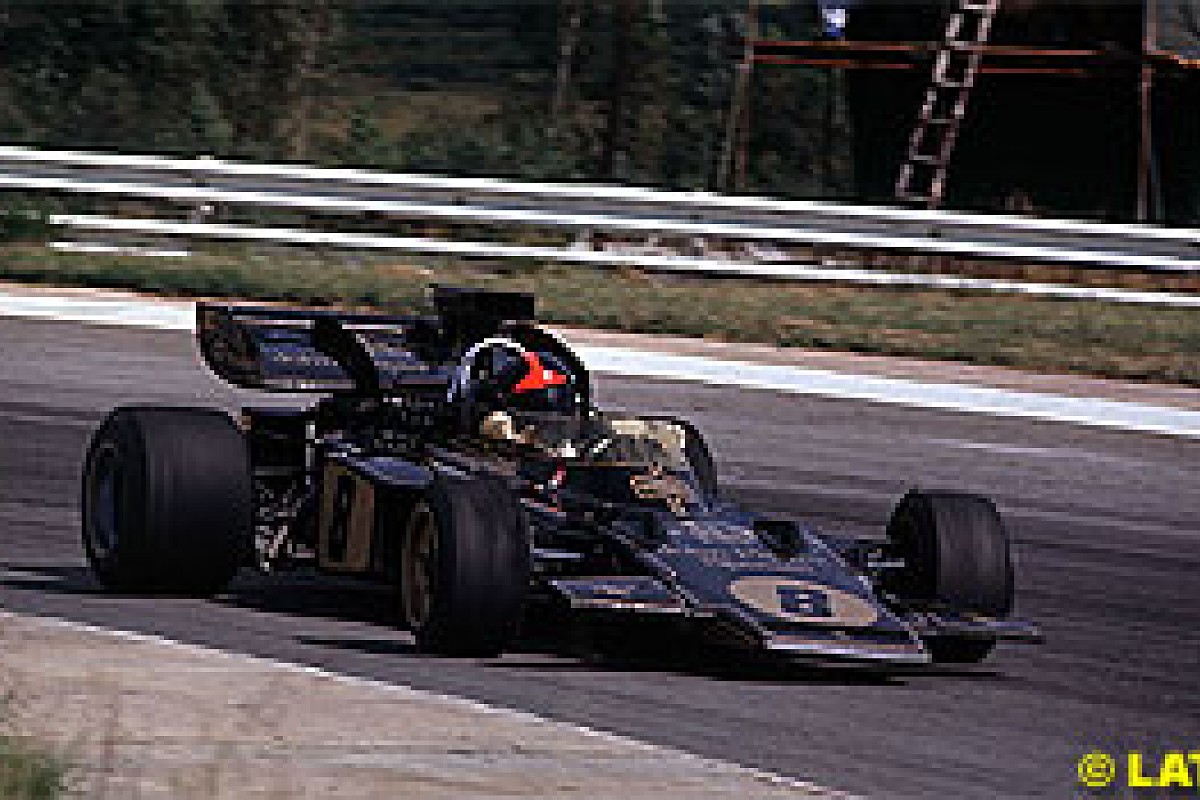 Two years later, Fittipaldi won the WDC for himself with a display of consistency similar to Alonso's in 2005. Like Alonso, he didn't lead the Championship from the start, retiring from the season opener in Argentina with suspension failure. Thereafter, the young Brazilian put together a remarkable run, scoring five wins and three podium finishes in the next nine races to wrap up the Championship - again, like Alonso - with two races still to run.
The most remarkable aspect of Fittipaldi's 1972 WDC title was that neither of his Lotus teammates, Dave Walker and (for the last couple of races) Reine Wisell, managed to score a single point. Fittipaldi's WDC tally of 61 points was also enough to win the Constructors' Championship for Lotus, ahead of the Tyrrell pairing of Jackie Stewart and Francois Cevert.
By contrast, and despite his younger age, Alonso followed a longer and less steep F1 learning curve. It took the Spaniard four years to graduate from Minardi rookie to potential WDC, and another year to turn that potential into a title. Still, that doesn't diminish the magnitude of his achievement. It took extraordinary composure and confidence for the second-youngest driver in the field to strategise and race like the oldest and wisest.
Alonso survived almost a full season of unrelenting pressure with such maturity and composure that he made it look effortless. Even in a faultlessly reliable car, there are dozens of pitfalls in each and every GP - the ever-present risk of flat-spotting a tyre, changing track and weather conditions, first corner pile-ups to be avoided, lapped traffic to be negotiated. Even if Alonso had the luxury of cruising, which he stoutly and rightfully refutes (compare his pace with teammate Fisichella's), negotiating these other pitfalls for race after race was an achievement in itself.
Usually, a driver who wraps up the Championship early has the luxury of mentally tapping off for the remaining races. It happened to Nigel Mansell after a dominant season in 1992, Prost in 1993, and was also a feature of Michael Schumacher's recent Championship cakewalks. With the Constructors' Championship still within Renault's grasp, Alonso doesn't have that luxury. The remaining two races of the 2005 season will provide a further test of his commitment and consistency.
It seems like a challenge that not even Alonso can overcome. McLaren's 1-2 finish in Brazil, their first in five seasons, finally nudged them into a slender two-point lead in the constructors' race. With McLaren's reliability woes now seemingly resolved, it would take a brave man to bet against them repeating the feat, both in Japan and China.
Winning the constructors' title might serve to placate McLaren chief Ron Dennis, but it will be cold comfort for Kimi Raikkonen. For the second time in three years, Raikkonen is left to ponder what might have been, and a Championship that could so easily have swung in his favour.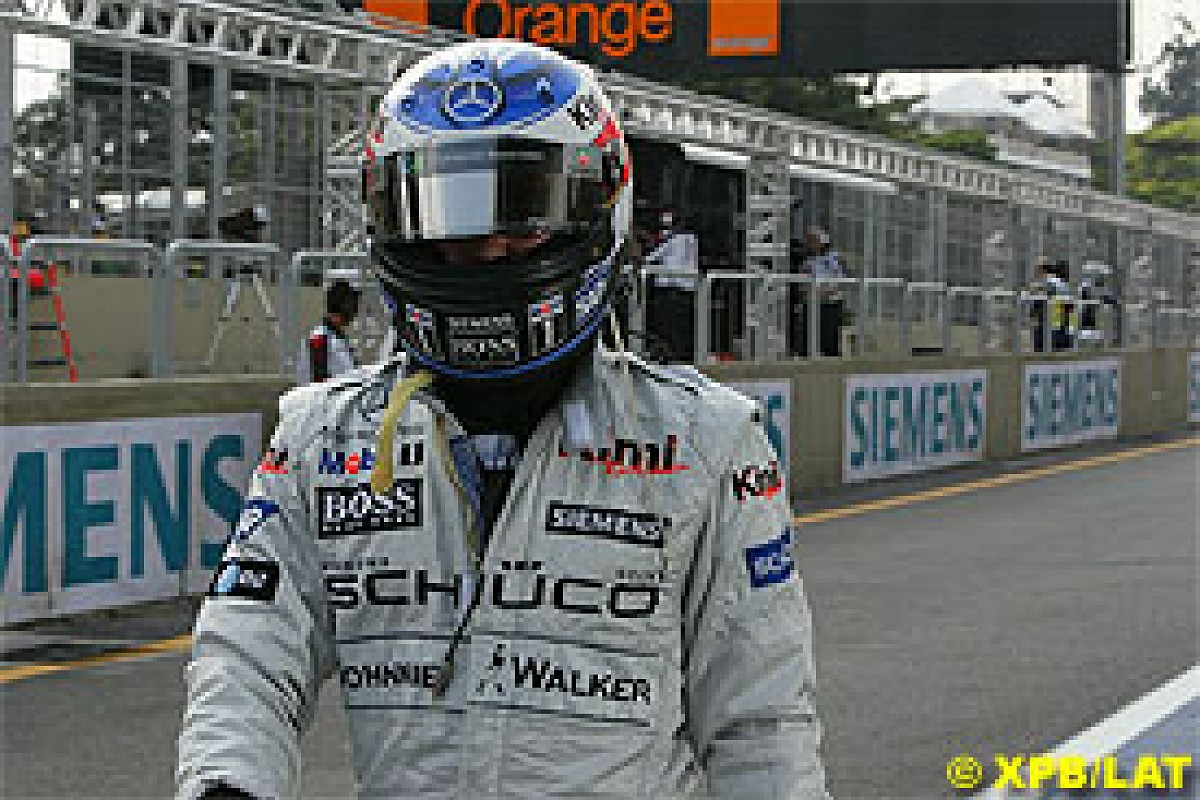 He can take consolation from the fact that all the recent greats - Prost, Senna, and Schumacher - suffered the same setbacks and came back to win again. Still, it is two Championship opportunities lost forever. Even with his seven titles, Michael Schumacher must rue the lost opportunities in 1997 and 1998 - and he was already a two-time WDC by then. For Raikkonen, with no titles to his name yet, the sense of disappointment will be even more acute.
For Alonso, the obvious question is how he will build on this early success, and where he goes from here. The Fittipaldi precedent will serve to reinforce (as if Alonso wasn't aware of it already) how quickly things can change in F1.
In 1973, Fittipaldi entered the season as a strong favourite for a follow-up WDC title - and started like he intended to wrap up his second Championship even earlier than the first. Three wins and a third in the first four races propelled him to a commanding 12-point lead over Tyrrell's Jackie Stewart. It was the last time Fittipaldi would win for Lotus.
Ostensibly unsettled by pressure from teammate Ronnie Peterson and difficulties with the new Lotus 72E, Fittipaldi went off the boil completely. At one stage, Fittipaldi had led Peterson by 37 points. By the end of the season, the Brazilian had not only surrendered his Championship to Jackie Stewart, but only managed to pip the fast-finishing Peterson by a scant three points.
Fittipaldi resuscitated his career by moving to McLaren, and bounced back to win his second and final WDC title in 1974. Alonso doesn't have a Ronnie Peterson to distract him from the business of winning for Renault. He does have the unsettling prospect that, if McLaren sustain their current form, he will continue approaching every race with the assumption that third place is the best he can hope for.
It's not going to be enough to help Renault win the Constructors' Championship. And, by extension, it casts a gloom over his prospects of retaining the title in 2006. But those are concerns for the future. For the last two races of 2005, Alonso can go out and enjoy the limelight of a record-breaking Championship, superbly raced and deservedly won.