Driven to Distraction

---
By Richard Barnes, South Africa
Autosport-Atlas Writer
Kimi Raikkonen has become frustrated after a year in which, many people agree, he has lost the drivers' title because of McLaren's poor reliability. That has made rumours of a move to Ferrari in 2007 louder than any of the two teams would have liked. Richard Barnes explains why Raikkonen would make a mistake by leaving McLaren
Viewing Grand Prix starts from the lower half of the grid is becoming a depressingly routine feature of Kimi Raikkonen's season. For the third time in just two months, the frustrated Finn dominated the weekend until qualifying - only to find himself relegated back into the ranks of the modest midfielders, courtesy of yet another Mercedes FO110R engine failure and consequent ten-place penalty on the grid.
The truly bizarre aspect is that, amongst all the awful luck, Raikkonen has actually enjoyed good fortune as well. If his British, French or Italian GP engines had blown during the race rather than in free practice, Raikkonen may have already surrendered the title to Renault's Fernando Alonso.
That's cold comfort for Raikkonen, who can feel with some justification that unreliability alone has robbed him of the 2005 WDC title. It was particularly symbolic that he should also suffer a mechanical unreliability penalty at the first GP in 44 years to not record a single retirement during the race.
Raikkonen's Monza misfortune carried added impact, particularly in light of the recent rumours linking him with a move to Ferrari. Earlier in the season, Raikkonen's visible dismay and short-tempered reactions to mechanical failure were dismissed as natural setbacks on the path to ultimate success. He wasn't the first up and coming F1 driver to have a promising Championship campaign dashed by poor reliability, and certainly wouldn't be the last. His sheer pace would guarantee him a long-term seat at McLaren, and the team's package, dominant in all areas but reliability, would prove competitive enough to satisfy him. Or so it seemed.
Ferrari, McLaren and Raikkonen himself have all issued statements to try and scotch the rumours. But that is almost standard procedure in F1, and was demonstrated again by the recent signing of Rubens Barrichello for BAR and Felipe Massa for Ferrari - moves that were denied until very shortly before the official announcements.
If Raikkonen is indeed considering leaving McLaren, it would be the most mystifying career decision in living memory. And if Ferrari is his intended destination, the decision becomes even more perplexing.
When Michael Schumacher left Benetton for Ferrari in 1996, it was a risky but well calculated career move. With the death of Ayrton Senna, and the retirements of Alain Prost, Nigel Mansell and Nelson Piquet, F1 had become a one-man show. After back-to-back WDC titles for Benetton in 1994 and 1995, Schumacher could cherry-pick his opportunities.
He had a loyal and willing brains trust in technical director Ross Brawn and designer Rory Byrne, Ferrari had the budget and were desperate after an unprecedented dearth of Championship success. Putting the two elements together required no more than simple arithmetic skills. And even then, Schumacher suffered four agonising years of failure before reaping the rewards of his gamble.
Raikkonen, by contrast, has none of these advantages. He has no brains trust to follow him to a new team, Ferrari are sated with recent success and already distracted by the potential of Valentino Rossi's entry into F1. The injection of major manufacturer funding has narrowed the budget gap between Ferrari and its rivals, and most of the 'team Schumacher' brains trust may have left Maranello by 2007. Further, Raikkonen wouldn't be leaving an upstart team that has peaked, but a major team in ascent.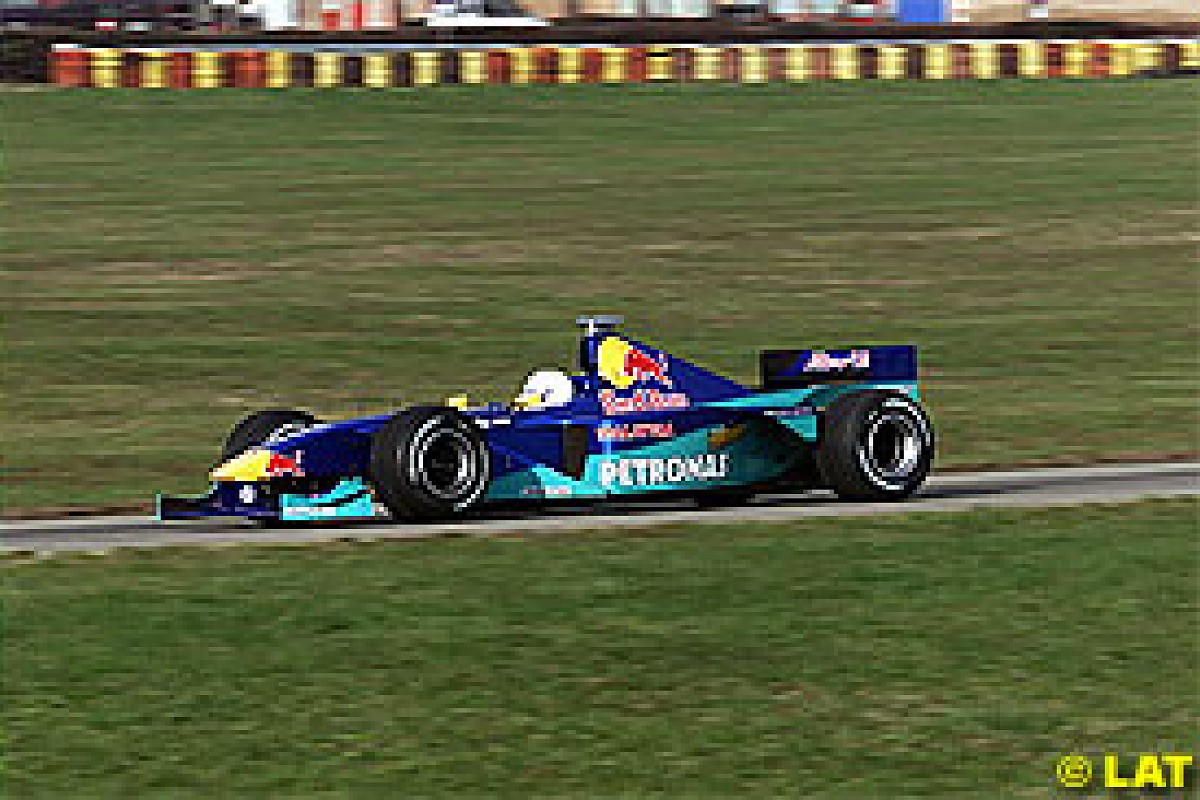 Most importantly, he has no Championship-winning pedigree yet. Former triple WDC Jackie Stewart may be correct in asserting that Raikkonen has become the dominant driver in F1. It is also an indicator of Raikkonen's current form that, in just two years since his Championship near-miss in 2003, he's made the public image leap from 'lucky journeyman' to 'scandalously robbed superstar'. Yet, even history's top drivers have had to wait for success, and few could afford to turn their noses up at the fastest car on the grid.
Ayrton Senna spent four years in less competitive cars, winning six GP and recording 25 podium finishes, before getting his dream drive at McLaren. Alain Prost scored 16 wins and 26 podium finishes before finally taking the title at his sixth attempt - again in a McLaren. Raikkonen's compatriot Mika Hakkinen was an eight-year veteran before tasting eventual Championship success - yet again in a McLaren. Is there a pattern emerging here?
A mere four years ago, Raikkonen was a rookie struggling to overcome the challenge of Nick Heidfeld at Sauber. In the three and three-quarter seasons since then, he has accumulated seven wins and 26 podium finishes. That puts him almost on career parity with Senna and Prost, and ahead of Hakkinen. The young Finn has no reason to feel that life is passing him by, particularly considering that he had far less junior formulae experience than any of these former Champions before entering F1.
Perhaps Raikkonen feels pressured by the youth and early success of Championship rival Fernando Alonso. He shouldn't. Early career success isn't everything. Sauber's Jacques Villeneuve could enlighten him on that score.
Raikkonen already has the best seat in the house. McLaren have long surpassed Renault in terms of outright performance, and the French outfit don't seem to have any ready answers. The unreliability equation may look skewed when Raikkonen compares his car to Alonso's. Compare Fisichella's car to Montoya's, and it's not so clear-cut.
Raikkonen's bad luck won't last. On current form, it would rank as a major upset if he didn't cakewalk the 2006 Championship. Despite Ron Dennis' unbelievable rationale that McLaren's season-long misfortunes can be blamed on the rain in Australia, the McLaren chief's advice to his young star is bang on the mark - seat-hopping is not going to serve Raikkonen well.
If the Michael Schumacher legacy leaves one message for future F1 drivers, that message should be the benefits of patience and longer-term relationships. Although Raikkonen, in his current frame of mind, may choose to draw a different message - that, in today's format, speed wins individual races but reliability wins Championships.
It's a valid observation, and two memorable engine failures (Hakkinen at Indianapolis 2000 and Raikkonen at Nurburgring 2003) may have cost McLaren a pair of WDC titles. Still, Schumacher didn't leave Benetton and jump straight into a 100% reliable Ferrari. Quite the opposite - the 1996 Ferrari was fast but fragile. The car let him down six times in sixteen races, with never the same problem twice.
Schumacher had to work through the reliability development curve in conjunction with the engineers. If Raikkonen seeks to earn the same 'franchise driver' status as the seven-time German World Champion, he'll need to show the same single-minded dedication.