Hapless

---
By Richard Barnes, South Africa
Autosport-Atlas Writer
Much was expected from several driver pairings this year. With Montoya joining Raikkonen, Fischella partering Alonso, Ralf going head to head against Trulli, and Webber racing alongside Heidfeld, the teammates' battle promised to be frantic. Yet the hype has failed to materialise and, in most cases, one driver has clearly dominated the other. Richard Barnes analyses the teammates' fights that were not to be
Usually, the addition of a new Grand Prix to the Formula One calendar results in much post-race discussion about the relative merits of the new layout, with not much attention given to the racing itself. It is a tribute to Hermann Tilke's new layout that Sunday's inaugural Turkish GP will be remembered not just for the quirks and characteristics of the new track, but as a memorable and exciting race in itself.
The track itself generated much interest and debate as several drivers derailed their qualifying efforts through the trademark four-apex Turn 8 and equally challenging Turn 9. However, come race day, the track proved a more amenable beast, serving the purpose that any good racing layout is supposed to do - forcing the drivers to concentrate and demonstrate their skills for every corner of every lap, while still allowing opportunities to overtake and race against each other.
It was optimistic to expect that the three-week summer recess would materially change the status quo at the head of the field. And, exactly as expected, McLaren were clearly dominant over Renault, who in turn had daylight between themselves and the rest of the field. What the race did reveal, in stark relief, was the contrasting fortunes among the various teammate pairings.
From the time that the final driver pairings were announced, 2005 promised to be a season of close and fascinating teammate battles. Raikkonen/Montoya (McLaren), Alonso/Fisichella (Renault), Trulli/Ralf Schumacher (Toyota) and Webber/Heidfeld (Williams) all promised to resolve unanswered questions in the eternal quest to separate the driver wheat from the chaff. The answers, in many cases, have been more lop-sided than most would have predicted.
The questions have not been resolved by sheer driver speed alone, but also by that most tricky and debatable concept of 'luck'. When BAR's Takuma Sato blocked Mark Webber's Williams during his slow-down lap in Saturday qualifying, resulting in the Japanese driver having his time disallowed, ITV commentator James Allen described it with an adjective that isn't often used in F1, but should be - especially in the context of this season. That word is 'hapless'. While it is, strictly speaking, a synonym for 'luckless', 'hapless' has the added implication that the victim is habitually powerless to change his run of bad fortune.
In each of the four key teammate battles of 2005, one driver has been able to control, reverse or overcome any bad luck that they have suffered. The other has not. If any single race this year illustrated that phenomenon perfectly, Sunday's Turkish GP was the shining example.
At Toyota, it was widely predicted that Jarno Trulli would outqualify Ralf Schumacher with ease - but that the German's superior race pace might even the score somewhat. While it has worked out that way occasionally - most notably in Hungary - it hasn't happened often enough.
On Sunday. Schumacher was among the pack of drivers who had to pick their way through the debris caused by Sauber driver Felipe Massa's first corner antics. Most of the others in competitive cars managed to overcome that handicap and fight their way up through the field. Schumacher, by contrast, soldiered on towards the rear of the field while teammate Trulli fought a creditable battle with BAR's Jenson Button for fifth place.
It is not enough for Ralf to excel only when conditions suit his tastes perfectly. Two or three outstanding races per year, punctuated by long periods of anonymity, will never bring him into WDC reckoning, no matter what car he drives.
At Renault, Giancarlo Fisichella not only managed to avoid the first corner fireworks, he made the perfect start to leapfrog Kimi Raikkonen's McLaren and lead the race. If anybody believed that this would signal the end of Fisichella's disastrous run of mechanical misfortune, it took less than one lap to dispel that hope. Ironically, on one of the few occasions that Fisichella's car has run flawlessly to give him a competitive grid position and a dream start, he managed to blow his chances with a driver error.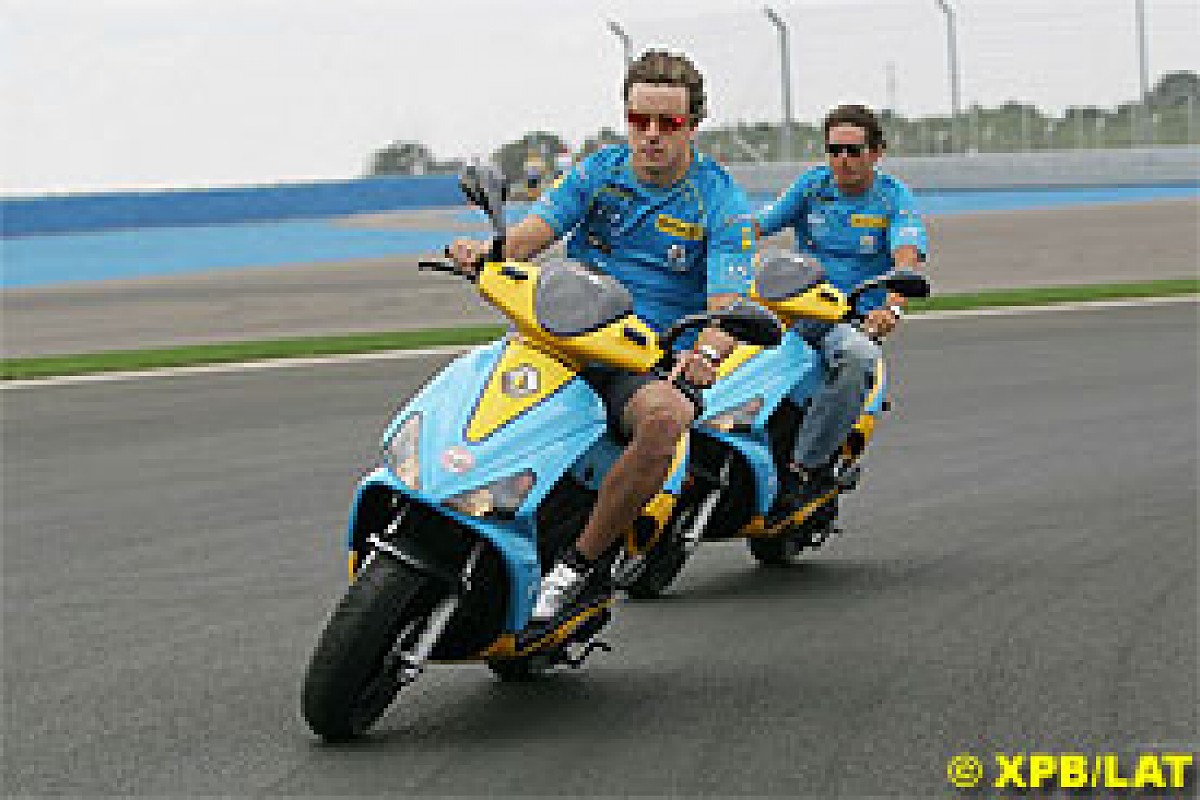 It didn't matter that insult was added to injury by a refueling rig problem at his first pitstop. Fisichella's race prospects were shot the moment he ran wide at the kink, allowing Raikkonen past. That, in turn, caused Renault to invoke team orders and promote Fernando Alonso into second place, in pursuit of race leader and Championship threat Raikkonen.
While the Renault call was blatant enough to test the limits of legality, it was also entirely sensible and inevitable under the circumstances. Again, it doesn't matter how Renault implemented the team order. If Fisichella had kept Raikkonen between himself and Alonso, the team order would never have been given.
Still, Fisichella was at least able to trail home in fourth place and earn some vital Championship points. That is a privilege and achievement that is becoming increasingly rare at Williams. After less than a season with his new employer, Mark Webber must be wondering what he has to do to earn a lucky break. His signing with the Grove-based team was filled with mutual high expectations - Williams would get their franchise driver, and Webber would enjoy the benefits of Williams' proven winning heritage, engineering excellence and a partnership with a major manufacturer and engine supplier in BMW.
Forty seven points from the first eight races of the season might not have been the best that Webber or Williams was hoping for, but it's an embarrassment of riches compared to the meager five points that they have scraped together over the last six races. And, to Webber's discomfort, the slight majority of those points have gone to the understated Heidfeld.
Part of that is due to unreliability and below-par machinery, but some is also due to Webber's uncanny ability to be in the wrong place at the wrong time. On Sunday, neither Williams driver was going to score any points after repeated right rear tyre failures had plagued the team. Even still, Webber's woeful afternoon was capped by tangling with World Champion Michael Schumacher's Ferrari.
It's difficult to determine why Webber gets involved so often in incidents. He's a demon qualifier in the style of Trulli, but doesn't seem excessively abrasive or obstinate while racing. He is also often judged to be the innocent party in an incident, and Sunday's collision was a prime example. Under braking for Turn 12, Schumacher shut the door forcefully on him, despite Webber's front wheels being level with the Ferrari's cockpit. With nowhere to go, Webber had little choice but to lock wheels with his rival.
It is notable, though, that Michael Schumacher is very rarely involved in accidents these days, while Webber has more than his fair share. And, even though Webber could plead innocence in this case, the truth is that most racing incidents (like most road accidents) are not purely the fault of one driver. Even if a road user commits an obvious error like jumping a stop street or red light, an alert and defensive second driver can often take successful avoiding action.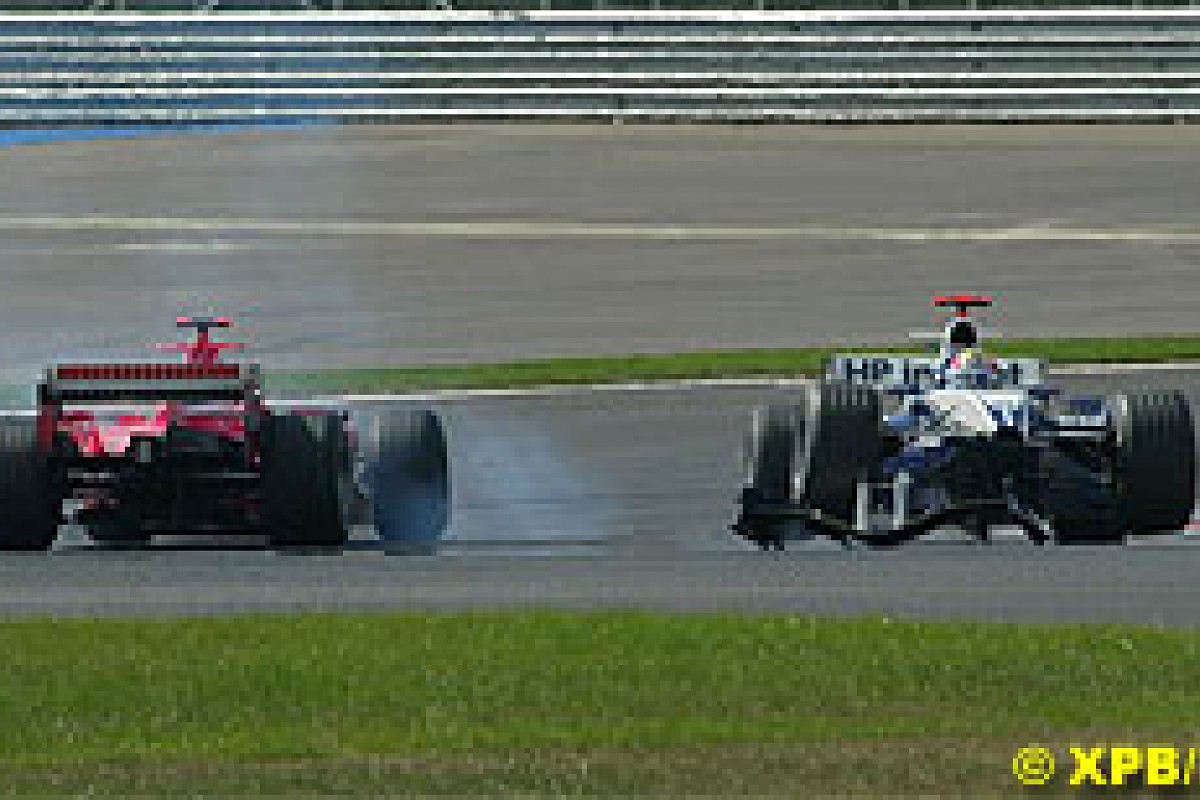 F1 drivers have a more limited field of visibility than road users, must make decisions and take action in less time, and give their fellow racers less latitude than road users do. Still, the principle applies that a driver who allows less margin for error in others will get involved in more racing incidents, even if he is routinely the innocent party. And so to the weekend's spotlight incident, the clash between McLaren's Juan Pablo Montoya and Jordan's Tiago Monteiro.
Montoya can rightfully claim that Monteiro should bear most of the blame. It is, after all, the job of the lapped backmarker to get out of the way and make room for the leading drivers. Still, how wise was Montoya to cut in front of a backmarker and then brake early (due to an alleged flat-spotted tyre), leaving less room or time for Monteiro to react accordingly? If Monteiro's allegation is true, that the drivers discussed this very issue and resolved not to cut in front of another driver under braking, then Montoya's decision is all the more inexplicable.
At the time of the incident, Montoya was too far behind Raikkonen to challenge, and far enough in front of Alonso to not feel unduly pressured into a hasty pass on Monteiro. The Jordan driver lost no Championship points from the incident, Montoya lost two points that could be critical in deciding both the Drivers' and Constructors' Championships. Logic dictates that the driver with more to lose should apply greater caution. Yet Montoya gave Monteiro little margin for error, and put blind faith in the rookie seeing and avoiding him in time.
That doesn't excuse Monteiro, but it places a question mark on Montoya's judgement. If this had been his first ever incident, or one of the very few, then it could be dismissed as a once-off lapse. But Montoya, like Webber, is involved in too many incidents. McLaren chief Ron Dennis put it most succinctly. While not criticizing Montoya outright for the collision, he praised Kimi Raikkonen for 'making sure that he didn't get involved in any incidents'.
It would be unfair to classify Montoya as 'hapless'. Nevertheless, his growing tally of incidents has led to the perception that, of the McLaren drivers, Raikkonen is by far the more dependable. The Finn will finish in the best possible position, provided the car holds together. Even the odd exception, like flat-spotting his tyre at Nurburgring or his qualifying spin at Canada a couple of seasons ago, is seen as a once-off that will be analyzed, dealt with and avoided in future.
Montoya, by contrast, will often find a way to compromise his race chances, even when the car is solidly reliable - whether by cannoning into the back of the race leader behind the pace car, ignoring a red light at the end of the pitlane, spinning off in qualifying or clashing with another car during the race.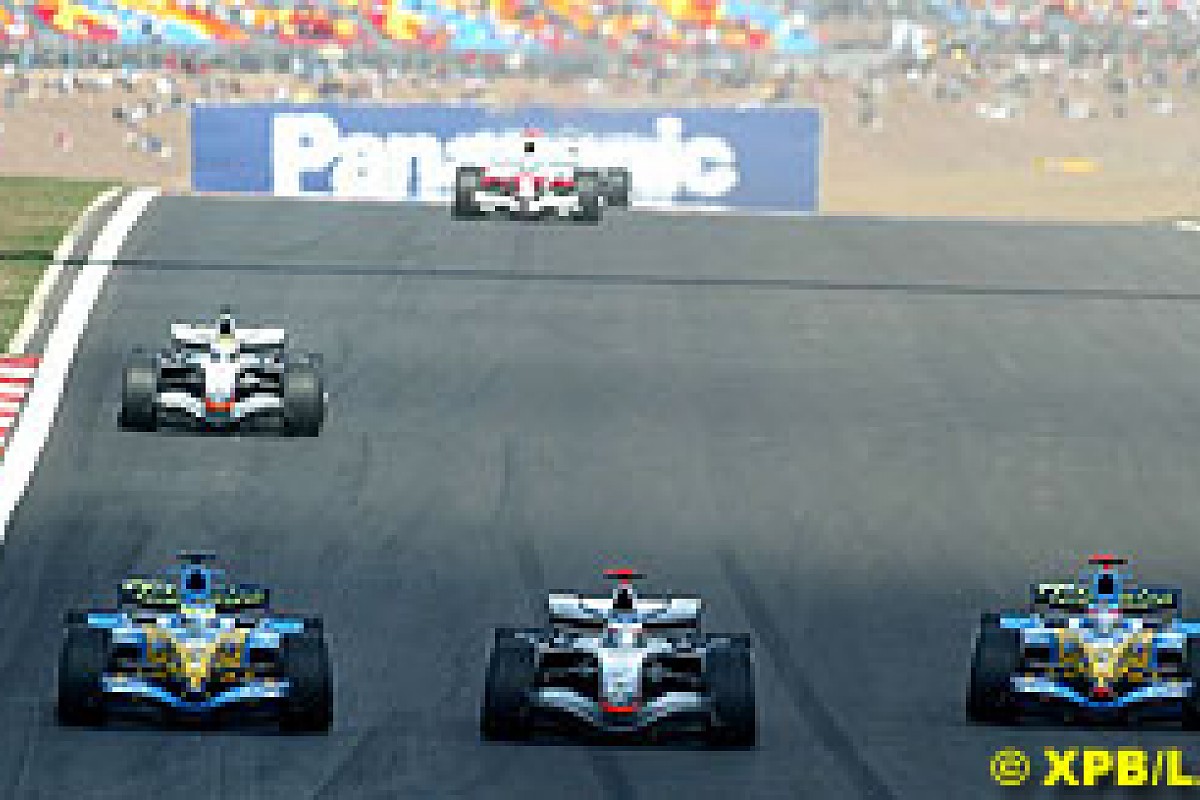 The extended conclusion is that Raikkonen has both the speed and consistency to be a legitimate Champion in waiting, even if it doesn't happen this season. Montoya surely has the speed to win races and influence the Championship outcome - just not the consistency to win the title himself. As much as Montoya can shrug, smile and dismiss each disappointment with "that's racing", he didn't sign for McLaren to be a Mansell to Raikkonen's Prost.
There is a natural tendency after each race, both on the part of F1 fans and participants, to look back on incidents and decide who was to blame. In Montoya's case, it might be more productive to look ahead, and decide what can be done to avoid the next incident altogether. There is no World Championship title for innocent victims.