Back in my first AUTOSPORT column, I talked about how much I enjoy being an all-rounder and racing in various categories. Well in the last week, I've helped Aston Martin Racing wrap-up the Le Mans Series titles at Silverstone, worked to develop Nissan's new GT1, had some old-fashioned wheel-to-wheel fun in a Mini, terrified myself in an AC Cobra, and now I'm pondering entering a Mini club race next weekend too...
The big goal for the season was for Aston to win the LMS, and at Silverstone we clinched the teams' crown and my colleagues in the #007 car Stefan Mucke, Tomas Enge and Jan Charouz won the drivers' championship in our first year in LMP1.
Tomas Enge celebrates winning the LMS title for Aston Martin at the Autosport 1000km of Silverstone © LAT
The team had such a late green light for the project, so to turn that around and produce a really good car that was strong at Le Mans and won the LMS championship was a fantastic achievement.
The #007 was in a strong position coming into Silverstone as they had a seven-point lead over the Pescarolo drivers - who put themselves under even more pressure when Jean-Christophe Boullion dropped it on his first qualifying lap.
Harold Primat and I qualified third with the #007 second, so we were in a great position. But none of us realised how fast the Pescarolo was going to be on Sunday. We were thinking it would be a race-long chase with them trying to get back on terms with us, but Boullion was fighting for the lead within the first hour.
It was mightily impressive driving, and the Pescarolo was clearly very strong at Silverstone. Them taking the lead meant the #007 had to be in the top five, and it was still under control, and then the Pescarolo had a gearbox problem and once that happened it was pretty much done and dusted.
We were having a good run too, but unfortunately Harold got a puncture near the end of his last stint, which meant he had to pit five laps earlier than he would have done, and we had to make a splash and dash later on to make up for it. We would have been second, but the puncture screwed us over.
Still at least we had been right up there. At the beginning of the year people said our car wouldn't get on the podium, but we got a second place at the Nurburgring and we could have been on the podium at Barcelona, Spa and Silverstone too with a bit more luck, so we achieved more than some expected.
And I'm definitely pleased with my own competitiveness this year, especially considering six months ago I had barely driven a prototype at all. Spa was the turning point for me - that was where I really started to feel confident driving the car, particularly in the first stint where I had to come right through the field after getting a puncture at the start.
With his experience, Stefan is the benchmark in the team, and although he had the upper hand at the Nurburgring, I felt I was a little bit stronger than him at Spa and Silverstone, so it was going to and fro. I think I still struggle a little bit when trying to double-stint on older tyres, so that's one area I've got to work on. But overall I'm happy and can come back stronger and faster next year.
From Silverstone it was straight to Snetterton to keep working with Gigawave on getting the new GT1 Nissan up to speed. Having put so much work into developing the car, naturally I'm keen to be part of the GT1 World Championship next year, although there's a lot of uncertainty about that at the moment. It sounds like the goalposts keep changing week by week. I read about what's going on, but as a driver I can't influence any of that. I'm keeping a watching brief - hopefully it will all come together and then the drivers can slot into place too. If it happens, I'd be very pleased to be in it, and that's what I'm hoping for.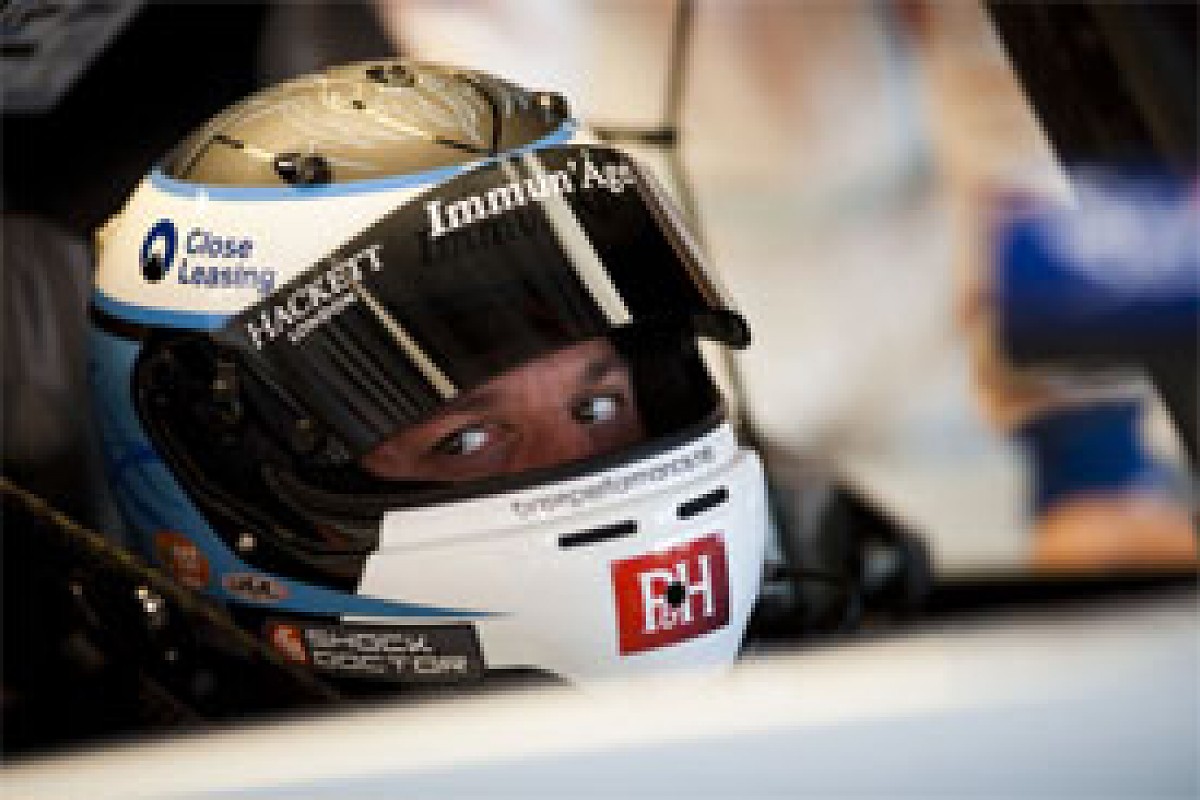 Darren Turner © LAT
It's too early to be worrying about next year anyway. Now I'm a seasoned campaigner, you know most things don't happen until around Christmas, so I try not to get wound-up about it. As long as you've done the job on track and do enough talking in the off-season, something will fall your way.
I've done it the hard way, but I've learnt loads from it. There are drivers out there whose fathers can pay for them to do whatever they want to do, and they get to 25 and if they're not in Formula 1 then the family won't put any more money in. Then they don't have a clue how to turn their talent into a professional career because it's all been easy for them up to then. I've never had that option - the only way I've ever gone racing is to make it happen for myself.
I've never had a two-year deal, and only twice have I known by Christmas where I'd be racing the following year. I haven't been stupid with the money I've earned, so I've got a bit more breathing space each year. I used to get quite desperate over the winter, but now I'm more relaxed, and that helps when it comes to negotiations. You can sit back and evaluate everything without being under pressure, and that's where I am at the moment.
One thing that I definitely need to be doing more of in the future is historic racing, because the Goodwood Revival last weekend was absolutely fantastic. I drove a Mini owned by Andy Hack and Dan Wheeler in the St Mary's Trophy. They had imported the car from Africa so they had a dry chassis with no rot, and they spent a fortune on getting it up to spec. It was in its first race so it needed a bit more work, but it was still fast. I started sixth, had a bit of tyre rubbing with Robin Brundle - I tried to go around the outside of him and it didn't quite work, I ended up on the grass and had to battle my way back up to second - but it was great fun.
That was just my warm-up for the weekend though, as I was also driving Ludovic Caron's AC Cobra in the TT. That car absolutely scared the hell out of me. For the first two or three laps I was absolutely crapping it - there's no better way of putting it.
I did five timed laps on Friday and six on Saturday, then it was straight into the race, so there was no time to experiment with it, I'd been trying to learn the car with traffic all around. So I was very nervous before the race. I haven't had that sort of feeling for a very long time - I was getting really grotty with people, the tension was too much! I was trying to convince Ludovic that he should start as he had experience etc, etc, and he was saying 'no, no, you'll be fine...'
The good thing for me was that we weren't able to keep up with the leaders and we dropped the guy behind me, so I was lapping on my own and felt a little bit more comfortable driving around. It was only when we were among backmarkers that the pressure built up again and you're thinking 'my car's worth a few million, theirs is worth a few million...' There was no way I wanted to tangle with anyone, so I was quite relieved to get to the end. I started in seventh, we finished fifth and everyone was pretty pleased with that.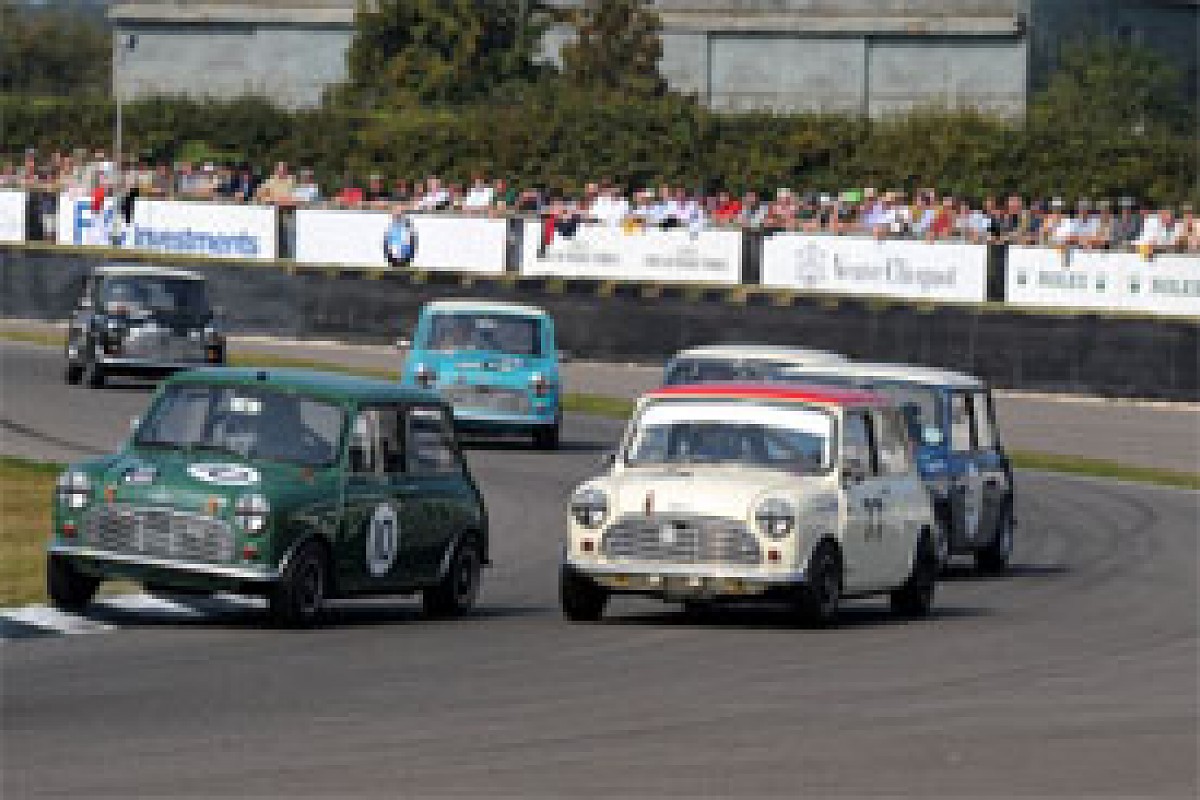 Darren Turner and Desiree Wilson duel in Minis at the Goodwood Revival © LAT
Although I've done the Festival of Speed a few times, I really enjoyed the Revival because it was proper racing. It was extremely competitve, but everyone there has a healthy mutual respect that I think would make modern day racing much better. It was fair and hard, there was no question of just punting someone off to get past them because that would have been a really bad idea in those cars.
I wasn't so conscious of the lack of run-off and the old fashioned design in the Mini because you can get that at all sorts of angles and still pull it straight. It was only when the guy shut the door on the Cobra, something banged me on the elbow - and I had a look around and thought 'actually, there's bugger all next to me except for sharp bits of metal...' That made me very aware that I didn't want to have any impact of any kind, and that gives you a self-preservation instinct. Nowadays cars are massively safe compared to how they were, and I think that gives drivers a bit more bravado.
It was definitely one of the highlights of my year. I was walking through the paddock thinking to myself 'I was born in the wrong era, I should've been around in the 1950s and 60s, it would have been much more fun'. For my costume I got dressed up as an RAF navigator - and I realised when I saw everyone else there that I'd ended up very low down in rank. I'm going to have a word with the fancy dress people about that...
After Silverstone and Goodwood, and plenty of testing in-between, I really ought to have a weekend off. But as I enjoyed myself a bit too much in the Mini at Goodwood, I'm considering doing the Mini Miglia race at Snetterton this weekend.
If it was a week later I would probably wouldn't think twice about it, but I had sort of said to my girlfriend that we would go down to the west country and have a few days not at a racetrack. We'll have a mature conversation about it and I'll see where I end up...