Kyle Busch wouldn't have a prayer if real life was a popularity contest like the X-Factor. He is undoubtedly the most despised driver in the eyes of NASCAR fans, yet he's also the genre's pound-for-pound quickest racer. As the Americans like to say when faced with a paradox, go figure.
He didn't win any of this year's major league stock car titles (at one point, however, he led all three, which was a first) but his amazing 21 wins across the three categories - Sprint Cup, Nationwide and Trucks - puts him in a league of his own.
Yet while his on-track pedigree is immense for a 23-year-old, it flies in the face of his reputation with the paying public. For a start, he's from the wrong side of the country (the west - Las Vegas to be precise) for most southern diehards' tastes. He's guilty by association too, because elder brother Kurt - Cup champion in 2004 - has also suffered at the hands of boo-boys, mainly due to an altercation with Jimmy 'Mr Excitement' Spencer that resulted in Spencer being banned for punching Kurt in the face.
But the day Kyle really became a true hate figure was at Richmond this year, where he punted fan favourite Dale Earnhardt Jr into the wall as they battled for the lead with three laps to go. It was a bit like being invited to a Buckingham Palace party and drop-kicking one of the Queen's corgis over the garden fence.
"I was fighting with him for the win right until the end of the race. We got together and I ended up putting him in the wall," recalls Busch. "It was a tough break for him in the race and, I guess, a tough break for my fan career!"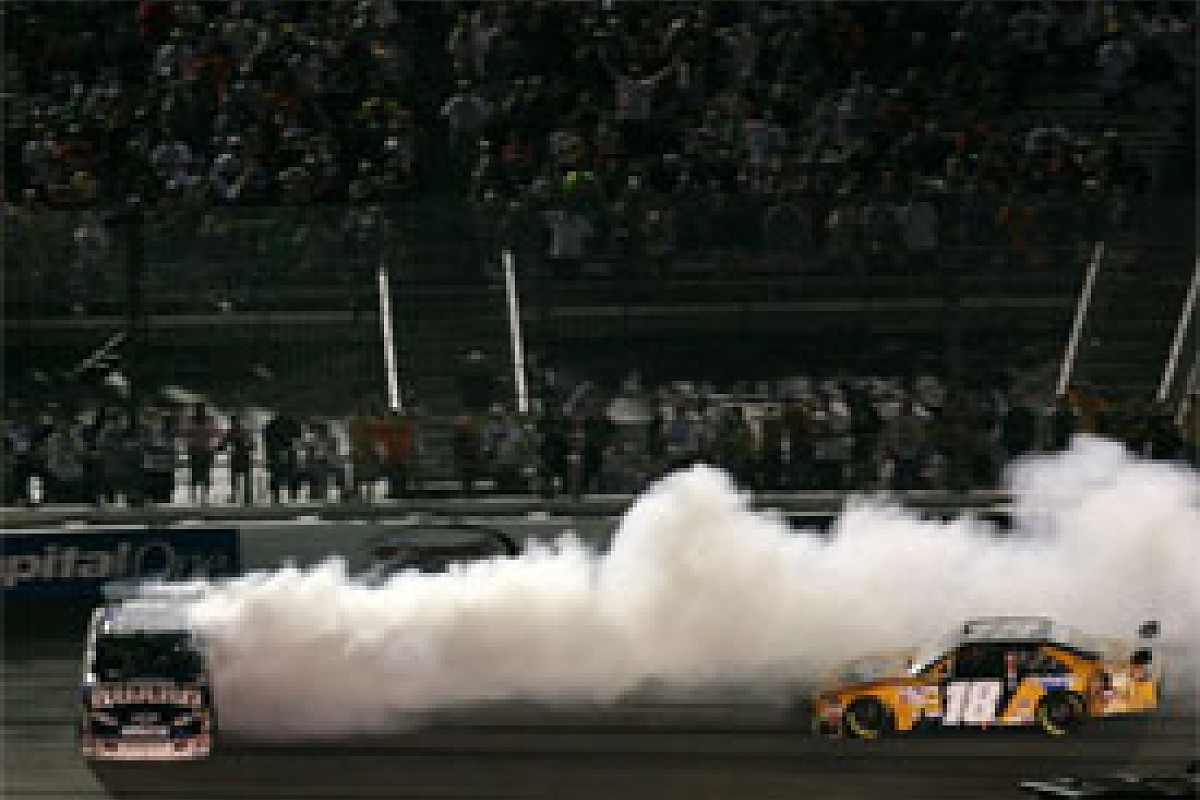 Dale Earnhardt Jr spins in Richmond after being hit by Kyle Busch
He might be able to smile about it now, but his appearance at driver introductions (one of the rituals of a NASCAR weekend) prompts a pantomime chorus of boos and jeers every time. He shrugs it off like water off a duck's back.
"For me out in driver intros, that's not what is going to make or break my weekend," he says. "I've pretty much been doomed since I got here; I'm pretty much going to be doomed for the next ten years now! That's why, to me, I just try to go out there and win and send them home unhappy.
"You can't let it get to you, because if you let that bother you, you're not here for the right reasons. I'm here to run well and win races, and do stuff to ultimately help my career - and that doesn't involve worrying about fans."
Busch has also played up to his anti-hero status, wiping away the odd imaginary tear, cupping his ear to the torrent of abuse and performing his trademark 'Busch bow'.
"Yeah, it's just fun," he admits. "There's a lot of vanilla, so we try to mix up some sherbert sometimes [English translation: there are lots of boring sods in this paddock, at least I liven things up a bit]."
Former-champion-turned-TV-commentator-extraordinaire Darrell Waltrip knows both sides of the coin, having been booed for his trash-talking one-liners and rivalries with the revered Richard Petty and Dale Earnhardt Sr, but he later endeared himself to them with his knockabout personality - once famously confusing a baying crowd by instructing them to "boo if ya love me!"
Waltrip, an unabashed Kyle Busch fan, says: "He's exactly what this sport needs. In fact, we need about ten of them. He's racing every lap of every race. That's why we love to watch him."
Busch v Earnhardt: There's previous
There is extra edge to the whole Busch/Dale Jr incident: Busch was effectively elbowed out of his drive with Chevrolet powerhouse Hendrick Motorsports to make way for Junior. Busch's move to Joe Gibbs Racing, former champion team with Bobby Labonte and Tony Stewart, coincided with Toyota's arrival - and the chemistry seemed to be perfect right from the start.
"For the sake of my career, it's been a good move," nods Busch. "I'm happy with how it happened and with what's gone down throughout the year until the bad luck in the Chase [more of which later]."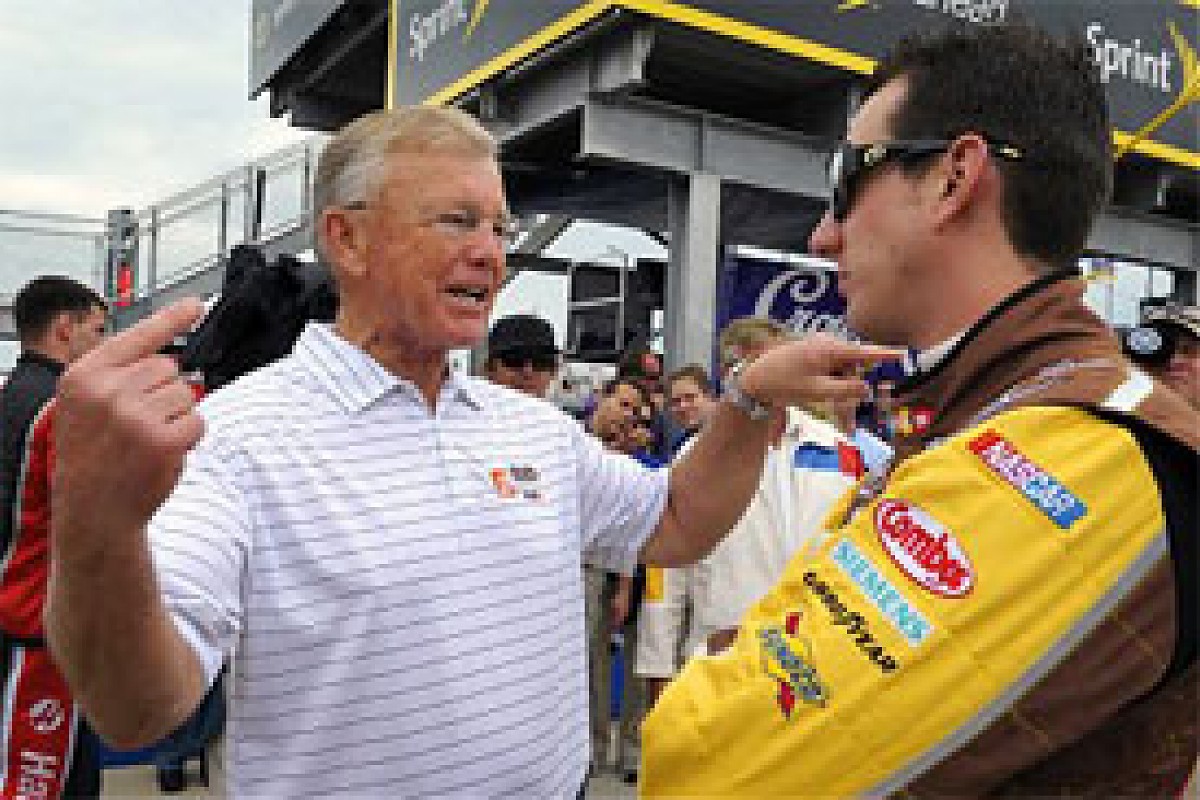 Joe Gibbs and Kyle Busch © LAT
He says the Gibbs operation "fits a little bit better in terms of my style. I feel I can be a little more outspoken and do what I want to do sometimes, not necessarily what everyone else wants me to do."
Which wasn't what it was like at Hendrick's?
"Junior seems to fit in well over there," he responds. "It's just a different mould, a different way. It doesn't bother me, I didn't really fit in well there anyway. I've found a better home and the cars are just as good."
Busch appeared to have discovered his dream ticket to a first Sprint Cup title this year. He finished the regular season at the top of the points, but a disastrous sequence of races in the Chase, NASCAR's end-of-season play-off system, caused his title dream to quickly evaporate. A series of mechanical gremlins and sudden drop-off in pace relegated him to tenth in the final standings - a staggering turnaround in form.
"There's nothing we can do about that, so it's a case of getting back into it for next year and going for it again," he says spiritedly. "It was pretty devastating for everybody on the team. The only thing we can do is put it behind us, work on some things and make sure it doesn't happen again. The gameplan is to do what we've done all year long. We had some bad luck, but just have to get back into our stride."
Can he analyse what went wrong? "There's nothing to analyse," he snaps back, as you do when you've been asked the same question a hundred times. "Everything's kinda gone wrong that you can think might happen. We've had motor problems, parts failures, brake issues - you name it, we've had it. You can't make up for that."
He admits it was tough to keep going, knowing all his fine groundwork had been for nothing: "It was frustrating to come to a racetrack every week and not have a shot at the championship, but I knew that after the second race of the Chase. We couldn't get through a race without having a problem.
"It is what it is. I wish we'd have seen it at the start of the year, maybe had some growing pains instead of running so well."
Attention has already been switched to next season, with a plan in place for the tracks where they need to improve.
"We've got a lot to do on the flat tracks, a lot of testing to do at the likes of Martinsville, Loudon and Pocono," he says. "We haven't been close to winning a race since Watkins Glen [his last Cup victory in August]. We've got to get back to that level before we can think about winning again.
"I'm just looking forward to the fresh start of a new year because we suck right now and the 48 [Jimmie Johnson] has whipped our ass. We've got a lot of work to do."
Even ardent Busch-haters must admire his determination to finish the job properly. They'd better get ready to start booing again.