After the chaotic events and mere handful of finishers at Melbourne, most of the teams and drivers who failed in Australia would have arrived in Malaysia with one minimum requirement for the weekend - to fix their problems, make it to the finish and get on to the championship leaderboard.
Kimi Raikkonen distances himself from the rest of the field in Sepang © LAT
Almost predictably in this hyper-professional era of Formula One, that is exactly what Sunday's Malaysian Grand Prix delivered. Even in possibly the harshest conditions on the calender, the stifling equatorial heat and dust claimed only two mechanical retirements - hydraulic problems ending the race of Force India's Adrian Sutil early, while the luckless Sebastian Vettel succumbed to another Ferrari engine failure in his Toro Rosso, just as he had in Australia.
For most of the rest, it was a case of mission accomplished, as they finally got a full Grand Prix racing distance under their belts in their 2008 cars. Malaysia also served to shuffle the championship deck thoroughly, with a new set of top finishers claiming their place in the title charge.
Six different podium finishers in the first two Grands Prix of the year is as equitable a points split as is possible. Yet, even compared to last year when the same three drivers (Ferrari's Kimi Raikkonen and McLaren's Lewis Hamilton and Fernando Alonso) finished on the podium for both of the first two races, the 2008 championship is already looking more settled and predictable.
For all but the the final few races of 2007, the championship was a four-way scrap that could have tilted in any of the challengers' favour with every race. Already, this year's championship is looking like a two-horse race.
Lewis Hamilton's commanding and controlled victory in Australia was matched by Kimi Raikkonen's equally unchallenged cruise to the chequered flag at Sepang. Although Hamilton's teammate Heikki Kovalainen and the BMW pairing of Nick Heidfeld and Robert Kubica are still within striking distance of the championship lead, it's more by dint of the problems suffered by Raikkonen and Hamilton respectively than an indication of genuinely competitive pace.
Malaysia answered the questions that most considered rhetorical throughout the pre-season: Ferrari and McLaren are still a step ahead of the rest in terms of pace, Kimi Raikkonen is relishing his new status as reigning champion, and Lewis Hamilton is merely continuing the form of his impressive debut season. Based on the first two races, it's hard to imagine the championship coming down to anything other than a straight fight between these two.
However, the question still remains of who can fill the third step on the championship podium, and at least keep the top two focused on something other than the personal rivalry between them.
McLaren chief Ron Dennis believes that the team has rebuilt new arrival Heikki Kovalainen's confidence and self-belief (not to mention his physical fitness) after an initially troubled but ultimately promising debut Formula One season with Renault. Dennis also believes that Kovalainen has the speed and talent to push Hamilton hard and regularly.
The first two races have already given an indication of the Finn's raw pace. Taking into account their different fuel loads in Melbourne qualifying, Kovalainen was right on pole sitter Hamilton's pace. At Malaysia, he went one better to pip his star teammate by a tenth, despite again carrying a marginally heavier fuel load.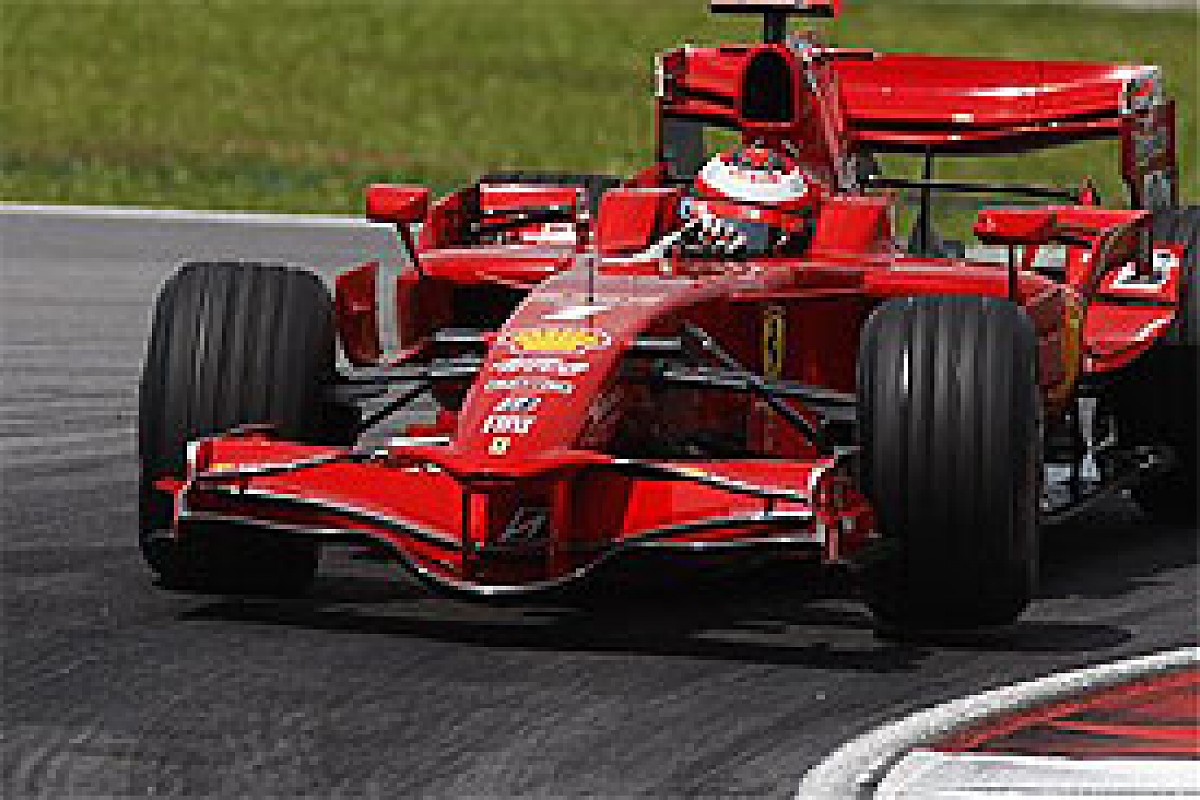 Kimi Raikkonen during qualifying for the Malaysian Grand Prix © LAT
However, Kovalainen has so far not shown evidence of the precious commodity that all championship contenders need - the ability to make things happen for them when circumstances conspire against them. Both Raikkonen (Australia) and Hamilton (Malaysia) have started from lowly grid slots, and both used brilliant starts and first laps to immediately put themselves into position for a podium finish.
Ultimately, neither effort paid off. Raikkonen's charge was halted by a couple of uncharacteristic errors and a blown engine, Hamilton's hopes were derailed by front wheel problems at his first pitstop. However, there will be other days when that ability to go out and force the pace turns a probable podium into unexpected victory.
Kovalainen, by contrast, has raced solidly and dependably, and exudes bonhomie and enthusiasm. What he hasn't shown - yet - is the killer instinct to string together one purple sector after the other in chasing down a target.
It's a gift that Kimi Raikkonen displayed again on Sunday. Ordinarily, when Felipe Massa can snatch pole position and lead the field through the treacherous first few corners, he's a solid bet for the win. When he's given a clear track ahead, the Brazilian is often unstoppable.
Yet Raikkonen, given just a one-lap window to put the hammer down, leapfrogged him with imperious ease during the pitstops. Even if Massa hadn't spun into retirement later in the race, he looked well beaten behind Raikkonen.
If Kovalainen can turn in that sort of display soon, it could prove to be the final piece of the puzzle that unleashes his championship potential. While Ron Dennis believes it will happen, he should perhaps be careful what he wishes for, because it might just come to pass.
While a well-matched and genuinely competitive pairing of Hamilton and Kovalainen may fit the McLaren ethos, it could again cost the team a WDC title. As cynical as it may be, Renault boss Flavio Briatore is correct - the title will usually go to the team who bases its efforts around one star driver.
If the McLaren pair start taking points off each other and Felipe Massa's dismal form continues, Kimi Raikkonen will be well set, like Michael Schumacher and Fernando Alonso before him, to earn his second title immediately after the first.
The second consecutive failure to finish has again put Massa squarely at the rear of the top four championship hopefuls. In 2007, he was the last of the four to record a podium finish. This season, he's the last of the pre-season favourites to score points.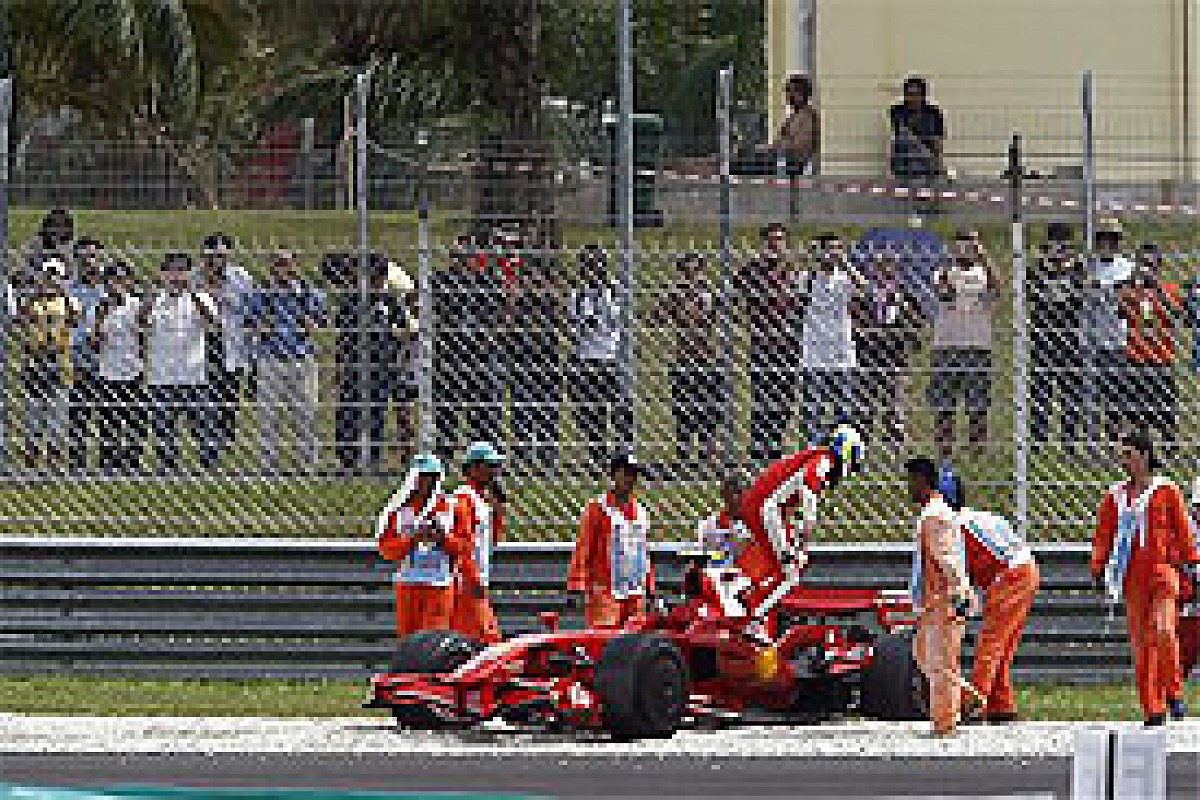 Felipe Massa suffers his second straight non-finish © LAT
Massa will bounce back from this adversity with a dominant win, possibly as early as the next Grand Prix in Bahrain. It's typical of the mercurial highs and unfathomable lows that have marked his tenure at Ferrari. But already there is the impression that he's given himself too much to do. The lost opportunities in Australia and Malaysia last year were an early handicap that stuck with him right to the season's end.
The impressive early season pace of BMW has raised the intriguing possibility that, this season, we may have a title chaser from outside the Ferrari/McLaren duopoly. It's a run of form that is unlikely to continue once the top two teams get into the groove and eliminate the mistakes and technical glitches that have dogged both so far.
BMW's hopes are equally compromised by their drivers' tendency to take points off each other, with neither able to gain a season-long ascendancy. Robert Kubica looks to have the raw pace, Nick Heidfeld the consistency and experience.
On any given weekend, it's a toss-up which of the two qualities will result in more points. However, if the team can get either or both of their drivers ahead of just one of the top four in the final 2008 championship table, it'll be another significant step on the long haul to success.
If there are still intriguing questions about who will fill the third step of the drivers' championship podium, there is equal interest around which of the two frontrunning teams will grab the initiative at the third step in this year's title race - the next GP in Bahrain.
2008 has been the opposite of last season. In 2007, Ferrari dominated in Australia, only to be hauled back in by McLaren at Malaysia. This year, McLaren had the satisfied grins in Melbourne before taking a pounding at Sepang.
Last year, McLaren built on the momentum of Malaysia to edge further ahead and lead for most of the season's first half. This year, the gut feel is that it's Ferrari's turn to be frontrunners. Even with the replacement of stalwart Jean Todt by new team principal Stefano Domenicali, there is an air of continuity and stability around the team that was backed up by the impressive pre-season testing times.
One factor may not change from 2007, though. Bahrain is a circuit that Felipe Massa loves, and he bounced back from adversity to record a dominant pole/fastest lap/race win clean sweep in 2007. If the Brazilian plans to reverse the disappointment of last season, a repeat performance is on the cards in Bahrain.