Ferrari's revival may have come at least one, perhaps two, Grands Prix too late to guarantee the evenly matched four-way battle that the season promised early on.
Still, Kimi Raikkonen's win at the last ever French GP at Magny Cours did enough to tilt the championship balance once again in an already see-saw season.
Raikkonen's studied and error-free drive could not have come at a better time for the team, and especially not for the Finn himself. After team-mate Felipe Massa had set pole position on Saturday, Raikkonen's prospects of relaunching his championship challenge seemed bleak.
Kimi Raikkonen and Felipe Massa in parc ferme at Magny-Cours © LAT
For a start, Massa has invariably turned in his best performances from pole. Secondly, track position for the opening stint has become the Holy Grail of 2007 success.
Significantly, Raikkonen was able to use a heavier fuel load and a couple of extra laps at the end of the second stint to leapfrog Massa during the stops - the first time the tactic has worked on the 2007 Bridgestone grooved tyres.
While Massa was quick to blame traffic problems for his failed strategy, the Brazilian challenger also had reason to be happy with the result. Eight points for second place was two better than championship leader Lewis Hamilton scored, and chipping away at Hamilton's advantage is still be the first priority for both Ferrari drivers.
It's not often that a championship leader can be satisfied after trailing behind a dominant one-two performance by a rival team. Yet Hamilton also had reason to smile after taking his eighth successive podium finish in F1.
Raikkonen's victory has delayed the onset of team orders (in favour of Massa) at Ferrari, and the Scuderia's renewed competitiveness may see Massa, Raikkonen and Hamilton's team-mate Fernando Alonso taking points off each other for the rest of the year.
In such a situation, Hamilton's current 14 point lead could prove priceless. He could ostensibly finish no higher than third in each race from now on, and still eke out a championship provided his three rivals take equal turns in beating him - with at least one of the three surrendering points to Hamilton at each race.
The extra benefit for Hamilton is that it would take the focus off the intra-team McLaren rivalry. A rivalry with a team-mate can turn bitter and personal very quickly. A four-way free for all is easier to manage, both off the track and on.
Of the top four challengers for the 2007 title, Fernando Alonso had most reason to feel cheated by the F1 fates in France. On the circuit where he used an unconventional two-stopper to snatch an unexpected second position from Ferrari's Felipe Massa in 2006, no amount of tactical ingenuity could help Alonso recover from a fifth row start with a front row fuel load.
No matter what the Spaniard did to shake the Renaults and BMWs ahead of him, Alonso would emerge from the pits to find Nick Heidfeld and ex-Renault team-mate Giancarlo Fisichella blocking his progress again.
Yet even Alonso had reason to feel satisfied with his drive. If an F1 driver is denied the opportunity to impress through victory, then the second prize is to impress through racing prowess, even in pursuit of a hopeless cause.
Too often in today's F1, drivers are content to sit behind slower cars for entire stints, and to shrug it off afterwards as the inevitable and distasteful alchemy of aerodynamic disturbance and lost downforce.
Michael Schumacher was one of the few who could think outside the box, and experiment with different lines and tactics to get around a slower car in front of him. We had seen Alonso switching to the karting line with great success in the wet at Hungary 2006. Sunday was the most visible example of the reigning champion adopting the same tactic in the dry.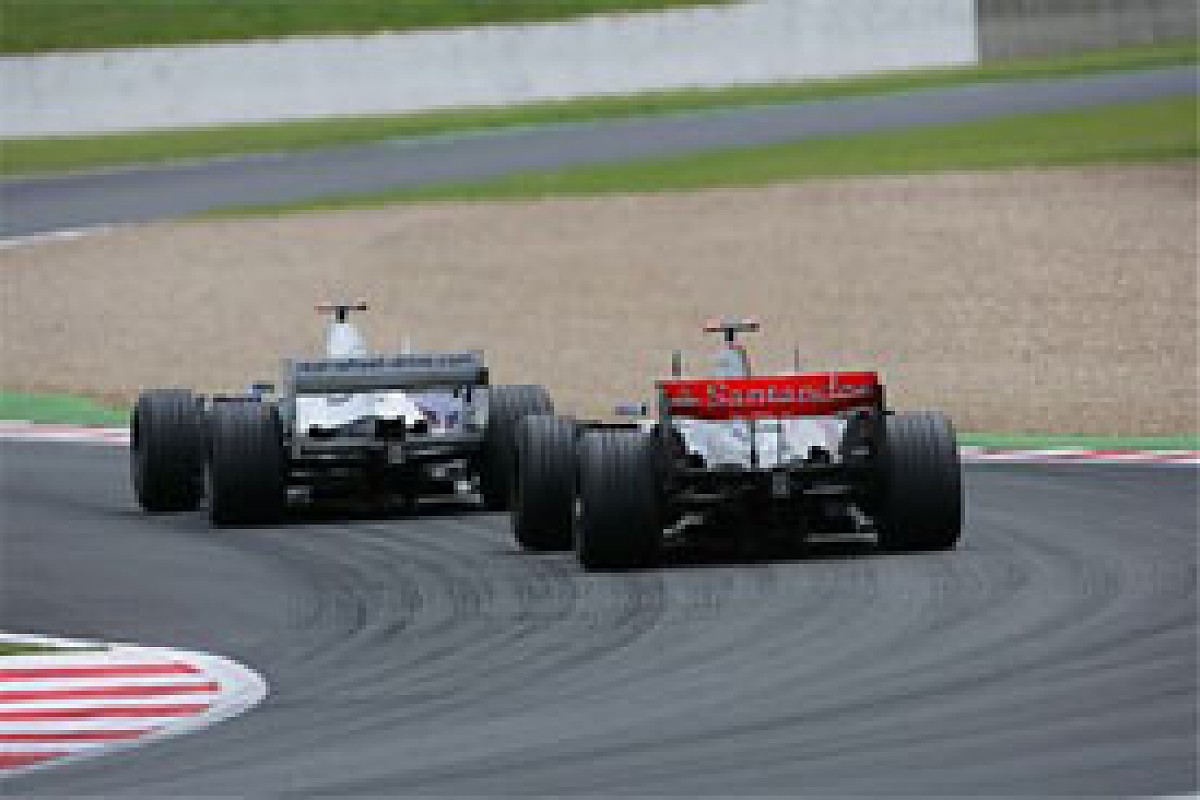 The differing lines of Fernando Alonso and Nick Heidfeld in the Turn 8 hairpin © LAT
Alonso's favoured line for the hairpin at Turn 8 is the tighter line with faster entry speed and slower exit speed. Directly in front of him, Nick Heidfeld was taking the wider line.
Time and again, Alonso would close right up to Heidfeld's gearbox at the Turn 8 apex, only to fall too far behind on the following straight to be close through the Imola chicane and Chateau d'Eau - the prime position to launch an outbraking attempt at du Lycee.
By changing to the wider entry line, shadowing the BMW through the hairpin and getting better drive down the following straight, Alonso wasn't just in prime position to challenge Heidfeld by Chateau d'Eau - he was already ahead.
The entry to the Imola chicane is one of the most unlikely passing spots in F1, yet Alonso pulled it off, against a highly experienced opponent in at least a relatively comparable car.
It was easily the most memorable passing move so far in 2007, and one that ensured a fitting farewell for the Magny Cours circuit.
Importantly, it also came at a time when Alonso could least afford an accident and a loss of points. Faced with a lost cause when the rain stayed away, he raced aggressively but intelligently to make the most of an unfortunate weekend.
The move also accomplished a neat payback on Nick Heidfeld for Bahrain, where the German had pulled a similarly deft move to take fourth place from Alonso.
The reigning champion couldn't do anything about his gearbox gremlins. He did, however, show that he is ready and able to race hard and pull off spectacular passes without ruining his race. Applying the same resolve to the remaining races could turn around the reigning champion's faltering defense of his title.
Alonso's gearbox problems during qualifying meant that Hamilton is now the only one of the top four not to have suffered a mechanical problem all season. His own consistency has multiplied that good fortune, as he is also the only one of the four not to make a race-ruining mistake.
Which leaves the key unanswered question about Hamilton in F1 - how well will he bounce back when adversity does finally strike? We already know that Alonso, Massa and Raikkonen can shrug off mistakes and poor performances. Hamilton hasn't had to deal with such setbacks yet.
The longer his purple patch lasts, and the greater the expectations placed upon him by the media and the team, the more unsettling it will be when he ends a race against the barriers or with a blown engine instead of on the podium. That prospect has now become the main hope of the chasing pack.
Hamilton will be under immense pressure to present his British fans with victory at Silverstone next weekend. It would be the worst possible time for his McLaren to let him down or, even worse, if a mistake ends his race. Which also, cruelly, makes it the most likely time to happen.
If the young Englishman can leave Silverstone with still at least a ten point lead in the championship, he will feel (literally and figuratively) halfway home to the title.