As he made his way through the crowds at Mugello, hardly anyone noticed Filippo Preziosi coming through the throng of people held back from the rear door of the Ducati garage.
They were waiting to see Loris Capirossi or Casey Stoner, but would dash off like startled sheep if there was a scream or a yelp from the back of the Yamaha garage. Maybe Valentino Rossi was there? Maybe there was the chance of getting the autograph.
The curly haired Italian - Preziosi that is, not Rossi - was given hardly a flicker of attention from any of the fans waiting at the garage. Most probably had no idea that he had made the big fire-breathing red device in that garage. He, after all, is the project leader and technical director for Ducati Moto Grand Prix.
He has been confined to a wheelchair since Christmas 2000, when he fell from an enduro bike on an African trail. Knocked unconscious, he lay undiscovered for some time.
Despite his physical disability, he has one of those minds that is always thinking towards getting the whole package better.
"I'm worried about things before the race that could be wrong," he explained. "There are a lot of things that could be wrong, so when the commentator says 'Ducati are winning', I know there are thousands of things that can go wrong...!'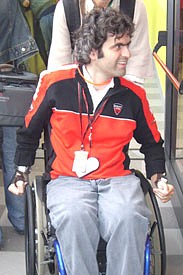 Filippo Preziosi © Toby Moody
Here is a guy who pushed for the 2007 Ducati to be on track more than 13 months ago.
"It's never enough," he says. "I never know the situation of our competitors like Honda, but I hear that Honda have to shut down (reduce the mileage) of their engine before rebuilding."
There is a certain amount of glee in that comment, tinged with an element of 'it could happen to us ...'
"You remember China?" he asked. "In qualifying the bike of Casey stopped. It was a bolt that kept a small bracket in place. The bolt was not tightened in the right way. The bracket went through the throttle body, but the system recognised that the demand was not the actual position of the throttle, so it stopped the bike.
"It's good for safety, but of course you lose the race. Just a stupid screw keeping a bracket in place can stop the bike."
The main talking point of the season has been the power and straight line speed of the Ducati. Stoner has now won five races from eight, and leads the title charge heading into this weekend's Dutch GP by 25 points.
Time after time, the Australian has had to rebuff claims that he only wins because he is on a 'rocket ship'. The bike's designer views things very differently.
"We put emphasis on power and we tried to find the right level of rideability, working on something that didn't affect a lot the top end power," he said.
"So the idea was to lose the minimum value, changing from 990 to 800. It's possible to lose the minimum amount of power, but also keeping an acceptable amount of rideability. That's our interpretation.
"That's what a screamer is. It's got load of revs, so loads of power, and the electronics will just have to use a bit less fuel elsewhere on the track in order to get us to the finish now that we have a litre less fuel this year.
"Maybe others decide that rideability is more important and it's better to lose a few kph to have the best rideability.
"But if you have a bike that is hard to ride through the chicane, you can push it. It's harder, but you can do it. But if the bike is not performing in top speed, you cannot push the bike any faster."
Alan Jenkins © LAT
So the message to the rider is simple: 'I'll do the straight bit, but you do the wiggly bit.'
Another key piece of the puzzle is aero consultant Alan Jenkins, with whom Preziosi has developed an extraordinary relationship.
"Alan is one of us. There is no specific area for him as it is always moving. It's everything. It really depends on the problem we may have at the moment; then we discuss things.
"Sometimes he is just working with the continuation of GP7, or with GP8, or sometimes with GP9. He is doing what we need him to do. He's a Ducati man, it's just the location is different!
"Usually we are on the track in April with the bike for the year after. So in April 2006 we were on the track with GP7. So by April 2008 we will have be with the GP9.
"We are on the track with the GP8. We started in February, but it's a small evolution from the GP7. We don't know exactly what will be on the GP8. We are testing many different things; some will end up on GP8, some not, but we will decide before July (2007) what we want to put in and what to not include.
"It's completely different from F1. A 2007 F1 car is on track in March 2007. It's because aerodynamics are so important in cars that if you find something you have to put it on the car immediately. A bike, for me, is different.
"The performance is something about feeling, so if you have something that is 0.02 seconds faster - that is a good thing - but it is necessary that the rider gains 'the feeling' with this new part.
"You could lose instead of gain. It's better you wait and when you are ready with the package, you put all the package together and you give to the rider the time to have the feeling to get 0.4s or whatever.
"So for me there is nothing to change during the season. Of course that is easier when you are on the front. If you are at the back it's not so easy to tell your rider that we are not changing anything during the season as I'm designing GP9. Then he would not be so motivated!"
So will Ducati wait until after the summer break until they bring a step up in parts and speed for the Brno Race?
"I don't think so. Just electronics. They change race by race. They are something you can switch off when you want. You can return to what you had moments before. You know we don't have many people at Ducati doing the electronics. Very few."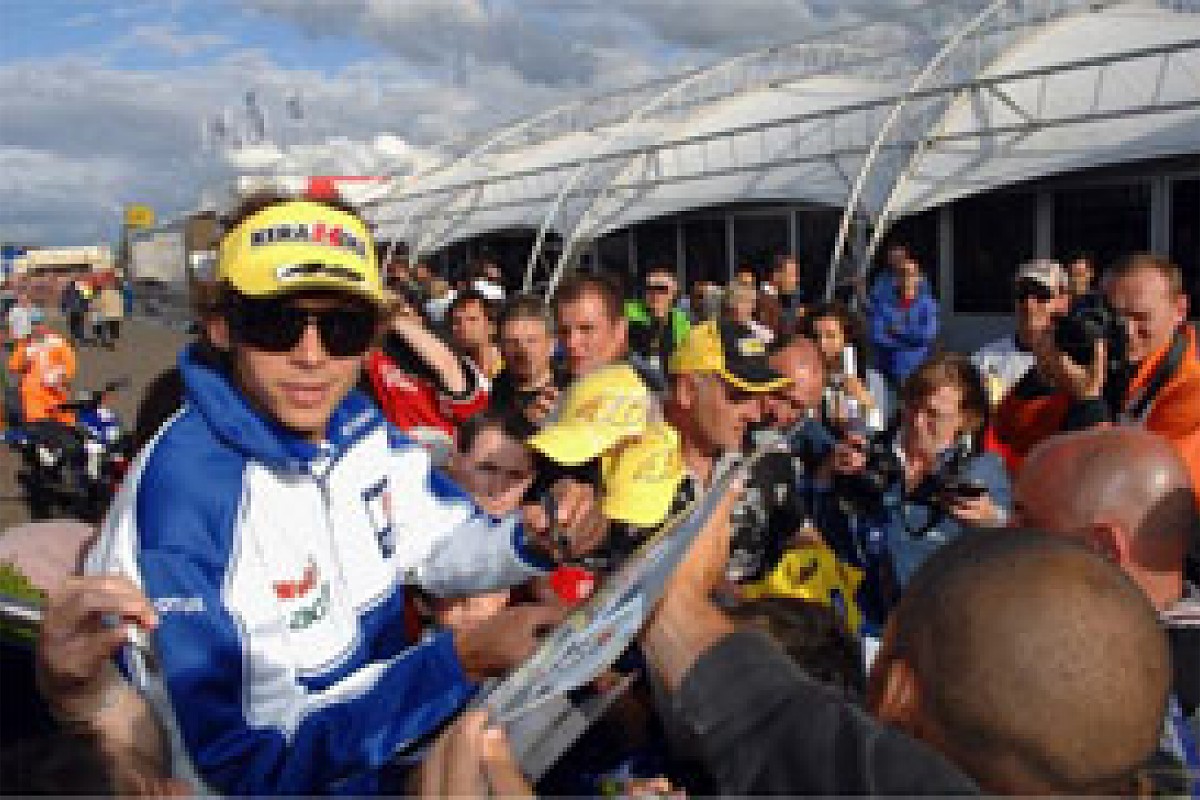 Valentino Rossi © DPPI
The conversation drifts over to Valentino Rossi. I push Filippo to see how keen he is to take on Rossi. For Ducati to have an Italian rider - probably the best ever - winning on an Italian bike. His Italian bike.
I get the impression that a great deal of effort was put into getting Rossi last year after all the kerfuffle following his test drives in a Ferrari.
Were they paid for by FIAT, or were they pushed for by Marlboro seeking an extra bit of PR during Ferrari's doldrums season that was 2005 for the Modena squad?
"It's my dream. Last year we did our best to have him, but we have not enough money."
Ducati may not have the money available, but Marlboro does. You have to believe they are paying Kimi Raikkonen the most money in F1, and I've always thought Philip Morris would break that special piggy bank in case Rossi was serious about moving over to Bologna.
"It depends what he does in 2007," said Preziosi.
"You know, there is a picture in the canteen at Mugello where Valentino Rossi is on the podium with the chest out, and a lot of people. He seems like Jesus Christ in Rio de Janeiro.
"What you feel in this moment is more than money can give you. He has more money than he can spend in a life anyway, but the emotion you have when you are doing something ... it's a bit like a bull fight. You play with death.
"You race against your competitor with a bike that is maybe less competitive than the others, and you win. You are there and the people are crazy for you. It must be incredible."
One has to think that people at Ducati such as Preziosi have pushed much harder than they admit to get Rossi on that Ducati.
One thing is for sure. Preziosi will be lining up that day to see Rossi's signature on that piece of paper. And that's when he'll be grinning like those fans out the back of the garages at Mugello.
SIDEBAR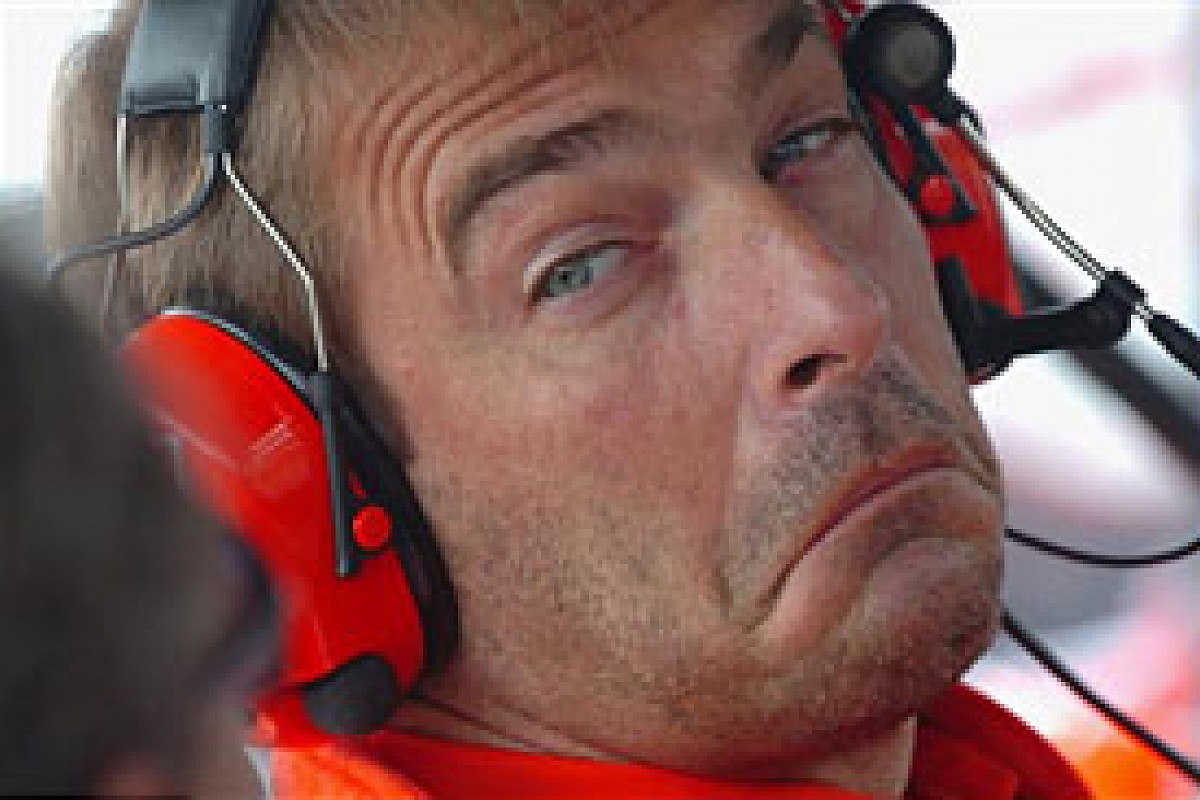 Words from the Top
Ducati Team Manager Livio Suppo on Filippo Preziosi
"The big plus is he believes in his own ideas. He doesn't go off following others, no matter if he is very different.
"He chose the screamer V4 in order to lose the least amount of power from the 990. No-one else has really done that. That was a big risk for him as if it didn't work you look like a total idiot.
"He is a 100% engineer. Every time something is tested and goes on the bike he has to see some kind of advantage from it. Okay, at the moment we have a bike that is leading and is quick, so it's not so risky to start playing around. I mean, when you are in the shit, it's easy to lose even more time and then get lost because everyone around you is pushing.
"He is an amazing guy. You know, after the accident he spent a year in hospital recovering, but Claudio (Domenicalli) went up to Sondalo where he was once a week with drawings to keep him in touch with what he was doing with the GP3 bike."