"They [Kimi Raikkonen and Felipe Massa] are the drivers for the present and the future of Ferrari. It's up to us to give them a good car." So said Ferrari's team principal, Jean Todt, on Sunday June 24, and he should know.
But the fact that, only seven races into a Formula One season that Todt's team started with an imperious win from pole position (with fastest lap by a mile thrown in for good measure), he should have been forced to make such a remark, to quell speculation that the position of Raikkonen, the winner of that first race, wasn't safe, is eloquent verification, that all isn't absolutely tickety-boo at the Scuderia.
'Stepney-gate' - the ongoing saga surrounding a very senior Ferrari mechanic/engineer, Nigel Stepney, who is at the centre of a legal enquiry over unspecified claims about his behaviour while at Ferrari - has brought matters to a head, in the sense that it has prevented Todt from being able to operate from the everything-in-the-garden-is-rosy media standpoint so beloved of his cut-throat rival, McLaren's Ron Dennis.
But, although everything (on track at least) is rosy at McLaren, it's hardly surprising that it isn't at Ferrari. Yes, 'Stepney-gate' isn't helping, and undoubtedly the team miss his uber-industrious input.
Nigel Stepney © XPB/LAT
Stepney is, or was, a man for whom an 11-hour shift is merely preparation for a quick tea-break followed by 11 hours more. But more, much more, than they miss Stepney, Ferrari miss Michael Schumacher and Ross Brawn, the most effective driver-engineer combo of their generation.
As such, the fact that Ferrari have nonetheless so far this season won three Grands Prix out of seven, without the input of either Schumi (in any really meaningful sense) or Brawn, is a fantastic tribute to Todt's leadership qualities and his team's strength in depth.
But Todt is 61. He admitted, early this year, that he'd toyed with leaving - or "stepping back from" - the Scuderia at the end of the 2006 season, but had rejected the idea once it had become crystal-clear to him that not only Michael but also Ross wouldn't be involved in Ferrari's 2007 operation.
Why didn't he leave? Because he felt he'd be needed, that's why. As such, he was - and is - right. But, just as Dennis, who turned 60 this month and whose team are now at the height of their powers, is now eyeing a future dominated by the speccing of new planes and new yachts and new charities, so, too, is Todt's mind wandering onto subjects other than Formula One.
When he installs a management structure at Ferrari that is capable of running the team successfully without him, he'll move on.
To what? Well, he's increasingly active in ICM (Institute for Cerebral and Medullar Disorders), an organisation that he founded and which will be the beneficiary of a charity event (involving Schumacher, of course) to be staged at Magny-Cours this weekend.
And as and when time allows, he intends to devote even more time to ICM, for which he deserves our admiration. But it wouldn't be a full-time job for him - for Todt, like Stepney, is a 22-hours-a-day man.
FIA president Max Mosley has long opined, both on and off the record, that Todt would be his ideal successor. Moreover, Mosley has recently and repeatedly made clear that he doesn't intend to stand for re-election at the next FIA presidential elections in 2009, by which time he'll be 69.
A few senior F1 team people, especially British ones, are now of the opinion that the FIA's new(ish) technical consultant, ex-Jaguar Racing boss Tony Purnell, may recently have replaced Todt in Mosley's plans - but in my opinion that's probably wishful thinking, for many British F1 grandees have long dreaded the election of Todt to the FIA presidency.
They view him as a Ferrari man, through and through - a fact that unnerves McLaren and Williams men in particular, many of whom are of the opinion that 'FIA' has stood for 'Ferrari International Assistance' as well as 'Federation Internationale de l'Automobile' throughout Mosley's presidency. Todt's election would only entrench that belief.
But the truth is that the very reason why British F1 grandees look with favour, albeit circumspect favour, on the prospect of Purnell getting the job is the precise reason why he won't get it.
Don't get me wrong: Purnell has many of the required qualities of an FIA president. He's wealthy (important, because the FIA presidency is an unpaid position), intelligent, thoughtful, technically minded, hard-working and capable of impressive lateral thinking.
But he's also a quiet man, and lacks what Mosley calls "toughness" (and what senior F1 team people prefer to dub "ruthlessness"). No, Purnell should and will play an increasingly important role within the FIA over the next few years, but he won't in my view become its next president.
Undoubtedly, with the possible exception of Bernie Ecclestone, F1's commercial rights holder, Mosley is the toughest, most ruthless, man in the sport today.
And, like Prince Machiavelli, whose (in)famous principles Mosley's modus operandi has aped so successfully for so long, Max gets his way via, among other cuter stratagems, making sure he's feared by would-be opponents. But no one fears Purnell.
People fear Todt, though, and he's undoubtedly both tough and ruthless. Moreover, he's wealthy, intelligent, thoughtful, technically minded, hard-working and capable of impressive lateral thinking.
And it would appear that at long last he now seems to be taking steps to address the one area of weakness in his candidacy: namely, his unpopularity among senior F1 team people outside Ferrari.
In team principals' meetings, for example, I'm given to understand that, where once he would have presented an impassive, haughty or even arrogant front, insisting on the preferment of Ferrari in every discussion and in every vote, this year, for the first time, he's behaving in an almost statesmanlike manner.
He's listening to the other side(s). He's taking soundings, hearing people out, courting the opinions of less vocal team bosses such as Red Bull's Christian Horner and Toro Rosso's Franz Tost.
In the past month I've even heard team principals - yes, even British ones - express the opinion, albeit off the record, that Todt would be "a good FIA president".
But, although that's indicative of a change in the man, it hardly matters, for Todt's fellow team principals aren't his potential electorate.
No, the next FIA president will be elected by representatives of the 150-odd member bodies of the FIA - in other words, by dignitaries affiliated to motoring organisations in the UK, France, Germany, Italy and Spain, yes, but also in Belarus, Costa Rica, Kenya, Paraguay and Uzbekistan.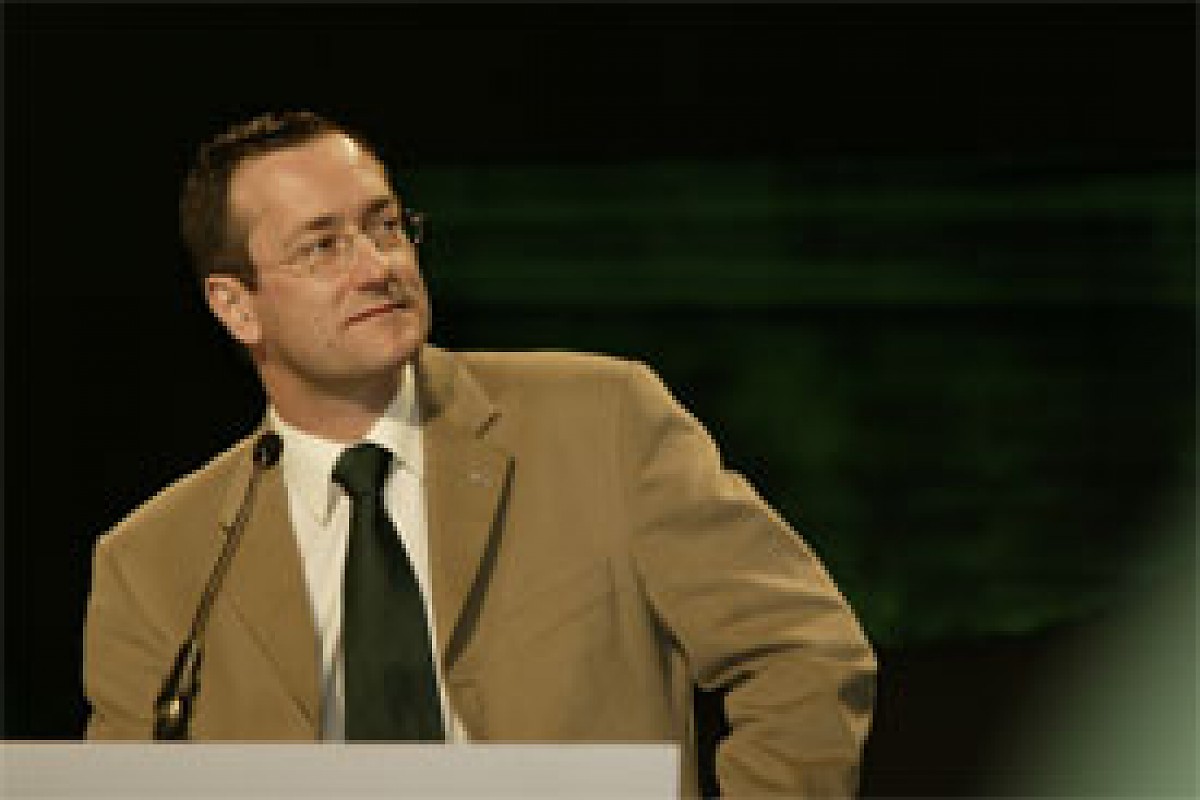 Jean Todt © XPB/LAT
Such dignitaries keep in touch with FIA matters by attending, or reading minutes from, WMSC (World Motor Sport Council) meetings, which are presided over by Mosley, as FIA president. Uniquely among F1 team people, Todt is a member of the WMSC, and has been for years.
So, should Todt cast his hat into the presidential ring, in terms of voter awareness he'd already be halfway there. With the proactive patronage of Mosley, which would be both guaranteed and overt, he'd be three-quarters of the way there.
Who, then, could stop him? No one, that's who. Undoubtedly, Dennis wouldn't like the idea of Todt becoming FIA president - but then Ron isn't a WMSC member. As such, any attempt on his part to mount a 'stop Todt' campaign would almost certainly fail.
Put it this way: most of the FIA presidential electorate - and certainly the voters from Belarus, Costa Rica, Kenya, Paraguay and Uzbekistan - probably don't even know who Dennis is.
Besides, by 2009, Ron (or, rather, Sir Ronald Dennis, by then) will surely be sunning himself, and his family, on a 60-metre super-yacht, basking in the reflected magnificence of Lewis Hamilton's imminent third consecutive world drivers' championship.
Would he really want to abandon that idyll in order to try, and almost certainly fail, to stop the unstoppable?