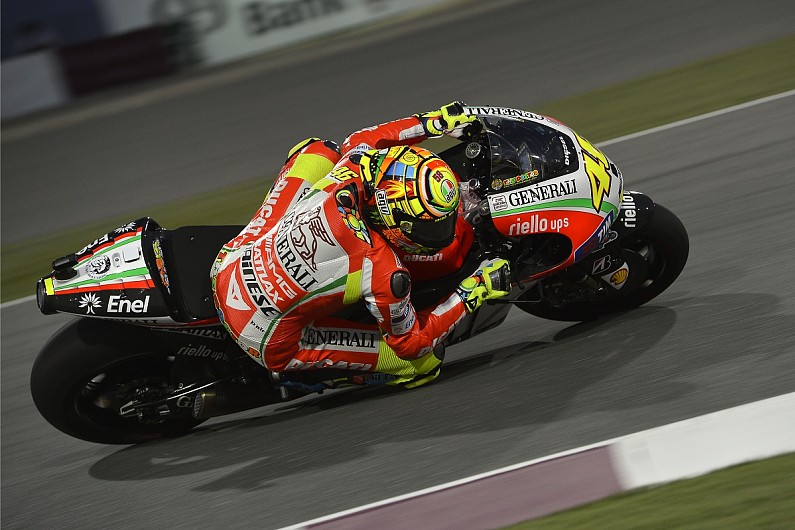 Valentino Rossi says it is up to Ducati to rectify problems with its 2012 challenger, and that his confidence in his own abilities has not been diminished by his struggles on the Desmosedici.
Ducati made a multitude of changes to the GP12 in the wake of a first win-less season in 15 years for Rossi in 2011, but the Italian still struggled and could only finish 10th in the season-opening Qatar Grand Prix.
Team-mate Nicky Hayden finished sixth, while the satellite Pramac Ducati of Hector Barbera edged Rossi out late on to capture ninth.
While such a slump has led to widespread questioning in his native Italy, Rossi says he is confident he can still perform - and that his problems lie instead with the handling of the Ducati.
"Age penalises you, it's true, but a difficult year doesn't make you forget how to stay with the leading pack. In my opinion, I still know how to do it," Rossi told Motosprint.
"It's very clear who makes our bike: [Filippo] Preziosi is the boss and the thinking brain behind everything. It's up to him to help us.
"Our problems are very clear: what doesn't work at the rear, under acceleration, in my opinion comes from the front, and the cause is understeering.
"At turn-entry, because of something we don't know, the front doesn't allow you to tighten the turn. This understeering is the biggest problem.
"The incredible thing is that this characteristic is similar to all the Ducatis I've ridden since 2010: whether it's the version with no chassis, or the one with the carbon-fibre front, of the one with the aluminium front, or the one with the full chassis... it doesn't ever change, that's incredible.
"The engine is another very important problem. We need a more manageable engine: ours is very aggressive, more than Honda's and a lot more than Yamaha's.
"By looking for top performance you might end up neglecting rideability a bit. That's a mistake. What do you need all that power for if you can't take advantage of it?"
Asked about comparisons to Casey Stoner, who collected 23 wins and one championship with Ducati, Rossi said the Australian had adapted because he had evolved with the team.
"He [Stoner] has a very peculiar riding style and he was also young in 2007, so it was easier for him to adapt to Ducati," Rossi explained.
"He evolved with Ducati, so he should thank Ducati because if he has learned to ride in the way he rides today it's because he grew up with this bike, which if you don't ride it in that particular way you are screwed."
Rossi said he had hoped to stay with Ducati for two more years, but said his current form puts that ambition into question.
"I came here at the end of 2010 with the idea of racing for two years and try to win with Ducati. But it's hard. Besides, I'd like to stay two more years," he added.
"If we work well we are able to fight for fifth or sixth place. I'm not excited by that: if you must fight for fifth place then little by little you lose enthusiasm.
"By racing this way, you lose the joy of riding. Besides the ego, when you know you get on the track and you will regularly get beaten, it gets hard. And if you don't enjoy yourself on the track, everything else gets even heavier.
"We need to try, all together, to do the best we can to arrive at the end of the year with a vastly improved bike. It would be the best thing because it would solve many problems."