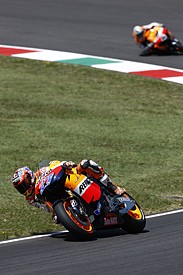 Casey Stoner said errant tyre pressures caused his slump from first to third in the Italian Grand Prix.
The championship leader looked set to pull away and take yet another win at Mugello as he dominated the first half of the race, but he was reeled in and passed by Jorge Lorenzo and Andrea Dovizioso.
"I'm a bit disappointed with this race," said Stoner. "The potential of myself and the bike was a lot higher in my opinion. The bike that we had in qualifying yesterday afternoon, we were really happy with and everything was working well.
"This morning in the warm-up we realised that lap by lap the tyre temperature was coming up and we were losing grip. So we wanted to do something to try and get a little bit more grip during the race. But we were recommended to stay with the same tyre pressures that we had in the warm-up, and quite clearly there's a big temperature difference.
"As soon as I got not even halfway through the race, my grip just disappeared. As soon as the temperatures got up, the contact patch got smaller, I started losing the front. I couldn't have any corner speed - as soon as I opened the gas, the rear started wanting to come round.
"It was pretty much damage limitation. I lost the front a couple of times pushing into corners. So I just decided to try and slow it up a little bit and see what I could do when they caught me. But once they caught me I had nothing to return it with."
The result reduced Stoner's championship lead over Lorenzo from 28 to 19 points, but the Australian is confident Mugello was just a blip.
"It was a pretty frustrating day to be honest, but we'll bounce back from this," he said. "The Sachsenring's a good track for us so we'll look forward to the next race."