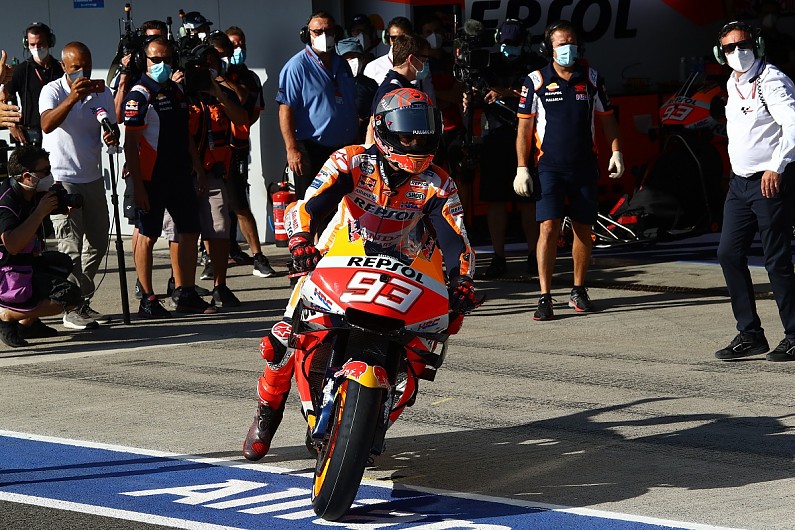 Six-time MotoGP world champion Marc Marquez has admitted his attempt to return to action at Jerez just days after surgery on a broken right arm was "a mistake".
Marquez crashed heavily in the closing stages of the season-opening Spanish Grand Prix at Jerez, breaking the humerus bone in his right arm which required an operation to have a plate fitted.
The Honda rider tried to return for the following week's Andalusian GP at Jerez, having been cleared to do so by doctors.
But he had to abort this after encountering problems in his right arm after qualifying, with the stresses of that weekend ultimately weakening the plate, leading to it breaking when he attempted to open a door at his home.
Having had a second operation to fix this, Marquez wouldn't race again in 2020, with a slower-than-expected recovery forcing him to have a third operation on Thursday in Madrid.
The bone graft operation took eight hours, and though a recovery time is unknown at this stage, Marquez faces a six-month period of rehabilitation - casting his participation in the start of the 2021 season into doubt.
An update from Honda on Saturday revealed Marquez will remain in hospital in Madrid after an infection was found in the fracture, which will require "specific antibiotic treatment".
The release also states his clinical situation post-surgery has been deemed "satisfactory".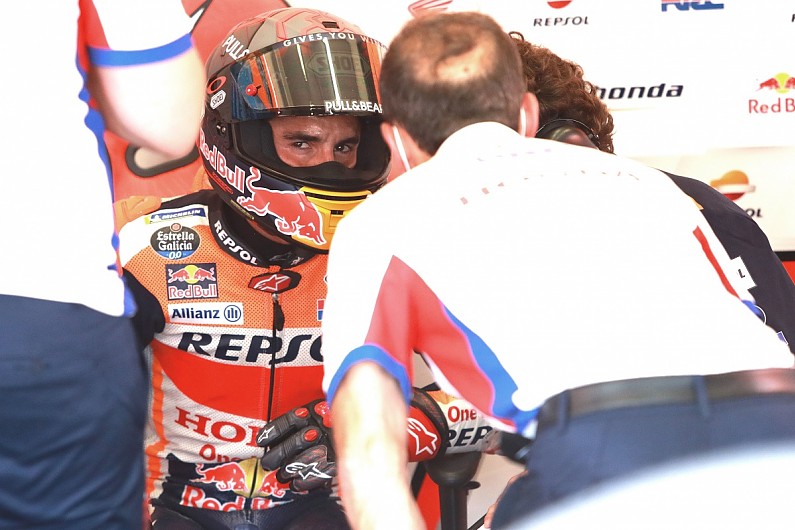 Speaking to Spain's DAZN ahead of the operation, Marquez commented on his Jerez return attempt, stating: "This year has taught me many things.
"The first, that the attempt to return after the injury was hasty. My plate broke at home, opening a sliding door that I have to go out to the garden.
"But the plate did not break there, it did so as a result of all the stress that was created in Jerez.
"Trying to return to Jerez was a mistake. I've learned that the riders have a virtue and a defect, which is that the riders do not see fear, so they [doctors] have to make us see it.
PLUS: The true Marquez blunder that caused lasting damage
"After the first operation, the first question of every rider is: when can I get back on the bike?
"And it is the doctor who has to know how to stop you, he is the one who has to be realistic. I went to Jerez with the peace of mind that the plate held because they told me so.
"I am brave but not unconscious. If they tell me that the plate can break, I would not have gotten on a 300km/h motorcycle."
Marquez admits he has "lost all the muscle" during his layoff, and now weights 61kg instead of his normal 65kg.
The Marquez family was still represented on the 2020 MotoGP grid, with Marc's younger brother Alex making his debut at Honda.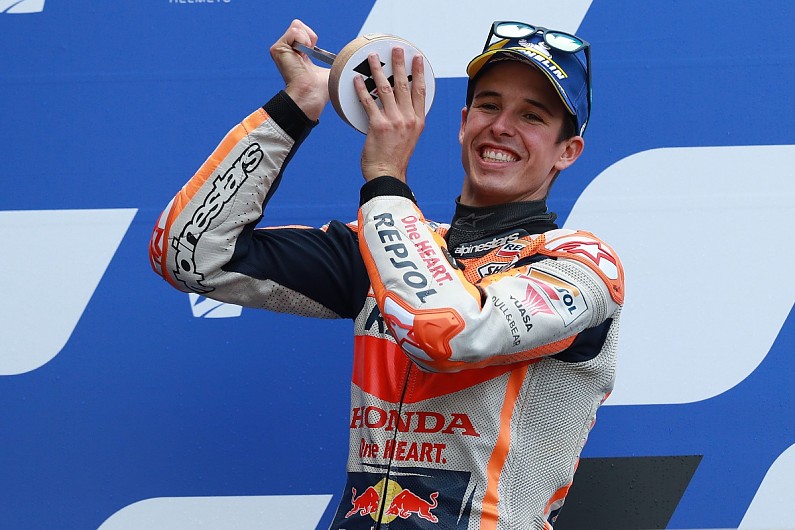 Marc Marquez said he "suffered a lot" at the beginning of the season because Alex was struggling, before the 2019 Moto2 champion had an upturn in form and scored two podiums in the second half of the year.
"I am very happy for him," he said of his brother. "I suffered a lot because at the beginning of the season, he suffered. The Honda is a difficult bike.
"It was going down and suddenly it started going up. And in MotoGP, if you take positive inertia it is difficult to lose it, you already stay there."