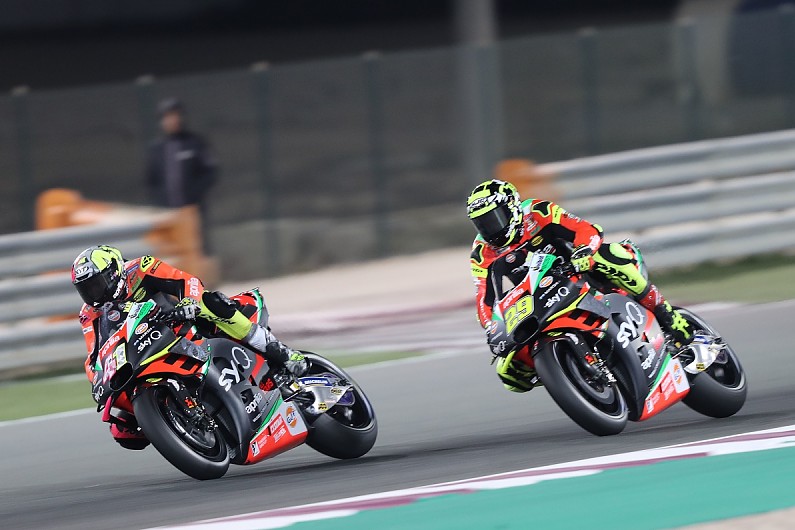 Aleix Espargaro admits he 'needs' Aprilia team-mate Andrea Iannone if he is to challenge for MotoGP podiums, with tensions between the pair now diffused after their Qatar test fallout.
Espargaro branded Iannone as "super disrespectful" for comments the Italian made during the official livery launch of the 2020 Aprilia prior to the Qatar test last month, in which Iannone claimed the overhauled bike had been made "following my instructions".
Afterwards, Espargaro said this incident was "the end of our good relationship", but has since held clear-the-air talks with the Italian and admits he needs him to "help me in the development of the bike".
"I was very sorry when Andrea said those things, I also felt bad because I always defended Andrea a lot, we have a good relationship and when I heard those things I didn't understand [why he said them]," Espargaro said to Sky Sports MotoGP.
"I talked to him the next day, he said he didn't want to say [what he said] that way, that I didn't understand it well and that we'll talk about it when we meet again on the track.
"I told him it's okay, that for me there was no problem.
"I also spoke with him on social media, I don't like having a negative relationship with my team-mate because it is very important that the atmosphere in the box is good.
My goal is not to destroy my team-mate, I want to fight for the podium and not necessarily be [just] beating my team-mate.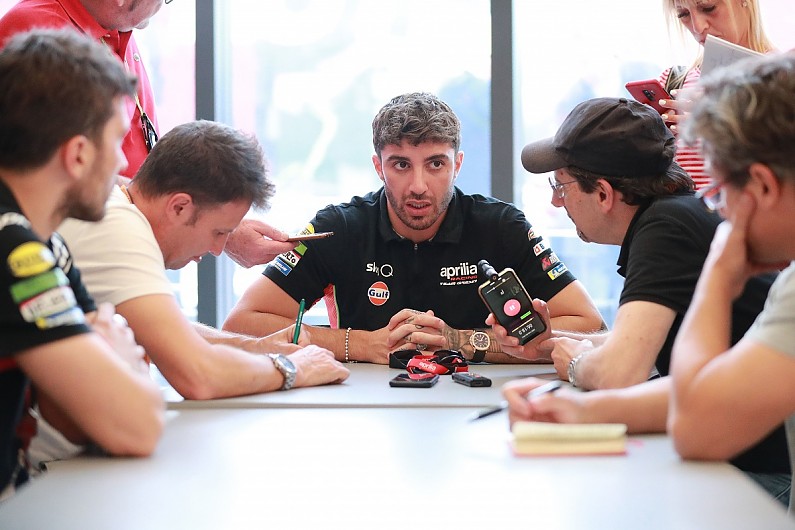 "I feel that for the podium, I need Andrea because he is a strong rider who will help me in the development of the bike.
"But above all it will help me to be faster, stronger.
"I sincerely hope to see him again in the first race, because also his situation is not easy."
Iannone is currently serving a suspension by MotoGP governing body - the FIM - for an anti-doping infringement, after he tested positive for an anabolic steroid last October.
On Wednesday, Iannone was handed an 18-month ban for the infringement - though was acquitted of intentional doping.
Espargaro enjoyed a strong pre-season on the new RS-GP, displaying encouraging race runs in the Sepang and Qatar tests.
Though he is wary of making predictions, he firmly believes Aprilia will be fighting for the top eight regularly having "struggled to be in the top 12" last year.
"It is very difficult to say [having] only [had] the tests, because you never know the true level of the [other] bikes," he added.
"But if we take the race pace that we had both in Malaysia and Qatar, we were very quiet among the first.
"In the race it changes a lot, but this bike took a giant step [on race pace].
"Last year we struggled to be in the top 12; this year we will fight for the top six, eight positions in many races."
Autosport has produced a standalone special magazine to celebrate our 70th birthday. All current print subscribers will receive a copy for free. To order your copy of the 196-page Autosport 70th Anniversary issue, please go to: autosport.com/autosport70th