Aprilia MotoGP rider Aleix Espargaro says he feels "ready" to fight for the podium this season and doesn't think there are many riders "quicker than me" on the grid.
The 2020 season will be the elder Espargaro brother's 10th in the premier class and his fourth with Aprilia, who will race its "revolution" RS-GP.
Espargaro has heaped praise on the gains Aprilia has made with its new motorcycle during the pre-season test at Sepang and Qatar, hailing at the "best Aprilia I've ever ridden in my career".
When asked at the end of the Qatar test what he was expecting coming into the season, Espargaro believes he is personally in a position to fight for the podium - which he hasn't done since he took his sole MotoGP rostrum at the 2014 Aragon Grand Prix.
"I'm very happy, very motivated," Espargaro said at the conclusion of testing.
"I struggle a lot in Aprilia [in previous years], [and] this year is not going to be easy for sure.
"But I feel more in shape than ever in my life, riding super, super good.
"I feel I'm ready to fight for the podium.
"I don't see many riders in the grid [being] a lot quicker than me.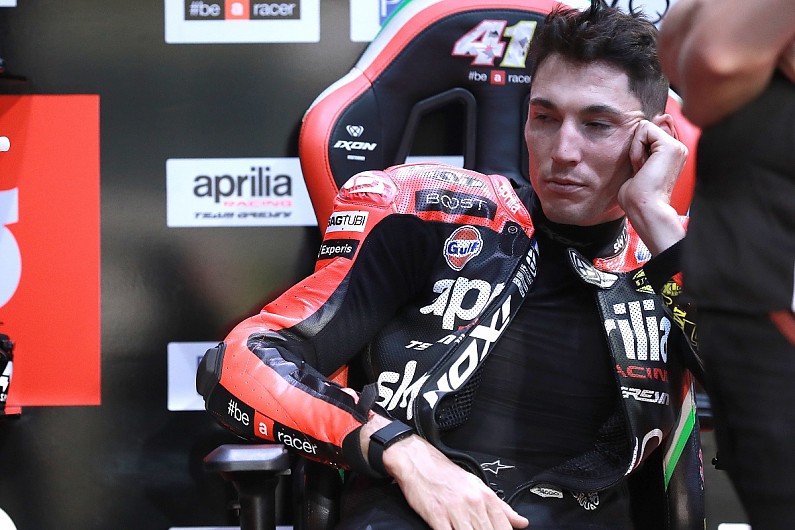 "The bike of this year, 2020, is the best Aprilia I've ever ridden in my career.
"So, let's try to put that all together and see how far I can go."
Espargaro ended the Qatar test 13th overall, just half a second off the pace, though was unable to do as much running as he'd have liked across the three days due to various "small problems" with the RS-GP cropping up.
However, he was keen to point out that this was to be expected due to the new bike only being ready at the end of January, and insists Aprilia is "competitive".
"Not an easy one, really busy three days," Espargaro said of the Qatar test.
"Unfortunately we were not able to do many, many laps due to small problems. But too many.
"So, again, as I said in Malaysia it's quite normal that these small things happen because the bike was just born one month ago.
"So, all of this is quite normal. We discovered a lot of things, I hope the engineers can work these days before the first race and hopefully we can have a more relaxed weekend on the race weekend.
"But, overall, we were competitive, especially on the third day.
"I showed a strong pace on race simulation, I've been lapping in 1m54.5s for many laps.
"So, I'm satisfied about how we end this pre-season."