Johann Zarco says he accepts KTM MotoGP boss Stefan Pierer's criticism of him following the Spanish Grand Prix earlier this month, admitting he "lost some control" at Jerez.
Zarco's Jerez weekend started poorly with two crashes on Friday, and an irate debrief from Zarco to his KTM engineering crew after one of his falls was shown on TV.
KTM CEO Pierer said after that weekend that Zarco's form since joining KTM for the start of the 2019 season had been "simply unacceptable" and that his issues were mainly psychological.
Asked how he felt about Pierer's comments ahead of his home MotoGP round at Le Mans, Zarco said: "I understood why he said all of that.
"I was a bit on fire on Friday after the crash and I did not say nice things about the bike that I must develop and I must accept the performance [of] at the moment.
"I kind of lost some control in that moment.
"When the media came to him and tried to ask him about that because this is his money that we put in the project, he could only answer in that way.
"You also know how Stefan is, he has a strong character. You ask him, he answers you. It is maybe, I cannot say a good game, but it is part of the challenge."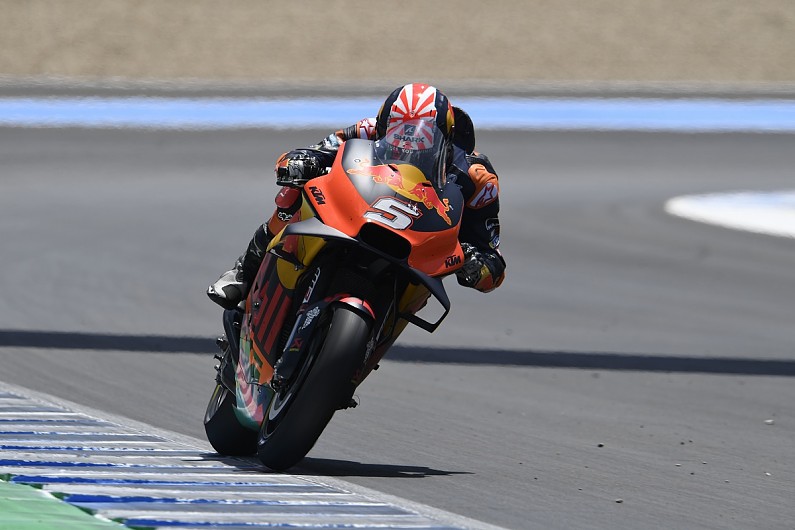 Zarco did not talk with Pierer after the Jerez race, but said he had a constructive conversation with team boss Pit Beirer.
"We know we have to be passionate and improve the project, we know it is going to take time but sometimes at the moment we can lose a little bit of control, so it did not give me pain, or [I did not feel] sad, after this comment because I understood," he added.
"Now it is going much better and I really hope and cross fingers that this weekend will be a good answer from all that we could read in the media last week."