Three-time MotoGP champion Jorge Lorenzo will undergo his second surgery in just over a month on Monday to address discomfort in his right foot.
Lorenzo was thrown off his Ducati in a violent highside crash a corner into the Aragon Grand Prix, dislocating a toe and suffering a subcapital fracture of the second metatarsal as a result.
Despite this, he was back on the bike at the next round in Thailand - where he crashed again, sustaining the left wrist damage that derailed the run-in of his second and final campaign with the Italian manufacturer.
Lorenzo, who had surgery on his wrist in late October, tried to return to action at Motegi and Sepang - but pulled out before the race on both occasions, before finishing 12th in the Valencia finale.
He continued to nurse the foot injury during that time, but his continued track activity and training meant the fractured bones did not heal perfectly, leaving him with a slight limp and in discomfort.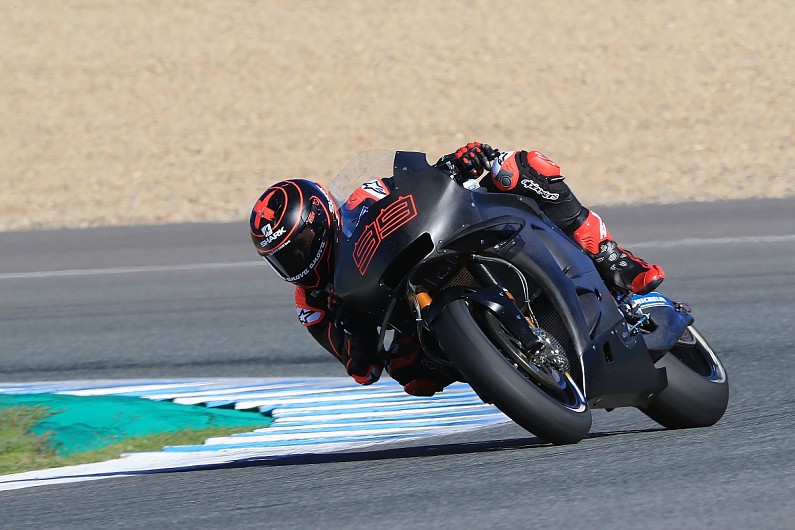 To address this problem, Lorenzo will be operated on at the Clinica Quiron at the start of next week.
Lorenzo, who joins Honda's MotoGP line-up on a two-year deal next season, had blamed his new team-mate Marc Marquez on the Aragon crash that injured his foot.
He made his debut on the RC213V bike in the post-Valencia test, setting the 12th-fastest time, before improving to fifth over the two days at Jerez (pictured above).
Reigning champion Marquez is set for shoulder surgery this month, while Honda's leading satellite rider Cal Crutchlow is recovering after two operations on his right leg following a nasty Phillip Island crash.