Jorge Lorenzo says he still blames Honda's Marc Marquez for the Aragon crash that left him injured, despite praising his MotoGP rival for getting in touch after the incident.
Lorenzo crashed out on the opening lap of the Aragon race after a dive down the inside at Turn 1 from Marquez forced him off the racing line.
The Ducati rider, who dislocated his big toe and fractured the second metatarsal on his right foot in the crash, criticised Marquez in the immediate aftermath of the race.
Asked about the incident ahead of this weekend's Thailand race, Lorenzo said: "Whatever I say now will create a polemic.
"I believe we have to speak about Thailand now, not about what happened two weeks ago. But you asked me the question and I cannot be [impolite].
"What I think after the race, maybe in hot conditions, I think exactly the same in the cold.
"I think my incident, my crash, was avoidable, and I only didn't finish the race and I'm here not 100% [fit] because of the actions of Marc, that in my opinion were irresponsible and imprudent.
"I think he knows that - obviously he didn't want me to crash, but I think he braked too late, very [much] too late. And in bad position because he was completely on the inside.
"[It] was incompatible to make the corner in the way he entered the corner. And this creates my crash."
But Lorenzo, who will partner Marquez at the factory Honda team in 2019 and '20, credited the reigning champion for contacting him after Aragon.
"He called me on Monday afternoon," added Lorenzo.
"He asked me [about] my physical condition - this I appreciate, because probably not all the riders will do that. So this is good.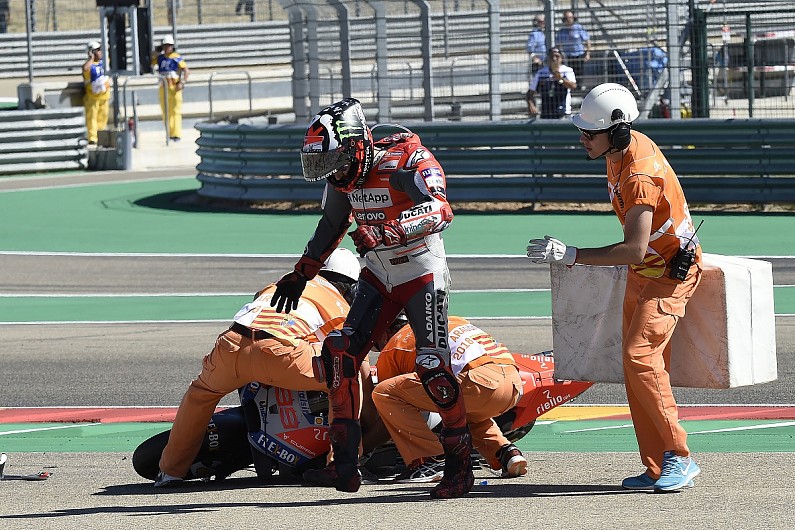 "The only thing I hope [is] that, if it's possible, in the future, less riders can suffer from this type of actions, like I'm suffering now."
When Lorenzo's latest comments were put to him, Marquez said: "I spoke with him and he doesn't say the same, so I care more about [what was said on the] telephone. It was OK."
Alongside KTM's Pol Espargaro, who fractured his collarbone at Aragon, Lorenzo was passed fit to ride at Buriram.
However, he remains uncertain about whether he will be able to take part in MotoGP's inaugural Thailand race.
"Hopefully I will jump in to ride tomorrow and I will have enough power and as few problems as possible to be able to race," said Lorenzo.
"The feeling is not very good, when I'm walking, and I expect for sure when I put my feet on the bike, I will have pain. But only tomorrow will I know exactly my feelings.
"The rest of the body is perfect. [It] was already perfect on Sunday after Aragon.
"The only problem is these [two toes], especially the big one that was completely out of the place, and the little one close to that [which] is broken."