Valentino Rossi says the engine developments Yamaha brought to the Valencia and Jerez MotoGP post-season tests will not be good enough to elevate the manufacturer into contention for victories.
Rossi was only 17th on the first day of the post-season Jerez test and, although that was partly down to a mechanical failure while he was on a new-tyre run, he said he also struggled on race pace.
Yamaha has brought two new engines to the tests, but Rossi reckoned neither was "the improvement that we need".
"The problem is that, for me, we haven't made a big step," said Rossi.
"When I ride the bike, more or less the problems are the same [as the regular season].
"In the overall classification I am towards the back because I had a problem when I had a new tyre, but apart from that, if you concentrate on the pace - that is most important - we are not very fast.
"The top guys [are] going faster compared to us.
"The problem is not making the right choice [of the two engines], the problem is that one or the other is not the improvement that we need."
Rossi added that the issues this year's bike suffered, including tyre degradation, have not been fixed.
"[With] the new tyre we are fast, Maverick is very fast, also Franco [Morbidelli, SIC Yamaha rider] is fast," said Rossi.
"After some laps, all the Ducatis and also Suzuki have a better pace.
"Yamaha have to be clear [understand] that this is not enough. If we race tomorrow we are fifth, sixth, seventh - maybe fourth if one crashes in front, but we won't fight for the victory."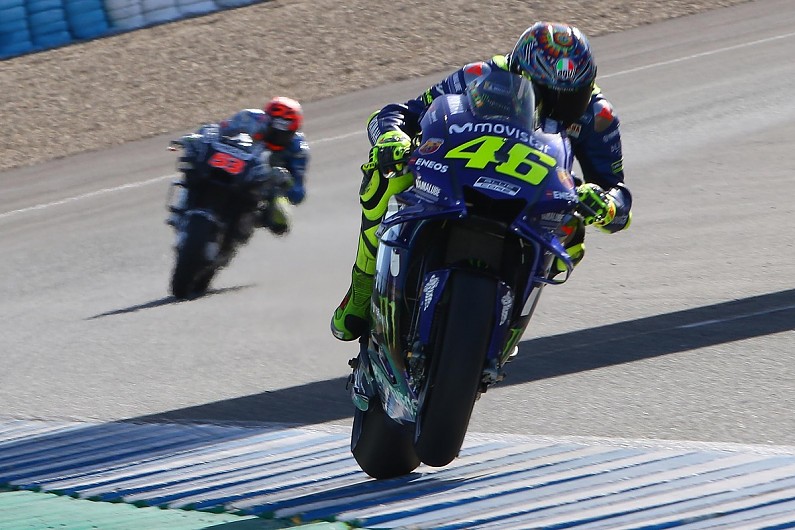 Rossi said he thinks Yamaha is in a similar situation to the one it founds itself in after the 2017 season, when the team also struggled to make its bike competitive, but said it is too early to predict how its '19 form would compare to this year.
Yamaha's longest winless streak in MotoGP stretched into the final part of the 2018 season until Maverick Vinales finally ended its drought at Phillip Island in late October, scoring the team's only win of the year.
"It's very early to say," said Rossi, when asked how similar Yamaha's 2019 form would be to this season.
"We don't have, like you said, just the engine [to improve].
"We have also some other areas that are so important that you can work any modify also during the season so we hope that we can improve."