Valentino Rossi called crashing while fighting for victory in two MotoGP races in a row a "sh*t emotion".
Despite starting the Valencia Grand Prix only 16th, Rossi scythed his way through the field early on and was part of a three-bike fight for victory with Andrea Dovizioso and Alex Rins in the second part of Sunday's race.
The Yamaha rider passed Rins for second but could not keep up with Dovizioso as the race, and crashed with five laps remaining.
This marked the second consecutive race that Rossi - who ended 2018 winless - crashed from a strong position as he also fell while leading at Sepang.
"It's a shit emotion. It's very bad," he said. "Unfortunately this year I wasn't able to win but in the last two races I was very close in dry and wet, this remains [true].
"It's a great shame, I am so sorry because we needed this podium,. I needed this podium but also Yamaha and also the team because from Sachsenring we didn't achieve [a podium]."
Rossi said his crash was a riding mistake, but added that the team does not fully understand how it occurred and that it looked similar to his Malaysia incident.
"I did a mistake but sincerely also looking the data we don't understand very well what happened," he said.
"It's true that it's very similar to Malaysia - I lost the rear when I opened the throttle.
"It looks like that in the last laps we have to keep more attention with the tyre because we have a bit too much degradation.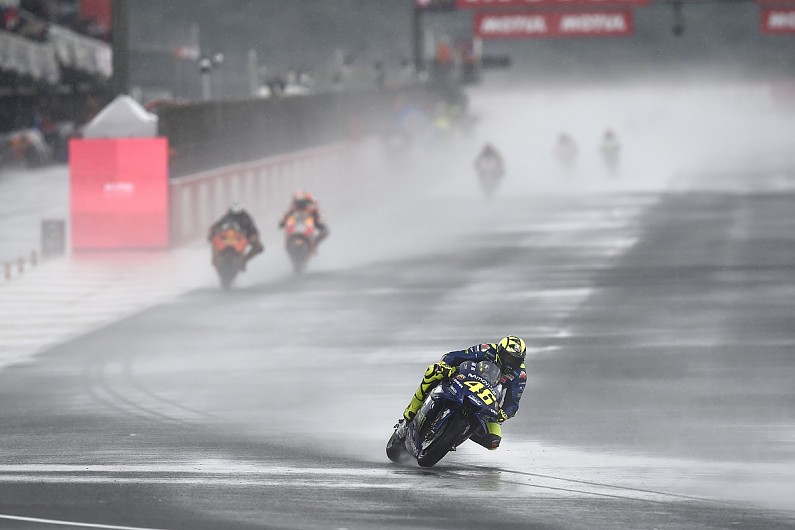 "I didn't expect it, I am very sorry but anyway it remains a good Sunday, a good race because I was competitive.
"In the last two races of the season I don't take any result but I was fighting for the victory, this is a great feeling.
"When you fight for the victory, it's something very positive."
Folger begins Yamaha test role
Jonas Folger will make his first official appearance in his new role as Yamaha's new MotoGP test rider during the post-season test at Valencia on Tuesday and Wednesday.
Former Tech3 Yamaha racer Folger, 25, was revealed as the spearhead of Yamaha's new European-based test team back in September.
He attended a private test in Aragon alongside race riders Rossi and Maverick Vinales in September but did not ride, although he has been in action as part of Kalex's Moto2 test programme.
Folger last raced at Aragon in 2017 before being forced to step down when diagnosed with Gilbert's syndrome.
Yamaha team boss Lin Jarvis has stressed the importance of having a European test team to speed up development of the M1 bike and said Folger will be an "asset" in its 2019 title challenge.
"Jonas showed great skill and excellent speed when he was a Yamaha satellite rider in 2017.
"His past experience with the YZR-M1, as well as his youth and drive, will surely make him a great asset to our 2019 campaign."