KTM MotoGP rider Pol Espargaro declared himself "super-sorry" for causing the four-way crash on the opening lap of the German Grand Prix at the Sachsenring.
Espargaro crashed and took Suzuki's Alex Rins with him at Turn 3, compromising the races of Rins's team-mate Andrea Iannone and Jack Miller in the process.
He avoided a penalty for causing the incident despite both Suzuki riders saying he should have received one, but Espargaro did not dispute that he was at fault.
"I generated everything," he admitted. "I was on the outside of the second corner and I was pushed a little bit out for some riders inside, but it's normal.
"Then when I changed direction on the third [corner] I realised I was super-inside, too much.
"Then I had Iannone in front, I think he was trying to lock the inside to avoid someone overtaking him. He was a little bit slower than normal so I was waiting for him to release the brakes and then to let me go into the corner.
"But he was locking so much and I couldn't stop the bike enough and I crashed.
"I am so, so sorry about Alex because my bike or my body, I don't know exactly, hit his bike and he couldn't finish the race because of my actions, so I am super-sorry."
Espargaro, who started 15th, admitted the mistake stemmed from trying too hard to make up for KTM's qualifying weakness.
"I tried too hard in the beginning to make a good position at the end of the first lap to not lose the race in the first laps because, again, we have lost everything on the qualifying," he said.
"This is a qualifying problem and if we would be qualifying a little bit better it would not happen. It is everything about Saturdays, and it happened in Holland and it happened again.
"When you start behind, you have more chance that this type of thing happens."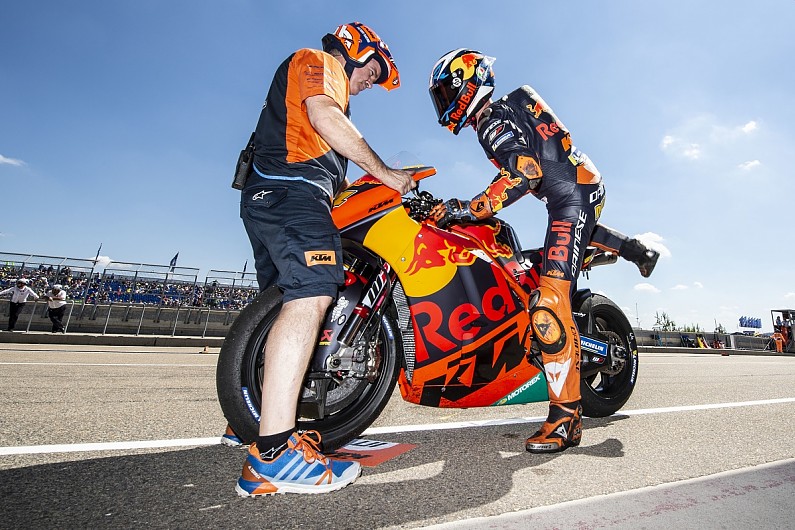 Earlier on Sunday, Espargaro had become the first KTM rider to ever top a MotoGP session by going fastest in the warm-up.
"I was really surprised because everything came really easy," Espargaro said of his warm-up pace.
"I was with [Andrea] Dovizioso, easy playing, catching him, like he was a backmarker and I said to myself, 'woah, today is the day, you can do a good job.'
"It is super-unlucky that it happened in the first lap. I couldn't show what we had.
"We had a very good rhythm, very good feelings, I was ready to do a good race but in the worst moment of the season it happened and I couldn't finish the race and show where the KTM can be."
Espargaro's team-mate Bradley Smith finished 10th, his best result of 2018 so far.
KTM also entered its test rider Mika Kallio on a third bike for Germany, but he had to withdraw due to a knee injury from a Friday practice crash.